Abstract
Endocrine-disrupting chemicals are mainly discharged into the environment by wastewater treatment plants (WWTPs) and are known to induce adverse effects in aquatic life. Advanced treatment with ozone successfully removes such organic micropollutants, but an increase of estrogenic effects after the ozonation of hospital wastewater was observed in previous studies. In order to investigate this effect, estrogenic and androgenic as well as anti-estrogenic and anti-androgenic activities were observed during treatment of hospital wastewater using three different effect-based reporter gene bioassays. Despite different matrix influences, sensitivities, and test-specific properties, all assays used obtained comparable results. Estrogenic and androgenic activities were mainly reduced during the biological treatment and further removed during ozonation and sand filtration, resulting in non-detectable agonistic activities in the final effluent. An increased estrogenic activity after ozonation could not be observed in this study. Antagonistic effects were removed in the biological treatment by up to 50 % without further reduction in the advanced treatment. Due to the presence of antagonistic substances within the wastewater, masking effects were probable. Therefore, this study showed the relevance of antagonistic activities at hospital WWTPs and illustrates the need for a better understanding about antagonistic effects.
Access options
Buy single article
Instant access to the full article PDF.
USD 39.95
Price excludes VAT (USA)
Tax calculation will be finalised during checkout.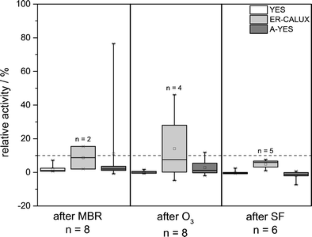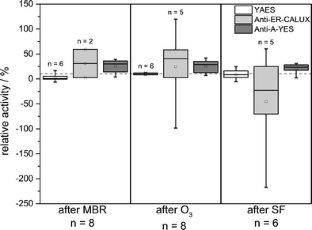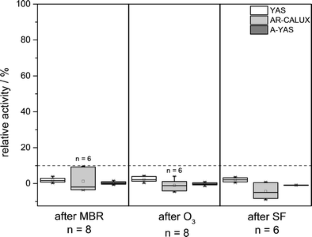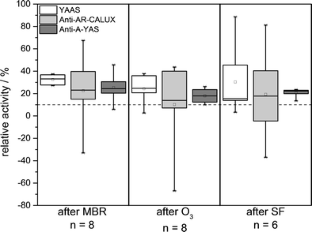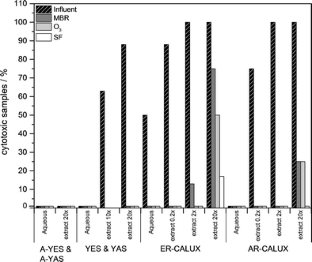 References
Altmann D, Schaar H, Bartel C, Schorkopf DLP, Miller I, Kreuzinger N, Mostl E, Grillitsch B (2012) Impact of ozonation on ecotoxicity and endocrine activity of tertiary treated wastewater effluent. Water Res. 46(11):3693--3702.

Aris AZ, Shamsuddin AS, Praveena SM (2014) Occurrence of 17 alpha-ethynylestradiol (EE2) in the environment and effect on exposed biota: a review. Environ Int 69:104–119

Bieling U (2011) Entwicklung einer Methode zum Nachweis und zur Identifikation endokrin wirksamer Substanzen mit estrogenem Potential aus Abwässern nach Anreicherung mit Hilfe des immobilisierten Estrogenrezeptors α. PhD Thesis, RWTH Aachen. Shaker Verlag, Oldenburg, ISBN. 978-3-8440-0385-7.

BioDetection Systems (2009) Analysis of receptor mediated luciferase activity in ER CALUX cells. P-BDS-011, version i.

Boehling E, Adamczak K, Nafo I, Evenblij H, Cornelissen A, McArdell C, Pahl O, Dagot C. 2012. Pharmaceutical input and elimination from local sources. Final report of the European cooperation project PILLS. www.pills-project.eu.

Campbell CG, Borglin SE, Green FB, Grayson A, Wozei E, Stringfellow WT (2006) Biologically directed environmental monitoring, fate, and transport of estrogenic endocrine disrupting compounds in water: a review. Chemosphere 65:1265–1280

Connolly L, Ropstad E, Verhaegen S (2011) In vitro bioassays for the study of endocrine-disrupting food additives and contaminants. Trac-Trends Anal Chem 30:227–238

Dudley MW, Sheeler CQ, Wang H, Khan S (2000) Activation of the human estrogen receptor by the antiestrogens ICI 182,780 and tamoxifen in yeast genetic systems: implications for their mechanism of action. Proc Natl Acad Sci U S A 97:3696–3701

European Parliament and Council (2000) Directive 2000/60/EG of the European Parliament and of the Council of 23 October 2000 establishing a framework for Community action in the field of water policy

European Commission, Common Implementation Strategy for the Water Framework Directive (2000/60/EC) Guidance on surface water chemical monitoring under the Water Framework Directive. Guidance Document No. 19; 2009–025

European Parliament and Council 2013/39 (2013) Directive 2013/39/EU of the European Parliament and of the Council of 12 August 2013 amending Directives 2000/60/EC and 2008/105/EC as regards priority substances in the field of water policy.

European Parliament and Council 2015/495 (2015) Commission implementing Decision (EU) 2015/495 of March 2015 establishing a watch list of substances for Union-wide monitoring in the field of water policy pursuant to Directive 2008/105/EC of the European Parliament and of the Council.

Hahn T, Tag K, Riedel K, Uhlig S, Baronian K, Gellissen G, Kunze G (2006) A novel estrogen sensor based on recombinant Arxula adeninivorans cells. Biosens Bioelectron 21:2078–2085

Houtman CJ, Van Houten YK, Leonards PG, Brouwer A, Lamoree MH, Legler J (2006) Biological validation of a sample preparation method for ER-CALUX bioanalysis of estrogenic activity in sediment using mixtures of xeno-estrogens. Environ Sci Technol 40:2455–2461

Huber MM, Ternes TA, von Gunten U (2004) Removal of estrogenic activity and formation of oxidation products during ozonation of 17 alpha-ethinylestradiol. Environ Sci Technol 38:5177–5186

Huber MM, Gobel A, Joss A, Hermann N, Loffler D, McArdell CS, Ried A, Siegrist H, Ternes TA, von Gunten U (2005) Oxidation of pharmaceuticals during ozonation of municipal wastewater effluents: a pilot study. Environ Sci Technol 39:4290–4299

ISO 10993–5:2009: Biological evaluation of medical devices. Part 5: tests for in vitro cytotoxicity

Jobling S, Burn RW, Thorpe K, Williams R, Tyler C (2009) Statistical modeling suggests that antiandrogens in effluents from wastewater treatment works contribute to widespread sexual disruption in fish living in English rivers. Environ Health Perspect 117:797–802

Kienle C, Vermeirssen E, Kunz P, Werner I (2015): Grobbeurteilung der Wasserqualität von abwasserbelasteten Gewässern anhand von ökotoxikologischen Biotests. Studie im Auftrag des BAFU. Schweizerisches Zentrum für angewandte Ökotoxikologie Eawag-EPFL, Dübendorf.

Kinnberg K (2003) Evaluation of in vitro assays for determination of estrogenic activity in the environment. Danish Ministry of the Environment, Danish Environmental Protection Agency

Larcher S, Delbes G, Robaire B, Yargeau V (2012) Degradation of 17 alpha-ethinylestradiol by ozonation - Identification of the by-products and assessment of their estrogenicity and toxicity. Environ Int 39(1):66--72

Lee Y, Escher BI, Von Gunten U (2008) Efficient removal of estrogenic activity during oxidative treatment of waters containing steroid estrogens. Environ Sci Technol 42:6333–6339

Legler J, van den Brink CE, Brouwer A, Murk AJ, van der Saag PT, Vethaak AD, van der Burg P (1999) Development of a stably transfected estrogen receptor-mediated luciferase reporter gene assay in the human T47D breast cancer cell line. Toxicol Sci 48:55–66

Legler J, Dennekamp M, Vethaak AD, Brouwer A, Koeman JH, van der Burg B, Murk AJ (2002) Detection of estrogenic activity in sediment-associated compounds using in vitro reporter gene assays. Sci Total Environ 293:69–83

Leusch FDL (2008) Tools to detect estrogenic activity in environmental waters. Global Water Research Coalition

Leusch FDL, De Jager C, Levi Y, Lim R, Puijker L, Sacher F, Tremblay LA, Wilson VS, Chapman HF (2010) Comparison of five in vitro bioassays to measure estrogenic activity in environmental waters. Environ Sci Technol 44:3853–3860

Liu ZH, Kanjo Y, Mizutani S (2009) Removal mechanisms for endocrine disrupting compounds (EDCs) in wastewater treatment—physical means, biodegradation, and chemical advanced oxidation. A review Sci Total Environ 407:731–748

Maletz S, Floehr T, Beier S, Kluemper C, Brouwer A, Behnisch P, Higley E, Giesy JP, Hecker M, Gebhardt W, Linnemann V, Pinnekamp J, Hollert H (2013) In vitro characterization of the effectiveness of enhanced sewage treatment processes to eliminate endocrine activity of hospital effluents. Water Res 47:1545–1557

Mertl J, Kirchnawy C, Osorio V, Grininger A, Richter A, Bergmair J, Pyerin M, Washuettl M, Tacker M (2014) Characterization of estrogen and androgen activity of food contact materials by different in vitro bioassays (YES, YAS, ER alpha and AR CALUX) and chromatographic analysis (GC-MS, HPLC-MS). PLoS One 9

Mosmann T (1983) Rapid colorimetric assay for cellular growth and survival - Application to proliferation and cyto-toxicity assays. 65(1-2):55--63

Neale PA, Escher BI, Leusch FDL (2015) Understanding the implications of dissolved organic carbon when assessing antagonism in vitro: an example with an estrogen receptor assay. Chemosphere 135:341–346

Prasse C, Stalter D, Schulte-Oehlmann U, Oehlmann J, Ternes TA (2015) Spoilt for choice: a critical review on the chemical and biological assessment of current wastewater treatment technologies. Water Res 87:237–270

Richard J (2013): Toxicological in vitro evaluation of organic micropollutants before and after oxidative waste water treatment. PhD Thesis, University of Duisburg, Essen.

Routledge EJ, Sumpter JP (1996) Estrogenic activity of surfactants and some of their degradation products assessed using a recombinant yeast screen. Environ Toxicol Chem 15:241–248

Sajidan A, Farouk A, Greiner R, Jungblut P, Muller EC, Borriss R (2004) Molecular and physiological characterisation of a 3-phytase from soil bacterium Klebsiella sp ASR1. Appl Microbiol Biotechnol 65:110–118

Schwindt AR, Winkelman DL, Keteles K, Murphy M, Vajda AM (2014) An environmental oestrogen disrupts fish population dynamics through direct and transgenerational effects on survival and fecundity. J Appl Ecol 51:582–591

Scott PD, Bartkow M, Blockwell SJ, Coleman HM, Khan SJ, Lim R, McDonald JA, Nice H, Nugegoda D, Pettigrove V, Tremblay LA, Warne MSJ, Leusch FDL (2014) An assessment of endocrine activity in Australian rivers using chemical and in vitro analyses. Environ Sci Pollut Res 21:12951–12967

Sohoni P, Sumpter JP (1998) Several environmental oestrogens are also anti-androgens. J Endocrinol 158:327–339

Sonneveld E, Jansen HJ, Riteco JAC, Brouwer A, van der Burg B (2005) Development of androgen- and estrogen-responsive bioassays, members of a panel of human cell line-based highly selective steroid-responsive bioassays. Toxicol Sci 83:136–148

Stalter D, Magdeburg A, Wagner M, Oehlmann J (2011) Ozonation and activated carbon treatment of sewage effluents: removal of endocrine activity and cytotoxicity. Water Res 45:1015–1024

US EPA [740-C-09-006] (2009): Endocrine Disruptor Screening Program Test Guidelines - OPPTS 890.1300: Estrogen receptor transcriptional activation (human cell line (HeLa-9903)) [EPA 740-C-09-006]

US EPA CCL-3 list (2009) Drinking Water Contaminant Candidate List 3. Final

US EPA draft CCL-4 list (2015) Drinking water contaminant candidate list 4. Draft.

van der Burg B, Winter R, H-y M, Vangenechten C, Berckmans P, Weimer M, Witters H, van der Linden S (2010a) Optimization and prevalidation of the in vitro AR CALUX method to test androgenic and antiandrogenic activity of compounds. Reprod Toxicol 30:18–24

van der Burg B, Winter R, Weimer M, Berckmans P, Suzuki G, Gijsbers L, Jonas A, van der Linden S, Witters H, Aarts J, Legler J, Kopp-Schneider A, Bremer S (2010b) Optimization and prevalidation of the in vitro ER alpha CALUX method to test estrogenic and antiestrogenic activity of compounds. Reprod Toxicol 30:73–80

Völker J, Castronovo S, Wick A, Ternes TA, Joss A, Oehlmann J, Wagner M (2016): Advancing biological wastewater treatment: extended anaerobic conditions enhance the removal of endocrine and dioxin-like activities. Environ Sci Tech. doi: 10.1021/acs.est.5b05732

Wagner M, Vermeirssen ELM, Buchinger S, Behr M, Magdeburg A, Oehlmann J (2013) Deriving bio-equivalents from in vitro bioassays: assessment of existing uncertainties and strategies to improve accuracy and reporting. Environ Toxicol Chem 32:1906–1917

Wartmann T, Boer E, Pico AH, Sieber H, Bartelsen O, Gellissen G, Kunze G (2002) High-level production and secretion of recombinant proteins by the dimorphic, yeast Arxula adeninivorans. FEMS Yeast Res 2:363–369

Wildhaber YS, Mestankova H, Scharer M, Schirmer K, Salhi E, von Gunten U (2015) Novel test procedure to evaluate the treatability of wastewater with ozone. Water Res 75:324–335

Zhang ZY, Zhu HT, Wen XH, Si XR (2012) Degradation behavior of 17 alpha-ethinylestradiol by ozonation in the synthetic secondary effluent. J Environ Sci 24:228–233
Acknowledgments
The authors would like to thank for financial support from the "Ministry for Climate Protection, Agriculture, Nature Conservation and Consumer Protection of North Rhine-Westphalia (MKULNV)" within the program "Ressourceneffiziente Abwasserbeseitigung NRW" (AZ 17-04.02.01-04a/2013). We would also like to acknowledge Jan Oesterbeck from the North Rhine-Westphalia State Agency for Nature, Environment and Consumer Protection (LANUV NRW) for the great guidance and support during this project. Our special thanks for the support and helping hand during the operation and sampling belong to the dedicated personnel of Emschergenossenschaft/Lippeverband.
Additional information
Responsible editor: Philippe Garrigues
Electronic supplementary material
About this article
Cite this article
Gehrmann, L., Bielak, H., Behr, M. et al. (Anti-)estrogenic and (anti-)androgenic effects in wastewater during advanced treatment: comparison of three in vitro bioassays. Environ Sci Pollut Res 25, 4094–4104 (2018). https://doi.org/10.1007/s11356-016-7165-4
Received:

Accepted:

Published:

Issue Date:

DOI: https://doi.org/10.1007/s11356-016-7165-4
Keywords
Endocrine effects

Advanced wastewater treatment

Ozonation

Antagonistic effects

Reporter gene assays

Effect-based analysis

Micropollutant elimination