Abstract
The frequency and mass concentrations of 13 herbicide micropollutants (triazines, phenylureas, chloroacetanilides and trifluralin) were investigated during 2014 in surface, ground and drinking waters in the area of the city of Zagreb and its suburbs. Herbicide compounds were accumulated from water by solid-phase extraction using either octadecylsilica or styrene-divinylbenzene sorbent cartridges and analysed either by high-performance liquid chromatography with UV-diode array detector or gas chromatography with mass spectrometric detection. Atrazine was the most frequently detected herbicide in drinking (84 % of samples) and ground (61 % of samples) waters in mass concentrations of 5 to 68 ng L−1. It was followed by metolachlor and terbuthylazine, the former being detected in 54 % of drinking (up to 15 ng L−1) and 23 % of ground (up to 100 ng L−1) waters, and the latter in 45 % of drinking (up to 20 ng L−1) and 26 % of ground (up to 25 ng L−1) water samples. Acetochlor was the fourth most abundant herbicide in drinking waters, detected in 32 % of samples. Its mass concentrations of 107 to 117 ng L−1 in three tap water samples were the highest of all herbicides measured in the drinking waters. The most frequently (62 % of samples) and highly (up to 887 ng L−1) detected herbicide in surface waters was metolachlor, followed by terbuthylazine detected in 49 % of samples in mass concentrations of up to 690 ng L−1, and atrazine detected in 30 % of samples in mass concentrations of up to 18 ng L−1. The seasonal variations in herbicide concentrations in surface waters were observed for terbuthylazine, metolachlor, acetochlor, chlortoluron and isoproturon with the highest concentrations measured from April to August.
Access options
Buy single article
Instant access to the full article PDF.
USD 39.95
Price excludes VAT (USA)
Tax calculation will be finalised during checkout.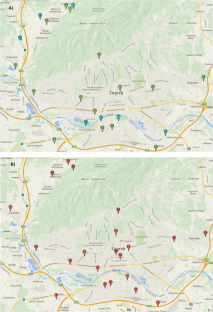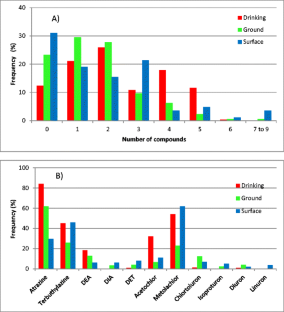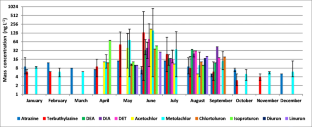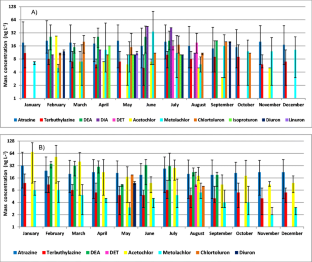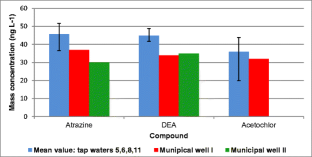 References
Aslam M, Alam M, Rais S (2013) Detection of atrazine and simazine in ground water of Delhi using high performance liquid chromatography with ultraviolet detector. Curr World Environ 8:323–329

Barić K (2014) Analysis of consumption of plant protection products. In: The impact of agriculture on the pollution of surface and ground waters in the Republic of Croatia. Project report, University of Zagreb, Faculty of Agriculture, pp 75–112 (in Croatian)

Bohn T, Cocco E, Gourdol L, Guignard C, Hoffmann L (2011) Determination of atrazine and degradation products in Luxembourgish drinking water: origin and fate of potential endocrine-disrupting chemicals. Food Addit Contam 28:1041–1054

Bonnemoy F, Lavédrine BA, Boulkamh A (2004) Influence of UV irradiation on the toxicity of phenylurea herbicides using Microtox® test. Chemosphere 54:1183–1187

Bottoni P, Grenni P, Lucentini L, Barra Caracciolo A (2013) Terbuthylazine and other triazines in Italian water resources. Microchem J 107:136–142

Chernyak SM, Rice CP, McConnell LL (1996) Evidence of currently-used pesticides in air, ice fog, seawater and surface microlayer in the Bering and Chukchi seas. Mar Pollut Bull 32:410–419

Claver A, Ormad P, Rodríguez L, Ovelleiro JL (2006) Study of the presence of pesticides in surface waters in the Ebro river basin (Spain). Chemosphere 64:1437–1443

Close ME, Flintoft MJ (2004) National survey of pesticides in groundwater in New Zealand – 2002. N Z J Mar Freshw 38:289–299

Common Implementation Strategy for the Water Framework Directive (2005) Environmental Quality Standards (EQS), Substance Data Sheet, Priority Substance No. 333 Trifluralin CAS-No. 1582–09-8, Final version, Brussels, 1–13

Drevenkar V, Fingler S, Mendaš G, Stipičević S, Vasilić Ž (2004) Levels of atrazine and simazine in waters in the rural and urban areas of north-west Croatia. Int J Environ Anal Chem 84:207–216

Fait G, Balderacchi M, Ferrari F, Ungaro F, Capri E, Trevisan M (2010) A field study of the impact of different irrigation practices on herbicide leaching. Eur J Agron 32:280–287

Fingler S, Stipičević S, Drevenkar V (2004) Sorption behaviour of chlorophenols and triazine herbicides in reference euro-soils. Int J Environ Anal Chem 84:83–93

Garmouma M, Blanchard M, Chesterokoff A, Ansart P, Chevreuil M (1997) Seasonal transport of herbicides (triazines and phenylureas) in a small stream draining an agricultural basin: Mélarchez (France). Water Res 31:1489–1503

George MJ (2014a) Determination and correlation of herbicide residues in water and sediments in the streams flowing into the Caledon River using the bubble-in-drop single drop micro-extraction method. Eur Chem Bull 3:1098–1102

George MJ (2014b) Monitoring of herbicides in aquatic environments using the bubble-in-drop single drop micro-extraction (BID-SDME) method. S Afr J Chem 67:56–60

Glotfelty DE, Seiber JN, Liljedahl (1987) Pesticides in fog. Nature 325:602–605

Goolsby D, Thurman EM, Pomes M, Meyer M, Battaglin W (1997) Herbicides and their metabolites in rainfall: origin, transport, and deposition patterns across the Midwestern and northeastern United States, 1990-1991. Environ Sci Technol 31:1325–1333

Guzzella L, Pozzoni F, Giuliano G (2006) Herbicide contamination of surficial groundwater in Northern Italy. Environ Pollut 142:344–353

Hayes TB, Khoury V, Narayan A, Nazir M, Perk A, Brown T, Adame L, Chan E, Buchholz D, Stueve T, Gallipeau S (2010) Atrazine induces complete feminization and chemical castration in male African clawed frogs (Xenopus laevis). PNAS 107:4612–4617

Hermosin MC, Calderon MJ, Real M, Cornejo J (2013) Impact of herbicides used in olive groves on waters of the Guadalquivir river basin (southern Spain). Agric Ecosyst Environ 164:229–243

Hill AB, Jefferies PR, Quistad GB, Casida JE (1997) Dialkylquinoneimine metabolites of chloroacetanilide herbicides induce sister chromatid exchanges in cultured human lymphocytes. Mutat Res 395:159–171

Hladik ML, Bouwer EJ, Lynn Roberts A (2008a) Neutral degradates of chloroacetamide herbicides: occurrence in drinking water and removal during conventional water treatment. Water Res:4905–4914

Hladik ML, Bouwer EJ, Lynn Roberts A (2008b) Neutral chloroacetamide herbicide degradates and related compounds in Midwestern United States drinking water sources. Sci Total Environ 390:155–165

Jablonowski ND, Köppchen S, Hofmann D, Schäffer A, Burauel P (2009) Persistence of C-14-labeled atrazine and its residues in a field lysimeter soil after 22 years. Environ Pollut 157:2126–2131

Jablonowski ND, Schäffer A, Burauel P (2011) Still present after all these years: persistence plus potential toxicity raise questions about the use of atrazine. Environ Sci Pollut Res 18:328–331

Jin X, Peldszus S (2012) Selection of representative emerging micropollutants for drinking water treatment studies: systematic approach. Sci Total Environ 414:653–663

Konstantinou IK, Zarkadis AK, Albanis TA (2001) Photodegradation of selected herbicides in various natural waters and soils under environmental conditions. J Environ Qual 30:121–130

Konstantinou IK, Hela DG, Albanis TA (2006) The status of pesticides pollution in surface waters (rivers and lakes) of Greece. Part I. Review on occurrence and levels. Environ Pollut 141:555–570

Krutz JL, Shaner DL, Weaver MA, Webb RM, Zablotowitz RM, Reddy KN, Huang Y, Thomson SJ (2010) Agronomic and environmental implications of enhanced s-triazine degradation. Pest Manag Sci 66:461–481

Kumar A, Xagoraraki I (2010) Pharmaceuticals, personal care products and endocrine-disrupting chemicals in U.S. surface and finished drinking waters: a proposed ranking system. Sci Total Environ 408:5972–5989

Loos R, Gawlik BM, Locoro G, Rimaviciute E, Contini S, Bidoglio G (2009) EU-wide survey of polar organic pollutants in European river waters. Environ Pollut 157:561–568

Loos R, Locoro G, Comero S, Contini S, Schwesig D, Werres F, Balsaa P, Gans O, Weiss S, Blaha L, Bolchi M, Gawlik BM (2010) Pan-European survey on the occurrence of selected polar organic persistent pollutants in ground water. Water Res 44:4115–4126

Majewski MS, Coupe RH, Foreman WT, Capel PD (2014) Pesticides in Mississippi air and rain: a comparison between 1995 and 2007. Environ Toxicol Chem 33:1283–1293

Mast MA, Foreman WT, Skaates SV (2007) Current-use pesticides and organochlorine compounds in precipitation and lake sediment from two high-elevation national parks in the Western United States. Arch Environ Contam Toxicol 52:294–305

Mudhoo A, Garg VK (2011) Sorption, transport and transformation of atrazine in soils, minerals and composts: a review. Pedosphere 21:11–25

Na T, Fang Z, Zhanqi G, Ming Z, Cheng S (2006) The status of pesticide residues in the drinking water sources in Meiliangwan Bay, Taihu lake of China. Environ Monit Assess 123:351–370

Nakić Z, Ružičić S, Posavec K, Mileusnić M, Parlov J, Bačani A, Durn G (2013) Conceptual model for groundwater status and risk assessment—case study of the Zagreb aquifer system. Geol Croat 66:55–76

Navarro S, Vela N, Gimenez MJ, Navarro G (2004) Effect of temperature on the disappearance of four triazine herbicides in environmental waters. Chemosphere 57:51–59

Nödler K, Licha T, Voutsa D (2013) Twenty years later—atrazine concentrations in selected coastal waters of the Mediterranean and Baltic Sea. Mar Pollut Bull 70:112–118

Papadakis EN, Vryzas Z, Kotopoulou A, Makris KC, Papadopoulou-Mourkidou E (2015) A pesticides monitoring survey in rivers and lakes of northern Greece and its human and ecotoxicological risk assessment. Ecotoxicol Environ Saf 116:1–9

PPDB (2011) Pesticide properties data base http://sitem.herts.ac.uk/aeru/iupac/index.htm. Accessed 4 Nov 2015

Pruett SB, Fan R, Zheng Q, Myers LP, Hebert P (2003) Modeling and predicting immunological effects of chemical stressors: characterization of quantitative biomarker for immunological changes caused by atrazine and ethanol. Toxicol Sci 75:343–354

Sanusi A, Millet M, Mirabel P, Wortham H (2000) Comparison of atmospheric pesticide concentrations measured at three sampling sites: local, regional and long-range transport. Sci Total Environ 263:263–277

Scribner EA, Dietze JE, Thurman EM (2004) Acetamide herbicides and their degradation products in ground water and surface water of the United States, 1993-2003. US Geol Surv Data Ser 88:1–252

Segura PA, MacLeod SL, Lemoine P, Sauvé S, Gagnon C (2011) Quantification of carbamazepine and atrazine and screening of suspect organic contaminants in surface and drinking waters. Chemosphere 84:1085–1094

Shankar MV, Nélieu S, Kerhoas L, Einhorn J (2008) Natural sunlight NO3 −/NO2 −-induced photo-degradation of phenylurea herbicides in water. Chemosphere 71:1461–1468

Stamper DM, Tuovinen OH (1998) Biodegradation of the acetanilide herbicides alachlor, metolachlor, and propachlor. Crit Rev Microbiol 24:1–22

Stevens JT, Breckenridge CB, Wetzel LT, Gillis JH, Leumpert LG, Eldridge JC (1994) Hypothesis for mammary tumorigenesis in Sprague-Dawley rats exposed to certain triazine herbicides. J Toxicol Environ Health 43:139–153

Stipičević S, Fingler S, Drevenkar V (2009) Effect of organic and mineral soil fractions on sorption behaviour of chlorophenol and triazine micropollutants. Arh Hig Rada Toksikol 60:43–52

Stipičević S, Galzina N, Udiković-Kolić N, Jurina T, Mendaš G, Dvoršćak M, Petrić I, Barić K, Drevenkar V (2015) Distribution of terbuthylazine and atrazine residues in crop-cultivated soils: the effect of herbicide application rate on herbicide persistence. Geoderma 259-260:300–309

Tesoriero AJ, Saad DA, Burow KR, Frick EA, Puckett LJ, Barbash JE (2007) Linking ground-water age and chemistry data along flow paths: implications for trends and transformations of nitrate and pesticides. J Contam Hydrol 94:139–155

Thurman EM, Cromwell AE (2000) Atmospheric transport, deposition, and fate of triazine herbicides and their metabolites in pristine areas at Isle Royale National park. Environ Sci Technol 34:3079–3085

Thurman EM, Kolpin DW, Goolsby DA, Meyer MT (1998) Source and transport of desethylatrazine and desisopropylatrazine to groundwater of the Midwestern United States. Am Chem Soc Symp Ser 683:189–217

Tran ATK, Hyne RV, Doble P (2007) Determination of commonly used polar herbicides in agricultural drainage waters in Australia by HPLC. Chemosphere 67:944–953

Udiković Kolić N, Hršak D, Begonja Kolar A, Petrić I, Stipičević S, Soulas G, Martin-Laurent F (2007) Combined metabolic activity within an atrazine-mineralizing community enriched from agrochemical factory soil. Int Biodeterior Biodegrad 60:299–307

Vonberg D, Vanderborght J, Cremer N, Pütz T, Herbst M, Vereecken H (2014) 20 years of long-term atrazine monitoring in a shallow aquifer in western Germany. Water Res 50:294–306

Zhang J, Liang W, Wu X, Jiang S, Li Q (2013) Toxic effects of acetochlor on mortality, reproduction and growth of Caenorhabditis elegans and Pristionchus pacificus. Bull Environ Contam Toxicol 90:364–368
Acknowledgments
This study was supported in part by the Croatian Science Foundation under the project No. 8366 "Organic pollutants in Environment-Markers and Biomarkers of Toxicity" (OPENTOX).
The authors would like to thank the staff of Water Supply and Drainage (supplier of water services in public water supply and sewage for the City of Zagreb and the wider Zagreb area) for the collection of ground waters from municipal wells used in the public water supply systems and Mrs. Biserka Tkalčević for her skillful technical assistance.
Additional information
Responsible editor: Roland Kallenborn
About this article
Cite this article
Fingler, S., Mendaš, G., Dvoršćak, M. et al. Herbicide micropollutants in surface, ground and drinking waters within and near the area of Zagreb, Croatia. Environ Sci Pollut Res 24, 11017–11030 (2017). https://doi.org/10.1007/s11356-016-7074-6
Received:

Accepted:

Published:

Issue Date:

DOI: https://doi.org/10.1007/s11356-016-7074-6
Keywords
Triazines

Phenylureas

Chloroacetanilides

Herbicide degradation products

Spatial and seasonal variations

Water