Abstract
As widely used disinfectants, the pollution caused by benzalkonium chloride (BAC) has attracted a lot of attention in recent years. Since it is not suitable for biodegradation, BAC was degraded firstly by Fenton advanced oxidation technologies (AOTs) in this research to enhance the biodegradability of the pollutions. The result revealed that the optimal molar ratio of H2O2/Fe2+ for BAC degradation was 10:1, and the COD removal rate was 32 %. To clarify the pathway of degradation, the technique of GC-MS was implemented herein to identify intermediates and the toxicity of those BAC intermediates were also novelty tested through microbial fuel cells (MFC). The findings indicated that ten transformation products including benzyl dimethyl amine and dodecane were formed during the H2O2/Fe2+ processes, which means the degradation pathway of BAC was initiated both on the hydrophobic (alkyl chain) and hydrophilic (benzyl and ammonium moiety) region of the surfactant. The toxicity of BAC before and after treated by Fenton process was monitored through MFC system. The electricity generation was improved 337 % after BAC was treated by H2O2/Fe2+ oxidation processes which indicated that the toxicity of those intermediates were much lower than BAC. The mechanism and toxicity research in this paper could provide the in-depth understanding to the pathway of BAC degradation and proved the possibility of AOTs for the pretreatment of a biodegradation process.
Access options
Buy single article
Instant access to the full article PDF.
USD 39.95
Price includes VAT (USA)
Tax calculation will be finalised during checkout.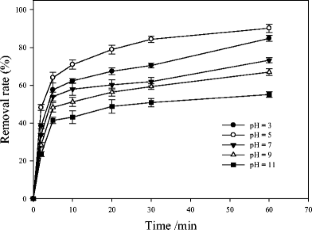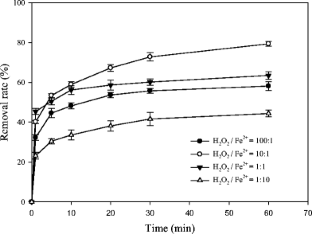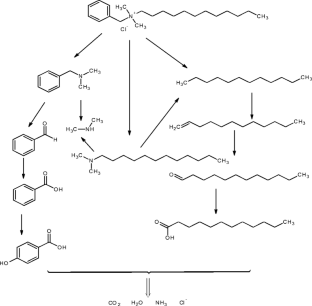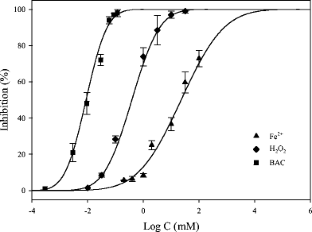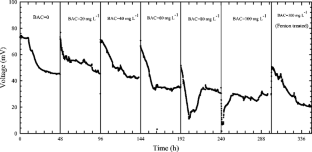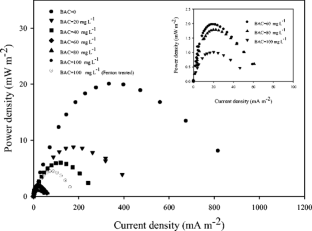 References
Alaton IA, Gürsoy BH (2008) Advanced oxidation of acid and reactive dyes: effect of Fenton treatment aerobic, anoxic and anaerobic processes. Dyes Pigments 78:117–130

Albertini RJ, Anderson D, Douglas GR, Hagmar L, Hemminki K, Merlo F, Natarajan A, Norppa H, Shuker DE, Tice R (2000) IPCS guidelines for the monitoring of genotoxic effects of carcinogens in humans. Mutat Res 463:111–172

Carbajo JB, Perdigón-Melón JA, Petre AL, Rosal R, Letón P, García-Calvo E (2015) Personal care product preservatives: risk assessment and mixture toxicities with an industrial wastewater. Water Res 72:174–185

Carbajo JB, Petre AL, Rosal R, Berná A, Letón P, García-Calvo E, Perdigón-Melón JA (2016) Ozonation as pre-treatment of activated sludge process of a wastewater containing benzalkonium chloride and NiO nanoparticles. Chem Eng J 283:740–749

Chen BY, Lin KL (2007) Dose–mortality assessment on municipal solid waste incinerator (MSWI) ash. J Hazard Mater 139:19–24

Chen BY, Liu HL, Chen YW, Cheng YC (2004) Dose–response assessment of metal toxicity upon indigenous Thiobacillusthiooxidans BC1. Process Biochem 39:737–748

Chen BY, Zhang MM, Ding YT, Chang CT (2010) Feasibility study of simultaneous bioelectricity generation and dye decolorization using naturally-occurring decolorizers. J Taiwan Inst Chem Eng 41:682–688

Chen Y, Geurts M, Sjollema SB, Kramer NI, Hermens JLM, Droge STJ (2014) Acute toxicity of the cationic surfactant C12-benzalkonium in different bioassays: how test design affects bioavailability and effect concentrations. Environ Toxicol Chem 33(3):606–615

Deutschle T, Porkert U, Reiter R, Keck T, Riechelmann H (2006) In vitro genotoxicity and cytotoxicity of benzalkonium chloride. Toxicol Vitro 20:1472–1477

Ferk F, Misˇík M, Hoelzl C, Uhl M, Fuerhacker M, Grillitsch B, Parzefall W, Nersesyan A, Micˇieta K, Grummt T (2007) Benzalkonium chloride (BAC) and dimethyldioctadecyl-ammonium bromide (DDAB) two common quaternary ammonium compounds, cause genotoxic effects in mammalian and plant cells at environmentally relevant concentrations. Mutagenesis 22:363–370

Gaze W, Abdouslam N, Hawkey P, Wellington E (2005) Incidence of class 1 integrons in a quaternary ammonium compound-polluted environment. Antimicrob Agents Chemother 49:1802–1807

Hajaya MG, Pavlostathis SG (2012) Fate and effect of benzalkonium chlorides in a continuous-flow biological nitrogen removal system treating poultry processing wastewater. Bioresour Technol 118:73–81

Hajaya MG, Tezel U, Pavlostathis SG (2011) Effect of temperature and benzalkonium chloride on nitrate reduction. Bioresour Technol 102:5039–5047

Han JL, Wang CT, Hu YC, Liu Y, Chen WM, Chang CT, Xu HZ, Chen BY (2010) Exploring power generation of single-chamber microbial fuel cell using mixed and pure cultures. J Taiwan Inst Chem Eng 41:606–611

Ismail ZZ, Tezel U, Pavlostathis SG (2010) Sorption of quaternary ammonium compounds to municipal sludge. Water Res 44:2303–2313

Kim BH, Chang IS, Gil GC, Park HS, Kim HJ (2003) Novel BOD (biological oxygen demand) sensor using mediator-less microbial fuel cell. Biotechnol Lett 25:541–545

Kim M, Sik HM, Gadd GM, Kim HJ (2007) A novel biomonitoring system using microbial fuel cells. J Environ Monit 9:1323–1328

Li JT, Song YL (2010) Degradation of AR 97 aqueous solution by combination of ultrasound and Fenton reagent. Environ Prog Sustain Energy 29:101–106

Litter MI (2005) Introduction to photochemical advanced oxidation processes for water treatment. In: Boule P, Bahnemann DW, Robertson PKJ (eds) Environmental photochemistry part II. Springer-Verlag, Berlin

Litter MI, Quici N (2010) Photochemical advanced oxidation processes for water and wastewater treatment, Recent Patents on Engineering, especial issue on Light- driven reactions and materials in the environmental technology 4:217–241

LópezLoveira E, Paula SF, Alejandro S, Gustavo C, Candal R, Marta IL (2012) TiO2-photocatalytic treatment coupled with biological systems for the elimination of benzalkonium chloride in water. Sep Purif Technol 91:108–116

Ma YS (2012) Short review: current trends and future challenges in the application of sono-Fenton oxidation for wastewater treatment. Sustain Environ Res 22:271–278

Martinez-Carballo E, Sitka A, Gonzalez-Barreiro C, Kreuzinger N, Furhacker M, Scharf S, Gans O (2007) Determination of selected quaternary ammonium compounds by liquid chromatography with mass spectrometry. Part I. Application to surface, waste and indirect discharge water samples in Austria. Environ Pollut 145:489–496

Nishiyama N, Toshima Y, Ikeda Y (1995) Biodegradation of alkyltrimethylammonium salts in activated sludge. Chemosphere 30:593–603

Özdemir C, Öden MK, Şahinkaya S, Güçlü D (2011) The sono-chemical decolorisation of textile azo dye CI Reactive Orange 127. Color Technol 127:268–273

Patil S, Harnisch F, Schröder U (2010) Toxicity response of electroactive microbial biofilms—a decisive feature for potential biosensor and power source applications. Chem Phys Chem 11:2834–2837

Patrauchan MA, Oriel PJ (2003) Degradation of benzyldimethylalkylammonium chloride by Aeromonashydrophila sp. K J Appl Microbiol 94:266–272

Perez P, Fernandez E, Beiras R (2009) Toxicity of benzalkonium chloride on monoalgal cultures and natural assemblages of marine phytoplankton. Water Air Soil Pollut 201:319–330

Rios-Enriquez M, Shahin N, Duran-de-Bazua C, Lang J, Oliveros E, Bossmann SH, Braun AM (2004) Optimization of the heterogeneous Fenton-oxidation of the model pollutant 2,4-xylidine using the optimal experimental design methodology. Sol Energy 77:491–501

Shcherbakova VA, Laurinavichius KS, Akimenko VK (1999) Toxic effect of surfactants and probable products of their biodegradation methanogenesis in an aerobic microbial community. Chemosphere 39:1861–1870

Stein NE, Hamelers HV, Buisman CN (2010) Stabilizing the baseline current of a microbial fuel cell-based biosensor through overpotential control under non-toxic conditions. Bioelectrochemistry 78:87–91

Stein NE, Hamelers HMV, van Straten G, Keesman KJ (2012a) On-line detection of toxic components using a microbial fuel cell-based biosensor. J Process Control 22:1755–1761

Stein NE, Hamelers HVM, Buisman CNJ (2012b) Influence of membrane type, current and potential on the response to chemical toxicants of a microbial fuel cell based biosensor. Sensor Actuators B Chem 163:1–7

Stein NE, Hamelers HVM, Buisman CNJ (2012c) The effect of different control mechanisms on the sensitivity and recovery time of a microbial fuel cell based biosensor. Sensor Actuators B Chem 171–172:816–821

Suchithra PS, Carleer R, Ananthakumar S, Yperman J (2015) A hybridization approach to efficient TiO2 photodegradation of aqueous benzalkonium chloride. J Hazard Mater 293:122–130

Sun JH, Sun SP, Sun JY, Sun RX, Qiao LP, Guo HQ et al (2007) Degradation of azo dye Acid Black 1 using low concentration iron of Fenton process facilitated by ultrasonic irradiation. Ultrason Sonochem 14:761–766

Sütterlin H, Alexy R, Kümmerer K (2008) The toxicity of the quaternary ammonium compound benzalkonium chloride alone and in mixtures with other anionic compounds to bacteria in test systems with Vibrio fischeri and Pseudomonas putida. Ecotoxicol Environ Saf 71:498–505

Tezel U, Pavlostathis SG (2009) Transformation of benzalkonium chloride under nitrate reducing conditions. Environ Sci Technol 431:342–1348

Wang CK, Liu CH (2014) Decontamination of alachlor herbicide wastewater by a continuous dosing mode ultrasound/Fe2+/H2O2 process. J Environ Sci 26:1332–1339

Yang J (2007) Fate and effect of alkyl benzyl dimethyl ammonium chloride in mixed aerobic and nitrifying cultures, Georgia Institute of Technology, Atlanta, 2007, MS thesis

Zhang C, Tezel U, Li K, Liu D, Ren R, Du J, Pavlostathis SG (2011) Evaluation and modeling of benzalkonium chloride inhibition and biodegradation in activated sludge. Water Res 45:1238–1246

Zhao BX, Li X, Li WJ, Yang L, Li JC, Xia WX, Zhou L, Wang F, Colin Z (2015) Degradation of trichloroacetic acid by an efficient Fenton/UV/TiO2 hybrid process and investigation of synergetic effect. Chem Eng J 273:527–533
Acknowledgments
This work was financially supported by Fujian province Science and Technology Project Foundation (2014Y4006), Xiamen Technology Project Foundation (3502Z20140057, 3502Z20153025, 3502Z20151256), the Fundamental Research Funds for the Central Universities (ZQN-PY217), and China Postdoctoral Science Foundation (2015CM582032).
Additional information
Responsible editor: Vítor Pais Vilar
Electronic supplementary material
Below is the link to the electronic supplementary material.
About this article
Cite this article
Zhang, Q., Xia, YF. & Hong, JM. Mechanism and toxicity research of benzalkonium chloride oxidation in aqueous solution by H2O2/Fe2+ process. Environ Sci Pollut Res 23, 17822–17830 (2016). https://doi.org/10.1007/s11356-016-6986-5
Received:

Accepted:

Published:

Issue Date:
Keywords
Benzalkonium chloride

Fenton advanced oxidation technologies

Microbial fuel cells

Mechanism