Abstract
This study investigated the occurrence of tetracycline antibiotics in soils from different organic vegetable farms in Guangzhou, a subtropical city, South China and evaluated their ecological risk. Four tetracycline compounds (oxytetracycline, tetracycline, chlortetracycline, and doxycycline) were extracted ultrasonically from soil samples (n = 69), with a solid-phase extraction cleanup, and were then measured by high-performance liquid chromatography–tandem mass spectrometry (HPLC-MS/MS). The results showed that four compounds were detected in all samples, with the concentrations of the individual compounds ranging from 0.04 to 184.8 μg/kg (dry weight). The concentrations of tetracycline compounds in the soils from different vegetable farms varied greatly, but their patterns of distribution were similar. Doxycycline was the predominant compound with a mean of 21.87 μg/kg, followed by chlortetracycline. The concentrations of doxycycline and chlortetracycline in 7.46 % of the samples were higher than the ecotoxic effect trigger value (100 μg/kg) set by the Steering Committee of Veterinary International Committee on Harmonization. Additionally, the concentrations of tetracyclines in greenhouse soils were significantly lower than those in open-field soils. Risk assessment based on single compound exposure showed that doxycycline could pose medium or high risks. Compared with other studies, the levels of tetracyclines in this study were relatively low. The hypothesis that antibiotic residues in the soil of organic farms fertilized with manure are higher than in the soils of conventional farms was not supported in the area studied due to the high levels of moisture, temperature, and microbial activity.
Access options
Buy single article
Instant access to the full article PDF.
USD 39.95
Price excludes VAT (USA)
Tax calculation will be finalised during checkout.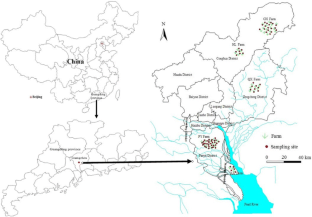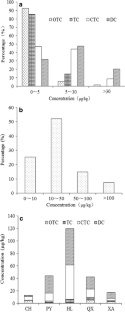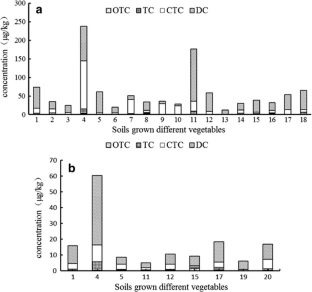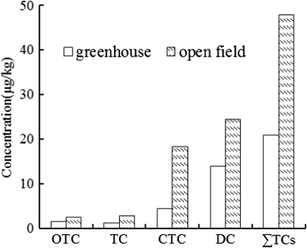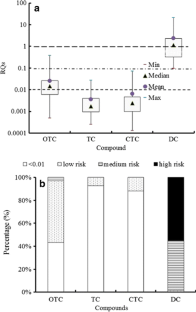 References
Aga DS, O'Connor S, Ensley S, Payero JO, Snow D, Tarkalson D (2005) Determination of the persistence of tetracycline antibiotics and their degradates in manure-amended soil using enzyme-linked immunosorbent assay and liquid chromatography-mass spectrometry. J Agr Food Chem 53:7165–7171. doi:10.1021/jf050415+

Agerso AG, Pedersen GA, Aarestrup FM (2006) Identification of Tn5397-like and Tn916-like transposons and diversity of the tetracycline resistance gene tet(M) in enterococci from humans, pigs and poultry. J Antimicrob Chemother 57:832–839. doi:10.1093/jac/dkl069

Baguer AJ, Jensen J, Krogh PH (2000) Effects of the antibiotics oxytetracycline and tylosin on soil fauna. Chemosphere 40:751–757. doi:10.1016/S0045-6535(99)00449-X

Bai LY, Zeng XB, Li LF, Pen C, Li SH (2010) Effects of land use on heavy metal accumulation in soils and source analysis. Sci Agr Sin 43:96–104. doi:10.1016/S1671-2927(09)60262-5 (in Chinese)

Brambilla G, Patrizii M, De Filippis SP, Bonazzi G, Mantovi P, Barchi D, Migliore L (2007) Oxytetracycline as environmental contaminant in arable lands. Anal Chim Acta 586:326–329. doi:10.1016/j.aca.2006.11.019

Cai QY, Mo CH, Zeng QY, Wu QT, Férard J, Antizar-Ladislao B (2008) Potential of Ipomoea aquatica cultivars in phytoremediation of soils contaminated with di-n-butyl phthalate. Environ Exp Bot 62:205–211. doi:10.1016/j.envexpbot.2007.08.005

Chaudhry V, Rehman A, Mishra A, Chauhan PS, Nautiyal CS (2012) Changes in bacterial community structure of agricultural land due to long-term organic and chemical amendments. Microb Ecol 64:450–460. doi:10.1007/s00248-012-0025-y

Cheema SA, Imran Khan M, Shen C, Tang X, Farooq M, Chen L, Zhang C, Chen Y (2010) Degradation of phenanthrene and pyrene in spiked soils by single and combined plants cultivation. J Hazard Mater 177:384–389. doi:10.1016/j.jhazmat.2009

Cheng YZ, Zhang YY, Yuan XP, Zhang X (2006) The application status and prospects of animal tetracycline antibiotics. Vet Pharm and Feed Add 11:16–17 (in Chinese)

Dolliver H, Kumar K, Gupta S (2007) Sulfamethazine uptake by plants from manure-amended soil. J Environ Qual 36:1224–1230. doi:10.2134/jeq2006.0266

Eggen T, Asp TN, Grave K, Hormazabal V (2011) Uptake and translocation of metformin, ciprofloxacin and narasin in forage- and crop plants. Chemosphere 85:26–33. doi:10.1016/j.chemosphere

European Commission (2003) Technical guidance document in support of commission directive 93/67/EEC on risk assessment for new notified substances and commission regulation (EC) no 1488/94 on risk assessment for existing substances, part II; 2003 [Brussels, Belgium].

Fatta-Kassinos D, Kalavrouziotis IK, Koukoulakis PH, Vasquez MI (2011) The risks associated with wastewater reuse and xenobiotics in the agroecological environment. Sci Total Environ 409:3555–3563. doi:10.1016/j.scitotenv.2010.03.036

Ge T, Nie SA, Wu J, Shen J, Xiao HA, Tong C, Huang D, Hong Y, Iwasaki K (2010) Chemical properties, microbial biomass, and activity differ between soils of organic and conventional horticultural systems under greenhouse and open field management: a case study. J Soil Sediment 11:25–36. doi:10.1007/s11368-010-0293-4

Guo B, Yao LX, Liu ZZ, He ZH, Zhou CM, Li GL, Yang BM, Huang LX (2011) Environmental residues of veterinary antibiotics in Guangzhou City, China. J Agro-Environ Sci 30:938–945 (in Chinese)

Haller MY, Muller SR, McArdell CS, Alder AC, Suter M (2002) Quantification of veterinary antibiotics (sulfonamides and trimethoprim) in animal manure by liquid chromatography-mass spectrometry. J Chromatogr A 952:111–120. doi:10.1016/S0021-9673(02)00083-3

Hamscher G, Sczesny S, Hoper H, Nau H (2002) Determination of persistent tetracycline residues in soil fertilized with liquid manure by high-performance liquid chromatography with electrospray ionization tandem mass spectrometry. Anal Chem 74:1509–1518. doi:10.1021/ac015588m

Han XJ, Pan GX, Li LQ (2009) Effects of the content of organic matter on the degradation of PAHs: a case of a paddy soil under a long term fertilization trial from the Tai Lake Region, China. J Agro Environ Sci 28:2533–2539

Herklotz PA, Gurung P, Heuvel BV, Kinney CA (2010) Uptake of human pharmaceuticals by plants grown under hydroponic conditions. Chemosphere 78:1416–1421. doi:10.1016/j.chemosphere

Hu XG, Zhou QX, Luo Y (2010) Occurrence and source analysis of typical veterinary antibiotics in manure, soil, vegetables and groundwater from organic vegetable bases, northern China. Environ Pollut 158:2992–2998. doi:10.1016/j.envpol.2010.05.023

IFOAM EU Group and FIBL. (2011) Organic farming in Europe—a brief overview. http://classic.ifoam.org/about_ifoam/around_world/eu_group-new/workareas/What_is_Organic/EOC_factsheet.pdf.

Isidori M, Lavorgna M, Nardelli A, Pascarella L, Parrella A (2005) Toxic and genotoxic evaluation of six antibiotics on non-target organisms. Sci Total Environ 346:87–98. doi:10.1016/j.scitotenv.2004.11.017

Ji X, Shen Q, Liu F, Ma J, Xu G, Wang Y, Wu M (2012) Antibiotic resistance gene abundances associated with antibiotics and heavy metals in animal manures and agricultural soils adjacent to feedlots in Shanghai; China. J Hazard Mater 235–236:178–185. doi:10.1016/j.jhazmat.2012.07.040

Jjemba PK (2002) The potential impact of veterinary and human therapeutic agents in manure and biosolids on plants grown on arable land: a review. Agr Ecosyst Environ 93:267–278. doi:10.1016/S0167-8809(01)00350-4

Karci A, Balcioglu IA (2009) Investigation of the tetracycline, sulfonamide, and fluoroquinolone antimicrobial compounds in animal manure and agricultural soils in Turkey. Sci Total Environ 407:4652–4664. doi:10.1016/j.scitotenv.2009.04.047

Kools S, Moltmann JF, Knacker T (2008) Estimating the use of veterinary medicines in the European Union. Regul Toxicol Pharm 50:59–65. doi:10.1016/j.yrtph.2007.06.003

Kumar K, Gupta SC, Baidoo SK, Chander Y, Rosen CJ (2005) Antibiotic uptake by plants from soil fertilized with animal manure. J Environ Qual 34:2082–2085. doi:10.2134/jeq2005.0026

Leal RM, Figueira RF, Tornisielo VL, Regitano JB (2012) Occurrence and sorption of fluoroquinolones in poultry litters and soils from Sao Paulo State, Brazil. Sci Total Environ 432:344–349. doi:10.1016/j.scitotenv.2012.06.002

Li LF, Zeng XB, Bai LY (2008) Accumulation of copper and zinc in soils under different agricultural and natural field. Acta Ecol Sin 28:4372–4380 (in Chinese)

Li L, Huang L, Chung R, Fok K, Zhang Y (2010) Sorption and dissipation of tetracyclines in soils and compost. Pedosphere 20:807–816. doi:10.1016/S1002-0160(10)60071-9

Li YW, Wu XL, Mo CH, Tai YP, Huang XP, Xiang L (2011) Investigation of sulfonamide, tetracycline, and quinolone antibiotics in vegetable farmland soil in the Pearl River Delta area, Southern China. J Agr Food Chem 59:7268–7276. doi:10.1021/jf1047578

Li X, Xie Y, Wang J, Christakos G, Si J, Zhao H, Ding Y, Li J (2013a) Influence of planting patterns on fluoroquinolone residues in the soil of an intensive vegetable cultivation area in northern China. Sci Total Environ 458–460:63–69. doi:10.1016/j.scitotenv.2013.04.002

Li C, Li Y, Tang L (2013b) The effects of long-term fertilization on the accumulation of organic carbon in the deep soil profile of an oasis farmland. Plant Soil 369:645–656. doi:10.1007/s11104-013-1605-4

Liu JL, Wong MH (2013) Pharmaceuticals and personal care products (PPCPs): a review on environmental contamination in China. Environ Int 59C:208–224. doi:10.1016/j.envint.2013.06.012

Luo Y, Xu L, Rysz M, Wang YQ, Zhang H, Alvarez P (2011) Occurrence and transport of tetracycline, sulfonamide, quinolone, and macrolide antibiotics in the Haihe River Basin, China. Environ Sci Technol 45:1827–1833. doi:10.1021/es104009s

Maia PP, Da Silva EC, Rath S, Reyes FGR (2009) Residue content of oxytetracycline applied on tomatoes grown in open field and greenhouse. Food Control 20:11–16. doi:10.1016/j.foodcont.2008.01.007

Man YB, Kang Y, Wang HS, Lau W, Li H, Sun XL, Giesy JP, Chow KL, Wong MH (2013) Cancer risk assessments of Hong Kong soils contaminated by polycyclic aromatic hydrocarbons. J Hazard Mater 261:770–776. doi:10.1016/j.jhazmat.2012.11.06

Martin J, Camacho-Munoz MA, Santos JL, Aparicio I, Alonso E (2012) Distribution and temporal evolution of pharmaceutically active compounds alongside sewage sludge treatment. Risk assessment of sludge application onto soils. J Environ Manage 102:18–25. doi:10.1016/j.jenvman

Marucci A, Campiglia E, Colla G, Pagniello B (2011) Environmental impact of fertilization and pesticide application in vegetable cropping systems under greenhouse and open field conditions. J Food Agric Environ 9:840–846

Mellon M, Benbrook C, Benbuook KL (2001) Hogging it !: estimates of antimicrobial abuse in livestock. Union of Concerned Scientist. Institute for Agriculture and Trade Policy, Washington, DC

Mo CH, Cai QY, Li HQ, Zeng QY, Tang SR, Zhao YC (2008) Potential of different species for use in removal of DDT from the contaminated soils. Chemosphere 73:120–125. doi:10.1016/j.chemosphere

Otker HM, Akmehmet-Balcioglu I (2005) Adsorption and degradation of enrofloxacin, a veterinary antibiotic on natural zeolite. J Hazard Mater 122:251–258. doi:10.1016/j.jhazmat.2005.03.005

Pailler JY, Krein A, Pfister L, Hoffmann L, Guignard C (2009) Solid phase extraction coupled to liquid chromatography-tandem mass spectrometry analysis of sulfonamides, tetracyclines, analgesics and hormones in surface water and wastewater in Luxembourg. Sci Total Environ 407:4736–4743. doi:10.1016/j.scitotenv.2009.04.042

Park S, Choi K (2008). Hazard assessment of commonly used agricultural antibiotics on aquatic ecosystems. Ecotoxicology 17:526–538. doi:10.1007/s10646-008-0209-x

Pils JR, Laird DA (2007) Sorption of tetracycline and chlortetracycline on K- and Ca-saturated soil clays, humic substances, and clay-humic complexes. Environ Sci Technol 41:1928–1933. doi:10.1021/es062316y

Rehman MSU, Rashid N, Ashfaq M, Saif A, Ahmad N, Han JI (2013) Global risk of pharmaceutical contamination from highly populated developing countries. Chemosphere. doi:10.1016/j.chemosphere

Samsoe-Petersen L, Larsen EH, Larsen PB, Bruun P (2002) Uptake of trace elements and PAHs by fruit and vegetables from contaminated soils. Environ Sci Technol 36:3057–3063. doi:10.1021/es015691t

Sarmah AK, Meyer MT, Boxall A (2006) A global perspective on the use, sales, exposure pathways, occurrence, fate and effects of veterinary antibiotics (VAs) in the environment. Chemosphere 65:725–759. doi:10.1016/j.chemosphere.2006.03.026

Sassman SA, Lee LS (2005) Sorption of three tetracyclines by several soils: assessing the role of pH and cation exchange. Environ Sci Technol 39:7452–7459. doi:10.1021/es0480217

Soil and fertilizer station of Guangdong Province (2007) Quality evaluation and utilization of the Pearl River Delta farmland. China Agriculture Press: Beijing

Suda T, Hata T, Kawai S, Kawai S, Okamura H, Nishida T (2012). Treatment of tetracycline antibiotics by laccase in the presence of 1 hydroxybenzotriazole. Bioresource Technol 103:498–501. doi:10.1016/j.biortech.2011.10.041

Stoob K, Singer HP, Mueller SR, Schwarzenbach RP, Stamm CH (2007) Dissipation and transport of veterinary sulfonamide antibiotics after manure application to grassland in a small catchment. Environ Sci Technol 41:7349–7355. doi:10.1021/es070840e

Tai YP, Luo XD, Mo CH, Li YW, Wu XL, Liu XY (2011a) Occurrence of quinolone and sulfonamide antibiotics in swine and cattle manures from large-scale feeding operations of Guangdong Province. China Environ Sci 32:1188–1193 (in Chinese)

Tai YP, Mo CH, Li YW, Wu XL, Wang JY, Su QY (2011b) Concentration and distribution of tetracycline antibiotics in soils from vegetable fields of Dongguan City. China Environ Sci 31:90–95 (in Chinese)

Tai YP, Mo CH, Li YW, Wu XL, Duan XZ, Qu XL, Huang XP (2011c) Concentrations and distribution of tetracycline antibiotics in vegetable field soil chronically fertilized with manures. China Environ Sci 32:1182–1187

Teixido M, Granados M, Prat MD, Beltran JL (2012) Sorption of tetracyclines onto natural soils: data analysis and prediction. Environ Sci Pollut Res Int 19:3087–3095. doi:10.1007/s11356-012-0954-5

Tuomisto HL, Hodge ID, Riordan P, Macdonald DW (2012) Does organic farming reduce environmental impacts?—a meta-analysis of European research. J Environ Manage 112:309–320. doi:10.1016/j.jenvman.2012.08.018

Wang QQ, Yates SR (2008) Laboratory study of oxytetracycline degradation kinetics in animal manure and soil. J Agr Food Chem 56:1683–1688. doi:10.1021/jf072927p

Wang QQ, Bradford SA, Zheng W, Yates SR (2006) Sulfadimethoxine degradation kinetics in manure as affected by initial concentration, moisture, and temperature. J Environ Qual 35:2162–2169

Wang X, Ye J, Gonzalez Perez P, Tang D, Huang D (2013) The impact of organic farming on the soluble organic nitrogen pool in horticultural soil under open field and greenhouse conditions: a case study. Soil Sci Plant Nutr 59:237–248. doi:10.1080/00380768.2013.770722

Wei R, Ge F, Huang S, Chen M, Wang R (2011) Occurrence of veterinary antibiotics in animal wastewater and surface water around farms in Jiangsu Province, China. Chemosphere 82:1408–1414. doi:10.1016/j.chemosphere.2010.11.067

Williams A, Hedlund K (2013) Indicators of soil ecosystem services in conventional and organic arable fields along a gradient of landscape heterogeneity in southern Sweden. Appl Soil Ecol 65:1–7. doi:10.1016/j.apsoil.2012.12.019

Wu C, Sun J, Zhang A, Liu W (2013a) Dissipation and enantioselective degradation of plant growth retardants paclobutrazol and uniconazole in open field, greenhouse, and laboratory soils. Environ Sci Technol 47:843–849. doi:10.1021/es3041972

Wu Y, Li Y, Zheng C, Zhang Y, Sun Z (2013b) Organic amendment application influence soil organism abundance in saline alkali soil. Eur J Soil Biol 54:32–40. doi:10.1016/j.ejsobi.2012.10.006

Xie YF, Li XW, Wang JF, Christakos G, Hu MG, An LH, Li FS (2012) Spatial estimation of antibiotic residues in surface soils in a typical intensive vegetable cultivation area in China. Sci Total Environ 430:126–131. doi:10.1016/j.scitotenv.2012.04.071

Yang L H, Ying G G, Su H C, Stauber J L, Adams, M S, Binet M T (2008). Growth‐inhibiting effects of 12 antibacterial agents and their mixtures on the freshwater microalga pseudokirchneriella subcapitata. Environ Toxicol Chem 27:1201–1208. doi:10.1897/07-471.1

Zeng X, Han B, Xu F, Huang J, Cai H, Shi L (2012) Effects of modified fertilization technology on the grain yield and nitrogen use efficiency of midseason rice. Field Crop Res 137:203–212. doi:10.1016/j.fcr.2012.08.012

Zhang HM, Zhang MK, Gu GP (2008) Residues of tetracyclines in livestock and poultry manures and agricultural soils from North Zhejiang Province. J Ecol and Rural Environ 24:69–73 (in Chinese)

Zhang D, Zhou Z, Zhang B, Du S, Liu G (2012) The effects of agricultural management on selected soil properties of the arable soils in Tibet, China. Catena 93:1–8. doi:10.1016/j.catena.2012.01.004

Zhang R, Tang J, Li J, Zheng Q, Liu D, Chen Y, Zou Y, Chen X, Luo C, Zhang G (2013) Antibiotics in the offshore waters of the Bohai Sea and the Yellow Sea in China: occurrence, distribution and ecological risks. Environ Pollut 174:71–77. doi:10.1016/j.envpol.2012.11.008

Zhao L, Dong YH, Wang H (2010) Residues of veterinary antibiotics in manures from feedlot livestock in eight provinces of China. Sci Total Environ 408:1069–1075. doi:10.1016/j.scitotenv.2009.11.014

Zhou QX, Zhang QR, Sun TH (2006) Technical innovation of land treatment systems for municipal wastewater in Northeast China. Pedosphere 16:297–303. doi:10.1016/S1002-0160(06)60055-6

Zhou LJ, Ying GG, Liu S, Zhang RQ, Lai HJ, Chen ZF, Pan CG (2013) Excretion masses and environmental occurrence of antibiotics in typical swine and dairy cattle farms in China. Sci Total Environ 444:183–195. doi:10.1016/j.scitotenv.2012.11.087

Zhu YG, Johnson TA, Su JQ, Qiao M, Guo GX, Stedtfeld RD, Hashsham SA, Tiedje JM (2013) Diverse and abundant antibiotic resistance genes in Chinese swine farms. Proc Natl Acad Sci U S A 110:3435–3440. doi:10.1073/pnas.1222743110

Zohair A, Salim AB, Soyibo AA, Beck AJ (2006) Residues of polycyclic aromatic hydrocarbons (PAHs), polychlorinated biphenyls (PCBs) and organochlorine pesticides in organically-farmed vegetables. Chemosphere 63:541–553. doi:10.1016/j.chemosphere.2005.09.012
Acknowledgments
This work was supported by the National Natural Science Foundation of China (Nos. 41173101, 41273113, 41301337, 41573093), the National Natural Science Foundation of China and Guangdong Province Government Natural Science Joint Foundation (U1501233), and the High-Level Talents Program of Guangdong Higher Education Institutions.
Additional information
Responsible editor: Roland Kallenborn
Lei Xiang and Xiao-Lian Wu contributed equally to this work.
Electronic supplementary material
Below is the link to the electronic supplementary material.
About this article
Cite this article
Xiang, L., Wu, XL., Jiang, YN. et al. Occurrence and risk assessment of tetracycline antibiotics in soil from organic vegetable farms in a subtropical city, south China. Environ Sci Pollut Res 23, 13984–13995 (2016). https://doi.org/10.1007/s11356-016-6493-8
Received:

Accepted:

Published:

Issue Date:

DOI: https://doi.org/10.1007/s11356-016-6493-8
Keywords