Abstract
Along the southeastern coast of Costa Rica, a variety of pesticides are intensively applied to produce export-quality plantains and bananas. In this region, and in other agricultural areas, fish kills are often documented by local residents and/or in the national news. This study examines principal exposure pathways, measured environmental concentrations, and selected toxicity thresholds of the three most prevalent pesticides (chlorpyrifos, terbufos, and difenoconazole) to construct a deterministic risk assessment for fish mortality. Comparisons of observed pesticide concentrations, along with estimated biological effects and observations during actual fish kills, highlight gaps in knowledge in correlating pesticide environmental concentration and toxicity in tropical environments. Observations of fish kill events and measured pesticide concentrations in the field, along with other water quality indicators, suggest that a number of environmental conditions can interact to cause fish mortality and that current species toxicity datasets may not be applicable for estimating toxicological or other synergistic effects, especially in tropical environments.
This is a preview of subscription content, log in to check access.
Access options
Buy single article
Instant access to the full article PDF.
US$ 39.95
Tax calculation will be finalised during checkout.
Subscribe to journal
Immediate online access to all issues from 2019. Subscription will auto renew annually.
US$ 99
Tax calculation will be finalised during checkout.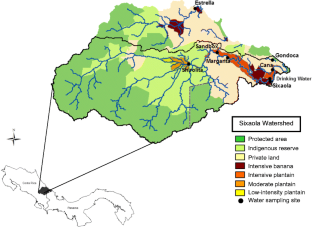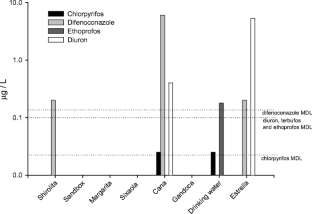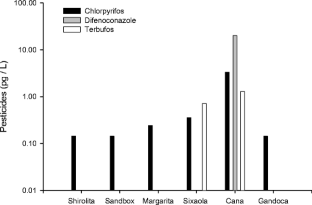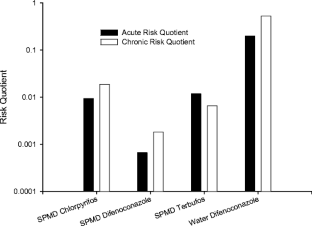 References
Alabaster JS, Lloyd RS (2013) Water Quality Criteria for Freshwater Fish, No. 3117. Elsevier.

Albarca L, Ruepert C (1992) Plaguicidas encontrados en el valle de la estrella: estudio preliminar. Tecnología en Marcha 12:31–38

Aragon A, Aragon C, Thorn A (2001) Pests, peasants, and pesticides on the Northern Nicaraguan. Pacific Plain. Int J Occup Environ Health 7:295–302

Barraza D, Jansen K, van Wendel de Joode B (2011) Pesticide use in banana and plaintain production and risk perception among local actors in Talamanca, Costa Rica. Environ Res 111:708–717

Borge C, Villalobos V (1994) Talamanca en la Encrucijada. EUNED.

Burns LA (2001) Probabilistic aquatic exposure assessment for pesticides 1. Foundations. National Exposure Research Laboratory USEPA.

Carvalho FP, Villeneuve JP, Cattini C et al (2002) Ecological risk assessment of pesticide residues in coastal lagoons of Nicaragua. J Environ Monit 4:778–787

Castillo LE, de la Cruz E, Ruepert C (1997) Ecotoxicology and pesticides in tropical aquatic ecosystems of Central America. Environ Toxicol Chem 16:41–51

Castillo LE, Ruepert C, Solis E (2000) Pesticide residues in the aquatic environment of banana plantation areas in the north Atlantic zone of Costa Rica. Environ Toxicol Chem 19:1942–1950

Castillo L, Ruepert C, Ramírez F, VanWendel de Joode B, Bravo V, de la Cruz E (2012) Plaguicidas y otros contaminantes. Ponencia preparada para el Decimoctavo Informe Estado de la Nación. Programa Estado de la Nación, San José

Damm MA, Van den Brink PJ (2010) Implications of differences between temperate and tropical freshwater ecosystems for the ecological risk assessment of pesticides. Ecotoxicology 19:24–37

de la Cruz E, Bravo-Durán V, Ramírez F, Castillo LE (2014) Environmental hazards associated with pesticide import into Costa Rica, 1977-2009. J Environ Biol 35:43–55

Dinham B, Malik S (2003) Pesticides and human rights. Int J Occup Environ Health 9:40–52

Echeverría-Sáenz S, Mena F, Pinnock M et al (2012) Environmental hazards of pesticides from pineapple crop production in the Río Jiménez watershed (Caribbean Coast, Costa Rica). Science Total Environ 440:106–114

Fieten KB, Kromhout H, Heederik D, de Joode BVW (2009) Pesticide exposure and respiratory health of indigenous women in Costa Rica. Amer J Epidem 169:1500–1506

Giesy JP, Solomon KR (2014) Ecological risk assessment for chlorpyrifos in terrestrial and aquatic systems in the United States. Rev Environ Contam Toxicol 231: 219–265.

Grant A, Oreamuno R, Serrano A et al. (2004) Inundaciones en la Vertiente Altantica. Informe de Colegio Federado de Ingenieros y de Arquitectos de Costa Rica, San Jose, Costa Rica, May 2004.

Gunnarson J, Broman D, Jonsson P et al (1995) Interactions between eutrophication and contaminants: towards a new research concept for the European aquatic environment. Ambio 24:383–385

Henriques W, Jeffers RD, Lacher TE, Kendall RJ (1997) Agrochemical use on banana plantations in Latin America: perspectives on ecological risk. Environ Toxicol Chem 16:91–99

Hernandez CE, Witter SG (1996) Evaluating and managing the environmental impact of banana production in Costa Rica: a systems approach. Ambio 25:171–178

Hernandez C, Witter SG, Hall CAS et al. (2000) The Costa Rican banana industry: can it be sustainable? pp. 563-593 In Hall CAS [Ed.], Quantifying Sustainable Development. Academic Presss

Howard PH (1991) Ed. Handbook of environmental fate and exposure data for organic chemicals. Vol 3: pesticides. Lewis Publishers, Chelsea, MI, pp 5–13

Huan Z, Xu Z, Lv D, Xie D, Luo J (2013) Dissipation and residues of difenoconazole and azoxystrobin in bananas and soil in two agro-climatic zones of China. Bull Environ Contam Toxicol 91:734–738

Huckins JN, Manuweera GK, Petty JD et al (1993) Lipid-containing semipermeable membrane devices for monitoring organic contaminants in water. Environ Sci Tech 27:2489–2496

IRET (Regional Institute for Studies of Toxic Substances (1999) Manual de Plaguicidas: Guia para America Central, 2nd Ed. EUNA, Heredia, Costa Rica.

IRET (Regional Institute for Studies of Toxic Substances) (2000) Reducción del escurrimiento de plaguicidas al mar caribe: Informe Nacional: Costa Rica GEF/11000-99-04/PNUMA. Dec. 2000.

Kapp GB (1989) Perfil ambiental de la zona Baja de Talamanca, Costa Rica. Turrialba, Costa Rica CATIE. 97 p. (Informe Técnico No.155).

Kumar A, Colton MBM, Springer M, Trama FA (2013) Macroinvertebrate communities as bioindicators of water quality in conventional and organic irrigated rice fields in Guanacaste, Costa Rica. Ecol Indic 29:68–78

Kwok KWH, Lueng KMY, Lui GSG et al (2007) Comparison of tropical and temperate freshwater animal species' acute sensitivities to chemicals: implications for deriving safe extrapolation factors. Integr Environ Assess Manage 3:49–67

Marin DH, Romero RA, Guzman M et al (2003) Black Sigatoka: an increasing threat to banana cultivation. Plant Dis 87:208–222

Matlock RB, de la Cruz R (2002) An inventory of parasitic Hymenoptera in banana plantations under two pesticide regimes. Agri Ecosyst Environ 93:147–164

Mayer FL, Marking LL, Bills TD et al (1994) Physiochemical factors affecting toxicity in freshwater: hardness, pH and temperature. In: Hamelink JL, Landrum PF, Bergman HL, Benson WH (eds) Bioavailability: physical, chemical and biological interactions. CRC Press, Boca Raton, pp 5–22

Mekonnen Y, Agonafir T (2002) Pesticide sprayers' knowledge, attitude and practice of pesticide use on agricultural farms of Ethiopia. Occup Med 52:311–315

Mezin LC, Hale RC (2004) The effect of humic acids on toxicity of DDT and chlorpyrifos to freshwater and estuarine invertebrates. Environ Toxicol Chem 23:583–590

Municipality of Talamanca (2003) Plan local de desarrollo: 2003:2013. Municipality of Talamanca, Bribri, Costa Rica.

PAN (Pesticide Action Network Database) (2014) http://www.pesticideinfo.org. Accessed December 2014

Petty JD, Orazio CE, Huckins JN et al (2000) Considerations involved with the use of semipermeable membrane devices for monitoring of environmental contaminants. J Chrom A 879:83–95

Phillips TA, Summerfelt RC, Wu J et al (2003) Toxicity of chlorpyrifos adsorbed on humic colloids to larval walley (Stizostedion vitreum). Arch Environ Contam Toxicol 45:258–263

Polidoro BA (2007). Ecological risk assessment of current-use pesticides in the Sixaola Watershed, Costa Rica. Doctoral dissertation, University of Idaho.

Polidoro BA, Dahlquist R, Castillo LE et al (2008) Pesticide application practices, pest knowledge, and cost-benefits of plantain production in the Bribri-Cabecar Indigenous Territories, Costa Rica. Environ Res 108:98–106

Polidoro BA, Morra MJ, Ruepert CR et al (2009) Pesticide sequestration in passive samplers (SPMDs): considerations for deployment time, biofouling, and stream flow in a tropical watershed. J Environ Monit 11:1866–1874

Preston BL (2002) Indirect effects in aquatic ecotoxicology: implications for ecological risk assessment. Environ Manage 29:311–323

Racke KD (1993) Environmental fate of chlorpyrifos. Rev Environ Contamin Toxicol 131:1–154

Raylea R, Hoverman J (2006) Assessing the ecology in ecotoxicology: a review and synthesis in freshwater systems. Ecol Let 9:1157–1171

Readman JW, Kwong LLW, Mee LD et al (1992) Persistent organophosphorus pesticides in tropical marine environments. Mar Poll Bull 21:398–402

Traas TP, Janse JH, van den Brink PJ et al (2004) A freshwater food web model for the combined effects of nutrients and insecticide stress and subsequent recovery. Environ Toxicol Chem 23:521–529

US EPA (2014) Ecotox Database. http://cfpub.epa.gov/ecotox/, accessed December 2014.

USEPA (US Environmental Protection Agency) (1992) Framework for ecological risk assessment EPA/630/R-92/001. US Environmental Protection Agency, Washington, D.C, USA

USEPA (US Environmental Protection Agency) (1998) Guidelines for ecological risk assessment. US Environmental Protection Agency, Washington, D.C., USA

Van den Brink PJ, Sureshkumar SN, Daam MA et al. (2003) Environmental and human risks of pesticide use in Thailand and Sri Lanka. Alterra-rapport 789, MAMAS Report Series No. 3/2003. Alterra, Green World Research, Wageningen, Netherlands.

Van den Brink PJ, Alexander AC, Desrosiers M et al (2011) Traits-based approaches in bioassessment and ecological risk assessment: strengths, weaknesses, opportunities and threats. Integrated Environ Assess Manage 7(2):198–208

Versteeg D, Belanger S, Carr G (1999) Understanding single-species and model ecosystem sensitivity: data-based comparison. Environ Toxicol Chem 18:1329–1346

Vrana B, Schuurmann G (2002) Calibrating the uptake kinetics of semipermeable membrane devices in water: impact of hydrodynamics. Environ Sci Tech 36:290–295

Vrana B, Mills GA, Allan IJ et al (2005) Passive sampling techniques for monitoring pollutants in water. Trends Anal Chem 24:845–868

Wang K, Wu JX, Zhang HY (2012) Dissipation of difenoconazole in rice, paddy soil, and paddy water under field conditions. Ecotoxicol Environ Safety 86:111–115

Warren N, Allan IJ, Carter JE et al (2003) Pesticides and other micro-organic contaminants in freshwater sedimentary environments—a review. App Geochem 18:159–194

Wesseling C, van Wendel de Joode B, Monge P (2001) Pesticide related illness among banana workers in Costa Rica: a comparison between 1993 and 1996. Int J Occup Environ Health 7:90–97

Wesseling C, Corriols M, Bravo V (2005) Acute pesticide poisoning and pesticide registration in Central America. Toxicol Appl Pharmacol 207:S697–S705
Acknowledgments
This work was funded in part by NSF-IGERT Grant No. 0114304 and by NSF-EPSCoR. We thank the faculty and staff at the Regional Institute for Studies of Toxic Substances (IRET) at Universidad Nacional in Heredia, especially Clemens Ruepert and Luisa Castillo. We thank Thomas Cahill for his review and comments on the manuscript. We also thank the communities of Sixaola, Margarita, Bribri, and Shiroles for their community-based monitoring and dedication to the project.
Additional information
Responsible editor: Thomas Hutchinson
About this article
Cite this article
Polidoro, B.A., Morra, M.J. An ecological risk assessment of pesticides and fish kills in the Sixaola watershed, Costa Rica. Environ Sci Pollut Res 23, 5983–5991 (2016). https://doi.org/10.1007/s11356-016-6144-0
Received:

Accepted:

Published:

Issue Date:
Keywords
Chlorpyrifos

Hazard quotient

Latin America

Bananas

Water quality

Toxicology