Abstract
The influence of toluene pollution on the chemical properties and swelling coefficient of root cell walls in alfalfa (Medicago sativa L.) was investigated. Two sets of alfalfa seedlings were selected and one set was treated with 450 mg L−1 toluene in the nutrient solution under hydroponic culture. Thirty days after treatment with toluene, alfalfa plants were harvested and the root cell walls were isolated. Fourier-transform infrared (FTIR) spectroscopy was carried out for the characterization of the root cell walls composition. The cation exchange capacity (CEC) and the swelling coefficient of the root cell walls (K cw) were estimated at various pH values. The toluene contamination significantly reduced the mass of the cell wall material in the alfalfa roots. According to the FTIR spectra, the toluene pollution can change the alfalfa root cell wall properties by reducing the cell wall functional groups. These functional groups are probably related to the proteins and polysaccharides in the cell wall. Also, toluene pollution strongly reduced CEC and K cw of the root cell walls. The results show that the decrease in the active sites of adsorption on the root cell walls as a response to toluene pollution can affect the water flow rate and the mineral nutrients uptake by roots.
Access options
Buy single article
Instant access to the full article PDF.
US$ 39.95
Tax calculation will be finalised during checkout.
Subscribe to journal
Immediate online access to all issues from 2019. Subscription will auto renew annually.
US$ 79
Tax calculation will be finalised during checkout.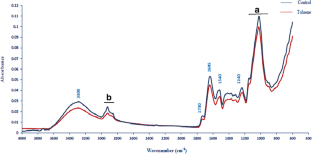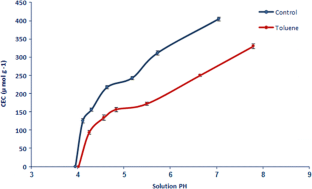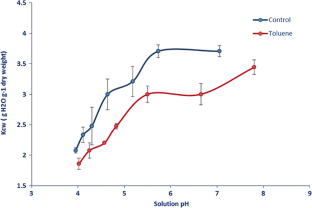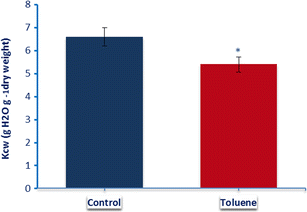 Abbreviations
FTIR:

Fourier-Transform Infrared

CEC:

Cation exchange capacity

K cw :

Swelling coefficient of root cell walls

USEPA:

United States Environmental Protection Agency

SAS:

Statistical Analysis System
References
Ahammed GJ, Yuan HL, Ogweno JO, Zhou YH, Xia XJ, Mao WH, Shi K, Yu JQ (2012) Brassinosteroid alleviates phenanthrene and pyrene phytotoxicity by increasing detoxification activity and photosynthesis in tomato. Chemosphere 86:546–555

Alkio M, Tabuchi TM, Wang X, Colón-Carmona A (2005) Stress responses to polycyclic aromatic hydrocarbons in Arabidopsis include growth inhibition and hypersensitive response-like symptoms. J Exp Bot 56:2983–2994

Alonso-Simon A, Garcia-Angulo P, Encina A, Acebes JL, Alvarez J (2008) Habituation of bean (Phaseolus vulgaris) cell cultures to quinclorac and analysis of the subsequent cell wall modifications. Ann Bot- London 101:1329–1339

Alonso-Simon A, Garcia-Angulo P, Melida H, Encina A, Alvarez JM, Acebes JL (2011) The use of FTIR spectroscopy to monitor modifications in plant cell wall architecture caused by cellulose biosynthesis inhibitors. Plant Signal Behav 6:1104–1110

ATSDR (2000) Toxicological profile for toluene. US Department of Health and Human Services, Atlanta, http://www.atsdr.cdc.gov/toxprofiles/tp56.html. Accessed October 2009

Carpita N, McCann M (2000) The cell wall. In: Buchanan BB, Gruissem W, Jones RL (eds) Biochemistry and molecular biology of plants. American Society of Plant Physiologists, Rockville, pp 52–108

Codignola A, Verotta L, Spanu P, Maffei M, Scannerini S, Bonfante-Fasolo P (1989) Cell wall bound-phenols in roots of vesicular-arbuscular mycorrhizal plants. New Phytol 112:221–228

Collins C, Laturnus F, Nepovim A (2002) Remediation of BTEX and trichloroethene. Environ Sci Pollut 9:86–94

Cosgrove DJ (1993) How do plant cell walls extend. Plant Physiol 102:1–6

Dufey JE, Genon JG, Jaillard B, Calba H, Rufyikiri G, Delvaux B (2001) Cation exchange on plant roots involving aluminum: experimental data and modeling. In: Wenzel WW, Lombi E (eds) Gobran GR. Trace Elements in the Rhizosphere. CRC Press LCC, Boca Raton, Florida, USA, pp 228–252

ECB (2003) European Union Risk Assessment Report. Toluene. 2nd Priority List, Vol. 30. European Union–Joint Research Centre, European Chemicals Bureau. http://ecb.jrc.it/documents/Existing-Chemicals/RISK_ASSESSMENT/REPORT/toluenereport 032.pdf. Accessed October 2009.

Environment Canada (2004), Canadian Soil Quality Guidelines for the protection of environmental and human health: toluene. http://ceqg-rcqe.ccme.ca/download/en/283/. Accessed March 2009.

Environment Agancy (2009) Supplementary information for the derivation of SGVs for toluene. Science Report SC050021, Technical Review Toluene. http://www.environment-agency.gov.uk. Accessed January 2008

Flocco CG, Lo Balbo A, Carranza MP, Giulietti AM (2002) Removal of phenol by alfalfa Plants (Medicago sativa L.) grown in hydroponics and its effect on some physiological parameters. Acta Biotechnol 22:43–54

Gao YZ, Ling WT, Zhu LZ, Zhao BW, Zheng QS (2007) Surfactant-enhanced phytoremediation of soils contaminated with hydrophobic organic contaminants: potential and assessment. Pedoshpere 17:409–418

Gao JJ, Shen XF, Peng RH, Zhu B, Xu J, Han H, Yao QH (2012) Phytoremediation and phytosensing of chemical contaminant, toluene: identification of the required target genes. Mol Biol Rep 39:8159–8167

Grignon C, Sentenac H (1991) pH and ionic conditions in the apoplast. Annu Rev Plant Phys 42:103–128

Haritash AK, Kaushik CP (2009) Biodegradation aspects of polycyclic aromatic hydrocarbons (PAHs). J Hazard Mater 169:1–15

Helfferich F (1962) Ion Exchange. Mc Graw-Hill, New York

Hofmannova J, Schwarzerova K, Havelkova L, Borikova P, Petrasek J, Opatrny Z (2008) A novel, cellulose synthesis inhibitory action of ancymidol impairs plant cell expansion. J Exp Bot 59:3963–3974

Hoson T (1998) Apoplast as the site of response to environmental signals. J Plant Res 111:167–177

IPCS (1985) Toluene. Environ Health Criteria 52, http://www.inchem.org/documents/ehc/ehc/ehc52.htm. Accessed March 2009

Johnson H Jr (1980) Hydroponics: A guide to soilless culture, Leaflet 2947. Division of agriculture and natural resources. Univ. of California, Berkeley

Józefaciuk G, Szatanik-Kloc A (2004) Surface properties of plant roots and their alteration under aluminum stress. In: Lipiec J, Walczac R, Jozefaciukm G (eds) Plant growth in relation to soil physical conditions. Polish Academy of Sciences, Institute of Agrophysics, pp 67–79

Kacurakova M, Capek P, Sasinkova V, Wellner N, Ebringerova A (2000) FT-IR study of plant cell wall model compounds: pectic polysaccharides and hemicelluloses. Carbohyd Polym 43:195–203

Ktitorova IN, Skobeleva OV (1999) Varying the cell wall properties and some water relation parameters in acidic medium. Russ J Plant Physl 40:239–245

Kvesitadze G, Khatisashvili G, Sadunishvili T, Ramsden JJ (2006) Biochemical Mechanisms of Detoxification in Higher Plants. Basis of Phytoremediation, Springer, Heidelberg, New York

Leucci MR, Lenucci MS, Piro G, Dalessandro G (2008) Water stress and cell wall polysaccharides in the apical root zone of wheat cultivars varying in drought tolerance. J Plant Physiol 165:1168–1180

Libinson GS (1969) Physico-chemical Properties of Carboxylic Ion Exchangers. Nauka, Moscow

MCann MC, Hammouri M, Wilson R, Belton P, Roberts K (1992) Fourier-transform infrared microspectroscopy is a new way to look at plant cell walls. Plant Physiol 100:1940–1947

Mélida H, García-Angulo P, Alonso-Simón A, Encina A, Álvarez J, Acebes JL (2009) Novel type II cell wall architecture in dichlobenil-habituated maize calluses. Planta 229:617–631

Meychik NR, Yermakov IP (1999) A new approach to the investigation on the tonogenic groups of root cell Walls. Plant Soil 217:257–264

Meychik NR, Yermakov IP (2001a) Ion exchange properties of plant root cell walls. Plant Soil 234:181–193

Meychik NR, Yermakov IP (2001b) Swelling of root cell walls as an indicator of their functional state. Biochem US 66:178–187

Meychik NR, Yermakov IP, Savvateeva MV (1999) Ionogenic groups in the cell wall of wheat roots. Plant Physiol 46:742–747

Meychik NR, Nikolaeva JI, Yermakov IP (2005) Ion exchange properties of the root cell walls isolated from the halophyte plants (Suaeda altissima L.) grown under conditions of different salinity. Plant Soil 277:163–174

Meychik NR, Nikolaeva JI, Yermakov IP (2006) Ion-exchange properties of cell walls of Spinacia oleracea L. roots under different environmental salt conditions. Biochem 71:781–789

Narayanan M, Davis LC, Tracy JC, Erickson LE, Green RM (1995) Experimental and modelling studies of the fate of organic contaminants in the presence of alfalfa plants. J Hazard Mater 41:229–249

Piro G, Leucci MR, Waldron K, Dalessandro G (2003) Exposure to water stress causes changes in the biosynthesis of cell wall polysaccharides in roots of wheat cultivars varying in drought tolerance. Plant Sci 165:559–569

Radetski CM, Cotelle S, Ferard JF (2000) Classical and biochemical endpoints in the evaluation of phytotoxic effects caused by the herbicide trichloroacetate. Environ Exp Bot 44:221–229

Reilley KA, Banks MK, Schwab AP (1996) Organic chemicals in the environment: dissipation of polycyclic aromatic hydrocarbons in the rhizosphere. J Environ Qual 25:212–219

Sadunishvili T, Kvesitadze E, Betsiashvili M, Kuprava N, Zaalishvili G, Kvesitadze G (2009) Influence of hydrocarbons on plant cell ultrastructure and main metabolic enzymes. World Academy of Science. Eng Technol 33:271–276

Sene CFB, McCann MC, Wilson RH, Grinter R (1994) Fourier-transform raman and Fourier-transform infrared-spectroscopy: an investigation of 5 higher plant cell walls and their components. Plant Physiol 106:1623–1631

Serjeant EP, Dempsey B (1979) Ionization Constants of Organic Acids in Aqueous Solution. Pergamon, Oxford

Somerville C, Bauer S, Brininstool G, Facette M, Hamann T, Milne J, Osborne E, Paredez A, Persson S, Raab T, Vorwerk S, Youngs H (2004) Toward a systems approach to understanding plant cell walls. Science 306:2206–2211

Tabuchi A, Matsumotoa H (2001) Changes in cell-wall properties of wheat (Triticum aestium) roots during aluminum-induced growth inhibition. Physiol Plant 112:353–358

Thygesen RS, Trapp S (2002) Phytotoxicity of polycyclic aromatic hydrocarbons to willow trees. J Soil Sedimentol 2:77–82

USEPA (2008) ECOTOX database. http://cfpub.epa.gov/ecotox/. Accessed January 2008.

Wilson RH, Smith AC, Kacurakova M, Saunders PK, Wellner N, Waldron KW (2000) The mechanical properties and molecular dynamics of plant cell wall polysaccharides studied by Fourier-transform infrared spectroscopy. Plant Physiol 124:397–405

Yang J, Yen HE (2002) Early salt stress effects on the changes in chemical composition in leaves of ice plant and Arabidopsis. A fourier transform infrared spectroscopy study. Plant Physiol 130:1032–1042

Zaalishvili G, Lomidze E, Buadze O, Sadunishvili T, Tkhelidze P, Kvesitadze G (2000) Electron microscopic investigation of benzidine effect on maize root tip cells ultrastructure, DNA synthesis and calcium homeostasis. Int Biodeterior Biodegrad 46:133–140

Zaalishvili G, Sadunishvili T, Scalla R, Laurent F, Kvesitadze G (2002) Electron microscopic investigation of nitrobenzene distribution and effect on plant root tip cells ultrastructure. Ecotox Environ Safe 52:190–197
Additional information
Responsible editor: Philippe Garrigues
About this article
Cite this article
Sharifi, M., Khoshgoftarmanesh, A.H. & Hadadzadeh, H. Changes in the chemical properties and swelling coefficient of alfalfa root cell walls in the presence of toluene as a toxic agent. Environ Sci Pollut Res 23, 7022–7031 (2016). https://doi.org/10.1007/s11356-015-6008-z
Received:

Accepted:

Published:

Issue Date:
Keywords
Alfalfa

Toluene

Cell wall

Cation exchange capacity

Swelling coefficient

Root