Abstract
Imposex incidence, organotin tissue levels, and sex steroid (free and esterified testosterone and estradiol) levels were assessed in Stramonita haemastoma from Babitonga Bay (Santa Catarina State, Southern Brazil). The imposex levels showed a reduction when compared to a previous evaluation performed in the same area. In spite of that, the detected imposex incidence indicated the occurrence of tributyltin (TBT) inputs that were still able to produce endocrine disruption in local gastropods. In addition, a high level of organotins was observed in tissues of imposexed females. These females also showed a hormonal imbalance, especially in the total testosterone/total estradiol ratio. These findings obtained under realistic field conditions suggest that the steroid pathway could be responsible by the imposex induction after exposure to TBT. In this case, measurements of sex steroid levels can be an additional evidence for monitoring sites and impose affected gastropod populations.
This is a preview of subscription content, log in to check access.
Access options
Buy single article
Instant access to the full article PDF.
US$ 39.95
Price includes VAT for USA
Subscribe to journal
Immediate online access to all issues from 2019. Subscription will auto renew annually.
US$ 99
This is the net price. Taxes to be calculated in checkout.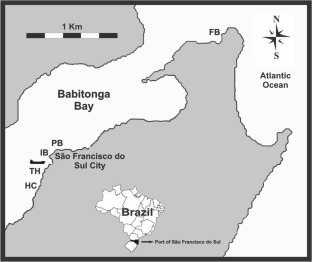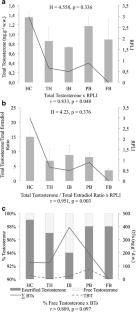 References
Abidli S, Santos MM, Lahbib Y et al (2012) Tributyltin (TBT) effects on Hexaplex trunculus and Bolinus brandaris (Gastropoda: Muricidae): Imposex induction and sex hormone levels insights. Ecol Indic 13:13–21

Alzieu C, Michel P, Tolosa I et al (1991) Organotin compounds in the Mediterranean: a continuing cause for concern. Mar Environ Res 32:261–270

APSFS (2012) Statistical yearbook of São francisco do Sul harbor

Barroso C, Reis-Henriques M, Ferreira M, Moreira M (2002) The effectiveness of some compounds derived from antifouling paints in promoting imposex in Nassarius reticulatus. J Mar Biol Assoc UK 82:249–255

Barroso C, Nunes M, Richardson C, Moreira M (2005) The gastropod statolith: a tool for determining the age of Nassarius reticulatus. Mar Biol 146:1139–1144. doi:10.1007/s00227-004-1516-2

Bettin C, Oehlmann J, Stroben E (1996) TBT-induced imposex in marine neogastropods is mediated by an increasing androgen level. Helgoländer Meeresun 50:299–317

Biselli S, Bester K, Hühnerfuss H, Fent K (2000) Concentrations of the antifouling compound irgarol 1051 and of organotins in water and sediments of German North and Baltic Sea marinas. Mar Pollut Bull 40:233–243. doi:10.1016/S0025-326X(99)00177-0

Borg W, Shackleton C, Pahuja S, Hochberg R (1995) Long-lived testosterone esters in the rat. Proc Natl Acad Sci U S A 92:1545–1549

Borges CLL, Fernandez MAS, Castro IB, Fillmann G (2013) Organotin pollution from pleasure craft at Paraty, a tourist area of Southeastern Brazil: amelioration or interference? Braz J Oceanogr 61:177–186

Bryan GW, Gibbs PE, Hummerstone LG, Burt GR (1986) The decline of the gastropod Nucella lapillus around Southwest England—evidence for the effect of tributyltin from antifouling paints. J Mar Biol Assoc U K 66:611–640

Bryan GW, Burt GR, Gibbs P, Pascoe PL (1993) Nassarius reticulatus (Nassariidae: Gastropoda) as an indicator of tributyltin pollution before and after TBT restrictions. J Mar Biol Assoc UK 73:913–929

Butler P (1985) Synoptic review of the literature on the southern oyster drill, Thais haemastoma floridana

Castro IB, Fillmann G (2012) High tributyltin and imposex levels in the commercial muricid Thais chocolata from two Peruvian harbor areas. Environ Toxicol Chem 31:955–960

Castro IB, Bemvenuti CE, Fillmann G (2007) Preliminary appraisal of imposex in areas under the influence of Southern Brazilian harbor. J Braz Soc Ecotoxicol 2:73–79

Castro IB, Meirelles CAO, Matthews-Cascon H et al (2008) Imposex in endemic volutid from Northeast Brazil (Mollusca: Gastropoda). Braz Arch Biol Technol 51:1065–1069. doi:10.1590/S1516-89132008000500024

Castro IB, Westphal E, Fillmann G (2011) Tintas anti-incrustantes de terceira geração: novos biocidas no ambiente aquático. Quim Nov. 34:1021–1031

Castro IB, Arroyo M, Costa P, Fillmann G (2012a) Butyltin compounds and imposex levels in Ecuador. Arch Environ Contam Toxicol 62:68–77

Castro IB, Perina F, Fillmann G (2012b) Organotin contamination in South American coastal areas. Environ Monit Assess 184:1781–1799

Castro IB, Rossato M, Fillmann G (2012c) Imposex reduction and residual butyltin contamination in Southern Brazilian harbor. Environ Toxicol Chem SETAC 31:947–54. doi:10.1002/etc.1793

Castro IB, Costa PG, Primel EG, Fillmann G (2015) Environmental matrices effect in butyltin determinations by GC/MS. Ecotoxicol Environ Contam 10:47–53. doi:10.5132/eec.2015.01.08

Cremer M (2006) O estuário da Baía da Babitonga. In: Cremer J, Morales P, Oliveira T (eds) Diagnóstico ambiental da Baía da Babitonga. Ed. Univali, pp 15–19

Díez S, Ábalos M, Bayona JM (2002) Organotin contamination in sediments from the Western Mediterranean enclosures following 10 years of TBT regulation. Water Res 36:905–918

Fent K (2006) In: Konstantinou IK (ed) Worldwide occurrence of organotins from antifouling paints and effects in the aquatic environment. Springer-Verlag, Berlin, pp 71–100

Fernandez MA, Limaverde AM, Castro IB et al (2002) Occurrence of imposex in Thais haemastoma: possible evidence of environmental contamination derived from organotin compounds in Rio de Janeiro and Fortaleza, Brazil. Cad Saúde Pública 18:463–476. doi:10.1590/S0102-311X2002000200011

Fernandez MA, de Luca Rebello Wagener A, Limaverde AM et al (2005) Imposex and surface sediment speciation: a combined approach to evaluate organotin contamination in Guanabara Bay, Rio de Janeiro, Brazil. Mar Environ Res 59:435–52. doi:10.1016/j.marenvres.2004.07.001

Gibbs P, Bryan G (1987) TBT paints and the demise of the dog-whelk, Nucella lapillus (gastropoda). Oceans 87:1482–1487. doi:10.1109/OCEANS.1987.1160635

Gipperth L (2009) The legal design of the international and European Union ban on tributyltin antifouling paint: direct and indirect effects. J Environ Manag 90:S86–S95

Giusti A, Barsi A, Dugué M et al (2013) Reproductive impacts of tributyltin (TBT) and triphenyltin (TPT) in the hermaphroditic freshwater gastropod Lymnaea stagnalis. Environ Toxicol Chem 32:1552–1560. doi:10.1002/etc.2200

Gooding MP, LeBlanc GA (2001) Biotransformation and disposition of testosterone in the Eastern mud snail Ilyanassa obsoleta. Gen Comp Endocrinol 122:172–180

Gooding MP, Wilson VS, Folmar LC et al (2003) The biocide tributyltin reduces the accumulation of testosterone as fatty acid esters in the mud snail (Ilyanassa obsoleta). Environ Health Perspect 111:426–430

Horiguchi T, Shiraishi H, Shimizu M et al (1995) Imposex in Japanese gastropods (neogastropoda and mesogastropoda): effects of tributyltin and triphenyltin from antifouling paints. Mar Pollut Bull 31:402–405

Horiguchi T, Shiraishi H, Shimizu M, Morita M (1997) Imposex in sea snails, caused by organotin (tributyltin and triphenyltin) pollution in Japan: a survey. Appl Organomet Chem 11:451–455

IMO (2014) Status of multilateral conventions and instruments in respect of which the International Maritime Organization or its Secretary-General performs depositary or other functions

Janer G, Lyssimachou A, Bachmann J et al (2006) Sexual dimorphism in esterified steroid levels in the gastropod Marisa cornuarietis: the effect of xenoandrogenic compounds. Steroids 71:435–444

Lima D, Reis-Henriques MA, Silva R et al (2011) Tributyltin-induced imposex in marine gastropods involves tissue-specific modulation of the retinoid X receptor. Aquat Toxicol 101:221–227. doi:10.1016/j.aquatox.2010.09.022

Limaverde AM, Wagener ADLR, Fernandez MA et al (2007) Stramonita haemastoma as a bioindicator for organotin contamination in coastal environments. Mar Environ Res 64:384–98. doi:10.1016/j.marenvres.2007.03.001

Lyssimachou A, Bachmann J, Porte C (2008) Short-term exposure to the organotin compound triphenyltin modulates esterified steroid levels in females of Marisa cornuarietis. Aquat Toxicol 89:129–135. doi:10.1016/j.aquatox.2008.06.009

Matthews HR (1968) Notes on the genus Thais Roding, 1798 in Northeast Brazil. Arch Mar Biol Stn Ceará Fed Univ 8:37–41

Matthiessen P (2013) Detection, monitoring, and control of tributyltin—an almost complete success story. Environ Toxicol Chem 32:487–489. doi:10.1002/etc.2108

Matthiessen P, Gibbs P (1998) A critical appraisal of the evidence for tributyltin mediated endocrine disruption in mollusks. Environ Toxicol Chem 17:37–43

Mensink BP, Kralt H, Vethaak AD et al (2002) Imposex induction in laboratory reared juvenile Buccinum undatum by tributyltin (TBT). Environ Toxicol Pharmacol 11:49–65

Morcillo Y, Porte C (1999) Evidence of endocrine disruption in the imposex-affected gastropod Bolinus brandaris. Environ Res 81:349–354

Morcillo Y, Porte C (2000) Evidence of endocrine disruption in clams—Ruditapes decussata—transplanted to a tributyltin-polluted environment. Environ Pollut 107:47–52

NORMAM (2007) Normas da Autoridade Marítima para o Controle de Sistemas Anti-incrustantes Danosos em Embarcações—NORMAM/23. Marinha do Brasil, Rio de Janeiro

Oberdorster E, Rittschof D, Clellan-Green P (1998) Testosterone metabolism in imposex and normal Ilyanassa obsoleta: comparison of field and TBTA Cl-induced imposex. Mar Pollut Bull 36:144–151

Oehlmann J, Stroben E, SchulteOehlmann U et al (1996) Tributyltin biomonitoring using prosobranchs as sentinel organisms. Fresenius J Anal Chem 354:540–545

Oliveira CR, dos Santos D, Madureira LADS, de Marchi MRR (2010) Speciation of butyltin derivatives in surface sediments of three Southern Brazilian harbor. J Hazard Mater 181:851–856. doi:10.1016/j.jhazmat.2010.05.091

Omae I (2006) In: Konstantinou IK (ed) Chemistry and fate of organotin antifouling biocides in the environment. Springer-Verlag, Berlin, pp 17–50

Paz-Villarraga CA, Castro IB, Miloslavich P, Fillmann G (2015) Venezuelan Caribbean Sea under the threat of TBT. Chemosphere 119:704–710

Petracco M, Camargo R, Berenguel T et al (2015) Evaluation of the use of Olivella minuta (Gastropoda, Olividae) and Hastula cinerea (Gastropoda, Terebridae) as TBT sentinels for sandy coastal habitats. Environ Monit Assess 187:1–11. doi:10.1007/s10661-015-4650-z

R Core Team (2013) R: A language and environment for statistical computing. R Foundation for Statistical Computing. Viena, Austria, http://www.R-project.org/

Rilov G, Gasith A, Evans S, Benayahu Y (2000) Unregulated use of TBT-based antifouling paints in Israel (eastern Mediterranean): high contamination and imposex levels in two species of marine gastropods. Mar Ecol Prog Ser 192:229–238

Rilov G, Benayahu Y, Gasith A (2001) Low abundance and skewed population structure of the whelk Stramonita haemastoma along the Israeli Mediterranean coast. Mar Ecol Prog Ser 218:189–202. doi:10.3354/meps218189

Ronis M, Mason A (1996) The metabolism of testosterone by the periwinkle (Littorina littorea) in vitro and in vivo: effects of tributyltin. Mar Environ Res 42:161–166

Santos MM, Castro LF, Vieira MN et al (2005) New insights into the mechanism of imposex induction in the dogwhelk Nucella lapillus. Comp Biochem Physiol Part C Toxicol Pharmacol 141:101–109

Scott AP (2013) Do mollusks use vertebrate sex steroids as reproductive hormones? II. Critical review of the evidence that steroids have biological effects. Steroids 78:268–281. doi:10.1016/j.steroids.2012.11.006

Smith BS (1971) Sexuality in the American mud-snail Nassarius obsoletus Say. Proc Malacol Soc Lond 39:377–378

Sousa A, Mendo S, Barroso C (2005) Imposex and organotin contamination in Nassarius reticulatus (L.) along the Portuguese coast. Appl Organomet Chem 19:315–323

Sousa A, Matsudaira C, Takahashi S et al (2007) Integrative assessment of organotin contamination in a southern European estuarine system (Ria de Aveiro, NW Portugal): tracking temporal trends in order to evaluate the effectiveness of the EU ban. Mar Pollut Bull 54:1645–53. doi:10.1016/j.marpolbul.2007.07.005

Spooner N, Gibbs PE, Bryan GW, Goad LJ (1991) The effect of tributyltin upon steroid titers in the female dogwhelk, Nucella lapillus, and the development of imposex. Mar Environ Res 32:37–49

Sternberg R, Gooding M, Hotchkiss A, LeBlanc G (2010) Environmental-endocrine control of reproductive maturation in gastropods: implications for the mechanism of tributyltin-induced imposex in prosobranchs. Ecotoxicology 19:4–23

Stewart C, Demora SJ, Jones MRL, Miller MC (1992) Imposex in New-Zealand neogastropods. Mar Pollut Bull 24:204–209

Titley-O'Neal CP, Munkittrick KR, MacDonald BA (2011) The effects of organotin on female gastropods. J Environ Monit 13:2360–2388

Toste R, Pessoa IA, Dore MP et al (2013) Is aphallic vas deferens development in females related to the distance from organotin sources? A study with Stramonita haemastoma. Ecotoxicol Environ Saf 91:162–170. doi:10.1016/j.ecoenv.2013.01.026

Wong M (1991) Tributyltin antifoulings: a threat to the Hong Kong marine environment. Arch Environ Contam Toxicol 20:299–304
Acknowledgments
The authors gratefully acknowledge the financial support of the National Council for Scientific and Technological Development (CNPq) of Brazil (478743/2008-4). M. Rossato (MSc grant 134989/ 381 2009). I. B. Castro (PhD grant 141550/2007) and G. Fillmann (PQ 312341/2013-0) were sponsored by CNPq.
Additional information
Responsible editor: Thomas Hutchinson
About this article
Cite this article
Rossato, M., Castro, I.B., Paganini, C.L. et al. Sex steroid imbalances in the muricid Stramonita haemastoma from TBT contaminated sites. Environ Sci Pollut Res 23, 7861–7868 (2016). https://doi.org/10.1007/s11356-015-5942-0
Received:

Accepted:

Published:

Issue Date:
Keywords
Butyltin accumulation

Endocrine disruptor

Hormonal disturbance

Imposex

Stramonita haemastoma

TBT