Abstract
Concentrations of cadmium, lead, and mercury were measured in different tissues (liver, muscle, and shell) of 60 Caspian Pond Turtles collected from Tajan and Shiroud Rivers, southern basin of the Caspian Sea. Based on the results, different tissues showed different capacities for accumulating trace elements. The general trend of metals accumulation was: liver > shell > muscle. Results also showed that accumulation of these elements was not significantly different between sex and river in turtles (p > 0.05). Based on the results, Hg and Pb concentrations recorded in the present study were higher than some of the maximum concentration permissible. To our knowledge, this is the first report into heavy metal accumulation in tissues and organs of Caspian Pond Turtle from the southern basin of Caspian Sea. Further studies are needed to measure different heavy metals and trace metals in this valuable species.
Access options
Buy single article
Instant access to the full article PDF.
US$ 39.95
Tax calculation will be finalised during checkout.
Subscribe to journal
Immediate online access to all issues from 2019. Subscription will auto renew annually.
US$ 79
Tax calculation will be finalised during checkout.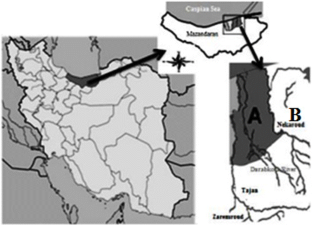 References
Aguirre AA, Tabor GM (2004) Marine vertebrates as sentinels of marine ecosystem health. EcoHealth 1:236–238

Bahnasawy M, Aziz Khidr A, Dheina N (2009) Seasonal variations of heavy metals concentrations in mullet, (Mugil Cephalus) and (Liza Ramada) (Mugilidae) from Lake Manzala. J Appl Sci Res 5:845–852

Barbieri E (2009) Concentration of heavy metals in tissues of green turtles (Chelonia mydas) sampled in the Cananéia Estuary, Brazil. Braz J Oceanogr 57:243–248

Bezerra MF, Lagerda LD, Costa BG, Lima EHSM (2012) Mercury in the sea turtle Chelonia mydas (Linnaeus, 1958) from Ceará coast, NE Brazil. Anal Braz Acad Sci 84:123–128

Bezerra MF, Lacerda LD, Jorge CS, Lima EHSM, Melo MTD (2014) Mercury concentration in tissues of a captive green turtle (Chelonia mydas L.). Mar Turt Newsl 141:13–14

Bishop BE, Savitzky BA, Abdel-Fattah T (2010) Lead bioaccumulation in emydid turtles of anurban lake and its relationship to shell disease. Ecotoxicol Environ Saf 73:565–571

Bonomelli C, Bonilla C, Valenzuela A (2003) Effect of phosphate fertilizer on the soil cadmium content in four types of Chilean soils. Pesq Agrop Brasileira 38(10):1179–1186

Caurant CF, Bustamante P, Bordes M, Miramand P (1999) Bioaccumulation of cadmium, copper and zinc in some tissues of three species of marine turtles stranded along the French Atlantic coasts. Mar Pollut Bull 38:1085–1091

Davenport J, Wrench J (1990) Metal levels in a leatherback turtle. Mar Pollut Bull 21:40–41

Filazi A, Baskaya R, Kum C (2003) Metal concentration in tissues of the Black Sea fish (Mugil auratus) from Sinop-Icliman, Turkey. Hum Exp Toxicol 22:85–87

García-Fernández AJ, Gómez-Ramírez P, Martínez-López E, Hernández-García A, María Mojica P, Romero D, Jiménez P, Castillo JJ, Bellido JJ (2009) Heavy metals in tissues from loggerhead turtles (Caretta caretta) from the south western Mediterranean (Spain). Ecotoxicol Environ Saf 72:57–563

Gardner SC, Fitzgerald SL, Acosta Vargas B, Mendez Rodriguez L (2006) Heavy metal accumulation in four species of sea turtles from the Baja California Peninsula, Mexico. Biometals 19:91–99

Hopkins BC, Willson JD, Hopkins WA (2013) Mercury exposure is associated with negative effects on turtle reproduction. Environ Sci Technol 47:2416–2422

Hosseini SM, Mirghaffari N, Mahboobi Soofiani N, Khodakarami L (2011) Evaluation of mercury contamination in the Caspian Sea's sediment by GIS and geostatistic. J Nat Environ 64:169–183

Innis C, Tlusty M, Perkins C, Holladay S, Merigo C, Weber ES (2008) Trace metal and organochlorine pesticide concentrations in cold-stunned juvenile Kemp's ridley turtles (Lepidochelys kempii) from Cape Cod, Massachusetts. Chelonian Conserv Biol 7:230–239

Iverson JB (1994) Variation in East-Asian turtles of the genus Mauremys. J Herpetol 28:178–187

Javed M (2005) Heavy metal contamination of freshwater fish and bed sediment in the Ravi river stretch and related tributaries. Pak J Biol Sci 8:1337–1341

Kalantzi I, Shimmield TM, Pergantis SA, Papageorgiou N, Black KD, Karakassis I (2013) Heavy metals, trace elements and sediment geochemistry at four Mediterranean fish farms. Sci Total Environ 444:128–137

Kim J, Park S, Koo T (2007) Lead and cadmium concentrations in shorebirds from the Yeongjong Island, Korea. Environ Monit Assess 134:355–361

Kitana N, Callard IP (2008) Effect of cadmium on gonadal development in freshwater turtle (Trachemys scripta, Chrysemys picta) embryos. J Environ Sci Health 43:262–271

Lam JCW, Tanabe S, Chan SKF, Yuen EKW, Lam MHW, Lam PKS (2004) Trace element residues in tissues of green turtles (Chelonia mydas) from south China waters. Mar Pollut Bull 48:174–182

Ley-Quinoez C, Zavala-Norzagaray AA, Espinosa-Carreon TL, Peckham H, Marquez-Herrera C, Campos-Villegas L, Aguirre AA (2011) Baseline heavy metals and metalloid values in blood of loggerhead turtles (Caretta caretta) from Baja California Sur, Mexico. Mar Pollut Bull 62:1979–1983

Malik RN, Ghaffa B, Hashmi MZ (2013) Trace metals in Ganges soft-shell turtle (Aspideretes gangeticus) from two barrage: Baloki and Rasul, Pakistan. Environ Sci Pollut Res 1:1–12

Mashroofeh A, Bakhtiari AR, Pourkazemi M, Rasouli S (2013) Bioaccumulation of Cd, Pb and Zn in the edible and inedible tissues of three sturgeon species in the Iranian coastline of the Caspian Sea. Chemosphere 90:573–580

Matson CW, Palatnikov G, Islamzadeh A, Mcdonald TJ, Autenrieth R, Donnelly KC, Bickham JW (2005) Chromosomal damage in two species of aquatic turtles (Emys orbicularis and Mauremys caspica) inhabiting contaminated sites in Azerbaijan. Ecotoxicology 14:513–525

Nasrollahzadeh Saravi H, Pourgholam R, Pourang N, Rezaei M, Makhlough A, Unesipour H (2013) Heavy metal concentrations in edible tissue of Cyprinus carpio and its target hazard quotients in the southern Iranian Caspian Sea coast. J Mazandaran Univ Med Sci 23:33–44

Overmann SR, Krajicek JJ (1995) Snappin gturtles (Chelydra serpentina) as biomonitors of lead contamination of the Big River in Missouri's old lead belt. Environ Toxicol Chem 14:689–695

Paez-Osuna F, Calderon-Campuzano MF, Soto-Jimenez MF, Ruelas-Inzunza JR (2010) Trace metals (Cd, Cu, Ni, and Zn) in blood and eggs of the sea turtle Lepidochelys olivacea from a nesting colony of Oaxaca, Mexico. Arch Environ Contam Toxicol 59:632–641

Perez-Lopez M, Hermosode Mendoza M, Lopez Beceiro A, Rodriguez FS (2008) Heavy metal (Cd, Pb, Zn) and metalloid (As) content in raptor species from Galicia (NW Spain). Ecotoxicol Environ Saf 70:154–162

Perrault JR, Miller DL, Garner J, Wyneken J (2013) Mercury and selenium concentrations in leatherback sea turtles (Dermochelys coriacea): population comparisons, implications for reproductive success, hazard quotients and directions for future research. Sci Total Environ 463–464:61–71

Rajeswari TR, Sailaja N (2014) Impact of heavy metals on environmental pollution. J Chem Pharm Sci 3:175–181

Rie M, Lendas K, Callard IP (2001) Cadmium: tissue distribution and binding protein induction in the painted turtle, Chrysemy spicta. Comp Biochem Physiol C Pharmacol Toxicol Endocrinol 130:41–51

Sakai H, Saeki K, Ichihashi H, Suganuma H, Tanabe S, Tatsukawa R (2000) Species-specific distribution of heavy metals in tissues and organs of logger-head turtle (Caretta caretta) and green turtle (Chelonia mydas) from Japanese coastal waters. Mar Pollut Bull 40:701–709

Storelli MM, Ceci E, Marcotrigiano GO (1998) Comparison of total mercury, methylmercury, and selenium in muscle tissues and in the liver of Stenella coeruleoalba (Meyen) and Caretta caretta (Linnaeus). Bull Environ Contam Toxicol 61:541–547

Storelli MM, Barone G, Storelli A, Marcotrigiano GO (2008) Total and subcellular distribution of trace elements (Cd, Cu and Zn) in the liver and kidney of green turtles (Chelonia mydas) from the Mediterranean Sea. Chemosphere 70:908–913

Tan SW, Meiller JC, Mahaffey KR (2009) The endocrine effects of mercury in humans and wildlife. Crit Rev Toxicol 39:228–269

Thomas P, Baer K, White R (1994) Isolation and partial characterization of metallothionein in the liver of the red-eared turtle (Trachemys scripta) following intraperitoneal administration of cadmium. Comp Biochem Physiol C Pharmacol Toxicol Endocrinol 107:221–226

Torrent A, González-Díaz OM, Monagas P, Orós J (2004) Tissue distribution of metals in Loggerhead turtles (Caretta caretta) stranded in the Canary Islands, Spain. Mar Pollut Bull 49:854–860

Vamberger MH, Stuckas H, Ayaz D, Gracia E, Aloufi AA, Els J, Mazanaeva LF, Kami HG, Fritz U (2013) Conservation genetics and phylogeography of the poorly known Middle Eastern terrapin Mauremys caspica (Testudines: Geoe-mydidae). Org Divers Evol 13:77–85

Yadollahvand R, Kami H, Mashroofeh A, Riyahi Bakhtiari A (2014) Assessment trace elements concentrations in tissues in Caspian Pond Turtle (Mauremys caspica) from Golestan province, Iran. Ecotoxicol Environ Saf 101:191–195

Yu S, Halbrook RS, Sparling DW, Colombo R (2011) Metal accumulation and evaluation of effects in a fresh water turtle. Ecotoxicology 20:1801–1812

Zavala-Norzagaray AA, Ley-Quiñónez CP, Espinosa-Carreón TL, Canizalez-Román A, Hart CE, Aguirre AA (2014) Trace elements in blood of sea turtles Lepidochelys olivacea in the Gulf of California, Mexico. Bull Environ Contam Toxicol 93:536–541
Acknowledgments
This study was supported by Caspian Sea Ecology Research Center and Chamran University. The authors wish to thank Mr. Ahmad Nosrati Movafagh for his kind assistance.
Additional information
Responsible editor: Philippe Garrigues
About this article
Cite this article
Adel, M., Saravi, H.N., Dadar, M. et al. Mercury, lead, and cadmium in tissues of the Caspian Pond Turtle (Mauremys caspica) from the southern basin of Caspian Sea. Environ Sci Pollut Res 24, 3244–3250 (2017). https://doi.org/10.1007/s11356-015-5905-5
Received:

Accepted:

Published:

Issue Date:
Keyword
Caspian Pond Turtle

Mauremys caspica

Heavy metal

Tissues

Sex

Caspian Sea