Abstract
River sediments are a major source of metal contamination in aquatic food webs. Due to the ability of metals to move up the food chain, fishes, occupying higher trophic levels, are considered to be good environmental indicators of metal pollution. The aim of this study was to analyze the metal content in tissues of the common barbel (Barbus barbus), a rheophilous cyprinid fish widely distributed in the Danube Basin, in order to find out if it can be used as a bioindicator of the metal content in the river sediment. We analyzed bioavailable concentrations of 15 elements (Al, As, B, Ba, Co, Cr, Cu, Hg, Mn, Mo, Ni, Pb, Se, Sr, and Zn) in sediments of the Danube (D), the Zapadna Morava (ZM), and the Južna Morava (JM) using the inductively coupled plasma spectroscopy (ICP-OES). The barbel specimens were collected in the proximity of sediment sampling sites for the analysis of metals in four tissues, gills, muscle, intestine, and liver. The sediment analysis indicated that the ZM is the most polluted with Cu, Ni, and Zn compared to other two rivers. The JM had the lowest concentrations of almost all observed elements, while the Danube sediments were mainly characterized by higher concentrations of Pb. The fish from the ZM had the highest concentration of Cu and Ni in the liver and intestine, and of Zn in the muscle tissue, which was in accordance with the concentrations of these metals in the sediment. Scanning electron microscopy/energy dispersive X-ray spectroscopy (SEM-EDS) was used for further analyses of metal interactions with fish tissues. The results suggest that the barbel can potentially be used as a bioindicator of sediment quality with respect to metal contamination.
Access options
Buy single article
Instant access to the full article PDF.
USD 39.95
Price excludes VAT (USA)
Tax calculation will be finalised during checkout.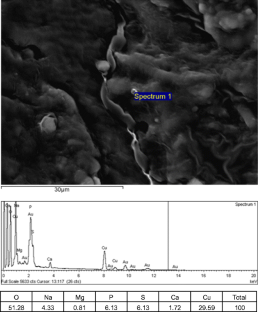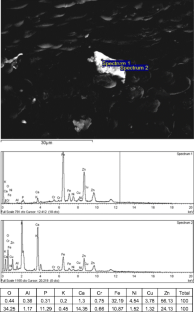 Abbreviations
DTPA:

diethylenetriaminepentaacetic acid

ICP-OES:

inductively coupled plasma optical emission spectroscopy

SEM-EDS:

scanning electron microscopy/energy dispersive X-ray spectroscopy

TEA:

triethanolamine
References
Abdullah A, Mehana E, Meki A (2008) Evaluation of lead and cadmium levels in freshwater fish farms at Qassim region, KSA. J Agric Vet Sci 1(2):59–69

Alibabić V, Vahčić N, Bajramović M (2007) Bioaccumulation of metals in fish of Salmonide family and the impact on fish meat quality. Environ Monit Assess 131:349–364. doi:10.1007/s10661-006-9480-6

Andreji J, Stranai I, Massanyi P, Valent M (2005) Concentration of selected metals in muscle of various fish species. J Environ Sci Health 40(4):899–912. doi:10.1081/ESE-200048297

Baldwin D, Sandahl J, Labenia J, Scholz N (2003) Sublethal effects of copper on coho salmon: impacts on non overlapping receptor pathways in the peripheral olfactory nervous system. Environ Toxicol Chem 22(10):2266–2274. doi:10.1897/02-428

Belanger R, Corkum L, Li W, Zielinski B (2006) Olfactory sensory input increases gill ventilation in male round gobies (Neogobius melanostomus) during exposure to steroids. Comp Biochem Physiol 144(2):196–202. doi:10.1016/j.cbpa.2006.02.027

Besser J, Brumbaugh W, Allert A, Poulton B, Schmitt C (2009) Ecological impacts of lead mining on Ozark streams: toxicity of sediment and pore water. Ecotoxicol Environ Saf 72:516–526. doi:10.1016/j.ecoenv.2008.05.013

Bischoff A, Freyhof J (1999) Seasonal shifts in day-time resource use of 0+ barbel, Barbus barbus. Environ Biol Fish 56:199–212. doi:10.1023/A:1007552318543

Bowser D, Frenkel K, Zelikoff J (1994) Effects of in vitro nickel exposure on the macrophage mediated immune functions of rainbow trout (Oncorhynchus mykiss). Bull Environ Contam Toxicol 52:367–373

Britton J, Pegg J (2011) Ecology of European barbel Barbus barbus: implications for river, fishery, and conservation management. Rev Fish Sci 19:321–330. doi:10.1080/10641262.2011.599886

Burger J, Gaines K, Shane Boring C, Stephens W, Snodgrass J, Dixon C, McMahon M, Shukla S, Shukla T, Gochfeld M (2002) Metal levels in fish from the Savannah River: potential hazards to fish and other receptors. Environ Res 89:85–97

Carter M (1993) Soil sampling and methods of analysis. Canadian Society of Soil Science, Lewis Publishers, Boca Raton, Florida, ISBN: 0873718615 9780873718615

Çevik F, Göksu M, Derici O, Findik O (2009) An assessment of metal pollution in surface sediments of Seyhan dam by using enrichment factor, geoaccumulation index and statistical analyses. Environ Monit Assess 152:309–317. doi:10.1007/s10661-008-0317-3

Clarkson T, Magos L, Myers G (2003) The toxicology of mercury: current exposures and clinical manifestations. N Engl J Med 349:1731–1737

Clearwater S, Baskin S, Wood C, McDonald D (2000) Gastrointestinal uptake and distribution of copper in rainbow trout. J Exp Biol 203:2455–2466

Clearwater S, Farag A, Meyer J (2002) Bioavailability and toxicity of dietborne copper and zinc to fish. Comp Biochem Physiol C Toxicol Pharmacol 132:269–313. doi:10.1016/S1532-0456(02)00078-9

Copp G, Guti G, Rovny B, Cerny J (1994) Hierarchical analysis of habitat use by 0+ juvenile fish in the Hungarian/Slovak flood plain of the river Danube. Environ Biol Fish 40:329–348. doi:10.1007/BF00005279

Craig P, Wood C, McClelland G (2010) Water chemistry alters gene expression and physiological end points of chronic waterborne copper exposure in zebrafish, Danio rerio. Environ Sci Technol 44(6):2156–2162. doi:10.1021/es902995q

De Vocht A, Baras E (2005) Effect of hydropeaking on migrations and home range of adult barbel (Barbus barbus) in the river Meuse, pp. 35–44. In: Aquatic telemetry: advances and applications. Proceedings of the Fifth Conference on Fish Telemetry held in Europe (Spedicato, M. T., G. Lembo, and G. Marmulla, Eds.), 9–13 June 2003, Ustica, Italy. Rome: FAO/COISPA

Djikanović V, Gacić Z, Cakić P (2010) Endohelminth fauna of barbel Barbus barbus (L. 1758) in the Serbian section of the Danube River, with dominance of acanthocephalan Pomphorhynchus laeavis. Bull Eur Assoc Fish Pathol 30:229–236

Duong T, Lee B (2011) Determining contamination level of metals in road dust from busy traffic areas with different characteristics. J Environ Manag 92:554–562

Eisler R (1981) Trace metal concentrations in marine organisms. Pergamon Press, New York, 687 pp

Ellgaard E, Ashley S, Langford A, Harlin D (1995) Kinetic analysis of the swimming behavior of the goldfish, Carassius auratus, exposed to nickel; hypoactivity induced by sublethal concentrations. Bull Environ Contam Toxicol 55:929–936

European Commission Regulation, Setting maximum levels for certain contaminants in foodstuffs. Off J Eur Union No 1881/2006

Evans D, Weingarten K, Walton J (1990) The effect of atropine on cadmium- and nickel-induced constriction of vascular smooth muscle of the dogfish shark ventral aorta. Toxicology 62:89–94. doi:10.1016/0300-483X(90)90033-D

Everall N, Macfarlane N, Sedgwick R (1989) The effects of water hardness upon the uptake, accumulation and excretion of zinc in the brown trout, Salmo trutta L. J Fish Biol 35:881–892. doi:10.1111/j.1095-8649.1989.tb03039.x

Food and Agriculture Organization of the United Nations (FAO, 1983)

Gavrilović D, Dukić LJ (2014) Reke Srbije [Rivers of Serbia]. Zavod za udžbenike i nastavna sredstva, Beograd. ISBN: 978-86-17-18559-4

Ghazaly K (1992) Sublethal effects of nickel on carbohydrate metabolism, blood and mineral contents of Tilapia nilotica. Water Air Soil Pollut 64:525–532

Glover C, Wood C (2008) Absorption of copper and copper-histidine complexes across the apical surface of freshwater rainbow trout intestine. J Comp Physiol 178:101–109. doi:10.1007/s00360-007-0203-2

Grady J, Johnson A, Sanders M (1989) Heavy metal content in otoliths of king mackerel (Scomberomorus cavalla) in relation to body length and age. Contrib Mar Sci 81:17–23

Hamouda E (1996) Pathological studies on fish experimentally intoxicated by certain heavy metals. PhD Thesis, Department of Pathology and Parasitology, Faculty of Veterinary Medicine, Alexandria University, Egypt

Hara T (2006) Feeding behavior in some teleosts is triggered by single amino acids primarily through olfaction. J Fish Biol 68(3):810–825. doi:10.1111/j.0022-1112.2006.00967.x

Has-Schön E, Bogut I, Strelec I (2006) Heavy metal profile in five fish species included in human diet, domiciled in the end flow of River Neretva (Croatia). Arch Environ Contam Toxicol 50:545–551. doi:10.1007/s00244-005-0047-2

Hauser-Davis R, Goncalves R, Ziolli R, de Campos R (2012) A novel report of metallothioneins in fish bile: SDS-PAGE analysis, spectrophotometry quantification and metal speciation characterization by liquid chromatography coupled to ICP-MS. Aquat Toxicol 116–117:54–60. doi:10.1016/j.aquatox.2012.03.003

Hoenderop J, Bindels R (2008) Calciotropic and magnesiotropic TRP channels. Physiology 23:32–40. doi:10.1152/physiol.00039.2007

Huet M (1949) Apercu des relations entre la pente et les populations piscicoles des eaux courantes (Overview of the relationship between the slope and fish populations in streams). Schweiz Z Hydrol 11:333–351

Hunt P, Jones J (1974) A population study of Barbus barbus L. in the River Severn, England III. Growth. J Fish Biol 7:361–376

International Union for the Conservation of Nature (IUCN) (2015) IUCN red list of threatened species. Version 2015.2. Available from www.iucnredlist.org

Kotlik P, Berrebi P (2001) Phylogeography of the barbel (Barbus barbus) assessed by mitochondrial DNA variation. Mol Ecol 10:2177–2185. doi:10.1046/j.0962-1083.2001.01344.x

Lapointe D, Pierron F, Couture P (2011) Individual and combined effects of heat stress and aqueous of dietary copper exposure in fathead minnows (Pinephales promelas). Aquat Toxicol 1–2:80–85. doi:10.1016/j.aquatox.2011.02.022

Lucas M, Batley E (1996) Seasonal movements and behaviour of adult barbel Barbus barbus, a riverine cyprinid fish: implications for river management. J Appl Ecol 33:1345–1358. doi:10.2307/2404775

McIntyre J, Baldwin D, Beauchamp D, Scholz N (2012) Low-level copper exposures increase visibility and vulnerability of juvenile coho salmon to cutthroat trout predators. Ecol Appl 22(5):1460–1471

Montrozi M, Falchuk K, Vallee B (1994) Xenopus laevis vitellogenin is a zinc protein. Biochem Biophys Res Commun 200:1407–1413

Morina A, Morina F, Djikanović V, Spasić S, Krpo-Ćetković J, Lenhardt M (2015) Seasonal variation in element concentration in surface sediments of three rivers with different pollution input in Serbia. J Soils Sediments. doi:10.1007/s11368-015-1211-6

Nachev M, Schertzinger G, Sures B (2013) Comparison of the metal accumulation capacity between the acanthocephalan Pomphorhynchus laevis and larval nematodes of the genus Eustrongylides sp. infecting barbel (Barbus barbus). Parasite Vecto 6(21):1–8

Nadella S, Bucking C, Grosell M, Wood C (2006) Gastrointestinal assimilation of Cu during digestion of a single meal in the freshwater rainbow trout (Oncorhynchus mykiss). Comp Biochem Physiol 143:394–401. doi:10.1016/j.cbpc.2006.04.012

Nadella S, Grosell M, Wood C (2007) Mechanisms of dietary Cu uptake in freshwater rainbow trout: evidence for Na-assisted Cu transport and a specific metal carrier in the intestine. J Comp Physiol 177:433–446. doi:10.1007/s00360-006-0142-3

Naito W, Kamo M, Tsushima K, Iwasaki Y (2010) Exposure and risk assessment of zinc in Japanese surface waters. Sci Total Environ 408:4271–4284. doi:10.1016/j.scitotenv.2010.06.018

Official Gazzette of RS, Regulation on quantity of pesticides, metals, metalloids, and other toxic substances, chemotherapeutics, anabolics, and other substances which can be found in food, Official Gazzette of RS No 28/2011, 2011

Overnell J, McIntosh R, Fletcher T (1987) The levels of liver metallothionein and zinc in plaice, Pleuronectes platessa L., during the breeding season, and the effect of estradiol injection. J Fish Biol 30:539–546. doi:10.1111/j.1095-8649.1987.tb05781.x

Ovidio M, Philippart J (2002) The impact of small physical obstacles on upstream movements of six species of fish—Synthesis of a 5-year telemetry study in the River Meuse basin. Hydrobiologia 483:55–69. doi:10.1023/A:1021398605520

Pelz G, Kastle A (1989) Ortsbewegungen der barbe Barbus barbus L. radiotelemetrische standortbestimmungen in der Nidda (Frankfurtlmain) [Local movements of barbel Barbus barbus L. using radio telemetry positioning in the River Nidda]. Fischokologie 1:15–28

Pena M, Barus V, Prokes M, Homolka M (2002) Movements of barbel, Barbus barbus (Pisces: Cyprinidae). Folia Zool 5:55–66

Penczak T, Sierakowska K (2003) Anglers records as a tool for assessing changes in fish populations. J Appl Ichthyol 19:250–254. doi:10.1046/j.1439-0426.2003.00472.x

Peterson R, Sreedharan A, Ray S (1989) Accumulation of trace metals in three species of fish from lakes in New Brunswick and Nova Scotia (Canada): influence of pH and other chemical parameters. Water Qual Res J Can 24:101–117

Quevauviller P (1998) Operationally defined extraction procedures for soil and sediment analysis I. Standardization. TrAC Trends Anal Chem 17:289–299. doi:10.1016/S0165-9936(97)00119-2

Rašković B, Poleksić V, Visnjić-Jeftić Ž, Skorić S, Gačić Z, Djikanović V, Jarić I, Lenhardt M (2014) Use of histopathology and elemental accumulation in different organs of two benthophagous fish species as indicators of river pollution. Environ Toxicol 30:1153–1161. doi:10.1002/tox.21988

Rotchell J, Clarke K, Newton L, Bird D (2001) Hepatic metallothionein as a biomarker for metal contamination: age effects and seasonal variation in European flounders (Pleuronectes flesus) from the Severn Estuary and Bristol Channel. Mar Environ Res 52:151–171. doi:10.1016/S0141-1136(00)00270-1

Shukla V, Dhankhar M, Prakash J (2007) Bioaccumulation of Zn Cu and Cd in Channa punctatus. J Environ Biol 28:395–397

Sorensen E (1991) Zinc. Pages 119–174 in metal poisoning in fish. CRC Press, Boca Raton

Spry D, Wood C (1989) A kinetic method for the measurement of zinc influx in vivo in the rainbow trout, and the effects of waterborne calcium on flux rates. J Exp Biol 142:425–446

Stigliani W (1993) Chemical time bombs: definition, concepts and examples. International Institute for Applied Systems Analysis, Luxembourg

Sunjog K, Gačić Z, Kolarević S, Visnjić-Jeftić Ž, Jarić I, Knežević-Vukčević J, Vuković-Gačić B, Lenhardt M (2012) Heavy metal accumulation and the genotoxicity in barbel (Barbus barbus) as indicators of the Danube River pollution. Sci World J. doi:10.1100/2012/351074

Taylor A, Britton J, Cowx I (2004) Does the stock density of stillwater catch and release fisheries affect the growth performance of introduced cultured barbel? J Fish Biol 65:308–313. doi:10.1111/j.0022-1112.2004.00548.x

Tierney K, Baldwin D, Hara T, Ross P, Scholz N, Kennedy C (2010) Olfactory toxicity in fishes. Aquat Toxicol 96(1):2–26. doi:10.1016/j.aquatox.2009.09.019

Uysal K, Köse E, Bülbül M, Dönmez M, Erdoğan Y, Koyun M, Ömeroğlu Ç, Özmal F (2009) The comparison of heavy metal accumulation ratios of some fish species in Enne Dame Lake (Kütahya/Turkey). Environ Monit Assess 157:355–362. doi:10.1007/s10661-008-0540-y

Watkins M, Doherty S, Copp G (1997) Microhabitat use by 0+ and older fishes in a small English chalk stream. J Fish Biol 50:1010–1024. doi:10.1006/jfbi.1996.0363

Woitke P, Wellmitz J, Helm D, Kube P, Lepom P, Litheraty P (2003) Analysis and assessment of heavy metal pollution in suspended solids and sediments of the river Danube. Chemosphere 51:633–642. doi:10.1016/S0045-6535(03)00217-0

Yilmaz F, Özdemir N, Demirak A, Tuna A (2007) Heavy metal levels in two fish species Leuscius cephalus and Lepomis gibbosus. Food Chem 100:830–835. doi:10.1016/j.foodchem.2005.09.020
Acknowledgments
The research was partly supported by project OI173045 funded by the Ministry of Education, Science, and Technological Development of the Republic of Serbia.
Additional information
Responsible editor: Cinta Porte
About this article
Cite this article
Morina, A., Morina, F., Djikanović, V. et al. Common barbel (Barbus barbus) as a bioindicator of surface river sediment pollution with Cu and Zn in three rivers of the Danube River Basin in Serbia. Environ Sci Pollut Res 23, 6723–6734 (2016). https://doi.org/10.1007/s11356-015-5901-9
Received:

Accepted:

Published:

Issue Date:

DOI: https://doi.org/10.1007/s11356-015-5901-9
Keywords