Abstract
A seasonal environmental monitoring program was carried out (winter 2009 to summer 2010) to evaluate the spatial and seasonal cadmium concentrations in the intertidal environments of the Óbidos Lagoon (Portugal). Also, some environmental parameters were monitored at each sampling station. Both the water and the sediment samples were contaminated, although to different degrees. In general, cadmium contamination appears to be mostly focused on the inner areas of the lagoon, namely, in Barrosa's arm, which receives a small tributary contaminated by agro-industrial activities. Only cadmium concentration in sediment showed to be significantly influenced by seasons. Some environmental parameters presented spatial and temporal heterogeneity which influenced, to some extent, cadmium bioavailability. The results of this study allow a better understanding of the environmental quality of this ecosystem regarding cadmium contamination and may assist in the definition of future coastal management measures specifically targeted to trace metal contamination and pollution monitoring.
Access options
Buy single article
Instant access to the full article PDF.
US$ 39.95
Tax calculation will be finalised during checkout.
Subscribe to journal
Immediate online access to all issues from 2019. Subscription will auto renew annually.
US$ 79
Tax calculation will be finalised during checkout.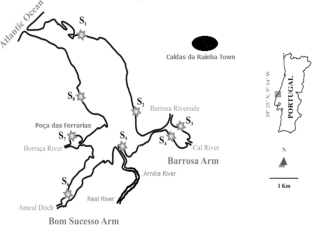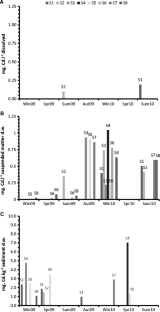 References
Aderinola OJ, Clarke EO, Olarinmoye OM, Kusemiju V, Anatekhai MA (2009) Heavy metals in surface water, sediments. Fish and Perwinkles of Lagos Lagoon. Am-Eurasian J Agric Environ Sci 5:609–617

Almeida CMR, Mucha AP, Vasconcelos MTSD (2004) Influence of the sea rush Juncus maritimus on metal concentration and speciation in estuarine sediment colonized by the plant. Environ Sci Technol 38:3112–3118. doi:10.1021/es049932j

Ball DF (1964) Loss-on-ignition as an estimate of organic matter and organic carbon in non-calcareous soils, J. Soil Sci 15:84–92. doi:10.1111/j.1365-2389.1964.tb00247.x

Barzev A, Dobreva D, Futekov L, Rusev V, Bekjarov G, Toneva G (1986) Determination of detection limits in graphite furnace atomic absorption spectrometry by using ensemble summation of signals. Fresenius' Z Anal Chem 325:255–257. doi:10.1007/BF00498168

Carvalho S, Gaspar MB, Moura A, Vale C, Antunes P, Gil O, Fonseca LC, Falcão M (2006) The use of the marine biotic índex AMBI in the assessment of the ecological status of the Óbidos lagoon (Portugal). Mar Pollut Bull 52:1414–1424. doi:10.1016/j.marpolbul.2006.04.004

Carvalho S, Pereira P, Pereira F, Pablo H, Vale C, Gaspar MB (2011) Factors structuring temporal and spatial dynamics of macrobenthic communities in a eutrophic coastal lagoon (Óbidos lagoon, Portugal). Mar Environ Res 71:97–110. doi:10.1016/j.marenvres.2010.11.005

Costa JC, Arsénio P, Monteiro-Henriques T, Neto C, Pereira E, Almeida T, Izco J (2009) Finding the boundary between Eurosiberian and Mediterranean salt marshes. J Coast Res SI 56:130–134

Du Laing G, Rinklebe J, Vandecasteele B, Meers E, Tack FMG (2009) Trace metals behaviour in estuarine and riverine floodplain soils and sediment: a review. Sci Total Environ 407:3972–3985. doi:10.1016/j.scitotenv.2008.07.025

Gerringa LJA, de Baar HJW, Nolting RF, Paucot H (2001) The influence of salinity on the solubility of Zn and Cd sulphides in the Scheldt estuary. J Sea Res 46:201–211. doi:10.1016/S1385-1101(01)00081-8

Gomez E, Durillon C, Rofes G, Picot B (1999) Phosphate adsorption and release from sediments of brackish lagoons: pH, O2 and loading influence. Water Res 33(10):2437–2447. doi:10.1016/S0043-1354(98)00468-0

Gosh M, Singh SP (2005) A comparative study of cadmium phytoremediation by accumulator and weed species. Environ Pollut 133:365–371. doi:10.1016/j.envpol.2004.05.015

IST/IPIMAR, 2008.Variação sazonal e intra-anual da qualidade da água na Lagoa de Óbidos, seus afluentes e emissário submarino da Foz do Arelho (Final report: October 2004-january 2008).

Madejón P, Murillo JM, Marañón T, Espinar JL, Cabrera F (2006) Accumulation of As, Cd and selected trace elements in tubers of Scirpus maritimus L. from Doñana marshes (South Spain). Chemosphere 64:742–748. doi:10.1016/j.chemosphere.2005.11.032

Malhadas MS, Leitão PC, Silva A, Neves R (2009) Effect of coastal waves on sea levels in Óbidos Lagoon. Portugal Cont Shelf Res 29(9):1240–1250. doi:10.1016/j.csr.2009.02.007

Miao S, DeLaune RD, Jugsujinda A (2006) Influence of sediment redox conditions on release/solubility of metals and nutrientes in a Louisiana Mississippi River deltaic plain freshwater lake. Sci Total Environ 371:334–343. doi:10.1016/j.scitotenv.2006.07.027

Monterroso P, Pato P, Pereira E, Vale C, Duarte AC (2003) Distribution and accumulation of metals (Cu, Cd, Zn and Pb) in sediments of a lagoon on the northwestern coast Portugal. Mar Pollut Bull 46:1200–1211. doi:10.1016/S0025-326X(03)00243-1

Mucha AP, Vasconcelos TSD, Bordalo AA (2004) Vertical distribution of the macrobenthic community and the relationships to trace metals and natural sediment characteristics in the lower Douro estuary. Portugal Estuar Coast Shelf S 59:663–673. doi:10.1016/j.ecss.2003.11.010

Neves, R., Vale, C., Santos, M., 2008. Caracterização qualitativa da Lagoa de Óbidos e seus efluentes e do emissário submarino da Foz do Arelho: Relatório de Campanha: Agosto e Setembro. Instituto Superior Técnico

Oliveira A, Fortunato AB, Rego JRL (2006) Effect of morphological changes on the hydrodynamics and flushing properties of the Óbidos Lagoon (Portugal). Cont Shelf Res 26:917–942. doi:10.1016/j.csr.2006.02.011

Pedro CA, Santos MSS, Ferreira SMF, Gonçalves SC (2013) The influence of cadmium contamination and salinity on the survival, growth and phytoremediation capacity of the saltmarsh plant Salicornia ramosissima. Mar Environ Res 92:197–205. doi:10.1016/j.marenvres.2013.09.018

Pereira P, de Pablo H, Vale C, Franco V, Nogueira M (2009a) Metal and nutrient dynamics in a eutrophic coastal lagoon (Óbidos lagoon, Portugal): the importance of observations at different time scales. Environ Monit Assess 158:405–418. doi:10.1007/s10661-008-0593-y

Pereira P, de Pablo H, Vale C, Franco V, Nogueira M (2009b) Spatial and seasonal variation of water quality in an impacted coastal lagoon (Óbidos lagoon, Portugal). Environ Monit Assess 153:281–292. doi:10.1007/s10661-008-0355-x

Pereira P, de Pablo H, Subida MD, Vale C, Pacheco M (2009c) Biochemical responses of the shore crab (Carcinus maenas) in a eutrophic and metal contaminated coastal system (Óbidos lagoon, Portugal). Ecotoxicol Environ Saf 72:1471–1480. doi:10.1016/j.ecoenv.2008.12.012

Point D, Monperrus M, Tessier E, Amouroux D, Chauvaud L, Thouzeau G, Jean F, Amice E, Grall J, Leynaert A, Clavier J, Donard OFX (2007) Biological control of trace metal and organometal benthic fluxes in a eutrophic lagoon (Thau Lagoon, Mediterranean Sea, France). Estuar Coast Shelf Sci 72:457–471. doi:10.1016/j.ecss.2006.11.013

Portuguese Decree Law 236/98, of 1 August 1998, establishing standards, criteria and quality objectives in order to protect the aquatic environment and improve the water quality, according to its main applications. J. Govern. Port. Repúb. D. Repúb. 176;3676 e3722.

Rodrigues AM, Quintino V, Pereira F, Freitas R (2012) Alterations in macroinvertebrate spatial patterns in coastal lagoons: Óbidos (NW coast of Portugal) 1984 versus 2002. Estuar Coast Shelf Sci 110:176–189. doi:10.1016/j.ecss.2012.05.024

Thouzeau G, Grall J, Clavier J, Chauvaud L, Jean F, Leynaert A, Longphuirt SN, Amice E, Amouroux D (2007) Spatial and temporal variability of benthic biogeochemical fluxes associated with macrophytic and macrofaunal distribuitions in the Thau lagoon (France). Estuar Coast Shelf Sci 72:432–446. doi:10.1016/j.ecss.2006.11.028

Turner A, Millward GE (2002) Suspended particles: their role in estuarine biogeochemical cycles. Estuar Coast Shelf Sci 55:857–883. doi:10.1006/ecss.2002.1033

Uluturhan E, Kontas A, Can E (2011) Sediment concentrations of heavy metals in the Homa Lagoon (Eastern Aegean Sea): assessment of contamination and ecological risks. Mar Pollut Bull 62:1989–1997. doi:10.1016/j.marpolbul.2011.06.019

USA Environment Protection Agency (USA EPA), 2000. Bioaccumulation Testing and Interpretation for the Purpose of Sediment Quality Assessment. EPA – 823 – R – 00 – 001.

USA Environment Protection Agency (USA EPA), 2001. 2001 update of Ambient water Quality Criteria for Cadmium. EPA – 822- R – 01 – 001.
Acknowledgments
This work was carried out within the scope of the research projects "Monitoring of Coastal Habitats," funded by INDEA-IPL (Polytechnic Institute of Leiria), and "Seasonal evaluation of the environmental quality of the Óbidos Lagoon," funded by IMAR-CMA, Marine and Environmental Research Centre. The authors gratefully acknowledge GIRM, IMAR-CMA, and MARE for their technical and logistic support, and all the colleagues at GIRM who assisted in the field and laboratory work. The research conducted complies with the current Portuguese Law.
Additional information
Responsible editor: Céline Guéguen
About this article
Cite this article
Pedro, C.A., Santos, M.S.S., Ferreira, S.M.F. et al. The presence of cadmium in the intertidal environments of a moderately impacted coastal lagoon in western Portugal (Óbidos Lagoon)—spatial and seasonal evaluations. Environ Sci Pollut Res 23, 1960–1969 (2016). https://doi.org/10.1007/s11356-015-5847-y
Received:

Accepted:

Published:

Issue Date:
Keywords
Cadmium

Coastal management

Environmental parameters

Pollution

Trace metals