Abstract
Water and sediment samples were collected from up to 17 sites in waterways entering the Corner Inlet Marine National Park monthly between November 2009 and April 2010, with the Chemcatcher passive sampler system deployed at these sites in November 2009 and March 2010. Trace metal concentrations were low, with none occurring at concentrations with the potential for adverse ecological effects. The agrochemical residues data showed the presence of a small number of pesticides at very low concentration (ng/L) in the surface waters of streams entering the Corner Inlet, and as widespread, but still limited contamination of sediments. Concentrations of pesticides detected were relatively low and several orders of magnitude below reported ecotoxicological effect and hazardous concentration values. The low levels of pesticides detected in this study indicate that agricultural industries were responsible agrochemical users. This research project is a rarity in aligning both agrochemical usage data obtained from chemical resellers in the target catchment with residue analysis of environmental samples. Based on frequency of detection and concentrations, prometryn is the priority chemical of concern for both the water and sediments studied, but this chemical was not listed in reseller data. Consequently, the risks may be greater than the field data would suggest, and priorities for monitoring different since some commonly used herbicides (such as glyphosate, phenoxy acid herbicides, and sulfonyl urea herbicides) were not screened. Therefore, researchers, academia, industry, and government need to identify ways to achieve a more coordinated land use approach for obtaining information on the use of chemicals in a catchment, their presence in waterways, and the longer term performance of chemicals, particularly where they are used multiple times in a year.
Access options
Buy single article
Instant access to the full article PDF.
US$ 39.95
Tax calculation will be finalised during checkout.
Subscribe to journal
Immediate online access to all issues from 2019. Subscription will auto renew annually.
US$ 79
Tax calculation will be finalised during checkout.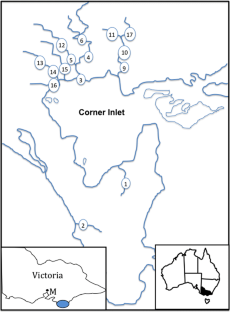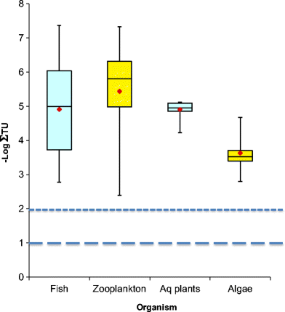 References
Allinson G, Bui A, Zhang P, Rose G, Wightwick AM, Allinson M, Pettigrove V (2014) Investigation of 10 herbicides in surface waters of a horticultural production catchment in south-eastern Australia. Arch Environ Contam Toxicol 67(3):358–73

ANZECC and ARMCANZ (2000) Australian and New Zealand guidelines for fresh and marine water quality. Australian and New Zealand Environment and Conservation Council and Agriculture and Resource Management Council of Australia and New Zealand, Canberra, Australia

APVMA (2014a). Final pesticide and veterinary medicines product sales 2012-13 Financial Year. Commonwealth of Australia Gazette No APVMA 4, Tuesday 25 February 2014

APVMA (2014b). PUBCRIS - Public chemical registration information system. Sourced from the Australian Pesticides and Veterinary Medicines Authority at https://portal.apvma.gov.au/pubcris Last accessed 21 May 2014

Bendor M, Parr I, Goninon C (2008) The Tasmanian River Catchment Water Quality Initiative: the development and evaluation of a methodology for identifying the nature and extent of chemical pesticide usage in Tasmanian river catchments. Department of Primary Industries and Water, Hobart, Tasmania

Bengtson Nash SM, Goddard J, Müller JF (2006) Phytotoxicity of surface waters of the Thames and Brisbane River Estuaries: a combined chemical analysis and bioassay approach for the comparison of two systems. Biosens Bioelectron 21:2086–93

Bundschuh M, Goedkoop W, Kreuger J (2014) Evaluation of pesticide monitoring strategies in agricultural streams based on the toxic-unit concept - Experiences from long-term measurements. Sci Total Environ 484:84–91

Claver A, Ormad P, Rodriguez L, Ovellerio J (2006) Study of the presence of pesticides in surface waters in the Ebro river basin (Spain). Chemosphere 64:1437–43

Coupe RH, Welch HL, Pell AB, Thurman EM (2005) Herbicide and degradate flux in the Yazoo River Basin. Int J Environ Anal Chem 85(15):1127–40

Dores EFGC, Carbo L, Ribeiro ML, De-Lamonica-Freire EM (2008) Pesticide levels in ground and surface waters of Primavera do Leste region, Mato Grosso, Brazil. J Chromatog Sci 46:585–90

DNRE (2002). Corner Inlet Ramsar Site Strategic Management Plan. Parks Victoria, Department of Natural Resources and Environment, East Melbourne, Victoria 3002. Available online: http://www.depi.vic.gov.au/__data/assets/pdf_file/0005/241394/Corner-Inlet-Ramsar-Site-Strategic-Management-Plan.pdf Last accessed: 31 December 2014

Duke NC, Bell AM, Pederson DK, Roelfsema CM, Bengtson Nash S (2005) Herbicides implicated as the cause of severe mangrove dieback in the Mackay region, NE Australia: consequences for marine plant habitats of the GBRWorld Heritage Area. Mar Pollut Bull 51:308–24

Escher BI, Quayle P, Muller R, Schreiber U, Mueller JF (2006) Passive sampling of herbicides combined with effect analysis in algae using a novel high-throughput phytotoxicity assay (Maxi-Imaging-PAM). J Environ Monit 8:456–64

European Commission (2011) Implementing regulation (EC) No 1107/2009 of the European Parliament and of the Council as regards uniform principles for evaluation and authorisation of plant protection products. Off J Eur L155:127–75

Gilliom RJ, Barbash JE, Crawford CG, Hamilton PA, Martin JD, Nakagaki N, Nowell LH, Scot, JC, Stackelberg PE, Thelin GP, Wolock DM (2006). The quality of our nation's waters—pesticides in the nation's streams and groundwater, 1992—2001: U.S Geological Survey Circular 1291. U.S Geological Survey, Reston, Virginia, USA

Gregoire C, Payraudeau S, Domange N (2010) Use and fate of 17 pesticides applied on a vineyard catchment. Int J Environ Anal Chem 90:406–20

Horowitz AJ (1991) A primer on sediment-trace element chemistry, 2nd edn. Lewis Publishers, Chelsea, MI, USA

ITRC (2006). Technology overview of passive sampler technologies. DSP-4. Washington, D.C.: Interstate Technology and Regulatory Council, Authoring Team. Available on-line: www.itrcweb.org/Guidance/ListDocuments?TopicID=17&SubTopicID=27 Last accessed 12 April 2014

Kemble NE, Hardesty DK, Ingersoll CG, Kunz JL, Sibley PK, Calhoun DL, Gilliom RJ, Kuivila KM, Nowell LH, Moran PW (2013). Contaminants in stream sediments from seven United States metropolitan areas: Part II—Sediment toxicity to the amphipod Hyalella azteca and the midge Chironomus dilutes. Arch Environ Contam Toxicol 64:52–64

Lewis SE, Brodie JE, Bainbridge ZT, Rohde KW, Davis AM, Masters BL, Maughan M, Devlin MJ, Mueller JF, Schaffelke B (2009) Herbicides: a new threat to the Great Barrier Reef. Environ Pollut 157:2470–84

Leonard AW, Hyne RV, Pablo F (2002) Trimethylpentane-containing passive samplers for predicting time-integrated concentrations of pesticides in water: laboratory and field studies. Environ Toxicol Chem 21(12):2591–9

Liess M, Von der Ohe PC (2005) Analyzing effects of pesticides on invertebrate communities in streams. Environ Toxicol Chem 24(4):954–65

Long ER, MacDonald DD, Smith SL, Calder ED (1995) Incidence of adverse biological effects within ranges of chemical concentrations in marine and estuarine sediments. Environ Manag 19:81–97

MacDonald DD, Ingersoll CG, Berger TA (2000) Development and evaluation of consensus-based sediment quality guidelines for freshwater ecosystems. Arch Environ Contam Toxicol 39:20–31

Marshall S, Pettigrove V, Carew M, Hoffmann A (2010). Isolating the impact of sediment toxicity in urban streams. Environ Poll 158:1716–1725

Muller R, Schreiber U, Escher BI, Quayle P, Bengston Nash SM, Mueller JF (2008) Rapid exposure assessment of PSII herbicides in surface water using a novel chlorophyll a fluorescence imaging assay. Sci Total Environ 401:51–9

Muschal M, Warne MSJ (2003) Risk posed by pesticides to aquatic organisms in rivers of northern inland New South Wales, Australia. Hum Ecol Risk Assess 9:1765–87

Noppe H, Ghekiere A, Verslycke T, De Wulf E, Verheyden K, Monteyne E, Polfliet K, van Caeter P, Janssen CR, De Brabander HF (2007) Distribution and ecotoxicity of chlorotriazines in the Scheldt Estuary (B-Nl). Environ Pollut 147:668–76

O'Brien D, Bartkow M, Mueller JF (2011) Determination of deployment specific chemical uptake rates for SDB-RPD Empore disk using a passive flow monitor (PFM). Chemosphere 83:1290–5

Radcliffe JC (2002) Pesticide use in Australia: a review undertaken by the Australian Academy of Technological Sciences and Engineering. Australian Academy of Technological Sciences and Engineering, Victoria Australia

Schäfer RB, Pettigrove V, Rose G, Allinson G, Wightwick A, von der Ohe PC, Shimeta J, Kefford BJ (2011) Effects of pesticides monitored with three sampling methods in 24 sites on macroinvertebrates and microorganisms. Environ Sci Technol 45(4):1665–72

Shaw M, Eaglesham G, Mueller JF (2009) Uptake and release of polar compounds in SDB-RPS Empore™ disks; implications for their use as passive samplers. Chemosphere 75:1–7

Shaw M, Furnas MJ, Fabricius K, Haynes D, Carter S, Eaglesham G, Mueller JF (2010) Monitoring pesticides in the Great Barrier Reef. Mar Pollut Bull 60:113–22

Schuler LJ, Rand GM (2008) Aquatic risk assessment of herbicides in freshwater ecosystems of south Florida. Arch Environ Contam Toxicol 54:571–83

Sraka M, Vidacek Z, Smit Z, Bensa A, Vrhovec D (2007) Herbicides in the soil and waters of River Drava catchment area. Cereal Res Commun 35(2):1089–92

Stephens BS, Kapernick AP, Eaglesham G, Mueller JF (2009) Event monitoring of herbicides with naked and membrane-covered Empore disk integrative passive sampling devices. Mar Pollut Bull 58:1116–22

Tran ATK, Hyne RV, Doble P (2007) Calibration of a passive sampling device for time-integrated sampling of hydrophilic herbicides in aquatic environments. Environ Toxicol Chem 26(3):435–43

Vryzas Z, Vassiliou G, Alexoudis C, Papadopoulou-Mourkidou E (2009) Spatial and temporal distribution of pesticide residues in surface waters in northeastern Greece. Water Res 43:1–10

Wetzel MA, Wahrendorf D-S, von der Ohe PC (2013) Sediment pollution in the Elbe estuary and its potential toxicity at different trophic levels. Sci Total Environ 449:199–207

Wightwick AM, Allinson G (2007) Pesticide contamination of waterways within agricultural areas of Victoria: a review. Aus J Ecotoxicol 13:91–112

Wightwick A, Bui A, Zhang P, Rose G, Allinson M, Myers J, Reichman SM, Menzies NW, Pettigrove V, Allinson G (2012) Environmental fate of fungicides in surface waters of a horticultural production catchment in southeastern Australia. Arch Environ Contam Toxicol 62:380–90

Woudneh MB, Ou Z, Sekela M, Tuominen T, Gledhill M (2009) Pesticide multiresidues in waters of the Lower Fraser Valley, British Columbia. Canada. Part II. Surface water. J Environ Qual 38:940–7

Zgheib S, Moilleron R, Chebbo G (2012) Priority pollutants in urban stormwater: part 1—case of separate storm sewers. Water Res 46:6683–92
Acknowledgments
This project was funded by the then Department of Primary Industries (DPI) Chemical Standards Branch and DPI Future Farming Systems Research Key Project FF104 Accountable Agriculture (Project 06889).
The authors would like to thank the Agrochemicals Research team for "putting in the hard yards" to make this project a success under short notice and at times trying circumstances, despite the difficulties posed by such a complex, field-based analytical program, including Simon Phelan, Karen Young, Ron Walsh, and John Cauduro. The authors would also like to thank Mahendrra Raj and CSB's Michael Laity for their help with the chemical resellers survey
The project team wishes to express its thanks to the members of South Gippsland Water, West Gippsland CMA, Parks Victoria, and the Centre for Aquatic Pollution Identification and Management (CAPIM) for their assistance with site selection and sampling.
This work was conducted under National Parks Act 1975 Research Permit # 10005174, issued by the Department of Sustainability and Environment, November 2009.
Additional information
Responsible editor: Roland Kallenborn
Electronic supplementary material
Below is the link to the electronic supplementary material.
About this article
Cite this article
Allinson, G., Allinson, M., Bui, A. et al. Pesticide and trace metals in surface waters and sediments of rivers entering the Corner Inlet Marine National Park, Victoria, Australia. Environ Sci Pollut Res 23, 5881–5891 (2016). https://doi.org/10.1007/s11356-015-5795-6
Received:

Accepted:

Published:

Issue Date:
Keywords
Chemcatcher passive sampler

Herbicide

Prometryn

Simazine

Trace metals

Sediment

Corner Inlet Marine National Park, Australia