Abstract
A microbial desalination cell (MDC) could desalinate salt water without energy consumption and simultaneously generate bioenergy. Compared with an abiotic cathode MDC, an aerobic bio-cathode MDC is more sustainable and is less expensive to operate. In this study, the long-term operation (5500 h) performance of a bio-cathode MDC was investigated in which the power density, Coulombic efficiency, and salt removal rate were decreased by 71, 44, and 27 %, respectively. The primary reason for the system performance decrease was biofouling on the membranes, which increased internal resistance and reduced the ionic transfer and energy conversion efficiency. Changing membranes was an effective method to recover the MDC performance. The microbial community diversity in the MDC anode was low compared with that of the reported microbial fuel cell (MFC), while the abundance of Proteobacteria was 30 % higher. The content of Planctomycetes in the cathode biofilm sample was much higher than that in biofouling on the cation exchange membrane (CEM), indicating that Planctomycetes were relevant to cathode oxygen reduction.
Access options
Buy single article
Instant access to the full article PDF.
US$ 39.95
Tax calculation will be finalised during checkout.
Subscribe to journal
Immediate online access to all issues from 2019. Subscription will auto renew annually.
US$ 79
Tax calculation will be finalised during checkout.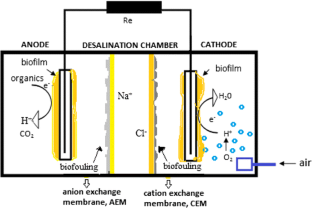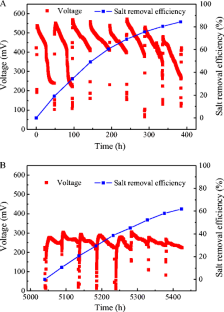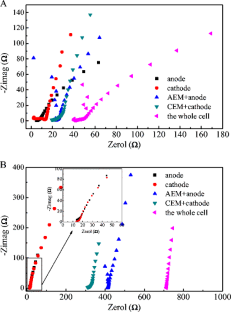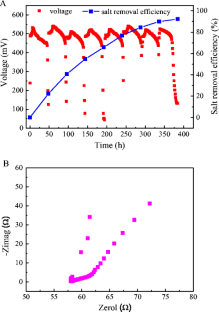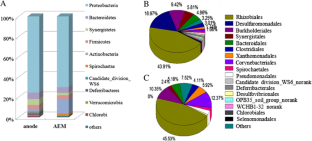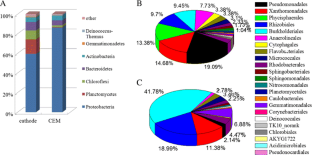 References
Cao XX, Huang X, Liang P, Xiao K, Zhou YJ, Zhang XY, Logan BE (2009) A new method for water desalination using microbial desalination cells. Environ Sci Technol 43:7148–7152

Chen X, Liang P, Wei ZM, Zhang XY, Huang X (2012) Sustainable water desalination and electricity generation in a separator coupled stacked microbial desalination cell with buffer free electrolyte circulation. Bioresour Technol 119:88–93

Choi MJ, Chae KJ, Ajayi FF, Kim KY, Yu HW, Kim CW, Kim IS (2011) Effects of biofouling on ion transport through cation exchange membranes and microbial fuel cell performance. Bioresour Technol 102:298–303

Cournet A, Délia ML, Bergel A, Roques C, Bergé M (2010) Electrochemical reduction of oxygen catalyzed by a wide range of bacteria including Gram-positive. Electrochem Commun 12:505–508

He Z, Angenent LT (2006) Application of bacterial bio-cathodes in microbial fuel cells. Electroanalysis 18:2009–2015

He Z, Mansfeld F (2009) Exploring the use of electrochemical impedance spectroscopy (EIS) in microbial fuel cell studies. Energy Environ Sci 2:215–219

Henna MS, Ghaleb AH, Sharifeh Y, Jawaria S, Sameer A, Abdullah AF, Sara A, Rehab K, Ahmed A (2015) Microbial desalination cell technology: a review and a case study. Desalination 359:1–13

Herzberg M, Elimelech M (2007) Biofouling of reverse osmosis membranes: role of biofilm-enhanced osmotic pressure. J Membr Sci 295:11–20

Herzberg M, Kang S, Elimelech M (2009) Role of extracellular polymeric substances (EPS) in biofouling of reverse osmosis membranes. Environ Sci Technol 43:4393–4398

Jia AN, Tang Y, Liu BF, Wu D, Ren NQ, Xing DF (2013) Electricity generation from food wastes and microbial community structure in microbial fuel cells. Bioresour Technol 144:94–99

Kiely PD, Cusick R, Call DF, Selembo PA, Regan JM, Logan BE (2011) Anode microbial communities produced by changing from microbial fuel cell to microbial electrolysis cell operation using two different wastewaters. Bioresour Technol 102:388–394

Kim Y, Logan BE (2011) Series assembly of microbial desalination cells containing stacked electrodialysis cells for partial or complete seawater desalination. Environ Sci Technol 45:5840–5845

Kim Y, Logan BE (2013) Microbial desalination cells for energy production and desalination. Desalination 308:122–130

Lee HJ, Hong MK, Han SD, Cho SH, Moon SH (2009) Fouling of an anion exchange membrane in the electrodialysis desalination process in the presence of organic foulants. Desalination 238:60–69

Li C, Ding L, Cui H, Zhang L, Xu K, Ren H (2012) Application of conductive polymers in bio-cathode of microbial fuel cells and microbial community. Bioresour Technol 116:459–465

Li XM, Cheng KY, Selvam A, Wong JWC (2013) Bioelectricity production from acidic food waste leachate using microbial fuel cells: effect of microbial inocula. Process Biochem 48:283–288

Luo H, Xu P, Roane TM, Jenkins PE, Ren Z (2012a) Microbial desalination cells for improved performance in wastewater treatment, electricity production, and desalination. Bioresour Technol 105:60–66

Luo HP, Xu P, Jenkins PE, Ren ZY (2012b) Ionic composition and transport mechanisms in microbial desalination cells. J Membr Sci 409–410:16–23

Luo HP, Xu P, Ren ZY (2012c) Long-term performance and characterization of microbial desalination cells in treating domestic wastewater. Bioresour Technol 120:187–193

Mehanna M, Kiely PD, Call DF, Logan BE (2010a) Microbial electrodialysis cell for simultaneous water desalination and hydrogen gas production. Environ Sci Technol 44:9578–9583

Mehanna M, Saito T, Yan JL, Hickner M, Cao XX, Huang X, Logan BE (2010b) Using microbial desalination cells to reduce water salinity prior to reverse osmosis. Energy Environ Sci 3:1114–1120

Morel A, Zuo KC, Wei JC, Luo X, Huang X (2012) Microbial desalination cells packed with ion-exchange resin to enhance water desalination rate. Bioresour Technol 118:43–48

Pant D, Singh A, Bogaert GV, Olsen SI, Nigam PS, Ludo D, Vanbroekhoven K (2012) Bioelectrochemical systems (BES) for sustainable energy production and product recovery from organic wastes and industrial wastewaters. RSC Adv 2:1248–1263

Rabaey K, Read ST, Clauwaert P, Freguia S, Bond PL, Blackall LL, Keller J (2008) Cathodic oxygen reduction catalyzed by bacteria in microbial fuel cells. ISME J 2:519–527

Tringe SG, von Mering C, Kobayashi A, Salamov AA, Chen K, Chang HW, Podar M, Short JM, Mathur EJ, Detter JC, Bork P, Hugenholtz P, Rubin EM (2005) Comparative metagenomics of microbial communities. Science 308:554–557

Virdis B, Rabaey K, Yuan ZG, Keller J (2008) Microbial fuel cells for simultaneous carbon and nitrogen removal. Water Res 42:3013–3024

Wang ZJ, Zheng Y, Xiao Y, Wu S, WU Y, Yang ZH, Zhao F (2013) Analysis of oxygen reduction and microbial community of air-diffusion biocathode in microbial fuel cells. Bioresour Technol 144:74–79

Wen QX, Zhang HC, Chen ZQ, Li YF, Feng YJ (2012) Using bacterial catalyst in the cathode of microbial desalination cell to improve wastewater treatment and desalination. Bioresour Technol 125:108–113

Yates MD, Kiely PD, Call DF, Rismani-Yazdi H, Bibby K, Peccia J, Regan JM, Logan BE (2012) Convergent development of anodic bacterial communities in microbial fuel cells. ISME J 6:2002–2013

Yusoff MZ, Hu AY, Feng CJ, Maeda T, Shirai Y, Hassan MA, Yu CP (2013) Influence of pretreated activated sludge for electricity generation in microbial fuel cell application. Bioresour Technol 145:90–96

Zhang F, Pant D, Logan BE (2011) Long-term performance of activated carbon air cathodes with different diffusion layer porosities in microbial fuel cells. Biosen Bioelectron 30:49–55

Zhang F, Chen M, Zhang Y, Zeng RJ (2012a) Microbial desalination cells with ion exchange resin packed to enhance desalination at low salt concentration. J Membr Sci 417–418:28–33

Zhang G, Zhao Q, Jiao Y, Wang K, Lee DJ, Ren N (2012b) Efficient electricity generation from sewage sludge using biocathode microbial fuel cell. Water Res 46:43–52

Zhi W, Ge Z, He Z, Zhang HS (2014) Methods for understanding microbial community structures and functions in microbial fuel cells: a review. Bioresour Technol 171:461–468
Acknowledgments
The authors acknowledge the financial support of the State Key Lab of Urban Water Resource and Environment at Harbin Institute of Technology (2015TS04), and the Major Science and Technology Program for Water Pollution Control and Treatment (No. 2014ZX07305001-005).
Ethics declarations
The manuscript is the original work of authors and it has not been previously submitted to Environmental Science and Pollution Research and other journals for simultaneous consideration. The manuscript has not been published previously (partly or in full). And, this study is not split up into several parts to increase the quantity of submissions and submitted to various journals or to one journal over time. No data have been fabricated or manipulated (including images) to support our conclusions. No data, text, or theories by others are presented as if they were the author's own. All authors mutually agree for its submission in Environmental Science and Pollution Research. The publication is approved by all authors and tacitly or explicitly by the responsible authorities where the work was carried out.
Additional information
Responsible editor: Philippe Garrigues
About this article
Cite this article
Zhang, H., Wen, Q., An, Z. et al. Analysis of long-term performance and microbial community structure in bio-cathode microbial desalination cells. Environ Sci Pollut Res 23, 5931–5940 (2016). https://doi.org/10.1007/s11356-015-5794-7
Received:

Accepted:

Published:

Issue Date:
Keywords
Microbial desalination cell (MDC)

Bio-cathode

Desalination

Biofouling

Microbial diversity

Membranes