Abstract
Nitrogen (N) fertilizer is an important yield limiting factor for sunflower production. The correlation between yield components and growth parameters of three sunflower hybrids (Hysun-33, Hysun-38, Pioneer-64A93) were studied with five N rates (0, 60, 120, 180, 240 kg ha−1) at three different experimental sites during the two consecutive growing seasons 2008 and 2009. The results revealed that total dry matter (TDM) production and grain yield were positively and linearly associated with leaf area index (LAI), leaf area duration (LAD), and crop growth rate (CGR) at all three sites of the experiments. The significant association of yield with growth components indicated that the humid climate was most suitable for sunflower production. Furthermore, the association of these components can be successfully used to predict the grain yield under diverse climatic conditions. The application of N at increased rate of 180 kg ha−1 resulted in maximum yield as compared to standard rate (120 kg ha−1) at all the experimental sites. In this way, N application rate was significantly correlated with growth and development of sunflower under a variety of climatic conditions. Keeping in view such relationship, the N dose can be optimized for sunflower crop in a particular region to maximize the productivity. Multilocation trails help to predict the input rates precisely while taking climatic variations into account also. In the long run, results of this study provides basis for sustainable sunflower production under changing climate.
Access options
Buy single article
Instant access to the full article PDF.
US$ 39.95
Tax calculation will be finalised during checkout.
Subscribe to journal
Immediate online access to all issues from 2019. Subscription will auto renew annually.
US$ 79
Tax calculation will be finalised during checkout.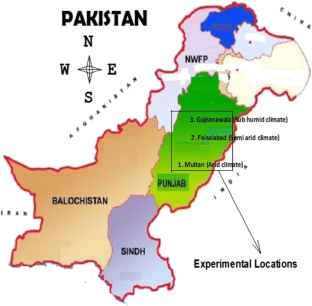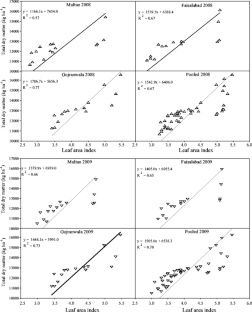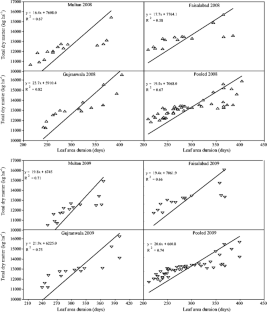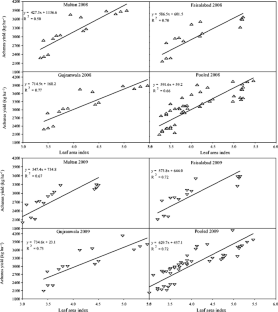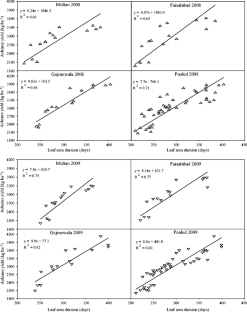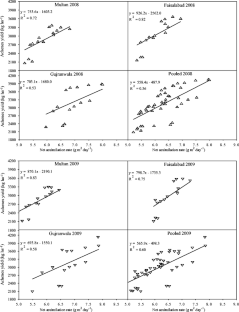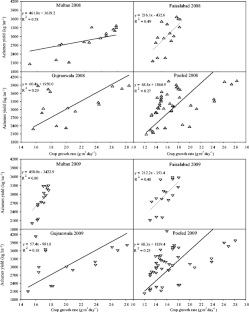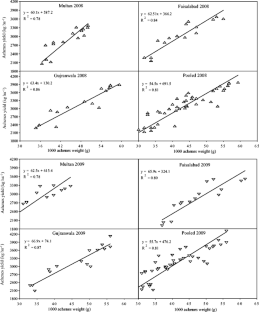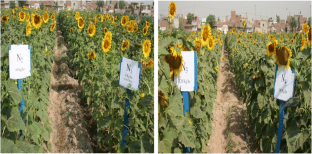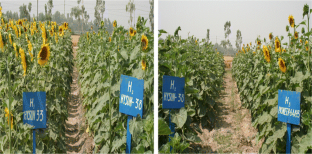 References
Aguirrezabal LAN, Lavaud Y, Dosio GAA, Izquierdo NG, Andrade FH, González LM (2003) Intercepted solar radiation during seed filling determines sunflower weight per seed and oil concentration. Crop Sci 43:152–161

Alkio M, Schubert A, Diepenbrock W, Grimm E (2003) Effect of source-sink ratio on seed set and filling in sunflower. Plant Cell Environ 26:1609–1619

Andrade FH, Ferreiro MA (1996) Reproductive growth of maize, sunflower and soybean at different source levels during grain filling. Field Crops Res 48:155–165

Cantagallo JE, Hall AJ (2002) Seed number in sunflower as affected by light stress during the floret differentiation interval. Field Crops Res 74:173–181

Cantagallo JE, Medan D, Hall AJ (2004) Grain number in sunflower as affected by shading during floret growth, anthesis and grain setting. Field Crops Res 85:191–202

Cechin I, Fumis TF (2004) Effect of nitrogen supply on growth and photosynthesis of sunflower plants grown in the greenhouse. Plant Sci 166:1379–1385

Connor DJ, Sadras VO (1992) Physiology of yield expression in sunflower. Field Crops Res 30:333–389

Dosio GAA, Aguirrezábal LAN, Andrade FH, Pereyra VR (2000) Solar radiation intercepted during seed filling and oil production in two sunflower hybrids. Crop Sci 40:1637–1644

Fahad S, Bano A (2012) Effect of salicylic acid on physiological and biochemical characterization of maize grown in saline area. Pak J Bot 44:1433–1438

Fahad S, Hussain S, Bano A, Saud S, Hassan S, Shan D, Khan FA, Khan F, Chen Y, Wu C, Tabassum MA, Chun MX, Afzal M, Jan A, Jan MT, Huang J (2014a) Potential role of phytohormones and plant growth-promoting rhizobacteria in abiotic stresses: consequences for changing environment. Environ Sci Pollut Res. doi:10.1007/s11356-014-3754-2

Fahad S, Hussain S, Matloob A, Khan FA, Khaliq A, Saud S, Hassan S, Shan D, Khan F, Ullah N, Faiq M, Khan MR, Tareen AF, Khan A, Ullah A, Ullah N, Huang J (2014b) Phytohormones and plant responses to salinity stress: a review. Plant Growth Regul. doi:10.1007/s10725-014-0013-y

Fahad S, Hussain S, Khan F, Wu C, Saud S, Hassan S, Ahmad N, Gang D, Ullah A, Huang J (2015a) Effects of tire rubber ash and zinc sulfate on crop productivity and cadmium accumulation in five rice cultivars under field conditions. Environ Sci Pollut Res. doi:10.1007/s11356-015-4518-3

Fahad S, Hussain S, Saud S, Tanveer M, Bajwa AA, Hassan S, Shah AN, Ullah A, Wu C, Khan FA, Shah F, Ullah S, Chen Y, Huang J (2015b) A biochar application protects rice pollen from high-temperature stress. Plant Physiol Biochem 96:281–287

Fahad S, Hussain S, Saud S, Khan F, Hassan S, Amanullah NW, Arif M, Wang F, Huang J (2015c) Exogenously applied plant growth regulators affect heat-stressed rice pollens. J Agron Crop Sci. doi:10.1111/jac.12148

Fahad S, Nie L, Chen Y, Wu C, Xiong D, Saud S, Hongyan L, Cui K, Huang J (2015d) Crop plant hormones and environmental stress. Sustain Agric Rev 15:371–400

Fernandez MJM, Perez-Vich VB, Dominguez LJ (2007) Breeding for specialty oil types in sunflower. Helia 30:75–84

Flagella Z, Rotunno T, Tarantino E, Caterina RD, Caro AD (2002) Changes in seed yield and oil fatty acid composition of high oleic sunflower hybrids in relation to the sowing date and the water regime. Eur J Agron 17:221–230

GOP (2015) Economic Survey of Pakistan, 2003–14. Econ. Advisor's Wing, Finance Div. Islamabad, Pakistan

Hunt (1978) Plant growth analysis. The institute Biology's studies in Biology. Edward Arnold (Pub.) Ltd., 96:8–38

Hunt R, Causton DR, Shipley B, Askew AP (2002) A modern tool for classical plant growth analysis. Ann Bot 90:485–488

Iqbal N, Ashraf MY (2006) Does seed treatment with glycine betaine improve germination rate and seedling growth of sunflower under osmotic stress. Pak J Bot 38:1641–1648

Izquierdo NG, Dosio GAA, Cantarero M, Luján J, Aguirrezábal LAN (2008) Weight per grain, oil concentration, and solar radiation intercepted during grain filling in black and striped hull sunflower hybrids. Crop Sci 48:688–699

Jin J, Liu X, Wanga G, Mi L, Shen Z, Chen X, Herbert SJ (2010) Agronomic and physiological contributions to the yield improvement of soybean cultivars released from 1950 to 2006 in Northeast China. Field Crops Res 115:116–123

Khalifa FM, Schnetter AA, El-tayeb EI (2000) Temperature-germination response of sunflower genotypes. Hellia 23(33):97–104

Koutroubas SD, Papakosta DK, Doitsinis K (2008) Nitrogen utilization efficiency of safflower hybrids and open-pollinated varieties under Mediterranean conditions. Field Crops Res 107:56–61

Leon AJ, Andrade FH, Lee M (2003) Genetic analysis of seed-oil concentrations across generations and environments in sunflower (Helianthus annuus L.). Crop Sci 43:135–140

Lopez Pereira M, Trapani N, Sadras V (2000) Genetic improvement of sunflower in Argentina between 1930 and 1995. Part III. Dry matter partitioning and achene composition. Field Crop Res 67:215–221

Martinez MF, Arelovich HM, Wehrhahne LN (2010) Grain yield, nutrient content and lipid profile of oat genotypes grown in a semiarid environment. Field Crops Res 116:92–100

Massignam AM, Chapman SC, Hammer GL, Fukai S (2009) Physiological determinants of maize and sunflower grain yield as affected by nitrogen supply. Field Crops Res 113:256–267

Monteith JL (1981) Climate variation and growth of crop. Q J R Meteorol Soc 107:749–774

Nasim W (2010) Modeling the impact of climate change on nitrogen use efficiency in sunflower under different agro-climatic conditions of Punjab-Pakistan. PhD Thesis, University of Agriculture, Faisalabad-Pakistan. pp. 90–121.

Nasim W, Ahmad A, Wajid A, Akhtar J, Muhammad D (2011) Nitrogen effects on growth and development of sunflower hybrids under agro-climatic conditions of Multan. Pak J Bot 43(4):2083–2092

Nasim W, Ahmad A, Hammad HM, Chaudhary HJ, Munis MFH (2012a) Effect of nitrogen on growth and yield of sunflower under semi-arid conditions of Pakistan. Pak J Bot 44(2):639–648

Nasim W, Ahmad A, Bano A, Olatinwo R, Usman M, Khaliq T, Wajid A, Hammad HM, Mubeen M, Hussain M (2012b) Effect of nitrogen on yield and oil quality of sunflower (Helianthus annuus L.) hybrids under sub humid conditions of Pakistan. Am J Plant Sci 03:243–251

Peng Y, Niu J, Peng Z, Zhang F, Li C (2010) Shoot growth potential drives N uptake in maize plants and correlates with root growth in the soil. Field Crops Res 115:85–93

Rondanini D, Savin R, Hall AJ (2003) Dynamics of fruit growth and oil quality of sunflower (Helianthus annuus L.) exposed to brief intervals of high temperature during achene filling. Field Crop Res 83:79–90

Santalla EM, Dossio GAA, Nolasco SM, Aguirrezabal LAN (2002) The effect of intercepted solar radiation on sunflower (Helianthus annuus L.) seed composition from different head position. J Am Oil Chem Soc 79:69–79

Scheiner JD, Gutierrez FHB, Lavado RS (2002) Sunflower nitrogen requirement and ISN fertilizer recovery in Western Pampas, Argentina. Eur J Agron 17:73–79

Sposaro MM, Chimenti CA, Hall AJ (2008) Root lodging in sunflower, variations in anchorage strength across genotypes, soil types, crop population densities and crop developmental stages. Field Crops Res 106:179–186

Steel RGD, Torrie JH, Deekey DA (1997) Principles and procedures of statistics. A biometrical approach, 3rd edn. McGraw Hill Book, Int. Co, New York, pp 400–428

Steer BT, Hocking PJ (1984) Nitrogen nutrition of sunflower: acquisition and partitioning of dry matter and nitrogen by vegetative organs and their relationship to seed yield. Field Crops Res 09:237–251

Trapani N, Hall AJ (1996) Effects of level of insertion and nitrogen supply on the expansion of leaves of field grown sunflower (Helianthus annuus L.). Plant Soil 184:331–340

Tsialtas JT, Maslaris N (2005) Evaluation of a leaf area prediction model proposed for sunflower. Photosynthetica 46:294–297

van Eeuwijk FA, Denis JB, Kang MS (1996) Incorporating additional information on genotypes and environments in models for two-way genotype by environment tables. In: Kang MS, Gauch HG Jr (eds) Genotype by environment interaction: new perspectives. CRC Press, Boca Raton, pp 15–49

Veerana S, Steer BT (2003) Growth of florets of sunflower in relation to their position in the capitulum, shading and nitrogen supply. Field Crops Res 34:83–100

Yan W, Kang MS (2003) GGE biplot analysis: a graphical tool for breeders, geneticists, and agronomists. CRC Press, New York, 288 pp

Yau SK (2007) Winter versus spring sowing of rain-fed safflower in a semi-arid, high-elevation Mediterranean environment. Eur J Agron 26:249–256

Zubriski JC, Zimmerman DC (1978) Effects of nitrogen, phosphorus, and plant density on sunflower. Agron J 66:798–801
Acknowledgments
The first author is grateful to the Government of France (Embassy of France in Pakistan) and Higher Education Commission of Pakistan for providing financial support (Project No. 833712H, 2014–2015) to International Center for Advanced Mediterranean Agronomic Studies (CIHEAM), Institute Agronomique Mediterraneen de Montpellier (IAMM), France. High appreciations for the support provided by the staff of CIHEAM-IAMM (especially Madam Marie Helene BESSIERE) and staff from Campus France (especially Mr. SAADOUN Farid) during the visit by the first author.
Additional information
Responsible editor: Philippe Garrigues
About this article
Cite this article
Nasim, W., Belhouchette, H., Tariq, M. et al. Correlation studies on nitrogen for sunflower crop across the agroclimatic variability. Environ Sci Pollut Res 23, 3658–3670 (2016). https://doi.org/10.1007/s11356-015-5613-1
Received:

Accepted:

Published:

Issue Date:
Keywords
Agroclimatic variability

Crop growth correlations

Helianthus annuus L

Nitrogen use efficiency

Yield