Abstract
Veterinary antibiotics (VAs) are emerging contaminants of concern in the environment, mainly due to the potential for development of antibiotic-resistant bacteria and effect on microbiota that could interfere with crucial ecosystem functions such as nutrient cycling and decomposition. High levels of VAs such as tetracyclines (TCs) have been reported in agricultural soils amended with manure, which also has the potential to cause surface and groundwater contamination. Several recent studies have focused on developing methods to immobilize VAs such as composting with straw, hardwood chips, commercial biochar, aeration, mixing, heat treatment, etc. The major shortcomings of these methods include high cost and limited effectiveness. In the current study, we assessed the effectiveness of aluminum-based drinking water treatment residuals (Al-WTR) as a "green" sorbent to immobilize TCs in manure and manure-applied soils with varying physicochemical properties by laboratory incubation study. Results show that Al-WTR is very effective in immobilizing tetracycline (TTC) and oxytetracycline (OTC). The presence of phosphate resulted in significant (p < 0.01) decrease in TTC/OTC sorption by Al-WTR, but the presence of sulfate did not. attenuated total reflection (ATR)-FTIR spectroscopy indicate that TTC and OTC likely forming surface complexes via inner-sphere-type bonds in soils, manure, and manure-applied soils amended with Al-WTR.
Access options
Buy single article
Instant access to the full article PDF.
US$ 39.95
Tax calculation will be finalised during checkout.
Subscribe to journal
Immediate online access to all issues from 2019. Subscription will auto renew annually.
US$ 79
Tax calculation will be finalised during checkout.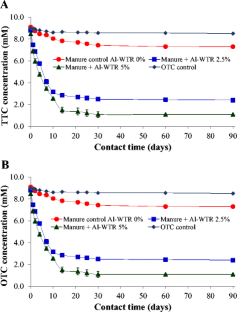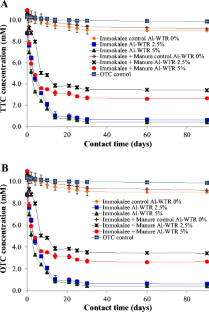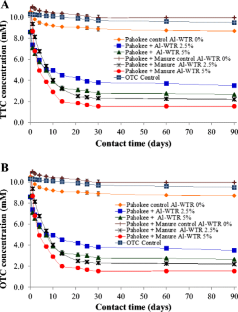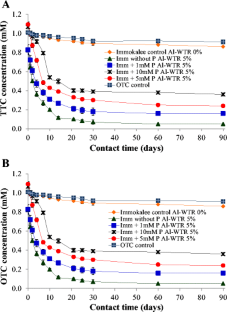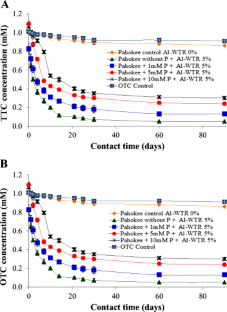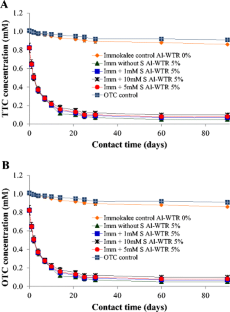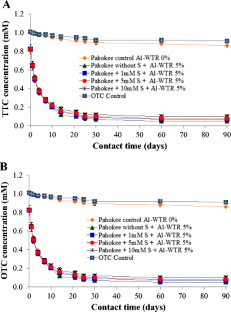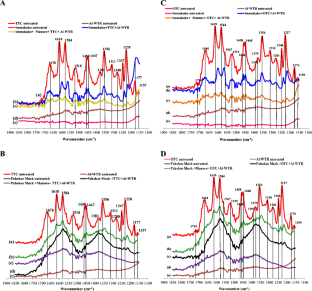 Abbreviations
CAFOs:

concentrated animal feeding operations

CTC:

chlortetracycline

IS:

ionic strength

OTC:

oxytetracycline

SSR:

sorbate-to-sorbent ratio

TTC:

tetracycline

TCs:

tetracyclines

VAs:

veterinary antibiotics

WTRs:

water treatment residuals
References
Aga DS, O'Connor S, Ensley S, Payero JO, Snow D, Tarkalson D (2005) Determination of the persistence of tetracycline antibiotics and their degradates in manure-amended soil using enzyme-linked immunosorbent assay and liquid chromatography−mass spectrometry. J Agric Food Chem 53(18):7165–7171. doi:10.1021/jf050415+

AHI (2011) Animal health institute news release. AHI, Washington, DC

Arikan OA, Sikora LJ, Mulbry W, Khan SU, Foster GD (2007) Composting rapidly reduces levels of extractable oxytetracycline in manure from therapeutically treated beef calves. Bioresour Technol 98(1):169–176. doi:10.1016/j.biortech.2005.10.041

Arikan O, Mulbry W, Ingram D, Millner P (2009) Minimally managed composting of beef manure at the pilot scale: effect of manure pile construction on pile temperature profiles and on the fate of oxytetracycline and chlortetracycline. Bioresour Technol 100(19):4447–4453. doi:10.1016/j.biortech.2008.12.063

Aristilde L, Marichal C, Miehe-Brendle J, Lanson B, Charlet L (2010) Interactions of oxytetracycline with a smectite clay: a spectroscopic study with molecular simulations. Environ Sci Technol 44(20):7839–7845. doi:10.1021/es102136y.

Bao YY, Zhou QX, Wan Y, Yu QA, Xie XJ (2010) Effects of soil/solution ratios and cation types on adsorption and desorption of tetracycline in soils. Soil Sci Soc Am J 74(5):1553–1561. doi:10.2136/sssaj2009.0402

Bassil RJ, Bashour II, Sleiman FT, Abou-Jawdeh YA (2013) Antibiotic uptake by plants from manure-amended soils. J Environ Sci Health B 48(7):570–574. doi:10.1080/03601234.2013.774898

Blackwell PA, Kay P, Boxall ABA (2007) The dissipation and transport of veterinary antibiotics in a sandy loam soil. Chemosphere 67(2):292–299. doi:10.1016/j.chemosphere.2006.09.095

Boxall ABA, Johnson P, Smith EJ, Sinclair CJ, Stutt E, Levy LS (2006) Uptake of veterinary medicines from soils into plants. J Agric Food Chem 54(6):2288–2297. doi:10.1021/jf053041t

Bui TX, Choi H (2010) Influence of ionic strength, anions, cations, and natural organic matter on the adsorption of pharmaceuticals to silica. Chemosphere 80(7):681–686

Chander Y, Kumar K, Goyal SM, Gupta SC (2005) Antibacterial activity of soil-bound antibiotics. J Environ Qual 34(6):1952–1957. doi:10.2134/jeq2005.0017

Chee-Sanford J, Aminov R, Krapac I, Garrigues-Jeanjean N, Mackie R (2001) Occurrence and diversity of tetracycline resistance genes in lagoons and groundwater underlying two swine production facilities. Appl Environ Microbiol 67(4):1494–1502

Datta R, Sarkar D (2005) Consideration of soil properties in assessment of human health risk from exposure to arsenic‐enriched soils. Integr Environ Assess Manag 1(1):55–59

Dolliver H, Gupta S, Noll S (2008) Antibiotic degradation during manure composting. J Environ Qual 37(3):1245–1253. doi:10.2134/jeq2007.0399

Elliott HA, Dempsey BA (1991) Agronomic effects of land application of water treatment sludges. J Am Water Works Assoc 83(4):126–131

Elliott HA, O'Connor GA, Lu P, Brinton S (2002) Influence of water treatment residuals on phosphorus solubility and leaching. J Environ Qual 31(4):1362–1369

Figueroa RA, MacKay AA (2005) Sorption of oxytetracycline to iron oxides and iron oxide-rich soils. Environ Sci Technol 39(17):6664–6671. doi:10.1021/es048044l

Figueroa RA, Leonard A, MacKay AA (2004) Modeling tetracycline antibiotic sorption to clays. Environ Sci Technol 38(2):476–483. doi:10.1021/es0342087

Gu C, Karthikeyan K (2005) Interaction of tetracycline with aluminum and iron hydrous oxides. Environ Sci Technol 39(8):2660–2667

Gu C, Karthikeyan K, Sibley S, Pedersen J (2007) Complexation of the antibiotic tetracycline with humic acid. Chemosphere 66(8):1494–1501. doi:10.1016/j.chemosphere.2006.08.028

Hakk H, Millner P, Larsen G (2005) Decrease in water-soluble 17β-estradiol and testosterone in composted poultry manure with time. J Environ Qual 34(3):943–950. doi:10.2134/jeq2004.0164

Hamscher G, Sczesny S, Höper H, Nau H (2002) Determination of persistent tetracycline residues in soil fertilized with liquid manure by high-performance liquid chromatography with electrospray ionization tandem mass spectrometry. Anal Chem 74(7):1509–1518. doi:10.1021/ac015588m

Hamscher G, Pawelzick H, Hoper H, Nau H (2005) Different behavior of tetracyclines and sulfonamides in sandy soils after repeated fertilization with liquid manure. Environ Toxicol Chem 24(4):861–868

Ippolito J, Barbarick K, Elliott H (2011) Drinking water treatment residuals: a review of recent uses. J Environ Qual 40(1):1–12. doi:10.2134/jeq2010.0242

Jia DA, Zhou DM, Wang YJ, Zhu HW, Chen JL (2008) Adsorption and cosorption of Cu(II) and tetracycline on two soils with different characteristics. Geoderma 146(1–2):224–230. doi:10.1016/j.geoderma.2008.05.023

Kang J, Liu HJ, Zheng YM, Qu JH, Chen JP (2010) Systematic study of synergistic and antagonistic effects on adsorption of tetracycline and copper onto a chitosan. J Colloid Interface Sci 344(1):117–125. doi:10.1016/j.jcis.2009.11.049

Kay P, Blackwell P, Boxall A (2004) Fate of veterinary antibiotics in a macroporous tile drained clay soil. Environ Toxicol Chem 23(5):1136–1144

Kulshrestha P, Giese R, Aga D (2004) Investigating the molecular interactions of oxytetracycline in clay and organic matter: insights on factors affecting its mobility in soil. Environ Sci Technol 38(15):4097–4105. doi:10.1021/es034856q

Kumar K, Gupta SC, Chander Y, Singh AK (2005) Antibiotic use in agriculture and its impact on the terrestrial environment. In: Donald LS (ed) Advances in Agronomy, vol 87. Academic Press, pp 1–54. doi: 10.1016/S0065-2113(05)87001-4

Makris K, El-Shall H, Harris W, O'Connor G, Obreza T (2004) Intraparticle phosphorus diffusion in a drinking water treatment residual at room temperature. J Colloid Interface Sci 277(2):417–423. doi:10.1016/j.jcis.2004.05.001

Makris K, Harris W, O'Connor G, Obreza T, Elliott H (2005) Physicochemical properties related to long-term phosphorus retention by drinking-water treatment residuals. Environ Sci Technol 39(11):4280–4289. doi:10.1021/es0480769

McClellan K, Halden RU (2010) Pharmaceuticals and personal care products in archived U.S. biosolids from the 2001 EPA national sewage sludge survey. Water Res 44(2):658–668. doi:10.1016/j.watres.2009.12.032

Müller AK, Westergaard K, Christensen S, Sørensen SJ (2002) The diversity and function of soil microbial communities exposed to different disturbances. Microb Ecol 44(1):49–58. doi:10.1007/s00248-001-0042-8

Munir M, Xagoraraki I (2011) Levels of antibiotic resistance genes in manure, biosolids, and fertilized soil. J Environ Qual 40(1):248–255. doi:10.2134/jeq2010.0209

Oberle K, Capdeville MJ, Berthe T, Budzinski H, Petit F (2012) Evidence for a complex relationship between antibiotics and antibiotic-resistant escherichia coli: from medical center patients to a receiving environment. Environ Sci Technol 46(3):1859–1868. doi:10.1021/es203399h

O'Connor GA, Elliott HA, Lu R (2002) Characterizing water treatment residuals phosphorus retention. Soil Crop Sci Soc Florida Proc 61:67–73

Ostermann A, Siemens J, Welp G, Xue QY, Lin XY, Liu XJ, Amelung W (2013) Leaching of veterinary antibiotics in calcareous Chinese croplands. Chemosphere 91(7):928–934. doi:10.1016/j.chemosphere.2013.01.110

Pils J, Laird D (2007) Sorption of tetracycline and chlortetracycline on K- and Ca-saturated soil clays, humic substances, and clay-humic complexes. Environ Sci Technol 41(6):1928–1933. doi:10.1021/es062316y

Prakash P, Sengupta AK (2003) Selective coagulant recovery from water treatment plant residuals using donnan membrane process. Environ Sci Technol 37(19):4468–4474. doi:10.1021/es030371q

Punamiya PA (2013) Green remediation of veterinary antibiotics in soil-water systems Ph.D. Montclair State University, Ann Arbor

Punamiya P, Sarkar D, Rakshit S, Datta R (2013) Effectiveness of aluminum-based drinking water treatment residuals as a novel sorbent to remove tetracyclines from aqueous medium. J Environ Qual 42(5):1449–1459. doi:10.2134/jeq2013.03.0082

Punamiya P, Sarkar D, Rakshit S, Datta R (2015) Effect of solution properties, competing ligands, and complexing metal on sorption of tetracyclines on Al-based drinking water treatment residuals. Environ Sci Pollut Res Int. doi:10.1007/s11356-015-4145-z

Rakshit S, Elzinga EJ, Datta R, Sarkar D (2013) In situ attenuated total reflectance fourier-transform infrared study of oxytetracycline sorption on magnetite. J Environ Qual 42(3):822–827. doi:10.2134/jeq2012.0412

Rakshit S, Sarkar D, Elzinga EJ, Punamiya P, Datta R (2014) Surface complexation of oxytetracycline by magnetite: effect of solution properties. Vadose Zone J 13(2). doi: 10.2136/vzj2013.08.0147

Sall J, Creighton L, Lehman A (2005) JMP start statistics, 8th edn. SAS Institute, Cary

Sarmah AK, Meyer MT, Boxall ABA (2006) A global perspective on the use, sales, exposure pathways, occurrence, fate and effects of veterinary antibiotics (VAs) in the environment. Chemosphere 65(5):725–759. doi:10.1016/j.chemosphere.2006.03.026

Sassman SA, Lee LS (2005) Sorption of three tetracyclines by several soils: assessing the role of pH and cation exchange. Environ Sci Technol 39(19):7452–7459. doi:10.1021/es0480217

Sengelov G, Agerso Y, Halling-Sorensen B, Baloda SB, Andersen JS, Jensen LB (2003) Bacterial antibiotic resistance levels in Danish farmland as a result of treatment with pig manure slurry. Environ Int 28(7):587–595. doi:10.1016/s0160-4120(02)00084-3

Stoob K, Singer HP, Mueller SR, Schwarzenbach RP, Stamm CH (2007) Dissipation and transport of veterinary sulfonamide antibiotics after manure application to grassland in a small catchment. Environ Sci Technol 41(21):7349–7355. doi:10.1021/es070840e

Teixidó M, Hurtado C, Pignatello JJ, Beltrán JL, Granados M, Peccia J (2013) Predicting contaminant adsorption in black carbon (biochar)-amended soil for the veterinary antimicrobial sulfamethazine. Environ Sci Technol 47(12):6197–6205. doi:10.1021/es400911c

ter Laak TL, Gebbink WA, Tolls J (2006) The effect of pH and ionic strength on the sorption of sulfachloropyridazine, tylosin, and oxytetracycline to soil. Environ Toxicol Chem 25(4):904–911. doi:10.1897/05-232r.1

Topp E, Monteiro SC, Beck A, Coelho BB, Boxall ABA, Duenk PW, Kleywegt S, Lapen DR, Payne M, Sabourin L, Li HX, Metcalfe CD (2008) Runoff of pharmaceuticals and personal care products following application of biosolids to an agricultural field. Sci Total Environ 396(1):52–59. doi:10.1016/j.scitotenv.2008.02.011

Van Dijk J, Keukens HJ (2000) The stability of some veterinary drugs and coccidiostats during composting and storage of laying hen and broiler faeces. In: Ginkel, LA and Ruiter, A, Eds, Residues of veterinary drugs in food, Proceedings of the EuroResidue IV Conference, Veldhoven, 8–10 May 356–360

Wang Q, Yates SR (2008) Laboratory study of oxytetracycline degradation kinetics in animal manure and soil. J Agric Food Chem 56(5):1683–1688. doi:10.1021/jf072927p

Wang Y-J, Jia D-A, Sun R-J, Zhu H-W, Zhou D-M (2008) Adsorption and cosorption of tetracycline and copper(II) on montmorillonite as affected by solution pH. Environ Sci Technol 42(9):3254–3259. doi:10.1021/es702641a

Wang YJ, Sun RJ, Xiao AY, Wang SQ, Zhou DM (2010) Phosphate affects the adsorption of tetracycline on two soils with different characteristics. Geoderma 156(3–4):237–242. doi:10.1016/j.geoderma.2010.02.022

Westergaard K, Müller AK, Christensen S, Bloem J, Sørensen SJ (2001) Effects of tylosin as a disturbance on the soil microbial community. Soil Biol Biochem 33(15):2061–2071. doi:10.1016/S0038-0717(01)00134-1

Winckler C, Grafe A (2001) Use of veterinary drugs in intensive animal production evidence for persistence of tetracycline in pig slurry. J Soils Sediments 1(2):67–70

Zhang D, Pan B, Wu M, Wang B, Zhang H, Peng H, Wu D, Ning P (2011) Adsorption of sulfamethoxazole on functionalized carbon nanotubes as affected by cations and anions. Environ Pollut 159(10):2616–2621. doi:10.1016/j.envpol.2011.05.036

Zhang Y, Zhang C, Parker DB, Snow DD, Zhou Z, Li X (2013) Occurrence of antimicrobials and antimicrobial resistance genes in beef cattle storage ponds and swine treatment lagoons. Sci Total Environ 463–464(0):631–638. doi:10.1016/j.scitotenv.2013.06.016

Zhao YP, Gu XY, Gao SX, Geng JJ, Wang XR (2012) Adsorption of tetracycline (TC) onto montmorillonite: cations and humic acid effects. Geoderma 183:12–18. doi:10.1016/j.geoderma.2012.03.004
Acknowledgments
The authors would like to thank Montclair State University (MSU), Montclair, NJ, USA, for the PP's graduate assistantship and the analytical facilities. PP also acknowledges the Center for Writing Excellence (CWE) for proofreading the manuscript and the Geological Society of America (GSA) and New Jersey Water Resources Research Institute—United States Geological Survey (NJWRRI-USGS) programs for student research grant awards.
Additional information
Responsible editor: Philippe Garrigues
Electronic supplementary material
Below is the link to the electronic supplementary material.
Immobilization of tetracyclines in manure and manure-amended soils using aluminum-baseddrinking water treatment residuals
About this article
Cite this article
Punamiya, P., Sarkar, D., Rakshit, S. et al. Immobilization of tetracyclines in manure and manure-amended soils using aluminum-based drinking water treatment residuals. Environ Sci Pollut Res 23, 3322–3332 (2016). https://doi.org/10.1007/s11356-015-5551-y
Received:

Accepted:

Published:

Issue Date:
Keywords
Tetracyclines

Drinking water treatment residuals

Soil

Manure

Remediation