Abstract
Street dusts from heavy density traffic area (HDTA), tourism area (TA), residential area (RA), and educational area (EA) in Beijing were collected to explore the distribution, health risk assessment, and source of lead (Pb). The average concentration of Pb in TA was the highest among the four areas. Compared with other cities, Pb concentrations in Beijing were generally at moderate or low levels. The average value (14.05) of ecological risk index (RI) indicated that Pb was at "low pollution risk" status. According to the calculation on hazard index (HI), the ingestion of dust particles of children and adults was the major route of exposure to street dusts in four studied areas, followed by dermal contact. The lower values of HI than 1 further suggested that non-carcinogenic risks of Pb in the street dusts were in the low range. Comparing 206Pb/207Pb and 208Pb/207Pb ratios of street dusts with other environmental samples, it was found that atmospheric deposition of coal combustion dust might be the main pathway for anthropogenic Pb input to the street dusts in four functional areas.
This is a preview of subscription content, log in to check access.
Access options
Buy single article
Instant access to the full article PDF.
US$ 39.95
Price includes VAT for USA
Subscribe to journal
Immediate online access to all issues from 2019. Subscription will auto renew annually.
US$ 99
This is the net price. Taxes to be calculated in checkout.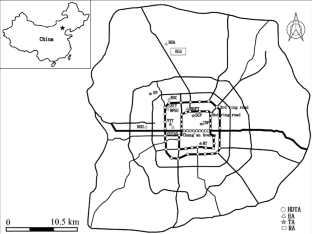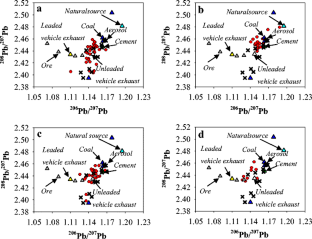 References
Bollhöfer A, Rosman K (2001) Isotopic source signatures for atmospheric lead: the Northern Hemisphere. Geochim Cosmochim Acta 65:1727–1740

CNEMC (China National Environmental Monitoring Center) (1990) Chinese soil element background content. Chin Environ Sci Press, Beijing (In Chinese)

Charlesworth S, Everett M, McCarthy R, Ordonez A, De Miguel E (2003) A comparative study of heavy metal concentration and distribution in deposited street dusts in a large and a small urban area: Birmingham and Coventry, West Midlands, UK. Environ Int 29:563–573

Chen T, Zheng Y, Lei M, Huang Z, Wu H, Chen H, Fan K, Yu K, Wu X, Tian Q (2005a) Assessment of heavy metal pollution in surface soils of urban parks in Beijing, China. Chemosphere 60:542–551

Chen J, Tan M, Li Y, Zhang Y, Lu W, Tong Y, Zhang G, Li Y (2005b) A lead isotope record of Shanghai atmospheric lead emissions in total suspended particles during the period of phasing out of leaded gasoline. Atmos Environ 39:1245–1253

Cheng H, Hu Y (2010) Lead (Pb) isotopic fingerprinting and its applications in lead pollution studies in China: a review. Environ Pollut 158:1134–1146

Cheng S (2003) Heavy metal pollution in China: origin, pattern and control. Environ Sci Pollut Res 10:192–198

Chon HT, Kim KW, Kim JY (1995) Metal contamination of soils and dusts in Seoul metropolitan city, Korea. Environ Geochem Health 17:139–146

De Miguel E, Llamas JF, Chacón E, Berg T, Larssen S, Røyset O, Vadset M (1997) Origin and patterns of distribution of trace elements in street dust: unleaded petrol and urban lead. Atmos Environ 31:2733–2740

Day J, Hart M, Robinson M (1975) Lead in urban street dust. Nature 253:343–345

Duzgoren-Aydin N, Wong C, Aydin A, Song Z, You M, Li X (2006) Heavy metal contamination and distribution in the urban environment of Guangzhou, SE China. Environ Geochem Health 28:375–391

Elom NI, Entwistle J, Dean JR (2014) Human health risk from Pb in urban street dust in northern UK cities. Environ Chem Lett 12:209–218

Environmental site assessment guideline (2009) DB11/T 656–2009 (In Chinese)

Fang Y, Cao X, Zhao L (2012) Effects of phosphorus amendments and plant growth on the mobility of Pb, Cu, and Zn in a multi-metal-contaminated soil. Environ Sci Pollut Res 19:1659–1667

Fergusson J, Ryan D (1984) The elemental composition of street dust from large and small urban areas related to city type, source and particle size. Sci Total Environ 34:101–116

Ferreira-Baptista L, De Miguel E (2005) Geochemistry and risk assessment of street dust in Luanda, Angola: a tropical urban environment. Atmos Environ 39:4501–4512

Gao B, Liu Y, Sun K, Liang X, Pa P, Sheng G, Fu J (2008) Precise determination of cadmium and lead isotopic compositions in river sediments. Anal Chim Acta 612:114–120

Hakanson L (1980) An ecological risk index for aquatic pollution control. A sedimentological approach. Water Res 14:975–1001

Harrison RM, Laxen DP, Wilson SJ (1981) Chemical associations of lead, cadmium, copper, and zinc in street dusts and roadside soils. Environ Sci Technol 15:1378–1383

Han Y, Fang X, Xi X, Song L, Yang S (2006) Multivariate analysis of heavy metal contamination in urban dusts of Xi'an, Central China. Sci Total Environ 355:176–186

Hsu SC, Liu SC, Jeng WL, Chou CC, Hsu RT, Huang YT, Chen YW (2006) Lead isotope ratios in ambient aerosols from Taipei, Taiwan: identifying long-range transport of airborne Pb from the Yangtze Delta. Atmos Environ 40:5393–5404

Hu X, Zhang Y, Luo J, Wang T, Lian H, Ding Z (2011) Bioaccessibility and health risk of arsenic, mercury and other metals in urban street dusts from a mega-city, Nanjing, China. Environ Pollut 159:1215–1221

Imperato M, Adamo P, Naimo D, Arienzo M, Stanzione D, Violante P (2003) Spatial distribution of heavy metals in urban soils of Naples city (Italy). Environ Pollut 124:247–256

Kulshrestha U, Jain M, Sekar R, Vairamani M, Sarkar A, Parashar D (2001) Chemical characteristics and source apportionment of aerosols over Indian Ocean during INDOEX-1999. Curr Sci 80:180–185

Lee CS, Li X, Zhang G, Li J, Ding A, Wang T (2007) Heavy metals and Pb isotopic composition of aerosols in urban and suburban areas of Hong Kong and Guangzhou, South China—evidence of the long-range transport of air contaminants. Atmos Environ 41:432–447

Li H, Qian X, Hu W, Wang Y, Gao H (2013) Chemical speciation and human health risk of trace metals in urban street dusts from a metropolitan city, Nanjing, SE China. Sci Total Environ 456:212–221

Li H, Yu S, Li G, Deng H (2011) Contamination and source differentiation of Pb in park soils along an urbanerural gradient in Shanghai. Environ Pollut 159:3536–3544

Li X, Poon C, Liu PS (2001) Heavy metal contamination of urban soils and street dusts in Hong Kong. Appl Geochem 16:1361–1368

Lu X, Wang L, Lei K, Huang J, Zhai Y (2009) Contamination assessment of copper, lead, zinc, manganese and nickel in street dust of Baoji, NW China. J Hazard Mater 161:1058–1062

Manno E, Varrica D, Dongarra G (2006) Metal distribution in road dust samples collected in an urban area close to a petrochemical plant at Gela, Sicily. Atmos Environ 40:5929–5941

Nageotte S, áPhilip Day J (1998) Lead concentrations and isotope ratios in street dust determined by electrothermal atomic absorption spectrometry and inductively coupled plasma mass spectrometry. Analyst 123:59–62

Rasmussen P, Subramanian K, Jessiman B (2001) A multi-element profile of house dust in relation to exterior dust and soils in the city of Ottawa, Canada. Sci Total Environ 267:125–140

Shi G, Chen Z, Bi C, Wang L, Teng J, Li Y, Xu S (2011) A comparative study of health risk of potentially toxic metals in urban and suburban road dust in the most populated city of China. Atmos Environ 45:764–771

Shi G, Chen Z, Xu S, Zhang J, Wang L, Bi C, Teng J (2008) Potentially toxic metal contamination of urban soils and roadside dust in Shanghai, China. Environ Pollut 156:251–260

Tan M, Zhang G, Li X, Zhang Y, Yue W, Chen J, Wang Y, Li A, Li Y, Zhang Y (2006) Comprehensive study of lead pollution in Shanghai by multiple techniques. Anal Chem 78:8044–8050

Tanner PA, Ma HL, Yu PK (2008) Fingerprinting metals in urban street dust of Beijing, Shanghai, and Hong Kong. Environ Sci Technol 42:7111–7117

Us EPA (1989) Risk assessment guidance for superfund. Vol. I, Human Health Evaluation Manual

US EPA (1993) Reference dose (R f D): description and use in health risk assessments. Background Document 1A. Integrated risk information system (IRIS)

US EPA (1997) Exposure factors handbook. EPA/600/P-95/002F. Washington, DC, EPA, Office of Research and Development

US EPA (2001a) Risk assessment guidance for superfund: volume III—part A, process for conducting probabilistic risk assessment. Washington, D.C. EPA 540-R-02-002

US EPA (2001b) Child-specific exposure factors handbook. EPA-600-P-00-002B. National Center for Environmental Assessment

Us EPA (2011) Supplemental guidance for developing soil screening levels for superfund sites. Office of Solid Waste and Emergency Response (OSWER)

Wang W, Liu X-D, Zhao L-W, Guo D-F, Lu Y-Q (2003) Assessment of the phase-out of leaded gasoline in Tianjin, China using isotope technique. China Environ Sci 23:627–630

Wei B, Jiang F, Li X, Mu S (2009) Spatial distribution and contamination assessment of heavy metals in urban road dusts from Urumqi, NW China. Microchem J 93:147–152

Wei X, Gao B, Wang P, Zhou H, Lu J (2015) Pollution characteristics and health risk assessment of heavy metals in street dusts from different functional areas in Beijing, China. Ecotoxicol Environ Saf 112:186–192

Widory D, Liu X, Dong S (2010) Isotopes as tracers of sources of lead and strontium in aerosols (TSP & PM 2.5) in Beijing. Atmos Environ 44:3679–3687

Xia X, Chen X, Liu R, Liu H (2011) Heavy metals in urban soils with various types of land use in Beijing, China. J Hazard Mater 186:2043–2050

Zheng J, Tan M, Shibata Y, Tanaka A, Li Y, Zhang G, Zhang Y, Shan Z (2004) Characteristics of lead isotope ratios and elemental concentrations in PM 10 fraction of airborne particulate matter in Shanghai after the phase-out of leaded gasoline. Atmos Environ 38:1191–1200

Zheng N, Liu J, Wang Q, Liang Z (2010) Health risk assessment of heavy metal exposure to street dust in the zinc smelting district, Northeast of China. Sci Total Environ 408:726–733

Zhu B (1995) The mapping of geochemical provinces in China based on Pb isotopes. J Geochem Explor 55:171–181

Zhu B, Zhang J, Tu X, Chang X, Fan C, Liu Y, Liu J (2001) Pb, Sr, and Nd isotopic features in organic matter from China and their implications for petroleum generation and migration. Geochim Cosmochim Acta 65:2555–2570

Zhu L, Guo L, Gao Z, Yin G, Lee B, Wang F, Xu J (2010) Source and distribution of lead in the surface sediments from the South China Sea as derived from Pb isotopes. Mar Pollut Bull 60:2144–2153
Acknowledgments
This work was jointly supported by the China Postdoctoral Science Foundation (Grant No. 2014T70094, 2013M530668), and the Open Research Fund of State Key Laboratory of Simulation and Regulation of Water Cycle in River Basin, China Institute of Water Resources and Hydropower Research (Grant No. 2014QN02 and 2014RC08)..
Additional information
Responsible editor: Philippe Garrigues
Electronic supplementary material
Below is the link to the electronic supplementary material.
About this article
Cite this article
Han, L., Gao, B., Wei, X. et al. Spatial distribution, health risk assessment, and isotopic composition of lead contamination of street dusts in different functional areas of Beijing, China. Environ Sci Pollut Res 23, 3247–3255 (2016). https://doi.org/10.1007/s11356-015-5535-y
Received:

Accepted:

Published:

Issue Date:
Keywords
Street dusts

Lead pollution

Pb isotopic radios

Health risk assessment

Source identification

Beijing