Abstract
We investigated the accumulation of heavy metals in Bosk's fringe-toed lizards (Acanthodactylus boskianus) living in Gabès region (southeastern Tunisia), in relation to habitat, diet, and distance from the Gabès-Ghannouche factory complex of phosphate treatment. More specifically, we compared the concentrations of cadmium, lead, and zinc in the stomach contents and samples of the liver, kidney, and tail from lizards living in four sites corresponding to different combinations of habitat (coastal dunes vs backshore) and distance from the factory complex (<500 vs 20 km). Examination of stomach contents showed that lizards living on the coastal dunes mainly feed on littoral amphipods, while those living in the backshore feed exclusively on terrestrial invertebrates. The concentrations of heavy metals in lizard tissues were overall positively correlated with those in the preys they ingested. Moreover, there was a general tendency towards increased concentrations of cadmium, lead, and zinc in the samples from lizards living on coastal dunes compared to those from the other sites, although some differences still lacked statistical significance. These results suggest that the highest contamination of lizards living on coastal dunes was probably related to the ingestion of contaminated amphipods. Thus, amphipods and Bosk's fringe-toed lizards seem to provide an important link between the marine and terrestrial food webs, with higher concentrations appearing to accumulate from materials released into the sea rather than the terrestrial environment. With regard to metal distribution among tissues, our results were overall in agreement with previous findings in other reptiles. In particular, cadmium was most concentrated in the liver samples, stressing once more the role of the liver as a storage organ of Cd. Moreover, high concentrations of the three assessed metals were found in the kidney samples, showing the role of the kidney as an active site of heavy metal accumulation.
Access options
Buy single article
Instant access to the full article PDF.
US$ 39.95
Tax calculation will be finalised during checkout.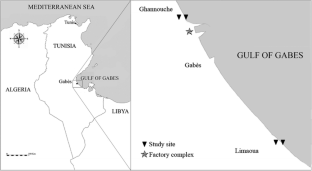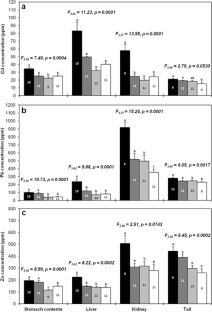 References
Amiard-Triquet C, Metayer C, Amiard JC (1980) Etude du transfert de Cd, Pb, Cu et Zn dans les chaines trophiques netritiques et estuairienne II. Accumulation biologique chez les poissons planctonophages. Water Res 14:1327–1332 (in French)

Aoun M, El Samrani AG, Lartiges BS, Kazpard V, Saâd Z (2010) Releases of phosphate fertilizer industry in the surrounding environment: investigation on heavy metals and polonium-210 in soil. J Environ Sci 22:1387–1397

Ayadi N, Aloulou F, Bouzid J (2015) Assessment of contaminated sediment by phosphate fertilizer industrial waste using pollution indices and statistical techniques in the Gulf of Gabes (Tunisia). Arab J Geosci 8:1755–1767

Béjaoui B, Rais S, Koutilonsky V (2004) Modélisation de la dispersion du phosphogypse dans le golfe de Gabés. Bull Inst Océanogr Pêche de Salammbô 31:113–119 (in French)

Burger J, Campbell KR, Campbell TS (2004) Gender and spatial patterns in metal concentrations in brown anoles (Anolis sagrei) in southern Florida, USA. Environ Toxicol Chem 23:712–718

Campbell KR, Campbell TS, Burger J (2005) Heavy metal concentrations in northern water snakes (Nerodia sipedon) from East Fork Poplar Creek and the Little River, East Tennessee, USA. Arch Environ Contam Toxicol 49:239–248

Campbell KR, Campbell TS (2000) Lizard contaminant data for ecological risk assessment. Rev Environ Contam Toxicol 165:39–116

Carretero MA (1997) Digestive size and diet in Lacertidae: a preliminary analysis. In: Böhme W, Bischoff W, Zeigler T (eds) Herpetologia Bonnensis. SEH, Bonn, pp 43–49

Farkas A, Salanki J, Specziar A, Varanka I (2001) Metal pollution as health indicator of lake ecosystems. Int J Occup Med Environ Health 14:163–170

Fletcher DE, Hopkins WA, Saldana T, Baionno JA, Arribas C, Standora MM, Fernandez-Delgado C (2006) Geckos as indicators of mining pollution. Environ Toxicol Chem 25:2432–2445

Geniez P, Mateo JA, Geniez M, Pether J (2004) The amphibians and reptiles of the Western Sahara: an atlas and field guide. Edition Chimaria, Frankfurt

Harte J, Holdren C, Schneider R, Shirley C (1991) Toxics A to Z: a guide to everyday pollution hazards. University of California Press, Berkeley, USA, p 480

Hopkins WA, Roe JH, Snodgrass JW, Staub BP, Jackson BP, Congdon JD (2002) Effects of chronic dietary exposure to trace elements on banded water snake (Nerodia fasciata). Environ Toxicol Chem 21:906–913

Illou S (1999) Impact des rejets telluriques d'origines domestiques et industrielles sur l'environnement côtier : cas de littoral de la ville de Sfax. Thèse de doctorat, Université de Tunis (in French)

Inouye LS, Yoo LJ, Talent LG, Clarke JU, Jones RP, Steevens JA, Boyd RE (2007) Assessment of lead uptake in reptilian prey species. Chemosphere 68:1591–1596

Kalbousi M, Nouira S (2004) Régime alimentaire de Mabuya vittata (Olivier, 1804) (Reptilia : Scincidae) en Tunisie. Bull Soc Herp Fr 109:43–50 (in French)

Kinney C, Sylvester T, Destories A, Savoy K, Morris A, Amelowr G, Merchant M, Paulissen M (2008) The Mediterranean gecko as a sentinel to evaluate heavy metal exposure. Herpetol Conserv Biol 3:247–253

Liu Y, Liu J, Habeebu SM, Waalkes MP, Klaassen CD (2000) Metallothionein-I/II null mice are sensitive to chronic oral cadmium induced nephrotoxicity. Toxicol Sci 57:167–176

Loumbourdis NS (1997) Heavy metal contamination in a lizard, Agama stellio stellio, compared in urban, high altitude and agricultural, low altitude areas of North Greece. Bull Environ Contam Toxicol 58:945–952

Mann RM, Sánchez-Hernádez JC, Serra EA, Soares AMVM (2007) Bioaccumulation of Cd by a European lacertid lizard after chronic exposure to Cd-contaminated food. Chemosphere 68:1525–1534

Messaoudi I, Deli T, Kessabi K, Barhoumi S, Kerkeni A, Said K (2008) Association of spinal deformities with heavy metal bioaccumulation in natural populations of grass goby, Zosterisessor ophiocephalus Pallas, 1811 from the Gulf of Gabès (Tunisia). Environ Monit Assess. doi:10.1007/s10661-008-0504-2

Mogren CL, Walton WE, Parker DR, Trumble JT (2013) Trophic transfer of arsenic from an aquatic insect to terrestrial insect predators. PLoS ONE. doi:10.1371/journal pone 0067817

Nouira S, Blanc CP (2003) Distribution spatiale des Lacertidae (Sauria, Reptilia) en Tunisie; caractéristiques des biotopes et rôle des facteurs écologiques. Ecol Mediterr 29:71–86

Perez T, Sartoretto S, Soltan D, Capo S, Fourt M, Dutrieux E, Vacelet J, Harmelin JG, Rebouillon P (2000) Etude bibliographique sur les bioindicateurs de l'état du milieu marin. Système d'évaluation de la Qualité des Milieux littoraux – Volet biologique. Dissertation, Rapport Agences de l'Eau (in French)

Ping Z, Huiling Z, Wensheng S (2009) Biotransfer of heavy metals along a soil-plant-insect-chicken food chain: field study. J Environ Sci 2:849–853

Quinn MR, Feng X, Folt CL, Chamberlain CP (2003) Analyzing trophic transfer of metals in stream food webs using nitrogen isotopes. Sci Total Environ 317:73–89

Rabaoui L, Balti R, El Zrelli R, Tlig-Zouari S (2013) Assessment of heavy metal pollution in the gulf of Gabes (Tunisia) using four mollusc species. Medit Mar Sci 15:45–58

Rainbow PS (2002) Trace metal concentrations in aquatic invertebrates: why and so what? Environ Pollut 120:497–507

Sabolic I, Herak-Kramberger CM, Brown D (2001) Subchronic cadmium treatment affects the abundance and arrangement of cytoskeletal proteins in rat renal proximal tubule cells. Toxicology 165:205–216

SAS Institute (1999) SAS/STAT User's Guide. SAS Institute, Cary

Schleich HH, Kästl W, Kabisch K (1996) Amphibians and reptiles of North Africa: biology, systematics, field guide. Koeltz Scientific Books, Königstein, Germany

Smith PN, Cobb GB, Godard-Codding C, Hoff D, McMurry ST, Rainwater TR, Reynold KD (2007) Contamination exposure in terrestrial vertebrates. Environ Pollut 150:41–64

Soucek DJ, Levengood JM, Gallo S, Hill WR, Bordson GO, Talbott JL (2013) Risks to birds in the lake calumet region from contaminated emergent aquatic insects. ISTC Reports, Illinois Sustainable Technology Center, pp 62

Trinchella F, Riggio M, Filosa S, Volpe MG, Parisi E, Scudiero R (2006) Cadmium distribution and metallothionein expression in lizard tissues following acute and chronic cadmium intoxication. Comp Biochem Physiol C 144:272–278

Van Straalen NM, Ernst E (1991) Metal biomagnification may endanger species in critical pathways. Oikos 62:255–256

Walters DM, Fritz KM, Otter RR (2008) The dark side of subsidies: adult stream insects export organic contaminants to riparian predators. Ecol Appl 18:1835–1841

Zhuang P, Zou H, Shu W (2009) Biotransfer of heavy metals along a soil-plant insect- chicken food chain: field study. J Environ Sci 21:849–853
Acknowledgments
Permits for working at the study sites and for lizards sampling were obtained from the forest service in the Tunisian Ministry of Agriculture (permit reference: 910-15/03/2012). We thank Sarra Ouledali for her help and two anonymous reviewers for commenting on an earlier version of the manuscript.
Additional information
Responsible editor: Philippe Garrigues
About this article
Cite this article
Nasri, I., Hammouda, A., Hamza, F. et al. Heavy metal accumulation in lizards living near a phosphate treatment plant: possible transfer of contaminants from aquatic to terrestrial food webs. Environ Sci Pollut Res 24, 12009–12014 (2017). https://doi.org/10.1007/s11356-015-5390-x
Received:

Accepted:

Published:

Issue Date:
Keywords
Acanthodactylus boskianus

Environmental pollution

Heavy metals

Trophic transfer

Tunisia