Abstract
The production and use of chlorophenolic compounds in industry has led to the introduction of many xenobiotics, among them chlorophenols (CPs), into the environment. Five CPs are listed in the priority pollutant list of the U.S. EPA, with pentachlorophenol (PCP) even being proposed for listing under the Stockholm Convention as a persistent organic pollutant (POP). A green procedure for degrading such pollutants is greatly needed. The use of ferrate could be such a process. This paper studies the degradation of CPs (with an emphasis on PCP) in the presence of ferrate both in a spiked demineralized water system as well as in real contaminated groundwater. Results proved that ferrate was able to completely remove PCP from both water systems. Investigation of the effect of ferrate purity showed that even less pure and thus much cheaper ferrate was applicable. However, with decreasing ferrate purity, the degradability of CPs may be lower.
This is a preview of subscription content, log in to check access.
Access options
Buy single article
Instant access to the full article PDF.
US$ 39.95
Price includes VAT for USA
Subscribe to journal
Immediate online access to all issues from 2019. Subscription will auto renew annually.
US$ 99
This is the net price. Taxes to be calculated in checkout.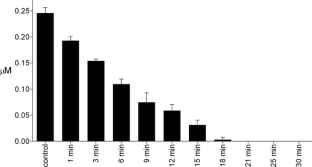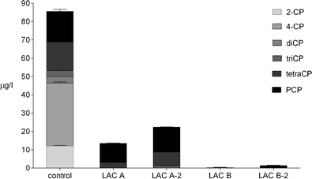 References
Benoitguyod J, Bruckner C, Benoitguyod M (1994) Degradation of chlorophenols by ozone and light. Fresenius Environ Bull 3:331–338

Bollag JM, Chu H-L, Rao MA, Gianfreda L (2003) Enzymatic oxidative transformation of chlorophenol mixtures. J Environ Qual 32:63–69

Exon JH (1984) A review of chlorinated phenols. Vet Hum Toxicol 26:508–520

Filip J, Yngard RA, Siskova K, Marusak Z, Ettler V, Sajdl P (2011) Mechanisms and efficiency of the simultaneous removal of metals and cyanides by using ferrate(VI): crucial roles of nanocrystalline iron(III) oxyhydroxides and metal carbonates. Chem Eur J 17:10097–10105. doi:10.1002/chem.201100711

Gombos E, Felföldi T, Barkács K, Vértes C, Vajna B, Záray G (2012) Ferrate treatment for inactivation of bacterial community in municipal secondary effluent. Bioresour Technol 107:116–121. doi:10.1016/j.biortech.2011.12.053

Goodwill JE, Jiang Y, Reckhow DA, Gikonyo J, Tobiason JE (2015) Characterization of particles from ferrate preoxidation. Environ Sci Technol 49:4955–4962. doi:10.1021/acs.est.5b00225

Graham N, Jianga C-C, Lia X-Z, Jiangc J-Q, Mad J (2004) The influence of pH on the degradation of phenol and chlorophenols by potassium ferrate. Chemosphere 56:949–956. doi:10.1016/j.chemosphere.2004.04.060

Han Q, Wang H, Dong W, Liu T, Yin Y (2014) Suppression of bromate formation in ozonation process by using ferrate(VI): batch study. Chem Eng J 236:110–120. doi:10.1016/j.cej.2013.09.072

Heller-Grossman L, Manka J, Limoni-Relis B, Rebhun M (1993) Formation and distribution of haloacetic acids, THM and tox in chlorination of bromide-rich lake water. Water Res 27:1323–1331. doi:10.1016/0043-1354(93)90219-8

Hou M-F, Tang X-Y, Zhang W-D, Liao L, Wan H-F (2011) Degradation of pentachlorophenol by potato polyphenol oxidase. J Agric Food Chem 59:11456–11460. doi:10.1021/jf202236c

Jeannot C, Malaman B, Gerardin R, Oulladiaf B (2002) Synthesis, crystal, and magnetic structures of the sodium ferrate (IV) Na4FeO4 studied by neutron diffraction and Mossbauer techniques. J Solid State Chem 165:266–277. doi:10.1006/jssc.2002.9520

Jiang J-Q (2014) Advances in the development and application of ferrate(VI) for water and wastewater treatment. J Chem Technol Biotechnol 89:165–177. doi:10.1002/jctb.4214

Jiang J-Q, Lloyd B (2002) Progress in the development and use of ferrate(VI) salt as an oxidant and coagulant for water and wastewater treatment. Water Res 36:1397–1408. doi:10.1016/S0043-1354(01)00358-X

Jiang JQ, Yin Q, Pearce P, Zhou J (2005) A survey of endocrine disrupting chemicals in sewage and a preliminary treatment trial. Water Sci Technol 52:1–7

Jiang Y, Goodwill JE, Tobiason JE, Reckhow DA (2015) Effect of different solutes, natural organic matter, and particulate Fe(III) on ferrate(VI) decomposition in aqueous solutions. Environ Sci Technol. doi: 10.1021/es505516w.

Kokarovt, I.G., Belyaev, I.N., Semenyak L.V. (1972) Oxygen compounds of iron (VI, V, IV). Russ Chem Rev 41(11):929–937

Lee Y, Yoon J, Von Gunten U (2005) Kinetics of the oxidation of phenols and phenolic endocrine disruptors during water treatment with ferrate (Fe(VI)). Environ Sci Technol 39:8978–8984. doi:10.1021/es051198w

Li C, Li XZ, Graham N (2005) A study of the preparation and reactivity of potassium ferrate. Chemosphere 61:537–543. doi:10.1016/j.chemosphere.2005.02.027

Licht S, Naschitz V, Halperin L, Halperin N, Lin L, Chen J, Ghosh S, Liu B (2001) Analysis of ferrate(VI) compounds and super-iron Fe(VI) battery cathodes: FTIR, ICP, titrimetric, XRD, UV/VIS, and electrochemical characterization. J Power Sources 101:167–176. doi:10.1016/S0378-7753(01)00786-8

Olaniran AO, Igbinosa EO (2011) Chlorophenols and other related derivatives of environmental concern: properties, distribution and microbial degradation processes. Chemosphere 83:1297–1306. doi:10.1016/j.chemosphere.2011.04.009

Oturan MA, Oturan N, Lahitte C, Trevin S (2001) Production of hydroxyl radicals by electrochemically assisted Fenton's reagent: application to the mineralization of an organic micropollutant, pentachlorophenol. J Electroanal Chem 507:96–102. doi:10.1016/S0022-0728(01)00369-2

Richardson SD (2003) Disinfection by-products and other emerging contaminants in drinking water. TrAC Trends Anal Chem 22:666–684. doi:10.1016/S0165-9936(03)01003-3

Sharma VK (2002) Potassium ferrate(VI): an environmentally friendly oxidant. Adv Environ Res 6:143–156. doi:10.1016/S1093-0191(01)00119-8

Sharma VK (2011) Oxidation of inorganic contaminants by ferrates (VI, V, and IV)—kinetics and mechanisms: a review. J Environ Manag 92:1051–1073. doi:10.1016/j.jenvman.2010.11.026

Sharma VK (2013) Ferrate(VI) and ferrate(V) oxidation of organic compounds: kinetics and mechanism. Coord Chem Rev 257:495–510. doi:10.1016/j.ccr.2012.04.014

Skaggs BK, Reimers RS, Englande AJ, Srisawat P, Austin GC (2008) Evaluation of the green oxidant ferrate for wastewater reuse for wetland restoration. Proc Water Environ Federation 23:442–464. doi:10.2175/193864708790894638

Tiwari D, Lee S-M (2011) Ferrate(VI) in the treatment of wastewaters: a new generation green chemical. In: Garca Einschlag FS (ed) Waste water - treatment and reutilization. Under CC BY-NC-SA 3.0 license. © The Author(s)

Wahl K, Klemm W, Wehrmeyer G (1956) Uber Einige Oxokomplexe Von Ubergangselementen. Z Anorg Allg Chem 285:322–336. doi:10.1002/zaac.19562850325

Zhou W-J, Boyd JM, Qin F, Hrudey SE, Li X-F (2009) Formation of N-Nitrosodiphenylamine and two new N-containing disinfection byproducts from chloramination of water containing diphenylamine. Environ Sci Technol 43:8443–8448. doi:10.1021/es901935v
Acknowledgments
The work was supported by the Ministry of Education, Youth and Sports of the Czech Republic through the SGS project 21066/115, the Competence Centre of the Technology Agency of the Czech Republic (TE01020218), the project OPR&DI of the Centre for Nanomaterials, Advanced Technologies and Innovation (CZ.1.05/2.1.00/01.0005) and the National Programme for Sustainability I (LO1201 and LO1305) of the Ministry of Education, Youth and Sports of the Czech Republic. We thank Petr Novák from Palacký University in Olomouc (UPOL) for the Mössbauer measurements and to LAC, Ltd. for providing the ferrates.
Additional information
Responsible editor: Gerald Thouand
About this article
Cite this article
Homolková, M., Hrabák, P., Kolář, M. et al. Degradability of chlorophenols using ferrate(VI) in contaminated groundwater. Environ Sci Pollut Res 23, 1408–1413 (2016). https://doi.org/10.1007/s11356-015-5370-1
Received:

Accepted:

Published:

Issue Date:
Keywords
Degradability

Ferrate

Fe(VI)

Pentachlorophenol

Chlorophenols

Complex contaminated water