Abstract
This is the premier study designed to evaluate the impact of thermal pre-treatment on the availability of polycyclic aromatic hydrocarbons (PAHs) for successive removal by chemical oxidation. Experiments were conducted in two soils having different PAH distribution originating from former coking plant sites (Homécourt, H, and Neuves Maisons, NM) located in northeast of France. Soil samples were pre-heated at 60, 100, and 150 °C for 1 week under inert atmosphere (N2). Pre-heating resulted in slight removal of PAHs (<10 %) and loss of extractable organic matter (EOM). Then, these pre-heated soil samples were subjected to Fenton-like oxidation (H2O2 and magnetite) at room temperature. Chemical oxidation in soil without any pre-treatment showed almost no PAH degradation underscoring the unavailability of PAHs. However, chemical oxidation in pre-heated soils showed significant PAH degradation (19, 29, and 43 % in NM soil and 31, 36, and 47 % in H soil pre-treated at 60, 100, and 150 °C, respectively). No preferential removal of PAHs was observed after chemical oxidation in both soils. These results indicated the significant impact of pre-heating temperature on the availability of PAHs in contaminated soils and therefore may have strong implications in the remediation of contaminated soils especially where pollutant availability is a limiting factor.
Access options
Buy single article
Instant access to the full article PDF.
US$ 39.95
Tax calculation will be finalised during checkout.
Subscribe to journal
Immediate online access to all issues from 2019. Subscription will auto renew annually.
US$ 79
Tax calculation will be finalised during checkout.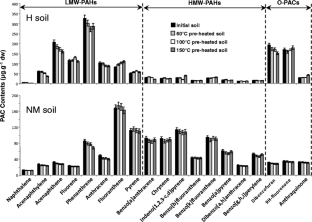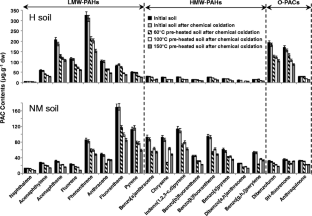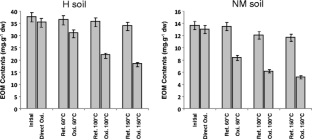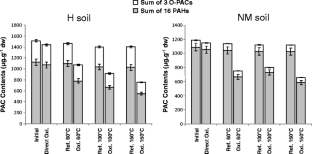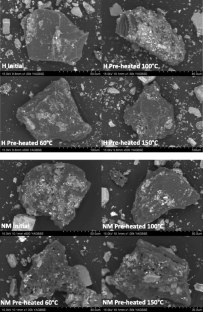 References
Achten C, Hofmann T (2009) Native polycyclic aromatic hydrocarbons (PAH) in coals—a hardly recognized source of environmental contamination. Sci Total Environ 407:2461–2473

Biache C, Ghislain T, Faure P, Mansuy-Huault L (2011) Low temperature oxidation of a coking plant soil organic matter and its major constituents: an experimental approach to simulate a long term evolution. J Hazard Mater 188:221–230

Biache C, Kouadio O, Lorgeoux C, Faure P (2014) Impact of clay mineral on air oxidation of PAH-contaminated soils. Environ Sci Pollut Res 21:11017–11026

Biache C, Lorgeoux C, Andriatsihoarana S, Colombano S, Faure P (2015) Effect of pre-heating on the chemical oxidation efficiency: implications for the PAH availability measurement in contaminated soils. J Hazard Mater 286:55–63

Biache C, Mansuy-Huault L, Faure P, Munier-Lamy C, Leyval C (2008) Effects of thermal desorption on the composition of two coking plant soils: impact on solvent extractable organic compounds and metal bioavailability. Environ Pollut 156:671–677

Bonten LTC, Grotenbuis TC, Rulkens WH (1999) Enhancement of PAH biodegradation in soil by physicochemical pretreatment. Chemosphere 38:3627–3636

Cuypers C, Grotenhuis T, Joziasse J, Rulkens W (2000) Rapid persulfate oxidation predicts PAH bioavailability in soils and sediments. Environ Sci Technol 34:2057–2063

European Environment Agency (2012): http://www.eea.europa.eu/data-and-maps/figures/overview-of-contaminants-affecting-soil-and-groundwater-in-europe (Last modified 29 Nov 2012)

Enell A, Reichenberg F, Gr E, Warfvinge P (2005) Desorption kinetics studies on PAH-contaminated soil under varying temperatures. Chemosphere 61:1529–1538

Fenton HJH (1894) Oxidation of tartaric acid in presence of iron. J Chem Soc Trans 65:899–910

Ferrarese E, Andreottola G, Oprea IA (2008) Remediation of PAH-contaminated sediments by chemical oxidation. J Hazard Mater 152:128–139

Flotron V, Delteil C, Padellec Y, Camel V (2005) Removal of sorbed polycyclic aromatic hydrocarbons from soil, sludge and sediment samples using the Fenton's reagent process. Chemosphere 59:1427–1437

Gryzenia J, Cassidy D, Hampton D (2009) Production and accumulation of surfactants during the chemical oxidation of PAH in soil. Chemosphere 77:540–545

Hanser O, Biache C, Boulangé M, Parant S, Lorgeoux C, Billet D, Michels R, Faure P (2015) Evolution of dissolved organic matter during abiotic oxidation of coal tar—comparison with contaminated soils under natural attenuation. Environ Sci Pollut Res 22:1431–1443

Jonsson S, Persson Y, Frankki S, van Bavel B, Lundstedt S, Haglund P, Tysklind M (2007) Degradation of polycyclic aromatic hydrocarbons (PAHs) in contaminated soils by Fenton's reagent: a multivariate evaluation of the importance of soil characteristics and PAH properties. J Hazard Mater 149:86–96

Kanel SR, Neppolian B, Jung H, Choi H (2004) Comparative removal of polycyclic aromatic hydrocarbons using iron oxide and hydrogen peroxide in soil slurries. Environ Eng Sci 21:741–751

Kawahara FK, Davila B, Al-Abed SR, Vesper SJ, Ireland JC, Rock S (1995) Polynuclear aromatic hydrocarbon (PAH) release from soil during treatment with Fenton's Reagent. Chemosphere 31:4131–4142

Kong SH, Watts RJ, Choi JH (1998) Treatment of petroleum-contaminated soils using iron mineral catalyzed hydrogen peroxide. Chemosphere 37:1473–1482

Laurent F, Cébron A, Schwartz C, Leyval C (2012) Oxidation of a PAH polluted soil using modified Fenton reaction in unsaturated condition affects biological and physico-chemical properties. Chemosphere 86:659–664

Lee LS, Rao PSC, Okuda I (1992) Equilibrium partitioning of polycyclic aromatic hydrocarbons from coal tar into water. Environ Sci Technol 26:2110–2115

Lundstedt S, Bandowe BAM, Wilcke W, Boll E, Christensen JH, Vila J, Grifoll M, Faure P, Biache C, Lorgeoux C, Larsson M, Frech IK, Ivarsson P, Ricci M (2014) First intercomparison study on the analysis of oxygenated polycyclic aromatic hydrocarbons (oxy-PAHs) and nitrogen heterocyclic polycyclic aromatic compounds (N-PACs) in contaminated soil. Trends Analyt Chem 57:83–92

Lundstedt S, Persson Y, Öberg L (2006) Transformation of PAHs during ethanol-Fenton treatment of an aged gasworks' soil. Chemosphere 65:1288–1294

Ndjou'ou AC, Cassidy D (2006) Surfactant production accompanying the modified Fenton oxidation of hydrocarbons in soil. Chemosphere 65:1610–1615

O'Carroll D, Sleep B (2009) Role of NAPL thermal properties in the effectiveness of hot water flooding. Transp. Porous Med 79:393–405

Ouvrard S, Barnier C, Bauda P, Beguiristain T, Biache C, Bonnard M, Caupert C, Cébron A, Cortet J, Cotelle S, Dazy M, Faure P, Masfaraud JF, Nahmani J, Palais F, Poupin P, Raoult N, Vasseur P, Morel JL, Leyval C (2011) In situ assessment of phytotechnologies for multicontaminated soil management. Int J Phytorem 13:245–263

Park J-Y, Kim J-H (2013) Role of sol with iron oxyhydroxide/sodium dodecyl sulfate composites on Fenton oxidation of sorbed phenanthrene in sand. J Environ Manage 126:72–78

Riding MJ, Doick KJ, Martin FL, Jones KC, Semple KT (2013) Chemical measures of bioavailability/bioaccessibility of PAHs in soil: fundamentals to application. J Hazard Mater 261:687–700

Rowland SJ, Alexander R, Kagi RI, Jones DM, Douglas AG (1986) Microbial degradation of aromatic components of crude oils: a comparison of laboratory and field observations. Org Geochem 9:153–161

Sirguey C, de Souza T, e Silva P, Schwartz C, Simonnot M-O (2008) Impact of chemical oxidation on soil quality. Chemosphere 72:282–289

Totsche KU, Kögel-Knabner I, Haas B, Geisen S, Scheibke R (2003) Preferential flow and aging of NAPL in the unsaturated soil zone of a hazardous waste site: implications for contaminant transport. J Plant Nutr Soil Sci 166:102–110

Usman M, Faure P, Ruby C, Hanna K (2012a) Remediation of PAH-contaminated soils by magnetite catalyzed Fenton-like oxidation. Appl Catal B Env 117–118:10–17

Usman M, Faure P, Ruby C, Hanna K (2012b) Application of magnetite-activated persulfate oxidation for the degradation of PAHs in contaminated soils. Chemosphere 87:234–240

Usman M, Faure P, Hanna K, Abdelmoula M, Ruby C (2012c) Application of magnetite catalyzed chemical oxidation (Fenton-like and persulfate) for the remediation of oil hydrocarbon contamination. Fuel 96:270–276

Usman M, Faure P, Lorgeoux C, Ruby C, Hanna K (2013) Treatment of hydrocarbon contamination under flow through conditions by using magnetite catalyzed chemical oxidation. Environ Sci Pollut Res 20:22–30

Viglianti C, Hanna K, de Brauer C, Germain P (2006) Removal of polycyclic aromatic hydrocarbons from aged-contaminated soil using cyclodextrins: experimental study. Environ Pollut 140:427–435

Volkman JK, Alexander R, Kagi RI, Rowland SJ, Sheppard PN (1984) Biodegradation of aromatic hydrocarbons in crude oils from the Barrow Sub-basin of Western Australia. Org Geochem 6:619–632

Watts RJ, Bottenberg BC, Hess TF, Jensen MD, Teel AL (1999) Role of reductants in the enhanced desorption and transformation of chloroaliphatic compounds by modified Fenton's reactions. Environ Sci Technol 33:3432–3437

Watts RJ, Stanton PC, Howsawkeng J, Teel AL (2002) Mineralization of a sorbed polycyclic aromatic hydrocarbon in two soils using catalyzed hydrogen peroxide. Water Res 36:4283–4292

Wehrer M, Rennert T, Mansfeldt T, Totsche KU (2011) Contaminants at former manufactured gas plants: sources, properties, and processes. Crit Rev Environ Sci Technol 41:1883–1969

Williams JA, Bjorøy M, Dolcater DL, Winters JC (1986) Biodegradation in South Texane Eocene oils—effects on aromatics and biomarkers. Org Geochem 10:451–461

Wu SC, Gschwend PM (1986) Sorption kinetics of hydrophobic organic compounds to natural sediments and soils. Environ Sci Technol 20:717–725

Xing B, Pignatello JJ (1997) Dual-mode sorption of low-polarity compounds in glassy poly(vinyl chloride) and soil organic matter. Environ Sci Technol 31:792–799

Xue X, Hanna K, Despas C, Wu F, Deng N (2009) Effect of chelating agent on the oxidation rate of PCP in the magnetite/H2O2 system at neutral pH. J Mol Catal A Chem 311:29–35

Yap CL, Gan S, Ng HK (2011) Fenton based remediation of polycyclic aromatic hydrocarbons-contaminated soils. Chemosphere 83:1414–1430
Acknowledgments
The authors of this manuscript would like to express their gratitude toward Higher Education Commission of Pakistan (HEC) and Centre National de la Recherche Scientifique (CNRS), France, for funding this research and French Scientific Interest Group – Industrial Wasteland (GISFI; www.gisfi.prd.fr) for providing soils from the two coking plant sites.
Additional information
Responsible editor: Ester Heath
About this article
Cite this article
Usman, M., Chaudhary, A., Biache, C. et al. Effect of thermal pre-treatment on the availability of PAHs for successive chemical oxidation in contaminated soils. Environ Sci Pollut Res 23, 1371–1380 (2016). https://doi.org/10.1007/s11356-015-5369-7
Received:

Accepted:

Published:

Issue Date:
Keywords
PAHs

Temperature

Availability

Remediation

Fenton oxidation