Abstract
Hexachlorocyclohexane (HCH) isomers represent a family of formerly widely utilized pesticides that are persistent, capable of undergoing long-range transport and tend to bioaccumulate in human and animal tissue. Their widespread global utilization coupled with a propensity to adversely impact human health and the environment translates into an urgent need to develop feasible methodologies by which to treat HCH-impacted groundwater and soil. The present study was conducted to evaluate the efficacy of two persulfate-based oxidants: peroxydisulfate (S2O8 2−, PDS) and peroxymonosulfate (HSO5 −, PMS) activated by electrochemical processes (EC) to treat HCH-impacted environmental media. This research demonstrated that the optimal experimental conditions (oxidant dose and electrical current) were 2 mM PDS and 20 mA for an aqueous solution of 4 μM of summed HCHs (ΣHCH). GC/MS full scan analysis revealed the presence of 2,4,6–trichlorophenol as the only detectable intermediate formed during electro-activated PDS treatment of ΣHCH. The investigated method was tested on leachate from a known HCHs-impacted site in Hajek, Czech Republic which contained 106 μg/l of ΣHCH and 129 μg/l of chlorobenzenes. Results from batch treatment showed positive results for electro-activated PDS but only negligible effectiveness for electro-activated PMS. In addition to explaining the efficacy of the electro-activated PDS, this research also explored the basis for the differing reactivities of these two persulfates.
Access options
Buy single article
Instant access to the full article PDF.
USD 39.95
Price excludes VAT (USA)
Tax calculation will be finalised during checkout.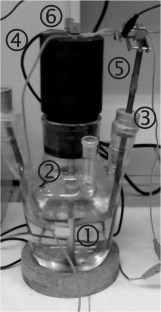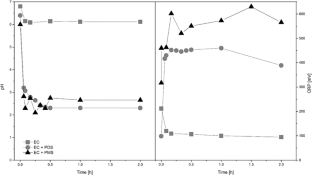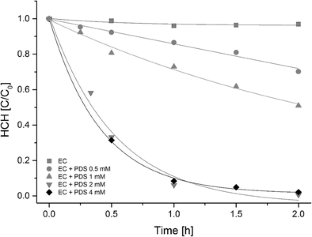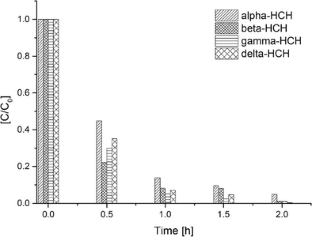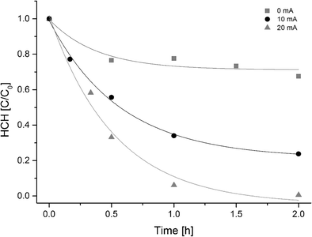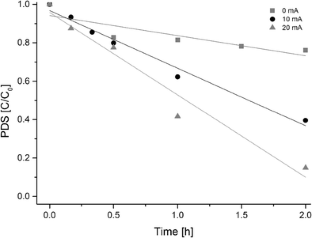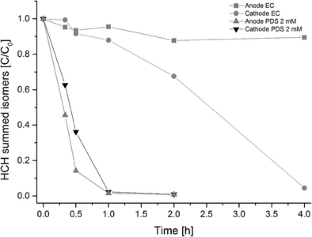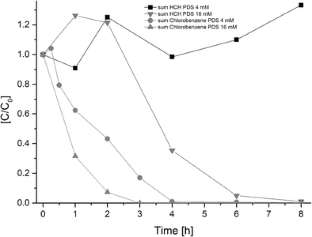 References
Ahmad M, Teel AL, Watts RJ (2013) Mechanism of persulfate activation by phenols. Environ Sci Technol 47:5864–5871

Anipsitakis GP, Dionysiou DD (2004) Radical generation by the interaction of transition metals with common oxidants. Environ Sci Technol 38:3705–3712

Bajpai P (2012) Environmentally benign approaches for pulp bleaching. 2nd edn. Elsevier, London, pp 59–129

Block PA, Brown RA, Robinson D (2004) Novel activation technologies for sodium persulfate in situ chemical oxidation. Proceedings of the Fourth International Conference on the Remediation of Chlorinated and Recalcitrant Compounds, Monterrey CA

Boyle AW, Häggblom MM, Young LY (1999) Dehalogenation of lindane (γ-hexachlorocyclohexane) by anaerobic bacteria from marine sediments and by sulfate-reducing bacteria. FEMS Microbiol Ecol 29:379–387

Cao J, Zhang W-X, Brown DG, Sethi D (2008) Oxidation of lindane with Fe(II)-activated sodium persulfate. Environ Eng Sci 25:221–228

Central Insecticide Board and Registration Committee (2005) Dept. of Plant Protection and Quarantine, Ministry of Agriculture, India

Do S-H, Jo J-H, Jo Y-H, Lee H-K, Kong S-H (2009) Application of a peroxymonosulfate/cobalt (PMS/Co(II)) system to treat diesel-contaminated soil. Chemosphere 77(8):1127–1131

Elliott DW, Lien H, Zhang W (2009) Degradation of lindane by zero-valent iron nanoparticles. J Environ Eng 135(5):317–324

Fang G, Gao J, Dionysiou DD, Liu C, Zhou D (2013) Activation of persulfate by quinones: free radical reactions and implication for the degradation of PCBs. Environ Sci Technol 47:4605–4611

Fetzner S, Lingens F (1994) Bacterial dehalogenases: biochemistry, genetics, and biotechnological applications. Microbiol Rev 58:641–685

Govindan K, Raja M, Noel M, James EJ (2014) Degradation of pentachlorophenol by hydroxyl radicals and sulfate radicals using electrochemical activation of peroxomonosulfate, peroxodisulfate and hydrogen peroxide. J Hazard Mater 272:42–51

Hešnaur L, Jech J (2001) Řešení problematiky důlních vod z výsypky lomu Hájek, kontaminovaných uloženými odpady z výroby organochlorových insekticidů. DIAMO, s. p., o. z. SUL Příbram

Homolková M, Hrabák P, Kolář M, Černík M (2014) Degradability of hexachlorocyclohexanes in water using ferrate (VI). Water Sci Technol 71(3):405–411

Huang KC, Couttenye RA, Hoag GE (2002) Kinetics of heat-assisted persulfate oxidation of methyl tert-butyl ether (MTBE). Chemosphere 49:413–420

Iwata H, Tanabe S, Sakal N, Tatsukawa R (1993) Distribution of persistent organochlorines in the oceanic air and surface seawater and the role of ocean on their global transport and fate. Environ Sci Technol 27:1080–1098

Lee Y, von Gunten U (2010) Oxidative transformation of micropollutants during municipal wastewater treatment: comparison of kinetic aspects of selective (chlorine, chlorine dioxide, ferrate VI, and ozone) and non-selective oxidants (hydroxyl radical). Water Res 44:555–566

Li YF (1999) Global technical hexachlorocyclohexane usage and its contamination consequences in the environment: from 1948 to 1997. Sci Total Environ 232:121–158

Li S, Elliott DW, Spear ST, Ma L, Zhang W-X (2011) Hexachlorocyclohexanes in the environment: mechanisms of dechlorination. Crit Rev Environ Sci Technol 41:1747–1792

Liang CJ, Huang SC (2012) Kinetic model for sulfate/hydroxyl radical oxidation of methylene blue in a thermally-activated persulfate system at various pH and temperatures. Sustain Environ Res 22(4):199–208

Liang C, Huang C-F, Mohanty N, Kurakalva RM (2008) A rapid spectrophotometric determination of persulfate anion in ISCO. Chemosphere 73:1540–1543

Lin H, Zhang H, Hou L (2014) Degradation of C. I. acid orange 7 in aqueous solution by a novel electro/Fe3O4/PDS process. J Hazard Mater 276:182–191

Nienow AM, Bezares-Cruz JC, Poyer IC, Hua I, Jafvert CT (2008) Hydrogen peroxide-assisted UV photodegradation of Lindane. Chemosphere 72:1700–1705

Nitoi I, Oncescu T, Oancea P (2013) Mechanism and kinetic study for the degradation of lindane by photo-Fenton process. J Ind Eng Chem 19(1):305–309

Phillips TM, Seech AG, Lee H, Trevors JT (2005) Biodegradation of hexachlorocyclohexane (HCH) by microorganisms. Biodegradation 16:363–392

Ramos J, Gavilán A, Romero T, Ize I (2011) Mexican experience in local, regional and global actions for lindane elimination. Environ Sci Pol 14:503–509

Ren M, Peng P, Huang W, Liu X (2006) Kinetics of base-catalyzed dehydrochlorination of hexachlorocyclohexanes: I. homogeneous systems. J Environ Qual 35:880–888

Rickman KA, Mezyk SP (2010) Kinetics and mechanisms of sulfate radical oxidation of β-lactam antibiotics in water. Chemosphere 81:359–365

Sang S, Petrovic S, Cuddeford V (1999) Lindane—a review of toxicity and environmental fate. WWF, Canada

Siegrist RL, Crimi M, Simpkin TJ (2011) In situ chemical oxidation for groundwater remediation. Springer, New York, pp 147–191

Singh R, Misra V, Mudiam MKR, Chauhan LKS, Singh RP (2012) Degradation of γ-HCH spiked soil using stabilized Pd/Fe0 bimetallic nanoparticles: pathways, kinetics and effect of reaction conditions. J Hazard Mater 237–238:355–364

Slade RE (1945) The γ-isomer of hexachlorocyclohexane (gammexane): an insecticide with outstanding properties. Chem Ind 40:314–319

Usman M, Tascone O, Faure P, Hanna K (2014) Chemical oxidation of hexachlorocyclohexanes (HCHs) in contaminated soils. Sci Total Environ 476–477:434–439

Vijgen J, Abhilash PC, Li YF, Lal R, Forter M, Torres J, Singh N, Yunus M, Tian C, Schäffer A, Weber R (2011) Hexachlorocyclohexane (HCH) as new Stockholm Convention POPs—a global perspective on the management of Lindane and its waste isomers. Environ Sci Pollut Res 18:152–162

Voldner EC, Li Y-F (1995) Global usage of selected persistent organochlorines. Sci Total Environ 160–161:201–210

Wacławek S, Grübel K, Černík M (2015) Simple spectrophotometric determination of monopersulfate. Spectrochim Acta A Mol Biomol Spectrosc 149:928–933

Wang YR, Chu W (2012) Photo-assisted degradation of 2,4,5-trichlorophenoxyacetic acid by Fe(II)-catalyzed activation of oxone process: the role of UV irradiation, reaction mechanism and mineralization. Appl Catal B 123–124:151–161

Willett KL, Ulrich EM, Hites RA (1998) Differential toxicity and environmental fates of hexachlorocyclohexane isomers. Environ Sci Technol 32:2197–2207

Wojnárovits L, Takács E (2014) Rate coefficients of hydroxyl radical reactions with pesticide molecules and related compounds: a review. Radiat Phys Chem 96:120–134

Xu X-R, Li X-Z (2010) Degradation of azo dye Orange G in aqueous solutions by persulfate with ferrous ion. Sep Purif Technol 72:105–111

Yuan S, Liao P, Alshawabkeh AN (2014) Electrolytic manipulation of persulfate reactivity by iron electrodes for trichloroethylene degradation in groundwater. Environ Sci Technol 48:656–663

Zinovyev SS, Shinkova NA, Perosa A, Tundo P (2004) Dechlorination of lindane in the multiphase catalytic reduction system with Pd/C, Pt/C and Raney-Ni. Appl Catal B 47:27–36
Acknowledgments
The research presented in this article was supported by the Ministry of Education, Youth and Sports in the framework of the projects KONTAKT II (LH14067), the National Programme for Sustainability I (LO1201) and the OPR&DI project "Centre for Nanomaterials, Advanced Technologies and Innovation", CZ.1.05/2.1.00/01.0005. We would also like to thank the state enterprise DIAMO for providing samples of HCH from the Hajek site.
Additional information
Responsible editor: Philippe Garrigues
About this article
Cite this article
Wacławek, S., Antoš, V., Hrabák, P. et al. Remediation of hexachlorocyclohexanes by electrochemically activated persulfates. Environ Sci Pollut Res 23, 765–773 (2016). https://doi.org/10.1007/s11356-015-5312-y
Received:

Accepted:

Published:

Issue Date:

DOI: https://doi.org/10.1007/s11356-015-5312-y
Keywords