Abstract
Disposal of dead pigs by pig farmers may have a direct impact on pork safety, public health, and the ecological environment in China. Drawing on the existing literature, this study analyzed and summarized the main factors that could affect the disposal of dead pigs by pig farmers by conducting a survey of 654 pig farmers in Funing County, Jiangsu Province, China. The purpose of this analysis was to investigate the disposal of dead pigs in China and provide useful regulatory strategies for the government. The interrelationships among dimensions and factors that affect the disposal of dead pigs by farmers were analyzed, and critical factors were identified by a hybrid multi-criteria decision-making method, which is a combination of decision-making trial and evaluation laboratory (DEMATEL) and analytic network process (ANP). Our results demonstrated that production characteristics were the most important dimensions and that costs and profits, scale of farming, pattern of farming, knowledge of relevant laws and regulations, and knowledge of pig disease and prevention were the five most critical factors affecting the disposal of dead pigs by farmers in China at this stage. The significance of this study lies in further discussing some management policies for the Chinese government regarding strengthen regulation of disposing dead pigs.
Access options
Buy single article
Instant access to the full article PDF.
US$ 39.95
Tax calculation will be finalised during checkout.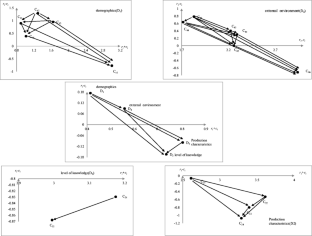 Notes
1.

In China, dead pigs must be harmlessly disposed according to governmental regulations. Therefore, harmless disposal of dead pigs by farmers is referred to as a positive behavior in this report. On the other hand, dumping of dead pigs into rivers and lakes and illegal selling of dead pigs to middlemen or direct processing and marketing of dead pigs are referred to as negative behaviors.

2.

3.

According to the Chinese statistical standard, the scale of farming refers to the annual production of pigs ready to be slaughtered in this report.

4.

China has enacted a series of policies, laws, and regulations for the scientific disposal of dead pigs. Knowledge of relevant laws and regulations mainly refers to knowledge of such policies, laws, and regulations in this study.
References
Abdulai A, Monnin P, Gerber J (2008) Joint estimation of information acquisition and adoption of new technologies under uncertainty. J Int Dev 20(4):437–451

Afsharkazemi MA, Manouchehri J, Salarifar M, Nasiripour AA (2013) Key factors affecting the hospital performance: a qualitative study using fuzzy logic. Qual Quan 47(6):3559–3573

Boccaletti S, Nardella M (2000) Consumer willingness to pay for pesticide-free fresh fruit and vegetables in Italy. Int Food Agribus Manag Rev 3(3):297–310

Caixin Online (2013) NBC talk show on dumping of dead pigs into Huangpu River. http://video.caixin.com/2013-03-25/100505834.html. Accessed 12 January 2014

Chen FH, Chi DJ (2015) Application of a new DEMATEL to explore key factors of China's corporate social responsibility: evidence from accounting experts. Qual Quant 49(1):135–154

Chen XG, Chen LT, Zhu HH, Zhang KC, He GL, Yang JH (2010) Investigation of a case of illegal selling of dead pigs and some reflections. Shanghai J Anim Husb Vet Med 6(1):52–53

Chen Y, Chen K, Li Y (2011) Simulation on influence mechanism of environmental factors to producers' food security behavior in supply chain. In: IEEE Eighth International Conference on Fuzzy Systems and Knowledge Discovery (FSKD), pp. 2104-2109

Cheng CY, Hsieh CH, Yang YS (2014) Who would engage in unethical behavior? Should organizations bear the responsibility? Qual Quant 48(4):2341–2354

Cui XL, Cai YY, Zhang AL (2011) Willingness of farmers to reduce pesticide application rate of chemical fertilizer and the influencing factors. Rural Econ 11(25):97–100

Danso G, Drechsel P, Fialor S, Giordano M (2006) Estimating the demand for municipal waste compost via farmers' willingness-to-pay in Ghana. Waste Manage 26(12):1400–1409

Deressa TT, Hassan RM, Ringler C, Alemu T, Yesuf M (2009) Determinants of farmers' choice of adaptation methods to climate change in the Nile Basin of Ethiopia. Glob Environ Change 19(2):248–255

Edwards-Jones G (2006) Modelling farmer decision-making: concepts, progress and challenges. Anim Sci 82(6):783–790

Greiner R, Gregg D (2011) Farmers' intrinsic motivations, barriers to the adoption of conservation practices and effectiveness of policy instruments: empirical evidence from northern Australia. Land Use Policy 28(1):257–265

Hsu CH, Wang FK, Tzeng GH (2012) The best vendor selection for conducting the recycled material based on a hybrid MCDM model combining DANP with VIKOR. Resour Conserv Recyc 66(12):95–111

Huang CN, Liou JJH, Chuang YC (2014) A method for exploring the interdependencies and importance of critical infrastructures. Knowl-Based Syst 55(8):66–74

Ithika CS, Singh SP, Gautam G (2013) Adoption of Scientific Poultry Farming Practices by the Broiler Farmers in Haryana, India. Iran J Appl Anim Sci 3(2):417–422

Jacob C, Mathiasen L, Powell D (2010) Designing effective messages for microbial food safety hazards. Food Control 21(1):1–6

Jayasinghe-Mudalige U, Henson S (2007) Identifying economic incentives for Canadian red meat and poultry processing enterprises to adopt enhanced food safety controls. Food Control 18(11):1363–1371

Läpple D (2010) Adoption and abandonment of organic farming: an empirical investigation of the Irish drystock sector. J Agric Econ 61(3):697–714

Launio CC, Asis CA, Manalili RG, Javier EF, Belizario AF (2014) What factors influence choice of waste management practice? Evidence from rice straw management in the Philippines. Waste Manag Res 32(2):140–148

Lian JY (2013) Legal reflections on burying of dead pigs in rivers. Wuhan Acad J 3(7):29–32

Liu DY (2012) Importance, problems, and solutions of pig insurance. Tech Advis Anim Husb 2(178):281–281

Liu CY (2013) Dead pigs scandal questions China's public health policy. The Lancet 381(9877):1539

Loretz M, Stephan R, Zweifel C (2011) Antibacterial activity of decontamination treatments for pig carcasses. Food Control 22(8):1121–1125

Lu MT, Lin SW, Tzeng GH (2013) Improving RFID adoption in Taiwan's healthcare industry based on a DEMATEL technique with a hybrid MCDM model. Decis Support Syst 56(26):259–269

Marshall BM, Levy SB (2011) Food animals and antimicrobials: impacts on human health. Clin Microbial Rev 24(4):718–733

Mol APJ (2014) Governing China's food quality through transparency: a review. Food Control 43(9):49–56

Mzoughi N (2011) Farmers' adoption of integrated crop protection and organic farming: do moral and social concerns matter? Ecol Econ 70(8):1536–1545

Ni YF (2012) Hazards, identification and control of dead pigs. Meat Ind 11(19):40–44

Reig M, Toldrá F (2008) Veterinary drug residues in meat: concerns and rapid methods for detection. Meat Sci 78(1):60–67

Shen YJ, Zhao LX, Meng HB (2013) Present situation and countermeasures of harmless disposal of dead livestock. J Agric Sci Technol 15(6):167–173

Sun SM, Zhang YY, Zhang JR (2012) Empirical analysis of factors influencing willingness of pig farms (farmers) to perform positive behaviors based on the Logit-ISM model. Chin Rural Econ 10(5):24–36

Tan LK, Ooi PT, Thong KL (2014) Prevalence of Yersinia enterocolitica from food and pigs in selected states of Malaysia. Food Control 35(1):94–100

Tey YS, Brindal M (2012) Factors influencing the adoption of precision agricultural technologies: a review for policy implications. Precis Agric 13(6):713–730

Toma L, Stott AW, Heffernan C, Ringrose S, Gunn GJ (2013) Determinants of biosecurity behavior of British cattle and sheep farmers—a behavioral economics analysis. Prev Vet Med 108(4):321–333

Vignola R, Koellner RT, Scholz RW, McDaniels TL (2010) Decision-making by farmers regarding ecosystem services: factors affecting soil conservation efforts in Costa Rica. Land Use Policy 27(4):1132–1142

Wu LH, Zhang QQ, Shan LJ, Chen ZX (2013) Identifying critical factors influencing the use of additives by food enterprises in China. Food Control 31(2):425–432

Yang JL, Tzeng GH (2011) An integrated MCDM technique combined with DEMATEL for a novel cluster-weighted with ANP method. Expert Syst Appl 38(3):1417–1424

Yu Y, Zhang H, Hu H (2012) Identifying factors influencing investment in environmental protection by farmers from the perspective of sewage disposal subsidies: based on a survey among pig farmers in Shanghai, Jiangsu, and Zhejiang. China Popul Resour Environ 22(2):159–163

Zhang GX, Zhang SX (2013) Factors influencing prevention and control by farmers under the risk of animal diseases. Rural Econ 2(25):105–108
Acknowledgments
This research work was financially supported by Study of Co-governance for Food Safety Risk in China, one of the Key Projects of National Social Science Foundation of China in 2014 (Project Approval No. 14ZDA069), and the National Natural Science Foundation of China (Project Approval No. 71273117), and Central University Basic Research Funds (Project Approval Nos. JUSRP51325A and JUSRP51416B), and Study of Food Safety Consumption Policy: the Case of Traceable Pork, a project of the Six Top Talents in Jiangsu Province (Project Approval No. 2012-JY-002), and Research on Chinese Food Safety Risk Control, a project of college Innovation Team of Jiangsu Province social science (Project Approval No. 2013-011).
Additional information
Responsible editor: Philippe Garrigues
About this article
Cite this article
Wu, L., Xu, G. & Wang, X. Identifying critical factors influencing the disposal of dead pigs by farmers in China. Environ Sci Pollut Res 23, 661–672 (2016). https://doi.org/10.1007/s11356-015-5284-y
Received:

Accepted:

Published:

Issue Date:
Keywords
Disposal of dead pigs

Critical factors

Decision-making trial and evaluation laboratory (DEMATEL)

Analytic network process (ANP)

DEMATEL-based ANP (DANP)