Abstract
According to the Food and Health Bureau and Trade and Industry Department of the Hong Kong Government, 90 % of the total food supply in Hong Kong was imported from the Mainland China. In addition, the hidden or illegal use of prohibited pesticides, food adulteration (e.g., using industrial salt in food processing, using gutter oil as cooking oil), and pollutions were periodically reported by the media. Excessive exposure to toxic heavy metals or persistent organic pollutants (POPs) from diet or environmental is inevitable amid industrialization and pollution. Understanding of the detoxification ability among nutrients in plant-based food (i.e., phytonutrients in green tea, onion, garlic, coriander, and turmeric) offers therapeutic and preventive effects against the poisoning effects due to these pollutants. Oxidative stress and pro-inflammatory actions are the common mechanisms for heavy metals or POPs toxicities, while phytonutrients counteracts these cellular insults by anti-oxidation, upregulation of anti-inflammatory pathways, and chelation.
This is a preview of subscription content, log in to check access.
Access options
Buy single article
Instant access to the full article PDF.
US$ 39.95
Price includes VAT for USA
Subscribe to journal
Immediate online access to all issues from 2019. Subscription will auto renew annually.
US$ 99
This is the net price. Taxes to be calculated in checkout.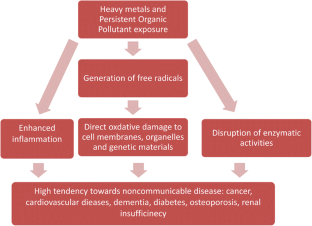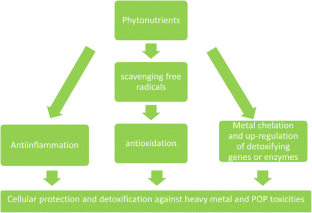 References
Aga M, Iwaki K, Ueda Y, Ushio S, Masaki N, Fukuda S, Kimoto T, Ikeda M, Kurimoto M (2001) Preventive effect of Coriandrum sativum (Chinese parsley) on localized lead deposition in ICR mice. J Ethnopharmacol 77(2–3):203–208

Ahamed M, Verma S, Kumar A, Siddiqui MK (2006) Delta-aminolevulinic acid dehydratase inhibition and oxidative stress in relation to blood lead among urban adolescents. Hum Exp Toxicol 25(9):547–553

Aktas C, Kanter M, Erboga M, Ozturk S (2012) Anti-apoptotic effects of curcumin on cadmium-induced apoptosis in rat testes. Toxicol Ind Health 28:122–130

Ali M (1995) Mechanism by which garlic (Allium sativum) inhibits cyclooxygenase activity. Effect of raw versus boiled garlic extract on the synthesis of prostanoids. Prostaglandins Leukot Essent Fatty Acids 53(6):397–400

Ali HA, Afifi M, Abdelazim AM, Mosleh YY (2014) Quercetin and omega 3 ameliorate oxidative stress induced by aluminium chloride in the brain. J Mol Neurosci 53(4):654–660

Amaral JS, Alves MR, Seabra RM, Oliveira BP (2005) Vitamin E composition of walnuts (Juglans regia L.): a 3-year comparative study of different cultivars. J Agric Food Chem 53:5467–5472

Babbar N, Oberoi HS, Uppal DS, Patil RT (2011) Total phenolic content and antioxidant capacity of extracts obtained from six important fruit residues. Food Res Int 44(1):391–396

Barcelos GR, Angeli JP, Serpeloni JM, Grotto D, Rocha BA, Bastos JK, Knasmüller S, Júnior FB (2011) Quercetin protects human-derived liver cells against mercury-induced DNA-damage and alterations of the redox status. Mutat Res 726(2):109–115

Barros L, Dueñas M, Dias MI, Sousa MJ, Santos-Buelga C, Ferreira ICFR (2012) Phenolic profiles of in vivo and in vitro grown Coriandrum sativum L. Food Chem 132(2):841–848

Berglund M, Akesson A, Bjellerup P, Vahter M (2000) Metal-bone interactions. Toxicol Lett 112–113:219–225

Capasso L, Camatini M, Gualtieri M (2014) Nickel oxide nanoparticles induce inflammation and genotoxic effect in lung epithelial cells. Toxicol Lett 226(1):28--34

Cellini L, Di Campli E, Masulli M, Di Bartolomeo S, Allocati N (1996) Inhibition of Helicobacter pylori by garlic extract (Allium sativum). FEMS Immunol Med Microbiol 13(4):273–277

Cha CW (1987) A study on the effect of garlic to the heavy metal poisoning of rat. J Korean Med Sci 2(4):213–224

Chandra AK, De N (2013) Catechin induced modulation in the activities of thyroid hormone synthesizing enzymes leading to hypothyroidism. Mol Cell Biochem 374(1–2):37–48

Chen YT, Zheng RL, Jia ZJ, Ju Y (1990) Flavonoids as superoxide scavengers and antioxidants. Free Radic Biol Med 9:19–21

Chen CY, Milbury PE, Lapsley K, Blumberg JB (2005) Flavonoids from almond skins are bioavailable and act synergistically with vitamins C and E to enhance hamster and human LDL resistance to oxidation. J Nutr 135(6):1366–1373

Chen CY, Milbury PE, Chung SK, Blumberg J (2007) Effect of almond skin polyphenolics and quercetin on human LDL and apolipoprotein B-100 oxidation and conformation. J Nutr Biochem 18(12):785–794

Chen X, Zhu G, Jin T, Zhou Z, Gu S, Qiu J, Xiao H (2012) Cadmium stimulates the osteoclastic differentiation of RAW264.7 cells in presence of osteoblasts. Biol Trace Elem Res 146(3):349–353

Chen DJ, Xu YM, Du JY, Huang DY, Lau AT (2014a) Cadmium induces cytotoxicity in human bronchial epithelial cells through upregulation of eIF5A1 and NF-kappaB. Biochem Biophys Res Commun 445(1):95–99

Chen X, Wang K, Wang Z, Gan C, He P, Liang Y, Jin T, Zhu G (2014b) Effects of lead and cadmium co-exposure on bone mineral density in a Chinese population. Bone 63:76–80

Choi JH, Rhee IK, Park KY, Park KY, Kim JK, Rhee SJ (2003) Action of green tea catechin on bone metabolic disorder in chronic cadmium-poisoned rats. Life Sci 73(12):1479–1489

Choi H, Chun YS, Shin YJ, Ye SK, Kim MS, Park JW (2008) Curcumin attenuates cytochrome P450 induction in response to 2,3,7,8-tetrachlorodibenzo-p-dioxin by ROS-dependently degrading AhR and ARNT. Cancer Sci 99(12):2518–2524

Choi YJ, Arzuaga X, Kluemper CT, Caraballo A, Toborek M, Hennig B (2010) Quercetin blocks caveolae-dependent pro-inflammatory responses induced by co-planar PCBs. Environ Int 36(8):931–934

Dickman MD, Leung CK, Leong MK (1998) Hong Kong male subfertility links to mercury in human hair and fish. Sci Total Environ 214:165–174

Duke JA (2003) Dr. Duke's phytochemical and ethnobotanical databases. US Department of Agriculture. Agricultural Research Service. National Germplasm Resources Laboratory Beltsville Agricultural Research Center, Beltsville. MD. http://www.ars-grin.gov/duke

Ewald C, Fjelkner-Modig S, Johansson K, Sjöholm I, Akesson B (1999) Effect of processing on major flavonoids in processed onions, green beans, and peas. Food Chem 64:231–235

Fernandez MT, Mira ML, Florêncio MH, Jennings KR (2002) Iron and copper chelation by flavonoids: an electrospray mass spectrometry study. J Inorg Biochem 92(2):105–111

Ferrali M, Signorini C, Caciotti B, Sugherini L, Ciccoli L, Giachetti D, Comporti M (1997) Protection against oxidative damage of erythrocyte membrane by the flavonoid quercetin and its relation to iron chelating activity. FEBS Lett 416:123–129

Flora G, Gupta D, Tiwari A (2013) Preventive efficacy of bulk and nanocurcumin against lead-induced oxidative stress in mice. Biol Trace Elem Res 2013(152):31–40

García-Niño WR, Pedraza-Chaverrí J (2014) Protective effect of curcumin against heavy metals-induced liver damage. Food Chem Toxicol 69:182–201

Ghosh A, Mandal AK, Sarkar S, Das N (2011) Hepatoprotective and neuroprotective activity of liposomal quercetin in combating chronic arsenic induced oxidative damage in liver and brain of rats. Drug Deliv 18(6):451–459

Hamed EA, Meki AR, Abd El-Mottaleb NA (2010) Protective effect of green tea on lead-induced oxidative damage in rat's blood and brain tissue homogenates. J Physiol Biochem 66(2):143–151

Han SG, Han SS, Toborek M, Hennig B (2012) EGCG protects endothelial cells against PCB 126-induced inflammation through inhibition of AhR and induction of Nrf2-regulated genes. Toxicol Appl Pharmacol 261(2):181–188

Han DH, Lee HJ, Lim S (2013) Smoking induced heavy metals and periodontitis: findings from the Korea National Health and Nutrition Examination Surveys 2008–2010. J Clin Periodontol 40(9):850–858

Hattori M, Mizuguchi H, Baba Y, Ono S, Nakano T, Zhang Q, Sasaki Y, Kobayashi M, Kitamura Y, Takeda N, Fukui H (2013) Quercetin inhibits transcriptional up-regulation of histamine H1 receptor via suppressing protein kinase C-δ/extracellular signal-regulated kinase/poly(ADP-ribose) polymerase-1 signaling pathway in HeLa cells. Int Immunopharmacol 15(2):232–239

Food and Health Bureau (2010) Frequently asked questions on food supply of Hong Kong http://www.fhb.gov.hk/download/press_and_publications/otherinfo/110318_food_supply_faq/e_food_supply_faq.pdf

Hofe CR, Feng L, Zephyr D, Stromberg AJ, Hennig B, Gaetke LM (2014) Fruit and vegetable intake, as reflected by serum carotenoid concentrations, predicts reduced probability of polychlorinated biphenyl-associated risk for type 2 diabetes: National Health and Nutrition Examination Survey 2003–2004. Nutr Res 34(4):285–293

Houston MC (2011) Role of mercury toxicity in hypertension, cardiovascular disease, and stroke. J Clin Hypertens (Greenwich) 13(8):621–627

Iwamoto M, Sato M, Kono M, Hirooka Y, Sakai K, Takeshita A, Imaizumi K (2000) Walnuts lower serum cholesterol in Japanese men and women. J Nutr 130:171–176

Kagamimori S, Williams WR, Watanabe M (1986) cGMP levels in chronic cadmium disease and osteoarthritis. Br J Exp Pathol 67(4):517–521

Karunasagar D, Krishna MV, Rao SV, Arunachalam J (2005) Removal and preconcentration of inorganic and methyl mercury from aqueous media using a sorbent prepared from the plant Coriandrum sativum. J Hazard Mater 118(1–3):133–139

Kaur C, Kapoor HC (2002) Antioxidant activity and total phenolic content of some Asian vegetables. Int J Food Sci Technol 37(2):153–161

Khalaf AA, Moselhy WA, Abdel-Hamed MI (2012) The protective effect of green tea extract on lead induced oxidative and DNA damage on rat brain. Neurotoxicology 33(3):280–289

Kumar V, Gill KD (2014) Oxidative stress and mitochondrial dysfunction in aluminium neurotoxicity and its amelioration: a review. Neurotoxicology 41:154–166

Lecain S, Ng A, Parker ML, Smith AC, Waldron KW (1999) Modification of cell-wall polymers of onion waste—part I. Effect of pressure-cooking. Carbohydr Polym 38(1):59–67

Lee JH, Kang HS, Roh J (1999) Protective effects of garlic juice against embryotoxicity of methylmercuric chloride administered to pregnant Fischer 344 rats. Yonsei Med J 40(5):483–489

Lee SC, Hwang SY, Kim SW, Kim SK (2009) Ethanol extract of Allium sativum attenuates testicular and liver toxicity induced by 2,3,7,8-tetrachlorodibenzo-p-dioxin in rats. J Med Food 12(1):93–99

Lemos NB, Angeli JK, Faria Tde O, Ribeiro Junior RF, Vassallo DV, Padilha AS, Stefanon I (2012) Low mercury concentration produces vasoconstriction, decreases nitric oxide bioavailability and increases oxidative stress in rat conductance artery. PLoS One 7(11):e49005

Leonard SS, Harris GK, Shi X (2004) Metal-induced oxidative stress and signal transduction. Free Radic Biol Med 37(12):1921–1942

Lepper TW, Oliveira E, Koch GD, Berlese DB, Feksa LR (2010) Lead inhibits in vitro creatine kinase and pyruvate kinase activity in brain cortex of rats. Toxicol In Vitro 24(3):1045–1051

Liang P, Qin YY, Zhang C, Zhang J, Cao Y, Wu SC, Wong CK, Wong MH (2013) Plasma mercury levels in Hong Kong residents: in relation to fish consumption. Sci Total Environ 463–464:1225–1229

Liatsos GD, Moulakakis A, Ketikoglou I, Klonari S (2010) Possible green tea-induced thrombotic thrombocytopenic purpura. Am J Health Syst Pharm 67(7):531–534

Lim S, Cho YM, Park KS, Lee HK (2010) Persistent organic pollutants, mitochondrial dysfunction, and metabolic syndrome. Ann N Y Acad Sci 1201:166–176

Liu CM, Ma JQ, Sun YZ (2010) Quercetin protects the rat kidney against oxidative stress-mediated DNA damage and apoptosis induced by lead. Environ Toxicol Pharmacol 30(3):264–271

Liu CM, Sun YZ, Sun JM, Ma JQ, Cheng C (2012) Protective role of quercetin against lead-induced inflammatory response in rat kidney through the ROS-mediated MAPKs and NF-κB pathway. Biochim Biophys Acta 1820(10):1693–1703

Liu W, Liu Y, Tao Y, Yu Y, Jiang H, Lian H (2014a) Comparative study of adsorption of Pb(II) on native garlic peel and mercerized garlic peel. Environ Sci Pollut Res Int 21(3):2054–2063

Liu ZC, Yang ZX, Zhou JS, Zhang HT, Huang QK, Dang LL, Liu GX, Tao KS (2014b) Curcumin regulates hepatoma cell proliferation and apoptosis through the Notch signaling pathway. Int J Clin Exp Med 7(3):714–718

Lizotte J, Abed E, Signor C, Malu DT, Cuevas J, Kevorkova O, Sanchez-Dardon J, Satoskar A, Scorza T, Jumarie C, Moreau R (2012) Expression of macrophage migration inhibitory factor by osteoblastic cells: protection against cadmium toxicity. Toxicol Lett 215(3):167–173

Lombard K, Peffley E, Geoffriau E, Thompson L, Herring A (2005) Quercetin in onion (Allium cepa L.) after heat-treatment simulating home preparation. J Food Compost Anal 18(6):571–581

Maier A, Dalton TP, Puga A (2000) Disruption of dioxin-inducible phase I and phase II gene expression patterns by cadmium, chromium, and arsenic. Mol Carcinog 28(4):225–235

Massadeh AM, Al-Safi SA, Momani IF, Alomary AA, Jaradat QM, AlKofahi AS (2007) Garlic (Allium sativum L.) as a potential antidote for cadmium and lead intoxication: cadmium and lead distribution and analysis in different mice organs. Biol Trace Elem Res 120(1–3):227–234

McCallum J, Thomas L, Shaw M, Pither-Joyce M, Leung S, Cumming M, McManus MT (2011) Genotypic variation in the sulfur assimilation and metabolism of onion (Allium cepa L.) I. Plant composition and transcript accumulation. Phytochemistry 72(9):882–887

McDowell MA, Dillon CF, Osterloh J, Bolger PM, Pellizzari E, Fernando R, Montes de Oca R, Schober SE, Sinks T, Jones RL, Mahaffey KR (2004) Hair mercury levels in U.S. children and women of childbearing age: reference range data from NHANES 1999–2000. Environ Health Perspect 112(11):1165–1171

Mehana EE, Meki AR, Fazili KM (2012) Ameliorated effects of green tea extract on lead induced liver toxicity in rats. Exp Toxicol Pathol 64(4):291–295

Miean KH, Mohamed S (2001) Flavonoid (myricetin, quercetin, kaempferol, luteolin, and apigenin) content of edible tropical plants. J Agric Food Chem 49(6):3106–3112

Mladěnka P, Macáková K, Filipský T, Zatloukalová L, Jahodář L, Bovicelli P, Silvestri IP, Hrdina R, Saso L (2011) In vitro analysis of iron chelating activity of flavonoids. J Inorg Biochem 105(5):693–701

Montopoli M, Ragazzi E, Froldi G, Caparrotta L (2009) Cell-cycle inhibition and apoptosis induced by curcumin and cisplatin or oxaliplatin in human ovarian carcinoma cells. Cell Prolif 42:195–206

Na H-K, Surh Y-J (2008) Modulation of Nrf2-mediated antioxidant and detoxifying enzyme induction by the green tea polyphenol EGCG. Food Chem Toxicol 46(4):1271–1278

Newsome BJ, Petriello MC, Han SG, Murphy MO, Eske KE, Sunkara M, Morris AJ, Hennig B (2014) Green tea diet decreases PCB 126-induced oxidative stress in mice by up-regulating antioxidant enzymes. J Nutr Biochem 25(2):126–135

Nijveldt RJ, van Nood E, van Hoorn DE, Boelens PG, van Norren K, van Leeuwen PA (2001) Flavonoids: a review of probable mechanisms of action and potential applications. Am J Clin Nutr 74(4):418–425

Nwokocha CR, Owu DU, Nwokocha MI, Ufearo CS, Iwuala MO (2012) Comparative study on the efficacy of Allium sativum (garlic) in reducing some heavy metal accumulation in liver of wistar rats. Food Chem Toxicol 50(2):222–226

Odenthal J, van Heumen BW, Roelofs HM, te Morsche RH, Marian B, Nagengast FM, Peters WH (2012) The influence of curcumin, quercetin, and eicosapentaenoic acid on the expression of phase II detoxification enzymes in the intestinal cell lines HT-29, Caco-2, HuTu 80, and LT97.The influence of curcumin, quercetin, and eicosapentaenoic acid on the expression of phase II detoxification enzymes in the intestinal cell lines HT-29, Caco-2, HuTu 80, and LT97. Nutr Cancer 64(6):856–863

Ogah O, Watkins CS, Ubi BE, Oraguzie NC (2014) Phenolic compounds in Rosaceae fruit and nut crops. J Agric Food Chem 62(39):9369–9386

Oguzturk H, Ciftci O, Aydin M, Timurkaan N, Beytur A, Yilmaz F (2012) Ameliorative effects of curcumin against acute cadmium toxicity on male reproductive system in rats. Andrologia 44:243–249

Omura Y, Beckman SL (1995) Role of mercury (Hg) in resistant infections & effective treatment of Chlamydia trachomatis and Herpes family viral infections (and potential treatment for cancer) by removing localized Hg deposits with Chinese parsley and delivering effective antibiotics using various drug uptake enhancement methods. Acupunct Electrother Res 20(3–4):195–229

Omura Y, Shimotsuura Y, Fukuoka A, Fukuoka H, Nomoto T (1996) Significant mercury deposits in internal organs following the removal of dental amalgam, & development of pre-cancer on the gingiva and the sides of the tongue and their represented organs as a result of inadvertent exposure to strong curing light (used to solidify synthetic dental filling material) & effective treatment: a clinical case report, along with organ representation areas for each tooth. Acupunct Electrother Res 21(2):133–160

Ou CC, Tsao SM, Lin MC, Yin MC (2003) Protective action on human LDL against oxidation and glycation by four organosulfur compounds derived from garlic. Lipids 38(3):219–224

Passos CJ, Mergler D, Gaspar E, Morais S, Lucotte M, Larribe F, Davidson R, de Grosbois S (2003) Eating tropical fruit reduces mercury exposure from fish consumption in the Brazilian Amazon. Environ Res 93(2):123–130

Pedraza-Chaverrí J, Gil-Ortiz M, Albarrán G, Barbachano-Esparza L, Menjívar M, Medina-Campos ON (2004) Garlic's ability to prevent in vitro Cu2+-induced lipoprotein oxidation in human serum is preserved in heated garlic: effect unrelated to Cu2+-chelation. Nutr J 3:10

Petriello MC, Newsome B, Hennig B (2013) Influence of nutrition in PCB-induced vascular inflammation. Environ Sci Pollut Res Int 21(10):6410–6418

Petriello MC, Han SG, Newsome BJ, Hennig B (2014) PCB 126 toxicity is modulated by cross-talk between caveolae and Nrf2 signaling. Toxicol Appl Pharmacol 277(2):192–199

Picciano AL, Vaden TD (2013) Complexation between Cu(II) and curcumin in the presence of two different segments of amyloid β. Biophys Chem 184:62–67

Pollard KM, Pearson DL, Hultman P, Hildebrandt B, Kono DH (1999) Lupus-prone mice as models to study xenobiotic-induced acceleration of systemic autoimmunity. Environ Health Perspect 107(Suppl 5):729–735

Ramadass P, Meerarani P, Toborek M, Robertson LW, Hennig B (2003) Dietary flavonoids modulate PCB-induced oxidative stress, CYP1A1 induction, and AhR-DNA binding activity in vascular endothelial cells. Toxicol Sci 76(1):212–219

Ravichandran R, Rajendran M, Devapiriam D (2014) Antioxidant study of quercetin and their metal complex and determination of stability constant by spectrophotometry method. Food Chem 146:472–478

Ros E, Núñez I, Pe´rez-Heras A, Serra M, Gilabert R, Casals E, Deulofeu R (2004) A walnut diet improves endothelial function in hypercholesterolemic subjects. Circulation 109:1609–1614

Rupasinghe HP, Ronalds CM, Rathgeber B, Robinson RA (2010) Absorption and tissue distribution of dietary quercetin and quercetin glycosides of apple skin in broiler chickens. J Sci Food Agric 90(7):1172–1178

Schlezinger JJ, Struntz WD, Goldstone JV, Stegeman JJ (2006) Uncoupling of cytochrome P450 1A and stimulation of reactive oxygen species production by co-planar polychlorinated biphenyl congeners. Aquat Toxicol 77:422–432

Shao D, Kang Y, Cheng Z, Wang H, Huang M, Wu S, Chen K, Wong MH (2013) Hair mercury levels and food consumption in residents from the Pearl River Delta: South China. Food Chem 136(2):682–688

Sharma V, Kansal L, Sharma A (2010) Prophylactic efficacy of Coriandrum sativum (Coriander) on testis of lead-exposed mice. Biol Trace Elem Res 136(3):337–354

Shaw CA, Tomljenovic L (2013) Aluminum in the central nervous system (CNS): toxicity in humans and animals, vaccine adjuvants, and autoimmunity. Immunol Res 56(2–3):304–316

Shaw ML, Lancaster JE, Lane GA (1989) Quantitative analysis of the major γ glutamyl peptides in onion bulbs (Allium cepa). J Sci Food Agric 48(4):459–467

Shi S, Zhang Y, Chen X, Peng M (2011) Investigation of flavonoids bearing different substituents on ring C and their cu2+ complex binding with bovine serum albumin: structure-affinity relationship aspects. J Agric Food Chem 59(19):10761–10769

Shimoda H, Tanaka J, Kikuchi M, Fukuda T, Ito H, Hatano T, Yoshida T (2008) Walnut polyphenols prevent liver damage induced by carbon tetrachloride and d-galactosamine: hepatoprotective hydrolyzable tannins in the kernel pellicles of walnut. J Agric Food Chem 56(12):4444–4449

Sinha D, Roy M (2011) Antagonistic role of tea against sodium arsenite-induced oxidative DNA damage and inhibition of DNA repair in Swiss albino mice. J Environ Pathol Toxicol Oncol 30(4):311–322

Sipos E, Chen L, András IE, Wrobel J, Zhang B, Pu H, Park M, Eum SY, Toborek M (2012) Proinflammatory adhesion molecules facilitate polychlorinated biphenyl-mediated enhancement of brain metastasis formation. Toxicol Sci 126(2):362–371

Sivaranjani N, Rao SV, Rajeev G (2013) Role of reactive oxygen species and antioxidants in atopic dermatitis. J Clin Diagn Res 7(12):2683–2685

Somchit M, Changtam C, Kimseng R, Utaipan T, Lertcanawanichakul M, Suksamrarn A, Chunglok W (2014) Demethoxycurcumin from Curcuma longa rhizome suppresses iNOS induction in an in vitro inflamed human intestinal mucosa model. Asian Pac J Cancer Prev 15(4):1807–1810

Song Q, Li J (2014) A systematic review of the human body burden of e-waste exposure in China. Environ Int 68:82–93

Song K, Milner JA (1999) Heating garlic inhibits its ability to suppress 7, 12-dimethylbenz(a)anthracene-induced DNA adduct formation in rat mammary tissue. J Nutr 129(3):657–661

Sun X, Zhou X, Du L, Liu W, Liu Y, Hudson LG, Liu KJ (2014) Arsenite binding-induced zinc loss from PARP-1 is equivalent to zinc deficiency in reducing PARP-1 activity, leading to inhibition of DNA repair. Toxicol Appl Pharmacol 274(2):313–318

Tang S, Ehiri J, Long Q (2013) China's biggest, most neglected health challenge: non-communicable diseases. Infect Dis Poverty 2(1):7

Tapsell LC, Owen A, Gillen LJ, Baré M, Pach CS, Kennedy M, Batterham M (2004) Including walnuts in a low-fat/modified-fat diet improves HDL cholesterol-to-total cholesterol ratios in patients with type 2 diabetes. Diabetes Care 27:2777–2783

Tayyem RF, Heath DD, Al-Delaimy WK, Rock CL (2006) Curcumin content of turmeric and curry powders. Nutr Cancer 55(2):126–131

Trio PZ, You S, He X, He J, Sakao K, Hou DX (2014) Chemopreventive functions and molecular mechanisms of garlic organosulfur compounds. Food Funct 5(5):833–844

Tsukahara H, Shibata R, Ohshima Y, Todoroki Y, Sato S, Ohta N, Hiraoka M, Yoshida A, Nishima S, Mayumi M (2003) Oxidative stress and altered antioxidant defenses in children with acute exacerbation of atopic dermatitis. Life Sci 72(22):2509–2516

Velaga MK, Yallapragada PR, Williams D, Rajanna S, Bettaiya R (2014) Hydroalcoholic seed extract of Coriandrum sativum (coriander) alleviates lead-induced oxidative stress in different regions of rat brain. Biol Trace Elem Res 159(1–3):351–363

Wang L, Kong L, Wu F, Bai Y, Burton R (2005) Preventing chronic diseases in China. Lancet 366(9499):1821–1824

Wangensteen H, Samuelsen AB, Malterud KE (2004) Antioxidant activity in extracts from coriander. Food Chem 88(2):293–297

Wattel A, Kamel S, Prouillet C, Petit JP, Lorget F, Offord E, Brazier M (2004) Flavonoid quercetin decreases osteoclastic differentiation induced by RANKL via a mechanism involving NF kappa B and AP-1. J Cell Biochem 92(2):285–295

World Bank (2007) Cost of pollution in China. World Bank, Washington, http://siteresources.worldbank.org/INTEAPREGTOPENVIRONMENT/Resources/China_Cost_of_Pollution.pdf

Wu JC, Tsai ML, Lai CS, Wang YJ, Ho CT, Pan MH (2014) Chemopreventative effects of tetrahydrocurcumin on human diseases. Food Funct 5(1):12–17

Yadav A, Lomash V, Samim M, Flora SJ (2012) Curcumin encapsulated in chitosan nanoparticles: a novel strategy for the treatment of arsenic toxicity. Chem Biol Interact 199(1):49–61

Yang YC, Lu FH, Wu JS, Wu CH, Chang CJ (2004) The protective effect of habitual tea consumption on hypertension. Arch Intern Med 164(14):1534–1540

Yang EJ, Kim GS, Kim JA, Song KS (2013) Protective effects of onion-derived quercetin on glutamate-mediated hippocampal neuronal cell death. Pharmacogn Mag 9(36):302–308

Yousefi B, Ahmadi Y, Ghorbanihaghjo A, Faghfoori Z, Irannejad VS (2014) Serum arsenic and lipid peroxidation levels in patients with multiple sclerosis. Biol Trace Elem Res 158(3):276–279

Zhai X, Lin M, Zhang F, Hu Y, Xu X, Li Y, Liu K, Ma X, Tian X, Yao J (2013) Dietary flavonoid genistein induces Nrf2 and phase II detoxification gene expression via ERKs and PKC pathways and protects against oxidative stress in Caco-2 cells. Mol Nutr Food Res 57(2):249–259

Zheng XB, Wu JP, Luo XJ, Zeng YH, She YZ, Mai BX (2012) Halogenated flame retardants in home-produced eggs from an electronic waste recycling region in South China: levels, composition profiles, and human dietary exposure assessment. Environ Int 45:122–128
Conflict of interest
The author has been working as a nutritionist in a private clinic, Mineralysis, specialized in the screening of heavy metal exposure, food allergy, and drug abuse since 2001.
Additional information
Responsible editor: Philippe Garrigues
About this article
Cite this article
Chung, R.T.M. Detoxification effects of phytonutrients against environmental toxicants and sharing of clinical experience on practical applications. Environ Sci Pollut Res 24, 8946–8956 (2017). https://doi.org/10.1007/s11356-015-5263-3
Received:

Accepted:

Published:

Issue Date:
Keywords
Phytonutrients

Heavy metal poisoning

Persistent organic pollutant

Oxidative stress

Anti-oxidation

Anti-inflammation

Chelation

Detoxification