Abstract
The infrastructure for Analysis and Experimentation on Ecosystems (AnaEE-France) is an integrated network of the major French experimental, analytical, and modeling platforms dedicated to the biological study of continental ecosystems (aquatic and terrestrial). This infrastructure aims at understanding and predicting ecosystem dynamics under global change. AnaEE-France comprises complementary nodes offering access to the best experimental facilities and associated biological resources and data: Ecotrons, seminatural experimental platforms to manipulate terrestrial and aquatic ecosystems, in natura sites equipped for large-scale and long-term experiments. AnaEE-France also provides shared instruments and analytical platforms dedicated to environmental (micro) biology. Finally, AnaEE-France provides users with data bases and modeling tools designed to represent ecosystem dynamics and to go further in coupling ecological, agronomical, and evolutionary approaches. In particular, AnaEE-France offers adequate services to tackle the new challenges of research in ecotoxicology, positioning its various types of platforms in an ecologically advanced ecotoxicology approach. AnaEE-France is a leading international infrastructure, and it is pioneering the construction of AnaEE (Europe) infrastructure in the field of ecosystem research. AnaEE-France infrastructure is already open to the international community of scientists in the field of continental ecotoxicology.
Access options
Buy single article
Instant access to the full article PDF.
US$ 39.95
Tax calculation will be finalised during checkout.
Subscribe to journal
Immediate online access to all issues from 2019. Subscription will auto renew annually.
US$ 79
Tax calculation will be finalised during checkout.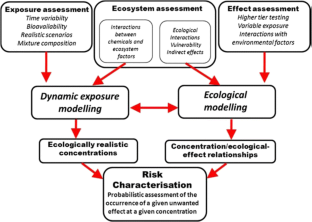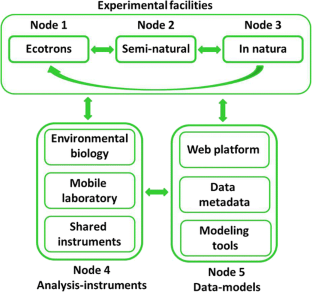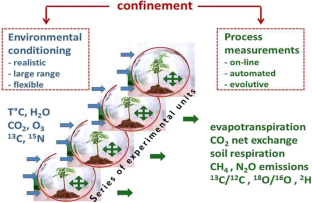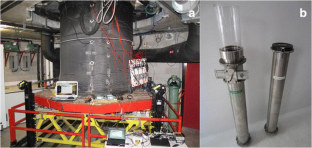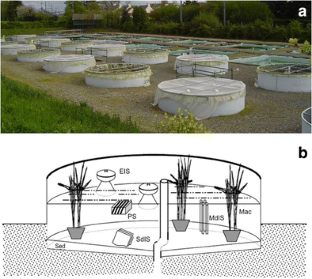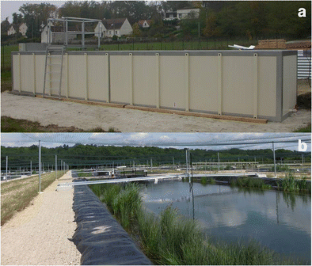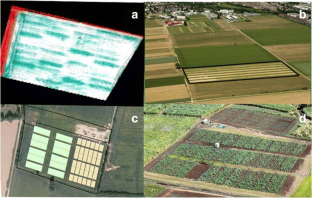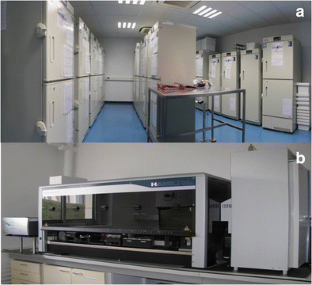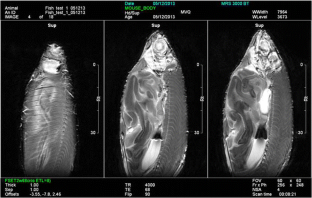 References
Barsi A, Jager T, Collinet M, Lagadic L, Ducrot V (2014) Considerations for test design to accommodate energy-budget models in ecotoxicology: a case study for acetone in the pond snail Lymnaea stagnalis. Environ Toxicol Chem 33:1466–1475

Bayona Y, Roucaute M, Cailleaud K, Bassères A, Lagadic L, Caquet T (2014) Isotopic niche metrics as indicators of toxic stress in two freshwater snails. Sci Total Environ 484:102–113

Beaumelle L, Lamy I, Cheviron N, Hedde M (2014) Is there a relationship between earthworm energy reserves and metal availability after exposure to feld-contaminated soils? Environ Pollut 191:182–189

Blottière L, Rossi M, Madricardo F, Hulot FD (2014) Modeling the role of wind and warming on Microcystis aeruginosa blooms in shallow lakes with different trophic status. Theor Ecol 7:35–52

Calow P, Forbes VE (2014) Ecotoxicology. In: eLS 2014, John Wiley & Sons Ltd: Chichester http://www.els.net/ [DOI: 10.1002/9780470015902.a0003245.pub2] Ecotoxicology

Capowiez Y, Rault M, Mazzia C, Lhoutellier C, Houot S (2009) Etude des effets des apports de produits résiduaires organiques sur la macrofaune lombricienne en conditions de grandes cultures. Etude et Gestion des Sols 16:175–185

Caquet T (2013) Aquatic mesocosms in ecotoxicology. In: Férard J-F, Blaise C (eds) Encyclopedia of Aquatic Ecotoxicology. Springer, The Netherlands, pp 99–108

Caquet T, Lagadic L, Sheffield S (2000) Mesocosms in ecotoxicology (1): outdoor aquatic systems. Rev Environ Contam Toxicol 165:1–38

Caquet T, Lagadic L, Monod G, Lacaze J-C, Couté A (2001) Variability of physico-chemical and biological parameters between replicated outdoor freshwater lentic mesocosms. Ecotoxicology 10:51–66

Corbel S, Mougin C, Martin-Laurent F, Crouzet O, Bru D, Nélieu S, Bouaïcha N (2015) Evaluation of phytotoxicity and ecotoxicity potentials of a cyanobacterial extract containing microcystins under realistic environmental concentrations and in a soil-plant system. Chemosphere 128:332–340

Coulis M, Fromin N, David JF, Gavinet J, Clet A, Devidal S, Roy J, Hättenschwiler S (2015) Functional dissimilarity across trophic levels as a driver of soil processes in a Mediterranean decomposer system exposed to two moisture levels. Oikos. doi:10.1111/oik.01917

Coutellec M-A, Barata C (2011) An introduction to evolutionary processes in ecotoxicology. Ecotoxicology 20:493–496

Coutellec M-A, Collinet M, Caquet T (2011) Parental exposure to pesticides and progeny reaction norm to a biotic stress gradient in the freshwater snail Lymnaea stagnalis. Ecotoxicology 20:524–524

de Santiago-Martín A, Cheviron N, Quintana JR, González C, Lafuente AL, Mougin C (2013) Metal contamination disturbs biochemical and microbial properties of calcareous agricultural soils of the Mediterranean area. Arch Environ Contam Toxicol 64:388–398

European Commission (2003) Technical Guidance Document (TGD) on Risk Assessment of Chemical Substances, 2nd edn. European Chemical Bureau, Joint Research Centre, Luxembourg, Luxembourg

European Commission (2013) SCHER, SCENIHR, SCCS Opinion on: Addressing the New Challenges for Risk Assessment. European Commission, Brussels, Belgium, p 154

Gorzerino C, Quemeneur A, Hillenweck A, Delous G, Ollitrault M, Azam D, Caquet T, Cravedi J-P, Lagadic L (2009) Effects of diquat and fomesafen applied alone and in combination with a nonylphenol polyethoxylate adjuvant on Lemna minor in aquatic indoor microcosms. Ecotoxicol Environ Saf 72:802–810

Hanson ML, Graham DW, Babin E, Azam D, Coutellec M-A, Knapp CW, Lagadic L, Caquet T (2007) Influence of isolation on the recovery of pond mesocosms from the application of an insecticide. I. Study design and planktonic community responses. Environ Toxicol Chem 26:1265–1279

Harrault L, Allard B, Mériguet J, Carmignac D, Huon S, Gauzens B, Lacroix G (2014) Bottom-up effects of lake sediment on pelagic compartments: a mesocosm study. Freshwater Biol 59:1695–1709

Heugens EHW, Hendriks AJ, Dekker T, Van Straalen NM, Admiraal W (2001) A review of the effects of multiple stressors on aquatic organisms and analysis of uncertainty factors for use in risk assessment. Crit Rev Toxicol 31:247–284

Houot S, Cambier P, Benoit P, Bodineau G, Deschamps M, Jaulin A, Lhoutellier C, Barriuso E (2009) Effet d'apports de composts sur la disponibilité de micropolluants métalliques et organiques dans un sol cultivé. Etude et Gestion des Sols 16:255–274

Jessup CM, Kassen R, Forde SE, Kerr B, Buckling A, Rainey PB, Bohannan BJM (2004) Big questions, small worlds: microbial model systems in ecology. Trends Ecol Evol 19:189–197

Lanno R, Wells J, Conder J, Bradham K, Basta N (2004) The bioavailability of chemicals in soil for earthworms. Ecotoxicol Environ Saf 57:39–47

Lawton JH (1996) The Ecotron facility at Silwood Park: the value of "big bottle" experiments. Ecology 77:665–669

Lawton JH, Naeem S, Woodfin RM, Brown VK, Gange A, Godfray HJC, Heads PA, Lawler S, Magda D, Thomas CD, Thompson LJ, Young S (1993) The Ecotron - a controlled environmental facility for the investigation of population and ecosystem processes. Philosophical Transactions of the Royal Society of London Series B-Biological Sciences 341:181–194

Leyval C, Steinberg C, Norini MP, Beguiristain T, Edel-Hermann V, Leglize P, Gautheron N, Lebeau T, Houot S (2009) Impact d'amendements organiques sur la structure des communautés microbiennes des sols: Choix des méthodes, validation et résultats. Etude et Gestion des Sols 16:299–312

Loreau M (2010) From populations to ecosystems: theoretical foundations for a new ecological synthesis. Princeton University Press, Princeton, NJ, USA, p 297

Madin J, Bowers S, Schildhauer M, Krivov S, Pennington D, Villa F (2007) An ontology for describing and synthesizing ecological observation data. Ecological Informatics 2:279–296

Milcu A, Roscher C, Gessler A, Bachmann D, Gockele A, Guderle M, Landais D, Piel C, Escape C, Devidal S, Ravel O, Buchmann N, Gleixner G, Hildebrandt A, Roy J (2014) Functional diversity of leaf nitrogen concentrations drives grassland carbon fluxes. Ecology Letters 17:435–444

Morin FER, Dequiedt S, Koyao-Darinest V, Toutain B, Terrat S, Lelièvre M, Nowak V, Faivre-Primot C, Lemanceau P, Maron PA, Ranjard L (2013) MicroSol database, le Premier Système d'Information Environnemental sur la Microbiologie des Sols. Etude et Gestion des Sols 20:27–38

Osmond B, Ananyev G, Berry J, Langdon C, Kolber Z, Lin GH, Monson R, Nichol C, Rascher U, Schurr U, Smith S, Yakir D (2004) Changing the way we think about global change research: scaling up in experimental ecosystem science. Global Change Biol 10:393–407

Pauget B, Gimbert F, Coeurdassier M, Crini N, Pérès G, Faure O, Douay F, Hitmi A, Beguiristain T, Alaphilippe A, Guernion M, Houot S, Legras M, Vian JF, Hedde M, Bispo A, Grand C, de Vaufleury A (2013) Ranking field site management priorities according to their metal transfer to snails. Ecol Indic 29:445–454

Pelosi C, Bertrand M, Makowski D, Roger-Estrade J (2008) WORMDYN: a model of Lumbricus terrestris population dynamics in agricultural fields. Ecol Model 218:219–234

Pelosi C, Lebrun M, Beaumelle L, Cheviron N, Delarue G, Nélieu S (2015) Sublethal effects of epoxiconazole on the earthworm Aporrectodea icterica. Environ Science Pollut Res (in press)

Pereira HM, Leadley PW, Proença V, Alkemade R, Scharlemann JPW, Fernandez-Manjarrés JF, Araujo MB, Balvanera P, Biggs R, Cheung WWL, Chini L, Cooper HD, Gilman EL, Guénette S, Hurtt GC, Huntington HP, Mace GM, Oberdorff T, Revenga C, Rodrigues P, Scholes RJ, Sumaila UR, Walpole M (2010) Scenarios for global biodiversity in the 21st Century. Science 330:1503–1509

Pérès G, Vandenbulcke F, Guernion M, Hedde M, Beguiristain T, Douay F, Houot S, Piron D, Richard A, Bispo A, Grand C, Galsomies L, Cluzeau D (2011) Earthworm indicators as tools for soil monitoring, characterization and risk assessment. An example from the national Bioindicator programme (France). Pedobiologia 54:S77–S87

Plassart P, Terrat S, Griffiths R, Thomson B, Dequiedt S, Lelievre M, Regnier T, Nowak V, Bailey M, Lemanceau P, Bispo A, Chabbi A, Maron PA, Mougel C, Ranjard L (2012) Evaluation of the ISO Standard 11063 DNA extraction procedure for assessing soil microbial abundance and community structure. PLoS One 7, e44279

Riah W, Laval K, Laroche-Ajzenberg E, Mougin C, Latour X, Trinsoutrot-Gattin I (2014) Effects of pesticides on soil enzymatic activities: general trends. Env Chem Lett 12:257–273

Rustad LE (2008) The response of terrestrial ecosystems to global climate change: towards an integrated approach. Sci Total Environ 404:222–235

Stewart RIA, Dossena M, Bohan DA, Jeppesen E, Kordas RL, Ledger ME, Meerhoff M, Moss B, Mulder C, Shurin JB, Suttle B, Thompson R, Trimmer M, Woodward G, Guy W, Eoin JOG (2013) Mesocosm experiments as a tool for ecological climate change research. Adv Ecol Res 48:71–181

Stokstad E (2005) Ecology - taking the pulse of earth's life-support systems. Science 308:41–43

Terrat S, Christen R, Dequiedt S, Lelievre M, Nowak V, Bachar D, Plassart P, Wincker P, Jolivet C, Bispo A, Lemanceau P, Maron PA, Mougel C, Ranjard L (2012) Molecular biomass and MetaTaxogenomic assessment of soil microbial communities as influenced by soil DNA extraction procedure. Microb Biotechnol 5:135–141

Terrat S, Plassart P, Bourgeois E, Ferreira S, Dequiedt S, Adele-Dit-De-Renseville N, Lemanceau P, Bispo A, Chabbi A, Maron PA, Ranjard L (2015) Meta-barcoded evaluation of the ISO Standard 11063 DNA extraction procedure to characterize soil bacterial and fungal community diversity and composition. Microbial Biotech 8:131–142

Van Straalen NM (2003) Ecotoxicology becomes stress ecology. Environ Sci Technol 37:324A–330A

Verdier B, Jouanneau I, Simonnet B, Rabin C, Van Dooren T, Delpierre N, Clobert J, Abbadie L, Ferrière R, Le Galliard JF (2014) Climate and atmosphere simulator for experiments on ecological systems in changing environments. Environ Sci Technol 48:8744–8753

Vighi M, Villa S (2013) Ecotoxicology: the challenges for the 21st century. Toxics 1:18–35
Acknowledgments
AnaEE-France is an infrastructure of the French Investments for the Future ("Investissements d'Avenir") program, overseen by the French National Research Agency (ANR) (ANR-11-INBS-0001).
Compliance with ethical standards
The paper follows the rules of good scientific practice presented in the "Instructions for authors." Authors whose names appear on the submission have contributed sufficiently to the scientific work and therefore share collective responsibility and accountability for the information presented. There are no potential conflicts of interests that are directly or indirectly related to the work presented.
Additional information
Responsible editor: Philippe Garrigues
About this article
Cite this article
Mougin, C., Azam, D., Caquet, T. et al. A coordinated set of ecosystem research platforms open to international research in ecotoxicology, AnaEE-France. Environ Sci Pollut Res 22, 16215–16228 (2015). https://doi.org/10.1007/s11356-015-5233-9
Received:

Accepted:

Published:

Issue Date:
Keywords
Ecotoxicology

Ecotrons

Environmental simulations

Environmental survey

Process measurements

Genetic resources

Biochemical markers

Environmental stressors

Higher tier testing

Ecologically-based procedures

Mesocosms

Information system

Modeling