Abstract
Nitric oxide (NO) and nitrous oxide (N2O) emitted from wetland systems contribute an important proportion to the global warming effect. In this study, four wetland microcosms vegetated with Myriophyllum elatinoides (WM), Alternanthera philoxeroides (WA), Eichhornia crassipes (WE), or without vegetation (NW) were compared to investigate the emissions of NO and N2O during nitrogen (N) removal process when treating swine wastewater. After 30-day incubation, TN removal rates of 96.4, 74.2, 97.2, and 47.3 % were observed for the WM, WA, WE, and NW microcosms, respectively. Yet, no significant difference was observed in WM and WE (p > 0.05). The average NO and N2O emissions in WE was significantly higher than those in WM, WA, and NW (p < 0.05). In addition, the emission of N2O in WE accounted for 2.10 % of initial TN load and 2.17 % of the total amount of TN removal, compared with less than 1 % in the other microcosms. These findings indicate that wetland vegetated with M. elatinoides may be an optimal system for swine wastewater treatment, based on its higher removal of N and lower emissions of NO and N2O.
Access options
Buy single article
Instant access to the full article PDF.
USD 39.95
Price excludes VAT (USA)
Tax calculation will be finalised during checkout.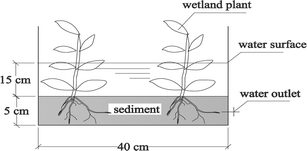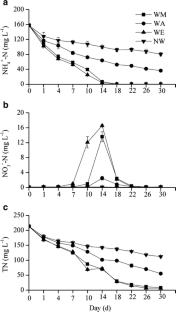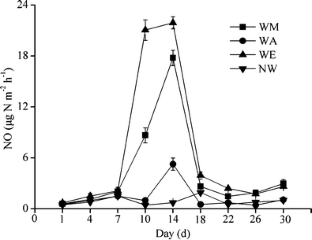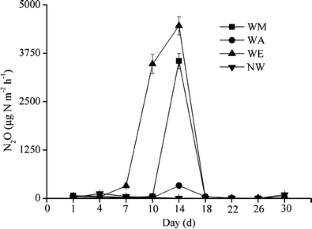 References
Anderson IC, Levine JS (1986) Relative rates of nitric oxide and nitrous oxide production by nitrifiers, denitrifiers and nitrate respirers. Appl Environ Microb 5:938–945

Bonin P, Tamburini C, Michotey V (2002) Determination of bacterial processes which are sources of nitrous oxide production in marine samples. Water Res 36:722–732

Chen J, Wu FH, Xiao Q, Yang ZH, Huang SK, Wang J, Wu YG, Dong XJ, Pei ZM, Zheng HL (2010) Diurnal variation of nitric oxide emission flux from a mangrove wetland in Zhangjiang River Estuary, China. Estuar Coast Shelf S 90:212–220

Czepiel P, Crill P, Harriss R (1995) Nitrous oxide emissions from municipal wastewater treatment. Environ Sci Technol 29:2352–6

Dong XL, Reddy GB (2000) Nutrient removal and bacterial communities in swine wastewater lagoon and constructed wetlands. J Environ Sci Heal A 40:1381–1401

Forbes DA, Reddy GB, Hunt PG, Poach ME, Ro KS, Cyrus JS (2010) Comparison of aerated march-pond-marsh and continuous marsh constructed wetlands for treating swine wastewater. J Environ Sci Heal A 45:803–809

Hanaki K, Hong Z, Matsuo T (1992) Production of nitrous-oxide gas during denitrification of waste-water. Water Sci Technol 26:1027–36

Inamori R, Gui P, Dass P, Matsumura M, Xu KQ, Kondo T, Ebie Y, Inamori Y (2007) Investigating CH4 and N2O emissions from eco-engineering wastewater treatment processes using constructed wetland microcosms. Process Biochem 42:363–373

IPCC (2001) Atmospheric chemistry and greenhouse gases. In: Houghton JT et al. (eds) Climate Change 2001. The Scientific Basis, Chapter 4. Cambridge University Press, Cambridge, New York, pp 239–287

Itokawa H, Hanaki K, Matsuo T (2001) Nitrous oxide production in high-loading biological nitrogen removal process under low COD/N ratio condition. Water Res 35:657–664

Johansson AE, Gustavsson AM, Öquist MG, Svensson BH (2004) Methane emissions from a constructed wetland treating wastewater—seasonal and spatial distribution and dependence on edaphic factor. Water Res 38:3960–70

Johansson AE, Kasimir KA, Klemedtsson L, Svensson BH (2003) Nitrous oxide exchanges with the atmosphere of a constructed wetland treating wastewater. Tellus B 55:737–750

Kampschreur MJ, Temmink H, Kleerebezem R, Jetten MSM, van Loosdrecht MCM (2009) Nitrous oxide emission during wastewater treatment. Water Res 43(17):4093–4103

Kishida N, Kim JH, Kimochi Y, Nishimura O, Sasaki H, Sudo R (2004) Effect of C/N ratio on nitrous oxide emission from swine wastewater treatment process. Water Sci Technol 49(5–6):359–365

Kløve B, Søvik AK, Hartwig HL (2005) Analysis of nitrogen removal processes in a subsurface flow carbonate sand filter treating municipal wastewater. J Environ Sci Heal A 40:1381–1401

Lai WL, Wang SQ, Peng CL, Chen ZH (2011) Root features related to plant growth and nutrient removal of 35 wetland plants. Water Res 45(13):3941–3950

Lan T, Han Y, Roelcke M, Nieder R, Cai ZC (2013) Processes leading to N2O and NO emissions from two different Chinese soils under different soil moisture contents. Plant Soil 371:611–627

Li Y, Fu XQ, Liu XL et al (2013) Spatial variability and distrivution of N2O emissions from a tea field during the dry season in subtropical central China. Geoderma 193:1–12

Ludwig J, Meixner FX, Vogel B et al (2001) Soil-air exchange of nitric oxide: an overview of process environmental factors and modeling studies. Biogeochemistry 52:225–257

Lu SL, Hu HY, Sun YX, Yang J (2009) Effect of carbon source on the denitrification in constructed wetlands. J Environ Sci 21:1036–1043

Mander Ü, Dotro G, Lõhmus K, Ebie Y, Towprayoon S, Chiemchaisri C, Nogueira SF, Jamsranjav B, Kasak K, Truu J, Tournebize J, Mitsch WJ (2014) Greenhouse gas emission in constructed wetlands for wastewater treatment: a review. Ecol Eng 66:19–35

Mander Ü, Kuusemets V, Lõhmus K, Mauring T, Teiter S, Augustin J (2003) Nitrous oxide, dinitrogen and methane emission in a subsurface flow constructed wetland. Water Sci Technol 48:135–42

Mander Ü, Lõhmus K, Teiter S, Nurk K, Mauring T, Augustin J (2005) Gaseous fluxes from subsurface flow constructed wetlands for wastewater treatment. J Environ Sci Heal A 40:1215–1226

Osada T, Kuroda K, Yonaga M (1995) Reducing nitrous oxide gas emissions from fill-and-draw type activated sludge process. Water Res 29(6):1607–1608

Park KY, Inamori Y, Mizuochi M, Ahn KH (2000) Emission and control of nitrous oxide from a biological wastewater treatment system with intermittent aeration. J Biosci Bioeng 90:247–252

Princic A, Mahne I, Megusar F, Paul EA, Tiedje JM (1998) Effects of pH and oxygen and ammonium concentrations on the community structure of nitrifying bacteria from wastewater. Appl Environ Microb 64:3584–3590

Ryu HD, Lee SI (2010) Application of struvite precipitation as a pretreatment in treating swine wastewater. Process Biochem 45:563–572

Scheer C, Wassmann R, Butterbach-Bahl K, Lamers JPA, Martius C (2009) The relationship between N2O, NO, and N2 fluxes from fertilized and irrigated dryland soils of the Aral Sea Basin, Uzbekistan. Plant Soil 314:273–283

Søvik AK, Augustin J, Heikkinen K, Huttunen JT, Necki JM, Karjalainen SM, Kløve B, Liikanen A, Mander U, Puustinen M, Teiter S, Wachniew P (2006) Emission of the greenhouse gases nitrous oxide and methane from constructed wetlands in Europe. J Environ Qual 35(6):2360–73

Søvik AK, Kløve B (2007) Emission of N2O and CH4 from a constructed wetland in southeastern Norway. Sci Total Environ 380:28–37

Stadmark J, Leonardson L (2005) Emissions of greenhouse gases from ponds constructed for nitrogen removal. Ecol Eng 25:542–51

Teiter S, Mander Ü (2005) Emission of N2O, N2, CH4 and CO2 from constructed wetlands for wastewater treatment and from riparian buffer zones. Ecol Eng 25:528–41

Vymazal J (2007) Removal of nutrients in various types of constructed wetlands. Sci Total Environ 380:48–65

Wu J, Zhang J, Jia WL, Xie HL, Gu RR, Li C, Gao BY (2009) Impact of COD/N ratio on nitrous oxide emission from microcosm wetlands and their performance in removing nitrogen from wastewater. Bioresour Technol 100:2910–2917

Yan XY, Hosen Y, Yagi K (2001) Nitrous oxide and nitric oxide emissions from maize field plots as affected by N fertilizer type and application method. Biol Fertil Soils 34:297–303

Zheng XH, Wang MX, Wang YS, Shen RX, Li J, Heyer J, Koegge M, Papen H, Jin JS, Li LT (2000) Mitigation options for methane, nitrous oxide and nitric oxide emissions from agricultural ecosystems. Adv Atmos Sci 17(1):83–92
Acknowledgments
This study was financially supported by the key CAS Programs (KZZD-EW-11, KZZD-EW-10-5), the National Science and Technology Supporting Project (2014BAD14B00, 2012BAD14B17).
Additional information
Responsible editor: Philippe Garrigues
About this article
Cite this article
Zhang, S., Liu, F., Xiao, R. et al. Emissions of NO and N2O in wetland microcosms for swine wastewater treatment. Environ Sci Pollut Res 22, 19933–19939 (2015). https://doi.org/10.1007/s11356-015-5210-3
Received:

Accepted:

Published:

Issue Date:

DOI: https://doi.org/10.1007/s11356-015-5210-3
Keywords
Nitric oxide

Nitrous oxide

Greenhouse gas

N removal

Constructed wetland