Abstract
In 2009, the European Union adopted the Directive on Sustainable Use of pesticides (SUD, Directive 2009/128/EC) establishing a framework for achieving a sustainable use of Plant Protection Products (PPPs) through reducing the risks and impacts of PPP use on human health and the environment, promoting integrated pest management and stimulating effective non-chemical alternatives. The core idea of the SUD is that it is necessary to monitor the use of PPPs through the implementation of an appropriate set of risk indicators to monitor progress and trends in risk reduction within the Member States. To contribute to this direction, following a comprehensive analysis of the risk (including procedures of risk assessment and risk management) and involving stakeholders in the decision process, specific toolboxes of practical indirect risk indicators of exposure of Operators, Workers, Bystanders and Residents were developed and are now available to be used by Member States (MSs) based on their specific context.
Access options
Buy single article
Instant access to the full article PDF.
USD 39.95
Price excludes VAT (USA)
Tax calculation will be finalised during checkout.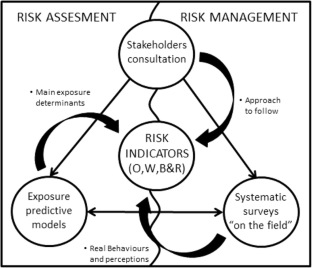 References
Bassi R, Bernard A, Calliera M, Capri E, Galassi T, Mazzini F, Rossi R, Meriggi P (2011) Linee guida per un uso sostenibile dei prodotti fitosanitari. http://www3.syngenta.com/country/it/it/agricoltura_responsabile/Documents/Linee_Guida_Uso_Sostenibile.pdf. Accessed 3 Feb 2015

BROWSE2 (2013a) Technical report WP1: operator exposure: boom spraying and mixing/loading liquids. www.browseproject.eu

BROWSE (2013b). Technical report WP2: workers exposure. www.browseproject.eu

BROWSE (2013c). Technical report WP3: residents and bystanders exposure. www.browseproject.eu

Calliera M, Marchis A, Sacchettini G, Capri E (2012) BROWSE project Deliverable 6.1, Report on stakeholder consultation. https://secure.fera.defra.gov.uk/browse/openFile.cfm?dir=deliverables&name=D61.pdf Accessed 3 Feb 2015

Calliera M, Marchis A, Bollmohr S, Sacchettini G, Lamastra L, Capri E (2013) A process to provide harmonised criteria for the selection of indicators for pesticide risk reduction within the framework of the sustainable use directive. Pest Manag Sci 69(4):451–456. doi:10.1002/ps.3430

Dale V, Beyeler S (2001) Challenges in the development and use of ecological indicators. Ecol Indic 1(1):3–10

Damalas CA, Eleftherohorinos EG (2011) Pesticide exposure, safety issues, and risk assessment indicators. Internat J Environ Res Public Health 8:1402–1419

EcoPest (2012) Project final report executive summary. http://ec.europa.eu/environment/life/project/Projects/index.cfm?fuseaction=home.showFile&rep=file&fil=LIFE07_ENV_GR_000266_FTR.pdf Accessed 3 Feb 2015

EFSA Panel on Plant Protection Products and their Residues (2010) Scientific Opinion on Preparation of a Guidance Document on Pesticide Exposure Assessment for Workers, Operators, Bystanders and Residents. EFSA J 8(2):1501. doi:10.2903/j.efsa.2010.1501, 65 pp

EU 1107/EC (2009) Regulation of the European parliament and of the council concerning the placing of plant protection products on the market and replacing Council Directives 79/117/EEC and 91/414/EEC2009. OJL 309/1 24.11.2009

EU 128/EC (2009) Directive of the European parliament and of the council establishing a framework for Community action to achieve the sustainable use of pesticides. OJL 309/71 24.11.2009

FAO and WHO (2005) Food Safety Risk Analysis - Part I – An Overview and Framework Manual. https://www.fsc.go.jp/sonota/foodsafety_riskanalysis.pdf. Accessed 3 Feb 2015

Frewer L, Brennan M, Remoundou K, Spanoghe P, Butler-Eillis C, Glass R, Charistou A (2011) BROWSE project Deliverable 4.2. Report on initial stakeholder workshop. https://secure.fera.defra.gov.uk/browse/openFile.cfm?dir=deliverables&name=D42.pdf Accessed 3 Feb 2015

Garreyn F, Vagenende B, Steurbaut W (2010) HAIR project, report of project. Occupational indicators - Operator, worker and bystander. http://www.rivm.nl/rvs/Images/HAIR_OCCUPATIONAL_INDICATORS_tcm35-40135.pdf. Accessed 3 Feb 2015

Koh D, Jeyaratnam J (1996) Pesticides hazards in developing countries. Sci Total Environ 188:78–85

Obopile M, Munthali DC, Matilo B (2008) Farmers' knowledge, perceptions and management of vegetable pests and diseases in Botswana. Crop Prot 27:1220–1224

OECD (1994) Environmental indicators. A Core Set. OECD, Paris

OMB US Office of Management and Budget (2006) Proposed Risk Assessment Bulletin (January 9) http://www.whitehouse.gov/sites/default/files/omb/assets/omb/inforeg/proposed_risk_assessment_bulletin_010906.pdf Accessed 3 Feb 2015

Remoundou K, Brennan M, Hart A, Frewer L (2014) Pesticide risk perceptions, knowledge, and attitudes of operators, workers, and residents: a review of the literature. Hum Ecol Risk Assessment 20(4):1113–1138. doi:10.1080/10807039.2013.799405

Remoundou K, Brennan M, Panzone L, Butler-Ellis C, Capri E, Charistou A, Gerritsen-Ebben MG, Machera K, Spanoghe P, Sacchettini G, Hart A, Frewer LJ (2015) Perceptions of pesticides exposure risks by Operators, Workers, Residents and Bystanders in Greece, Italy and the UK. Sci Total Environ 505(2015):1082–1092. doi:10.1016/j.scitotenv.2014.10.099

Sacchettini G, Calliera M, Marchis A, Lamastra L, Capri E (2012) The stakeholder-consultation process in developing training and awareness-raising material within the framework of the EU Directive on Sustainable Use of Pesticides: the case of the EU-project BROWSE. Sci Total Environ 438:278–285. doi:10.1016/j.scitotenv.2012.08.079

SCHER (Scientific Committee on Health and Environmental Risks), SCENIHR (Scientific Committee on Emerging and Newly Identified Health Risks), SCCS (Scientific Committee on Consumer Safety) (2013) Making Risk Assessment More Relevant for Risk Management, Scientific Opinion, March 2013. http://ec.europa.eu/health/scientific_committees/consumer_safety/docs/sccs_o_130.pdf. Accessed 3 Feb 2015

Van Hyfte A, Verdonck F, Iaccino F, Laureysens I, Callebaut K (2009) Assessment of pesticides risk indicators: Final report, ARCADIS BELGIUM Content 07/12800/SV, https://circabc.europa.eu/webdav/CircaBC/ESTAT/agrienv/Library/indicators_pesticides/pesticide_indicators/hair_indicators/arcadis_final_report/Assessment_of_pesticides_risk_indicators_final_report_27_Feb_2009.pdf. Accessed 3 Feb 2015

Walls J, Rowe G, Frewer L (2010) Stakeholder engagement in food risk management: Evaluation of an iterated workshop approach. Public Underst Sci. 0963-6625 doi:10.1177/0963662509354543

Wentholt M, Rowe G, Konig A, Marvin H, Frewer L (2009) The views of key stakeholders on an evolving food risk governance framework: results from a Delphi study. Food Policy 34(6):539–548. doi:10.1016/j.foodpol.2009.06.002
Acknowledgments
This paper was produced in the frame of WP6 of the EU 7th Framework Programme project BROWSE (www.browseproject.eu) lead by the Università Cattolica del Sacro Cuore (UCSC). UCSC acknowledge the co-author Alexandru Marchis for the cooperation in the identification of the approach; Rianda Gerritsen-Ebben, Claire Butler Ellis, Pieter Spanoghe, Kiriaky Machera in defining needed inputs from the BROWSE exposure models; and Richard Glass for the interpretation of the results of the systematic surveys.
Conflict of interest
The authors declare that they have no conflict of interest.
Additional information
Responsible editor: Philippe Garrigues
About this article
Cite this article
Sacchettini, G., Calliera, M., Marchis, A. et al. New risk indicator approach for Operators, Workers, Bystanders and Residents for a sustainable use of plant protection products. Environ Sci Pollut Res 22, 17586–17595 (2015). https://doi.org/10.1007/s11356-015-4889-5
Received:

Accepted:

Published:

Issue Date:

DOI: https://doi.org/10.1007/s11356-015-4889-5
Keywords
2009/128/EC

Sustainable Use Directive

Indirect risk indicators

Pesticide use

Risk reduction

Risk analysis

Pesticide exposure