Abstract
Throughout history, synanthropic Musca domestica had remained a worldwide problem whenever poor sanitation and bad hygienic conditions exists. Houseflies growing resistance to chemical insecticides are a rising environmental problem that necessitates search for alternatives. Mentha cervina, Ocimum basilicum, and Coriandrum sativum were tested for bioactivity on M. domestica adults and larvae. They are culinary Mediterranean plants. In adulticidal bioassay, using both CDC bottles and fumigation techniques, basil was the most effective extract with LC50 1.074 and 34.996 g/L, respectively. Concerning larvicidal bioassay by fumigation technique, coriander had the highest toxicity index with LC50 29.521 g/L. In both dipping and feeding technique, basil had the highest toxicity with LC50 32.643 and 0.749 g/L, respectively. Basil showed the highest toxicity results in four out of the five models tested followed by coriander then mint; this result highlights the potentiality of basil as a green insecticide in management of flies and opens new insight in the industrialization of basil-based fly control products.
Access options
Buy single article
Instant access to the full article PDF.
USD 39.95
Price excludes VAT (USA)
Tax calculation will be finalised during checkout.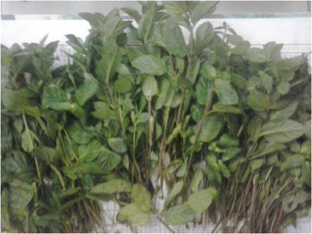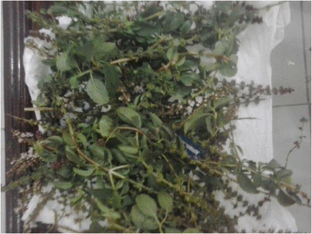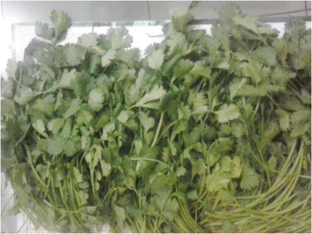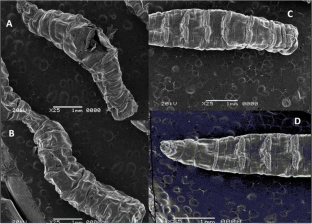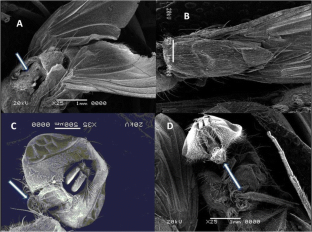 References
Aarthi N, Murugan K (2010) Larvicidal and repellent activity of Vetiveria zizanioides L, Ocimum basilicum Linn and the microbial pesticide spinosad against malarial vector, Anopheles stephensi Liston (Insecta Diptera: Culicidae. J Biopesticides 3(1):199–204

Abbott WS (1925) A method of computing the effectiveness of an insecticide. J Econ Entomol 18:265–6

Ahmed S, Malik H, Riaz MA, Akthar M (2013) Influence of plant extracts on the life history and population development of house fly, Musca domestica L. (Diptera: Muscidae). Pak J Zool 45(2):345–349

Aïzoun N, Ossè R, Azondekon R, Alia R, Oussou O, Gnanguenon V, Aikpon R, Padonou GG, Akogbéto M (2013) Comparison of the standard WHO susceptibility tests and the CDC bottle bioassay for the determination of insecticide susceptibility in malaria vectors and their correlation with biochemical and molecular biology assays in Benin, West Africa. Parasites Vectors 6:147. doi:10.1186/ 1756-3305-6-147

Akinkurolere RO, Adedire CO, Odeyemi OO, Raji J, Owoeye JA (2011) Bioefficacy of extracts of some indigenous Nigerian plants on the developmental stages of mosquito (Anopheles gambiae). Jordan J Biol Sci 4(4):237–242, ISSN 1995–6673

Ali NA, Setzerb WN (2013) Pharmacological activities of basil oil a review. In: Govil JN, Bhattacharya S (eds) Recent progress in medicinal plants, vol 37. Essential Oils–II. Studium Press LLC, Itors, India, pp 286–307, ISBN: 1-933699-97-3

Asawalam EF, Emosairue SO, Hassanali A (2008) Essential oil of Ocimum grattissimum (Labiatae) as Sitophilus zeamais (Coleoptera: Curculionidae) protectant. Afr J Biotechnol 7:3771–3776

Bekele J, Hassanali A (2001) Blend effects in the toxicity of the essential oil constituents of Ocimum kilimandscharicum and Ocimum kenyense (Labiataea) on two post-harvest insect pests. Phytochemistry 57:385–391

Belong P, Ntonga PA, Fils EB, Dadji GAF, Tamesse JL (2013) Chemical composition and residue activities of Ocimum canum Sims and Ocimum basilicum L essential oils on adult female Anopheles funestus ss. J Anim Plant Sci 19(1):2854–2863

Brogdon WG (2014) CDC bottle bioassays. In: Benedict M (ed) Methods in anopheles research, vol 4, 4th edn. MR4 Vector Activity, CDC, Atlanta

Cavalcanti ESB, Morais SM, Lima MAA, Santana EWP (2004) Larvicidal activity of essential oils from Brazilian plants against Aedes aegypti L. Mem Inst Oswaldo 99(5):541–544

Dattu Iffah H, Gunandini DJ, Kardinan A (2008) Pengaruh Ekstrak Kemangi (Ocimum basilicum forma citratum) terhadap Perkembangan Lalat Rumah (Musca domestica) (L.). J Entomol Indon 5(1):36–44

Geden CJ (2012) Status of biopesticides for control of house flies. J Biopest 5(S):1–11

Govindarajan M, Sivakumar R, Rajeswary M, Yogalakshmi K (2013) Chemical composition and larvicidal activity of essential oil from Ocimum basilicum (L.) against Culex tritaeniorhynchus, Aedes albopictus and Anopheles subpictus (Diptera: Culicidae). Exp Parasitol 134:7–11

Hiltunen R, Holm Y (1999) Basil: the genus Ocimum. In: Hiltunen R, Holm Y (eds) Medicinal and aromatic plants—industrial profiles. Harwood Academic Publishers, Taylor & Francis Group, Abingdon, p 73, ISBN 90-5702-432-2

Jesikha M (2014) Control of Musca domestica using wastes from Citrus sinensis peel and Mangifera indica seed. SIRJ-BES 1:1

Karunamoorthi K (2012) Medicinal and aromatic plants: a major source of green pesticides/risk-reduced pesticides. Med Aromather Plants 1:e137. doi:10.4172/2167-0412.1000e137

Khan H, Akram W, Shad SA, Razaq M, Naeem-Ullah U, Zia K (2013) A cross sectional survey of knowledge, attitude and practices related to house flies among dairy farmers in Punjab, Pakistan. J Ethnobiol Ethnomed 9:18. http://www.ethnobiomed.com/content/9/1/18 Accessed 2 January 2015

Khater HF (2012) Ecosmart biorational insecticides alternative insect control strategies. In: Perveen F (ed) Insecticides—advances in integrated pest management. ISBN: 978-953-307-780- 2, InTech, http://www.intechopen.com/books/insecticides-advances-in-integrated-pestmanagement/ ecosmart-biorational-insecticides-alternative-insect-control-strategies. Accessed 4 January 2015.

Kumar P, Mishra S, Malik A, Satya S (2011) Repellent, larvicidal and pupicidal properties of essential oils and their formulations against the house fly, Musca domestica. Med Vet Entomol 25(3):302–310

Kumar P, Mishra S, Malik A, Satya S (2012) Efficacy of Mentha × piperita and Mentha citrata essential oils against housefly, Musca domestica. Ind Crop Prod 39:106–112

Lee J, Scagel CF (2009) Chicoric acid found in basil (Ocimum basilicum L.) leaves. Food Chem 115:650–656

Macovei L, Miles B, Zurek L (2008) The potential of house flies to contaminate ready-to-eat food with antibiotic resistant enterococci. J Food Prot 71:432–439

Malik A, Singh N, Satya S (2007) House fly (Musca domestica): a review of control strategies for a challenging pest. J Environ Sci Health 42:453–469

Mansour SA, Mohamed RI (2013) Insecticidal properties and chemical composition of Conyza Aegyptiaca (L.) oil: studies on two dipterous insect pests. Open Toxinol J 5:1–7

Massebo F, Tadesse M, Balkew M, Gebre-Michael T (2013) Bioactivity of essential oils of local plants against adult Anopheles arabiensis (Diptera: Culicidae) in Ethiopia. Adv Biosci Biotechnol 4:805–809

Mishra BB, Tripathi SP, Tripathi CPM (2012) Repellent effect of leaves essential oils from Eucalyptus globulus (Mirtaceae) and Ocimum basilicum (Lamiaceae) against two major stored grain insect pests of Coleopterons. Nat Sci 10:50–54

Ojianwuna CC, Edafemakor AG, Iloh AC (2011) Toxicity of Ocimum suave (wild basil) leaf oil on adult housefly (Musca Domestica. Int Res J Agric Sci Soil Sci 1(10):417–420, ISSN: 2251–0044

Palacios SA, Bertoni A, Rossi Y (2009a) Insecticidal activity of essential oils from native medicinal plants of Central Argentina against the house fly, Musca domestica (L.). Parasitol Res 106:207–212

Palacios SA, Bertoni A, Rossi Y, Santander R, Urzua A (2009b) Efficacy of essential oils from native medicinal plants of central Argentina against the house fly, Musca domestica L. Molecules 14:1938–1947

Pavela R (2008) Insecticidal properties of several essential oils on the house fly (Musca domestica L.). Phytother Res 22:274–278

Rawi SM, Bakry FA, Al-Hazmi MA (2011) Biochemical and histopathological effect of crude extracts on Spodoptera littoralis larvae. J Evol Biol Res 3(5):67–78

Rossi YE, Palacios SM (2013) Fumigant toxicity of citrus sinensis essential oil on Musca domestica L. adults in the absence and presence of a P450 inhibitor. Acta Trop 127(1):33–37

Shirley P (2000) Aromatherapy workbook revised edn. Thorsons, London

Small E (2006) Culinary herbs, 2nd edn. Canadian Science Publishing (NRC Research Press), Canada, ISBN 978-0-660-19073-0

Sukontason KL, Boonchu N, Sukontason K, Choochote W (2004) Effects of eucalyptol on house fly (Diptera: Muscidae) and blow fly (Diptera: Calliphoridae). Rev Inst Med Trop Sao Paulo 46(2):97–101

Tayel AA, El Tras WF (2009) Possibility of fighting food borne bacteria by Egyptian folk medicinal herbs and spices extracts. J Egypt Public Health Assoc 84(1–2):21–32

Usip LPE, Opara KN, Ibanga ES, Atting IA (2006) Longitudinal evaluation of repellent activity of Ocimum gratissimum (Labiatae) volatile oil against Simulium damnosum. Mem Inst Oswaldo Cruz 101:201–205

Wanaratana S, Amonsin A, Chaisingh A, Panyim S, Sasipreeyajan J, Pakpinyo S (2013) Experimental assessment of houseflies as vectors in avian influenza subtype H5N1 transmission in chickens. Avian Dis 57(2):266–272. doi:10.1637/10347-090412-Reg.1
Acknowledgments
Special thanks to Dr. Azza Abdel Fattah Mostafa, Professor of Insecticides, Research Institute of Medical Entomology, for her assistance during insect bioassay techniques. Also to Dr. Amany Samy El-hefny, senior researcher, Plant Protection Research Institute, Agricultural Research Center for her assistance during plant extraction processes.
Conflict of interest
The authors declare that they have no conflict of interest.
Additional information
Responsible editor: Philippe Garrigues
About this article
Cite this article
El Zayyat, E.A., Soliman, M.I., Elleboudy, N.A. et al. Musca domestica laboratory susceptibility to three ethnobotanical culinary plants. Environ Sci Pollut Res 22, 15844–15852 (2015). https://doi.org/10.1007/s11356-015-4796-9
Received:

Accepted:

Published:

Issue Date:

DOI: https://doi.org/10.1007/s11356-015-4796-9
Keywords