Abstract
Laboratorial scale experiments were performed to investigate and evaluate the performance and removal characteristics of organics, color, and genotoxicity by an integrated process including ozonation, activated carbon (AC), and biological aerated filter (BAF) for recycling biotreated dyeing wastewater (BTDW) collected from a cotton textile factory. Influent chemical oxygen demand (COD) in the range of 156 − 252 mg/L, 5-day biochemical oxygen demand (BOD5) of 13.5 − 21.7 mg/L, and color of 58 − 76° were observed during the 20-day continuous operation. Outflows with average COD of 43 mg/L, BOD5 of 6.6 mg/L, and color of 5.6° were obtained after being decontaminated by the hybrid system with ozone dosage of 0.25 mg O3applied/mg COD0, 40 min ozonation contact time, 30 min hydraulic retention time (HRT) for AC treatment, and 2.5 h HRT for BAF treatment. More than 82 % of the genotoxicity of BTDW was eliminated in the ozonation unit. The genotoxicity of the BAF effluent was less than 1.33 μg 4-nitroquinoline-N-oxide/L. Ozonation could change the organics molecular structures, destroy chromophores, increase the biodegradability, and obviously reduce the genotoxicity of BTDW. Results showed that the combined process could guarantee water reuse with high quality.
Access options
Buy single article
Instant access to the full article PDF.
USD 39.95
Price excludes VAT (USA)
Tax calculation will be finalised during checkout.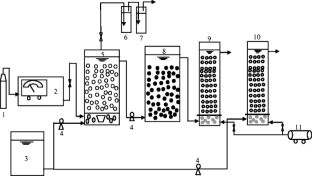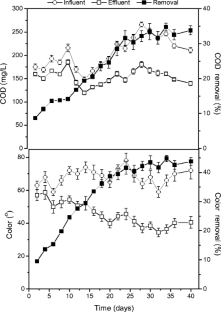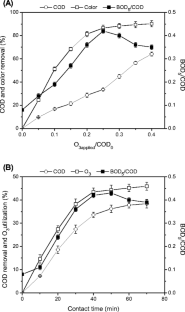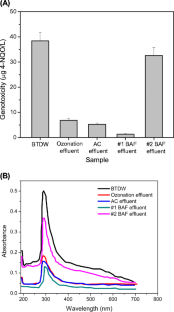 References
Ahmad AA, Idris A, Hameed BH (2012) Color and COD reduction from cotton textile processing wastewater by activated carbon derived from solid waste in column mode. Desalin Water Treat 41:224–231

Ahmad AA, Idris A, Hameed BH (2013) Organic dye adsorption on activated carbon derived from solid waste. Desalin Water Treat 51:2554–2563

Carneiro PA, Umbuzeiro GA, Oliveira DP, Zanoni MVB (2010) Assessment of water contamination caused by a mutagenic textile effluent/dyehouse effluent bearing disperse dyes. J Hazard Mater 174:694–699

China EPA (2002) Analysis methods for the examination of water and wastewater, 4th edn. Chinese Environmental Science Press, Beijing (in Chinese)

de Oliveira TF, Chedeville O, Cagnon B, Fauduet H (2011) Degradation kinetics of DEP in water by ozone/activated carbon process: Influence of pH. Desalination 269:271–275

de Oliveira TF, Cagnon B, Chedeville O, Fauduet H (2014) Removal of a mix of endocrine disrupters from different natural matrices by ozone/activated carbon coupling process. Desalin Water Treat 52:4395–4403

Giorgetti L, Talouizte H, Merzouki M, Caltavuturo L, Geri C, Frassinetti S (2011) Genotoxicity evaluation of effluents from textile industries of the region Fez-Boulmane, Morocco: a case study. Ecotoxic Environ Safety 74:2275–2283

Gül Ş, Özcan Ö, Erbatur O (2007) Ozonation of CI Reactive Red 194 and CI Reactive Yellow 145 in aqueous solution in the presence of granular activated carbon. Dyes Pigments 75:426–431

Gupta VK, Suhas (2009) Application of low-cost adsorbents for dye removal–A review. J Environ Manage 90:2313–2342

He Y, Wang X, Xu J, Yan J, Ge Q, Gu X, Jian L (2013) Application of integrated ozone biological aerated filters and membrane filtration in water reuse of textile effluents. Bioresour Technol 133:150–157

Hu DX, Cui MH, Chen ZB, Tian Y, Cui YB, Ren NQ, Ran CQ, Sun HJ (2014) Performance of a novel HABR–CFASR system for the biological treatment of mixed printing and dyeing wastewater (MPDW). Desalin Water Treat 52:5553–5562

Khuntia S, Majumder SK, Ghosh P (2015) A pilot plant study of the degradation of Brilliant Green dye using ozone microbubbles: mechanism and kinetics of reaction. Environ Technol 36:336–347

Li X, Zhang Q, Tang L, Lu P, Sun F, Li L (2009) Catalytic ozonation of pchlorobenzoic acid by activated carbon and nickel supported activated carbon prepared from petroleum coke. J Hazard Mater 163:115–120

Lotito AM, Fratino U, Bergna G, Di Iaconi C (2012) Integrated biological and ozone treatment of printing textile wastewater. Chem Eng J 195:261–269

Malachova K, Rybkova Z, Sezimova H, Cerven J, Novotny C (2013) Biodegradation and detoxification potential of rotating biological contactor (RBC) with Irpex lacteus for remediation of dye-containing wastewater. Water Res 47:7143–7148

Prasad SS, Aikat K (2014) Study of bio-degradation and bio-decolourization of azo dye by Enterobacter sp. SXCR. Environ Technol 35:956–965

Ranjithkumar V, Sangeetha S, Vairam S (2014) Synthesis of magnetic activated carbon/α-Fe2O3 nanocomposite and its application in the removal of acid yellow 17 dye from water. J Hazard Mater 273:127–135

Saroj S, Kumar K, Pareek N, Prasad R, Singh RP (2014) Biodegradation of azo dyes Acid Red 183, Direct Blue 15 and Direct Red 75 by the isolate Penicillium oxalicum SAR-3. Chemosphere 107:240–248

Silveira E, Marques PP, Macedo AC, Mazzola PG, Porto ALF, Tambourgi EB (2011) Decolorization of industrial azo dye in an anoxic reactor by PUF immobilized Pseudomonas oleovorans. J Water Reuse Desalin 1:18–26

Somensi CA, Simionatto EL, Bertoli SL, Wisniewski A, Radetski CM (2010) Use of ozone in a pilot-scale plant for textile wastewater pre-treatment: physicochemical efficiency, degradation by-products identification and environmental toxicity of treated wastewater. J Hazard Mater 175:235–240

Turhan K, Durukan I, Ozturkcan SA, Turgut Z (2012) Decolorization of textile basic dye in aqueous solution by ozone. Dyes Pigments 92:897–901

Wang L (2012) Application of activated carbon derived from 'waste' bamboo culms for the adsorption of azo disperse dye: Kinetic, equilibrium and thermodynamic studies. J Environ Manage 102:79–87

Wu QY, Li Y, Hu HY, Sun YX, Zhao FY (2010) Reduced effect of bromide on the genotoxicity in secondary effluent of a municipal wastewater treatment plant during chlorination. Environ Sci Technol 44:4924–4929

Wu C, Gao Z, Zhou Y, Liu M, Song J, Yu Y (2015) Treatment of secondary effluent from a petrochemical wastewater treatment plant by ozonation-biological aerated filter. J Chem Technol Biotech 90:543–549

Zhang F, Yediler A, Liang X (2007) Decomposition pathways and reaction intermediate formation of the purified, hydrolyzed azo reactive dye CI Reactive Red 120 during ozonation. Chemosphere 67:712–717

Zhang S, Zheng J, Chen Z (2014) Combination of ozonation and biological aerated filter (BAF) for bio-treated coking wastewater. Separ Purif Technol 132:610–615

Zhou XJ, Guo WQ, Yang SS, Zheng HS, Ren NQ (2013) Ultrasonic-assisted ozone oxidation process of triphenylmethane dye degradation: Evidence for the promotion effects of ultrasonic on malachite green decolorization and degradation mechanism. Bioresour Technol 128:827–830
Acknowledgments
This study has been funded jointly by the Jiangxi Provincial Natural Science Foundation of China (grant No. 20132BAB213026), the Jiangxi Provincial Science and Technology Support Project of China (grant No. 20122BBG70081-1), and the Science Youth Science and Technology Foundation of Education Department of Jiangxi Province (GJJ13309).
Additional information
Responsible editor: Gerald Thouand
About this article
Cite this article
Zou, Xl. Combination of ozonation, activated carbon, and biological aerated filter for advanced treatment of dyeing wastewater for reuse. Environ Sci Pollut Res 22, 8174–8181 (2015). https://doi.org/10.1007/s11356-015-4423-9
Received:

Accepted:

Published:

Issue Date:

DOI: https://doi.org/10.1007/s11356-015-4423-9
Keywords
Ozonation

Decolorization

COD

Mineralization

Genotoxicity