Abstract
Environmental contamination due to arsenic (As) has become a major risk throughout the world; this affects plant growth and productivity. Its accumulation in food chain may pose a severe threat to organisms. The present study was carried out to observe the toxic effects of As (0, 50, 100, and 200 μM) on physiological and biochemical changes in four Brassica napus cultivars (ZS 758, Zheda 619, ZY 50, and Zheda 622). Results showed that As toxicity provoked a significant inhibition in growth parameters of B. napus cultivars and this reduction was more obvious in cultivar Zheda 622. The highest concentration of MDA, H2O2, and O2 − contents in both leaf and root tissues were observed at 200 μM As level, and a gradual decrease was observed at lower concentrations. Increasing As concentration gradually decreased chlorophyll and carotenoids contents. Activity of antioxidant enzymes such as SOD, CAT, APX, GR, and GSH was positively correlated with As treatments in all cultivars. The microscopic study of leaves and roots at 200 μM As level showed the disorganization in cell organelles. Disturbance in the morphology of chloroplast, broken cell wall, increase in size, and number of starch grains and immature nucleus were found in leaf ultrastructures under higher concentration of As. Moreover, damaged nucleus, diffused cell wall, enlarged vacuoles, and a number of mitochondria were observed in root tip cells at 200 μM As level. These results suggest that B. napus cultivars have efficient mechanism to tolerate As toxicity, as evidenced by an increased level of antioxidant enzymes.
Access options
Buy single article
Instant access to the full article PDF.
US$ 39.95
Tax calculation will be finalised during checkout.
Subscribe to journal
Immediate online access to all issues from 2019. Subscription will auto renew annually.
US$ 79
Tax calculation will be finalised during checkout.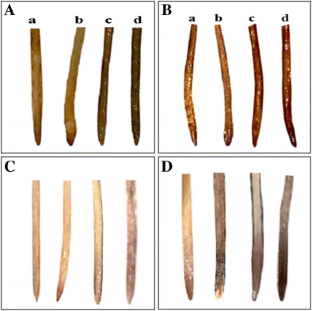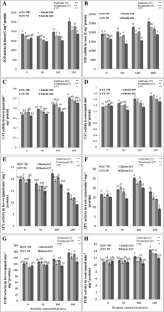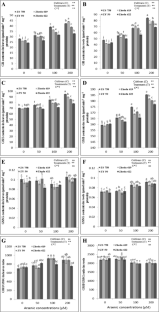 References
Aebi H (1984) Catalase in vitro. Methods Enzymol 10:121–126

Ali B, Huang CR, Qi ZY, Ali S, Daud MK, Geng XX, Liu HB, Zhou WJ (2013) 5 Aminolevulinic acid ameliorates cadmium-induced morphological, biochemical and ultrastructural changes in seedlings of oilseed rape. Environ Sci Pollut Res 20:7256–7267

Ali B, Qian P, Jin R, Ali S, Khan M, Aziz R, Tian T, Zhou WJ (2014a) Physiological and ultra-structural changes in Brassica napus seedlings induced by cadmium stress. Biol Plant 58:131–138

Ali B, Qian P, Sun R, Farooq MA, Gill RA, Wang J, Azam M, Zhou WJ (2014b) Hydrogen sulfide alleviates the aluminum-induced changes in Brassica napus as revealed by physio-chemical and ultrastructural study of plant. Environ Sci Pollut Res DOI:. doi:10.1007/s11356-014-3551-y

Ansari MKA, Shao HB, Umar S, Ahmad A, Ansari HS, Iqbal M, Owens G (2013) Screening Indian mustard genotypes for phytoremediating arsenic-contaminated soils. Clean–Soil Air Water 41:195–201

Baker CJ, Mock NM (1994) An improved method for monitoring cell death in suspension and leaf disc assays using Evans blue. Plant Cell Tiss Org 39:7–12

Bhattacharya S, Gupta K, Debnath S, Ghosh UC, Chattopadhyay DJ, Mukhopadhyay A (2012) Arsenic bioaccumulation in rice and edible plants and subsequent transmission through food chain in Bengal basin: a review of the perspectives for environmental health. Toxicol Environ Chem 94:429–441

Britt AB (1999) Molecular genetics of DNA repair in higher plants. Trends Plant Sci 4:20–25

Cao H, Jiang Y, Chen J, Zhang H, Huang W, Li L, Zhang W (2009) Arsenic accumulation in Scutellaria Baicalensis Georgi and its effects on plant growth and pharmaceutical components. J Hazard Mater 171:508–513

Chakrabarty D, Trivedi PK, Misra P, Tiwari M, Shri M, Shukla D, Kumar S, Rai A, Pandey A, Nigam D, Tripathi RD, Tuli R (2009) Comparative transcriptome analysis of arsenate and arsenite stresses in rice seedlings. Chemosphere 74:688–702

Choudhury B, Chowdhury S, Biswas AK (2011) Regulation of growth and metabolism in rice (Oryza sativa L.) by arsenic and its possible reversal by phosphate. J Plant Inter 6:15–24

Chun L, Shu F, Yun S, Li J, Yang LX, Xiao H (2007) Effects of arsenic on seed germination and physiological activities of wheat seedlings. J Environ Sci 19:725–732

Czerpak R, Piotrowska A, Szleska K (2006) Jasmonic acid affects changes in the growth and some components content in alga Chlorella vulgaris. Acta Physiol Plant 28:195–203

Drazkiewicz M, Tukendorf A, Baszynski T (2003) Age-dependent response of maize leaf segments to cadmium treatment: Effect on chlorophyll fluorescence and phytochelatin accumulation. J Plant Physiol 160:247–254

Fatima A, Ahmad M (2004) Certain antioxidant enzymes of Allium cepa as biomarkers for the detection of toxic heavy metals in wastewater. Sci Total Environ 346:256–273

Foyer CH, Noctor G (2005) Oxidant and antioxidant signaling in plants: a reevaluation of the concept of oxidative stress in a physiological context. Plant Cell Environ 28:1066–1071

Fridovich I (1995) Superoxide radical and superoxide dismutases. Ann Review Bioche 64:97–112

Gallego SM, Benavides MP, Tomaro ML (1996) Effect of heavy metal ion excess on sunflower leaves: evidence for involvement of oxidative stress. Plant Sci 121:151–159

Geng CN, Zhu YG, Tong YP, Smith SE, Smith FA (2006) Arsenate (As) uptake by and distribution in two cultivars of winter wheat (Triticum aestivum L.). Chemosphere 62:608–615

Gill SS, Tuteja N (2010) Reactive oxygen species and antioxidant machinery in abiotic stress tolerance in crop plants. Plant Physiol Biochem 48:909–930

Gill RA, Hu XQ, Ali B, Yang C, Shou JY, Wu YY, Zhou WJ (2014) Genotypic variation of the responses to chromium toxicity in four oilseed rape cultivars. Biol Plant 58:539–550

Gill RA, Zang L, Ali B, Farooq MA, Cui P, Yang S, Ali S, Zhou W (2015) Chromium-induced physio-chemical and ultrastructural changes in four cultivars of Brassica napus L. Chemosphere 120:154–164

Gisbert C, Clemente R, Aviño JN, Baixauli C, Giner A, Serrano R, Walker DJ, Bernal MP (2006) Tolerance and accumulation of heavy metals by Brassicaceae species grown in contaminated soils from Mediterranean regions of Spain. Environ Exp Bot 56:19–27

Gratão PL, Polle A, Lea PJ, Azevedo RA (2005a) Making the life of heavy metal- stressed plants a little easier. Funct Plant Biol 32:481–494

Gratão PL, Prasad MNV, Cardoso PF, Lea P, Azevedo RA (2005b) Phytoremediation: green technology for the cleanup of toxic metals in the environment. Braz J Plant Physiol 17:53–64

Gupta M, Sharma P, Sarin NB, Sinha AK (2009) Differential response of arsenic stress in two varieties of Brassica juncea L. Chemosphere 74:1201–1208

Heikens A (2006) Arsenic contamination of irrigation water, soil and crops in Bangladesh: risk implications for sustainable agriculture and food safety is Asia. FAO-RAP 2006/20. Food and Agricultural Organization (FAO), Rome, Italy

Jiang M, Zhang J (2001) Effect of abscisic acid on active oxygen species, antioxidative defence system and oxidative damage in leaves of maize seedlings. Plant Cell Physiol 42:1265–1273

Jiang M, Zhang J (2002) Water stress-induced abscisic acid accumulation triggers the increased generation of reactive oxygen species and up-regulates the activities of antioxidant enzymes in maize leaves. J Exp Bot 53:2401–2410

Law MY, Charles SA, Halliwell B (1983) Glutathione and ascorbic-acid in spinach (Spinacia oleracea) chloroplasts, the effect of hydrogen-peroxide and of paraquat. Biochem J 210:899–903

Liu WJ, Zhu YG, Smith FA (2005) Effects of iron and manganese plaques on arsenic uptake by rice seedlings (Oryza sativa L.) grown in solution culture supplied with arsenate and arsenite. Plant Soil 277:127–138

Lombi E, Zhao F-J, Fuhrmann M, Ma SQ, Mcgrath SP (2002) Arsenic distribution and speciation in the fronds of the hyper accumulator Pteris vittata. New Phytol 156:195–203

Meng H, Hua S, Shamsi HI, Jilani G, Li Y, Jiang L (2009) Cadmium-induced stress on the seed germination and seedling growth of Brassica napus L., and its alleviation through exogenous plant growth regulators. Plant Growth Regul 58:47–59

Momoh EJJ, Zhou WJ, Kristiansson B (2002) Variation in the development of secondary dormancy in oilseed rape genotypes under conditions of stress. Weed Res 42:446–455

Mumthas S, Chidambaram AA, Sundaramoorthy P, Ganesh KS (2010) Effect of arsenic and manganese on root growth and cell division in root tip cells of green gram (Vigna radiata L.). J Food Agric 22:285–297

Nakano Y, Asada K (1981) Hydrogen-peroxide is scavenged by ascorbate-specific peroxidase in spinach-chloroplasts. Plant Cell Physiol 22:867–880

Panda SK (2007) Chromium-mediated oxidative stress and ultrastructural changes in root cells of developing rice seedlings. J Plant Physiol 164:1419–1428

Papoyan A, Pineros M, Kochian LV (2007) Plant Cd2+ and Zn2+ status effects on root and shoot heavy metal accumulation in Thlaspi caerulescens. New Phytol 175:51–58

Pietrini F, Iannelli MA, Pasqualini S, Massacci A (2003) Interaction of cadmium with glutathione and photosynthesis in developing leaves and chloroplasts of Phragmites australis (Cav.) Trin. ex Steudel. Plant Physiol 133:829–837

Poonam KR, Bali S, Singh R, Pati PK, Bhardwaj R (2014) Treatment of 24-EBL to Brassica juncea plants under Cu-metal stress lowers oxidative burst by activity of antioxidative enzymes. J Stress Physiol Biochem 10:315–327

Porra RJ, Thompson WA, Kriedemann PE (1989) Determination of accurate extinction coefficients and simultaneous equations for assaying chlorophylls a and b extracted with four different solvents: verification of the concentration of chlorophyll standards by atomic absorption spectroscopy. Biochim Biophys Acta 975:384–394

Quaghebeur M, Rengel Z (2004) Arsenic uptake, translocation and speciation in pho1 and pho2 mutants of Arabidopsis thaliana. Physiol Plant 120:280–286

Quan LJ, Zhang B, Shi WW, Li HY (2008) Hydrogen peroxide in plants: a versatile molecule of the reactive oxygen species network. J Integrat Plant Biol 50:2–18

Rai V, Vajpayee P, Singh SN, Mehrotra S (2004) Effect of chromium accumulation on photosynthetic pigments, oxidative stress defense system, nitrate reduction, proline level and eugenol content of Ocimum tenuiflorum L. Plant Sci 167:1159–1169

Romero-Puertas MC, Rodriguez-Serrano M, Corpas FJ, Gomez M, del Rio LA, Sandalio LM (2004) Cadmium-induced subcellular accumulation of O2•− and H2O2 in pea leaves. Plant Cell Environ 27:1122–1134

Sandalio LM, Dalurzo HC, Gòmez M, Romero-Puertas MC, del Río LA (2001) Cadmium-induced changes in the growth and oxidative metabolism of pea plants. J Exp Bot 52:2115–2126

Shri M, Kumar S, Chakrabarty D, Trivedi PK, Mallick S, Misra P, Shukla D, Mishra S, Srivastava S, Tripathi RD, Tuli R (2009) Effect of arsenic on growth, oxidative stress, and antioxidant system in rice seedlings. Ecotox Environ Safe 72:1102–1110

Singh N, Ma LQ, Srivastava M, Rathinasabapathi B (2006) Metabolic adaptations to arsenic-induced oxidative stress in Pteris vittata L. and Pteris ensiformis L. Plant Sci 170:274–282

Singh HP, Daizy BR, Kohli RK, Arora K (2007a) Arsenic-induced root growth inhibition in mung bean (Phaseolus aureus Roxb.) is due to oxidative stress resulting from enhanced lipid peroxidation. Plant Growth Regul 53:65–73

Singh SK, Juwarkar AA, Kumar S, Meshram J, Fa M (2007b) Effect of amendment on Phytoextraction of arsenic by Vetiveria zizanioides from soil. Int J Environ Sci Technol 4:339–344

Singh SS, Khan NA, Rahat N, Anjum NA (2008) Photosynthetic traits and activities of antioxidant enzymes in blackgram (Vigna mungo L. Hepper) under cadmium stress. Am J Plant Physiol 3:25–32

Smith SE, Christophersen HM, Pope S, Smith A (2010) Arsenic uptake and toxicity in plants: integrating mycorrhizal influences. Plant Soil 327:1–21

Srivastava M, Ma LQ, Singh N, Singh S (2005) Antioxidant responses of hyperaccumulator and sensitive Fern species to arsenic. Environ Exp Bot 56:1335–1342

Stone JR, Yang S (2006) Hydrogen peroxide: a signaling messenger. Antioxid Redox Signal 8:243–70

Sun L, Yan X, Liao X, Wen Y, Chong Z, Liang T (2011) Interactions of arsenic and phenanthrene on their uptake and antioxidative response in Pteris vittata L. Environ Pollut 159:3398–3405

Thordal-Christensen H, Zhang Z, Wei YD, Collinge DB (1997) Subcellular localization of H2O2 in plants. H2O2 accumulation in papillae and hypersensitive response during the barley-powdery mildew reaction. Plant J 11:1187–1194

Tripathi RD, Srivastava S, Mishra S, Singh N, Tuli R, Gupta DK, Maathuis FJM (2007) Arsenic hazards: strategies for tolerance and remediation by plants. Trends Biotech 25:158–165

Velikova V, Yordanov I, Edreva A (2000) Oxidative stress and some antioxidant systems in acid rain-treated bean plants. Plant Sci 151:59–66

Yadav SK (2010) Heavy metals toxicity in plants: an overview on the role of glutathione and phytochelatins in heavy metal stress tolerance of plants. S Afr J Bot 76:167–179

Zhang WF, Zhang F, Raziuddin R, Gong HJ, Yang ZM, Lu L, Ye QF, Zhou WJ (2008) Effects of 5-aminolevulinic acid on oilseed rape seedling growth under herbicide toxicity stress. J Plant Growth Regul 27:159–169

Zhao FJ, Wang JR, Barker JHA, Schat H, Bleeker PM, McGrath SP (2003) The role of phytochelatins in arsenic tolerance in the hyperaccumulator Pteris vittata. New Phytol 159:403–410

Zhao FJ, McGrath SP, Meharg AA (2010) Arsenic as a food chain contaminant: mechanisms of plant uptake and metabolism and mitigation strategies. Ann Rev Plant Biol 61:535–559

Zhou WJ, Leul M (1999) Uniconazole-induced tolerance of rape plants to heat stress in relation to changes in hormonal levels, enzyme activities and lipid peroxidation. Plant Growth Regul 27:99–104
Additional information
Responsible editor: Elena Maestri
About this article
Cite this article
Farooq, M.A., Li, L., Ali, B. et al. Oxidative injury and antioxidant enzymes regulation in arsenic-exposed seedlings of four Brassica napus L. cultivars. Environ Sci Pollut Res 22, 10699–10712 (2015). https://doi.org/10.1007/s11356-015-4269-1
Received:

Accepted:

Published:

Issue Date:
Keywords
Antioxidant enzyme activities

Arsenic stress

Oilseed rape

Microscopic study

Oxidative stress

Plasma membrane integrity