Abstract
Little information is available on the role of glycinebetaine (GB) in chromium (Cr) tolerance while Cr toxicity is widespread problem in crops grown on Cr-contaminated soils. In this study, we investigated the influence of GB on Cr tolerance in wheat (Triticum aestivum L.) grown in sand and soil mediums. Three concentrations of chromium (0, 0.25, and 0.5 mM) were tested with and without foliar application of GB (0.1 M). Chromium alone led to a significant growth inhibition and content of chlorophyll a, b, proteins and enhanced the activity of antioxidant enzymes. Glycinebetaine foliar application successfully alleviated the toxic effects of Cr on wheat plants and enhanced growth characteristics, biomass, proteins, and chlorophyll contents. Glycinebetaine also reduced Cr accumulation in wheat plants especially in grains and enhanced the activity of antioxidant enzymes in both shoots and roots. This study provides evidence that GB application contributes to decreased Cr concentrations in wheat plants and its importance in the detoxification of heavy metals.
Access options
Buy single article
Instant access to the full article PDF.
US$ 39.95
Tax calculation will be finalised during checkout.
Subscribe to journal
Immediate online access to all issues from 2019. Subscription will auto renew annually.
US$ 79
Tax calculation will be finalised during checkout.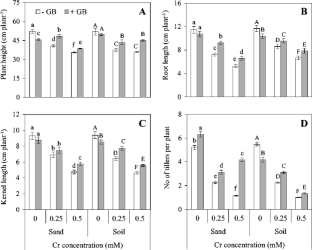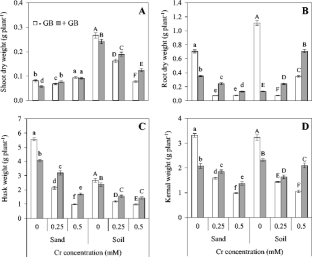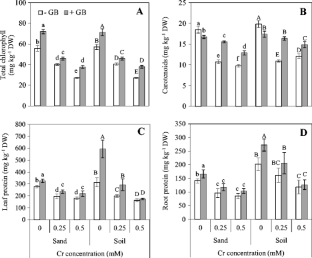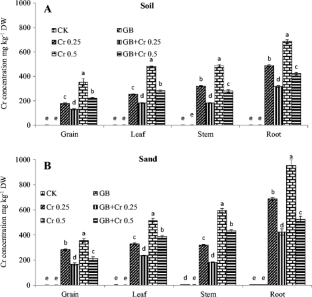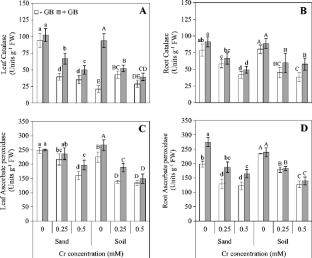 References
Aebi H (1984) Catalase in vitro. Methods Enzymol 105:121–126

Ali S, Zeng F, Cai S, Qiu B, Zhang GP (2011) The interaction of salinity and chromium in the influence of barley growth and oxidative stress. Plant Soil Environ 57:153–159

Ali S, Farooq MA, Jahangir MM, Abbas F, Bharwana SA, Zhang GP (2013a) Effect of chromium and nitrogen form on photosynthesis and anti-oxidative system in barley. Biol Plant 57:785–791

Ali S, Farooq MA, Yasmeen T, Hussain S, Arif MS, Abbas F, Bharwana SA, Zhang GP (2013b) The influence of silicon on barley growth, photosynthesis and ultra-structure under chromium stress. Ecotoxicol Environ Saf 89:66–72

Ali S, Farooq MA, Hussain S, Yasmeen T, Abbasi GH, Zhang G (2013c) Alleviation of chromium toxicity by hydrogen sulfide in barley. Environ Toxicol Chem 32:2234–2239

Ali B, Huang CR, Qi ZY, Ali S, Daud MK, Geng XX, Zhou WJ (2013d) 5-Aminolevulinic acid ameliorates cadmium-induced morphological, biochemical, and ultrastructural changes in seedlings of oilseed rape. Env Sci Pollut Res 20:7256–7267

Anwaar SA, Ali S, Ali S, Ishaque W, Farid M, Farooq MA, Sharif M (2014) Silicon (Si) alleviates cotton (Gossypiumhirsutum L.) from zinc (Zn) toxicity stress by limiting Zn uptake and oxidative damage. Environ Sci Pollut Res 22: 3441-3450

Bharwana SA, Ali S, Farooq MA, Iqbal N, Hameed A, Abbas F, Ahmad MSA (2014) Glycinebetaine-induced lead toxicity tolerance related to elevated photosynthesis, antioxidant enzymes suppressed lead uptake and oxidative stress in cotton. Turk J Bot 38:281–292

Bradford MM (1976) A rapid and sensitive method for the quantification of microgram quantities of protein utilizing the principle of protein-dye binding. Anal Biochem 72:248–254

Cao F, Liu L, Ibrahim W, Cai Y, Wu F (2013) Alleviating effects of exogenous glutathione, glycinebetaine, brassinosteroids and salicylic acid on cadmium toxicity in rice seedlings (OryzaSativa). Agrotechnology 2:1

Chen TH, Murata N (2011) Glycinebetaine protects plants against abiotic stress: mechanisms and biotechnological applications. Plant Cell Environ 34:1–20

Dey SK, Jena PP, Kundu S (2009) Antioxidative efficiency of TriticumaestivumL. exposed to chromium stress. J Environ Biol 30:539–544

Dhir B, Nasim SA, Samantary S, Sarivastva S (2012) Assessment of osmolyte accumulation in heavy metal exposed salivinanatans. Int J Bot 8:153–158

Diwan H, Ahmad A, Iqbal M (2012) Characterization of Chromium Toxicity in Food Crops and their Role in Phytoremediation. J Biorem Biodegrad 3:159

Ehsan S, Ali S, Noureen S, Farid M, Shakoor MB, Aslam A, Bharwana SA, Tauqeer HM (2013) Comparative assessment of different heavy metals in urban soil and vegetables irrigated with sewage/industrial waste water. Ecoterra 35:37–53

Ehsan S, Ali S, Noureen S, Mehmood K, Farid M, Ishaque W, Shakoor MB, Rizwan M (2014) Citric acid assisted phytoremediation of Cd by Brassica napus L. Ecotoxicol Environ Saf 106:164–172

Einset J, Winge P, Bones AM, Connolly EL (2008) The FRO2 ferric reductase is required for glycine betaine's effect on chilling tolerance in Arabidopsis roots. Physiol Plant 134:334–341

Farid M, Ali S, Shakoor MB, Bharwana SA, Rizvi H, Ehsan S, Tauqeer HM, Iftikhar U, Hannan F (2013a) EDTA assisted phytoremediation of cadmium, lead and zinc. Int Agron Plant Prod 4:2833–2846

Farid M, Shakoor MB, Ehsan S, Ali S, Zubair M, Hanif MS (2013b) Morphological, physiological and biochemical responses of different plant species to Cd stress. Int J ChemBio chem Sci 3:53–60

Farooq MA, Ali S, Hameed A, Ishaque W, Mahmood K, Iqbal Z (2013) Alleviation of cadmium toxicity by silicon is related to elevated photosynthesis, antioxidant enzymes; suppressed cadmium uptake and oxidative stress in cotton. Ecotoxicol Environ Saf 96:242–249

Food and Agriculture Organisation of the United Nations (2013) http://faostat.fao.org/site/567/

Gill SS, Anjum NA, Hasanuzzaman M, Gill R, Trivedi DK, Ahmad I, Pereira, Tuteja N (2013) Glutathione reductase and glutathione: a boon in disguise for plant abiotic stress defense operations. Plant PhysiolBiochem 70:20–212

Gill RA, Hu XQ, Ali B, Yang C, Shou JY, Wu YY, Zhou WJ (2014) Genotypic variation of the responses to chromium toxicity in four oilseed rape cultivars. Biol Plant 58:539–550

Gill RA, Zang L, Ali B, Farooq MA, Cui P, Yang S, Zhou W (2015) Chromium-induced physio-chemical and ultrastructural changes in four cultivars of Brassica napus L. Chemosphere 120:154–164

Giri J (2011) Glycinebetaine and abiotic stress tolerance in plants. Plant Signal Behav 6:1746–1751

Habiba U, Ali S, Farid M, Shakoor MB, Rizwan M, Ibrahim M, Ali B (2015) EDTA enhanced plant growth, antioxidant defense system, and phytoextraction of copper by Brassica napus L. Environ Sci Pollut Res 22:1534–1544

Hasanuzzaman M, Alam MM, Rahman A, Hasanuzzaman M, Nahar K, Fujita M (2014) Exogenous Proline and Glycine Betaine Mediated Upregulation of Antioxidant Defense and Glyoxalase Systems Provides Better Protection against Salt-Induced Oxidative Stress in Two Rice (Oryzasativa L.) Varieties. Bio Med Res Int. doi:10.1155/2014/757219

Hegedus A, Erdel S, Horvath G (2001) Comparative studies of H2O2 detoxifying enzymes in green and greening barely seedlings under Cd stress. Plant Sci 160:1085–1093

Hoque MA, Banu MNA, Nakamura Y, Shimoishi Y, Murata Y (2008) Proline and glycinebetaine enhance antioxidant defence and methylglyoxal detoxification systems and reduce NaCl-induced damage in cultured tobacco cells. J Plant Physiol 165:813–824

Hossain MA, Hasanuzzaman M, Fujita M (2010) Up-regulation of antioxidant and glyoxalase systems by exogenous glycinebetaine and proline in mung bean confer tolerance to cadmium stress. Physiol Mol Biol Plants 16:259–272

Iqbal N, Ashraf M, Ashraf MY (2009) Influence of exogenous glycinebetaine on gas exchange and biomass production in sunflower (Helianthus annuus L.) under water limited conditions. J Agron Crop Sci 195:420–426

Islam MM, Hoque MA, Okuma E, Banu MNA, Shimoishi Y, Nakamura Y, Murata Y (2010) Exogenousproline and glycinebetaine increase antioxidant enzyme activities and confer tolerance to cadmium stress in cultured tobacco cells. J Plant Physiol 166:1587–1597

Kanwal U, Ali S, Shakoor MB, Farid M, Hussain S, Yasmeen T, Abbas F (2014) EDTA ameliorates phytoextraction of lead and plant growth by reducing morphological and biochemical injuries in Brassica napus L. under lead stress. Environ SciPollut Res 21:9899–9910

Khan NA, Samiullah, Singh S, Nazar R (2007) Activities of antioxidative enzymes, sulphur assimilation, photosynthetic activity and growth of wheat (Triticumaestivum) cultivars differing in yield potential under cadmium stress. J Agron Crop Sci 193:435–444

Khan S, Cao Q, Zheng YM, Huang YZ, Zhu YG (2008) Health risks of heavy metals in contaminated soils and food crops irrigated with wastewater in Beijing, China. Environ Pollut 152:686–692

Lichtenthaler HK (1987) Chlorophylls and carotenoids pigments of photosynthetic biomembranes In: Colowick SP, Kaplan NO (ed.): Methods Enzymol 148:350–382

Mäkelä P, Peltonen-Sainio P, Jokinen K, Pehu E, Setälä H, Hinkkanen R, Somersalo S (1996) Uptake and translocation of foliar-applied glycinebetaine in crop plants. Plant Sci 121:221–230

Mäkelä P, Jokinen K, Kontturi M, Peltonen-Sainio P, Pehu E, Somersalo S (1998) Foliar application of glycinebetaine a novel product from sugar beet as an approach to increase tomato yield. Indian Crop Prod 7:139–148

Metzner H, Rau H, Senger H (1965) UntersuchungenzurSynchronisierbakeiteinzelnerPigmentmangel-Mutation von Chlorella. Planta 65:186–194 (in German)

Middleton EM, Teramura AH (1993) The role of flavonol glycosides and carotenoids in protecting soybean from ultraviolet-B damage. Plant Physiol 103: 741–752

Mittler R (2002) Oxidative stress, antioxidants and stress tolerance. Trends Plant Sci 7:405–10

Mobin M, Khan NA (2007) Photosynthetic activity, pigment composition and antioxidative response of two mustard (Brassica juncea) cultivars differing in photosynthetic capacity subjected to cadmium stress. J Plant Physiol 164:601–610

Molla MR, Ali MR, Hasanuzzaman M, Al-Mamun MH, Ahmed A, Nazim-ud-Dowla MAN, Rohman MM (2014) Exogenous Proline and Betaine-induced Upregulation of Glutathione Transferase and Glyoxalase I in Lentil (Lens culinaris) under Drought Stress. NotulaeBotanicaeHortiAgrobotanici Cluj-Napoca 42:73–80

Nakano Y, Asada K (1981) Hydrogen peroxide is scavenged by ascorbate specific peroxidase in spinach chloroplasts. Plant Cell Physiol 22:867–880

Nomura M, Hibino T, Takabe T, Sugiyama T, Yokota A, Miyake H, Takabe T (1998) Transgenically produced glycinebetaine protects ribulose 1,5-bisphosphate carboxylase/oxygenase from inactivation in Synechococcus sp. PCC7942 under salt stress. Plant Cell Physiol 39:425–432

Oliveira H (2012) Chromium as an environmental pollutant: insights on induced plant toxicity. J Bot. doi:10.1155/2012/375843

Park EJ, Jeknic Z, Sakamoto A, Denoma J, Yuwansiri R, Murata N, Chen TH (2004) Genetic engineering of glycinebetaine synthesis in tomato protects seeds, plants, and flowers from chilling damage. Plant J 40:474–487

Pradas-del-Real AE, García-Gonzalo P, Alarcón R, González-Rodríguez A, Lobo MC, Pérez-Sanz A (2013) Effect of genotype, Cr (III) and Cr (VI) on plant growth and micronutrient status in Silene vulgaris (Moench). Span J Agri Res 11:685–694

Rafique U, Ashraf A, Khan AK, Nasreen S, Rashid R (2010) Toxic chromium from tanneries pollute water resources and soils of Sialkot (Pakistan). J Chem SocPak 32:644–649

Raza MAS, Saleem MF, Moazzam JM, Khan I (2014) Impact of foliar applied glycinebetaine on growth andPhysiology of wheat (triticumaestivum L.) Under drought. Pak J Agri Sci 51:327–334

Rizwan (2012) Silicon-mediated heavy metal tolerance in durum wheat: evidences of combined effects at the plant and soil levels. PhD thesis University of Aix-Marseille France

Rodriguez E, Santos C, Azevedo R, Moutinho-Pereira J, Correia C, Dias MC (2012) Chromium (VI) induces toxicity at different photosynthetic levels in pea. Plant Physiol Biochem 53:94–100

Shahbaz M, Masood Y, Perveen S, Ashraf M (2011) Is foliar-applied glycinebetaine effective in mitigating the adverse effects of drought stress on wheat (Triticumaestivum L.). J Appl Bot Food Qual 84:192–199

Shahid M, Ferrand E, Schreck E, Dumat C (2013) Behavior and impact of zirconium in the soil–plant system: plant uptake and phytotoxicity. Rev Environ ContamToxicol 221:107–127

Shakir L, Ejaz S, Ashraf M, Qureshi NA, Anjum AA, Iltaf I, Javeed A (2012) Ecotoxicological risks associated with tannery effluent wastewater. Environ Toxicol Pharmacol 34:180–191

Shanker AK, Cervantes C, Loza-Tavera H, Avudainayagam S (2005) Chromium toxicity in plants. Environ Inter 31:739–753

Sherene T (2010) Mobility and transport of heavy metals in polluted soil environment Cotton Research Station, Veppanthattai, Perambalur, Tamilnadu Biological Forum. An Int J 2:112–121

Siddique MRB, Hamid A, Islam MS (2000) Drought stress effects on water relations of wheat. Bot Bull Acad Sin 4i:35–39

Singh DB, Varma S, Mishra SN (2002) Putrescine effect on nitrate reductase activity, organic nitrogen, protein, and growth in heavy metal and salinity stressed mustard seedlings. Biol Plant 45:605–608

Suganya S, Sivasamy R (2006) Moisture retention and cation exchange capacity of sandy soil as influenced by soil additives. J Appl Sci Res 2:949–951

Tamas L, Dudikova J, Durcekova K, Haluskova L, Huttova J, Mistrik I, Olle M (2008) Alteration of the gene expression, lipid peroxidation, proline and thiol content along the barley root exposed to cadmium. J Plant Physiol 165:1193–1203

Wang GP, Li F, Zhang J, Zhao MR, Hui Z, Wang W (2010a) Over accumulation of glycinebetaine enhances tolerance of the photosynthetic apparatus to drought and heat stress in wheat. Photosynthetica 48:30–41

Wang GP, Zhang XY, Li F, Luo Y, Wang W (2010b) Over accumulation of glycinebetaine enhances tolerance to drought and heat stress in wheat leaves in the protection of photosynthesis. Photosynthetica 48:117–126

Winge P, Einset J, Bones AM, Connolly EL (2008) The FRO2 ferric reductase is required for glycine betaine's effect on chilling tolerance in Arabidopsis roots. Physiol Plant 134:334–341

Yadav K, Singh NB (2013) Effects of benzoic acid and cadmium toxicity on wheat seedlings. Chilean J Agric Res 73:168–174

Yadav SK, Singla-Pareek SL, Ray M, Reddy MK, Sopory SK (2005) Transgenic tobacco plants overexpressing glyoxalase enzymes resist an increase in methylglyoxal and maintain higher reduced glutathione levels under salinity stress. FEBS Lett 579:6265–6271
Acknowledgments
Thanks to Higher Education Commission of Pakistan for financial support. The results presented in this paper are a part of MSc studies of Tania Anwar.
Additional information
Responsible editor: Elena Maestri
About this article
Cite this article
Ali, S., Chaudhary, A., Rizwan, M. et al. Alleviation of chromium toxicity by glycinebetaine is related to elevated antioxidant enzymes and suppressed chromium uptake and oxidative stress in wheat (Triticum aestivum L.). Environ Sci Pollut Res 22, 10669–10678 (2015). https://doi.org/10.1007/s11356-015-4193-4
Received:

Accepted:

Published:

Issue Date:
Keywords
Antioxidant enzymes

Chromium

Glycinebetaine

Soil

Wheat