Abstract
Higher uptake and translocation of copper (Cu) into plant tissues can cause serious physiological and biochemical alterations in root and leaf tissues of plants. The present study investigates the ameliorative role of salicylic acid (SA) and ascorbic acid (AsA) against Cu-induced toxicity changes in cotton genotypes (two parental lines (J208, Z905) and their hybrid line (ZD14)). To study the tolerance potential against Cu (100 μM) stress, 2-week-old cotton seedlings were pretreated with 100 μM either SA or AsA for three days. Elevated Cu concentration in nutrient media increased Cu accumulation in roots and shoots of all the three cotton genotypes studied. Roots were the main Cu storage site, followed by leaves and stems. Increased cellular Cu concentration significantly inhibited the root and shoot development, although leaf growth was more sensitive toward Cu toxicity. Cu-induced oxidative stress to cotton leaves was evident from significantly increased hydrogen peroxide (H2O2) contents and lipid membrane damage. Increasing Cu translocation toward cotton leaves strongly influenced the malondialdehyde (MDA) contents, which, in turn, inhibited biomass production. SA and AsA pretreated cotton seedlings showed better growth under Cu stress. Despite increase in overall Cu uptake, the SA-pretreated seedlings could defy Cu toxicity through inhibited Cu translocation and modification in the activities of antioxidative enzymes. Whereas, tolerance to Cu-induced toxicity in AsA pretreated plants was associated with Cu exclusion from tissues and reduction of the overall Cu uptake. The present study revealed that the alleviatory role of AsA was significantly higher than SA regarding Cu stress in our experimental cotton genotypes. Furthermore, the hybrid cotton genotype (ZD14) performed well followed by J208 and Z905 in the present experimental setup.
Access options
Buy single article
Instant access to the full article PDF.
US$ 39.95
Tax calculation will be finalised during checkout.
Subscribe to journal
Immediate online access to all issues from 2019. Subscription will auto renew annually.
US$ 79
Tax calculation will be finalised during checkout.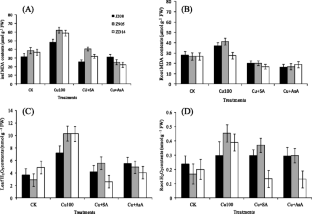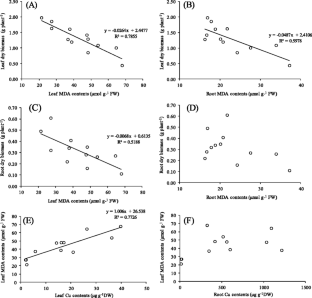 References
Al-Hakimi ABM, Hamada AM (2011) Ascorbic acid, thiamine or salicylic acid induced changes in some physiological parameters in wheat grown under copper stress. Plant Protect Sci 47:92–108

Bai TH, Li CY, Ma FW, Shu HR, Han MY (2009) Exogenous salicylic acid alleviates growth inhibition and oxidative stress induced by hypoxia stress in Malus robusta Rehd. J Plant Growth Regul 28:358–366

Bouazizi H, Jouili H, Geitmann A, Ferjani EE (2010) Copper toxicity in expanding leaves of Phaseolus vulgaris L. antioxidant enzyme response and nutrient element uptake. Ecotoxicol Environ Saf 73:1304–1308

Chao YY, Chen CY, Huang WD, Kao CH (2010) Salicylic acid-mediated hydrogen peroxide accumulation and protection against Cd toxicity in rice leaves. Plant Soil 329:327–337

Chaoui A, Ferjani EE (2005) Effects of cadmium and copper on antioxidant capacities, lignification and auxin degradation on leaves. Plant Biol Pathol/ Biologie et pathologie végétales 328:23–31

Cobbett C, Goldsbrough P (2002) Phytochelatins and metallothioneins: roles in heavy metal detoxification and homeostasis. Annu Rev Plant Biol 53:159–182

Colzi I, Arnetoli M, Gallo A, Doumett S, Del Bubba M, Pignattelli S, Gabbrielli R, Gonnelli C (2012) Copper tolerance strategies involving the root cell wall pectins in Silene paradoxa L. Environ Exp Bot 78:91–98

Daud M, Sun Y, Dawood M, Hayat Y, Variath M, Wu Y-X, Mishkat U, Najeeb U, Zhu S (2009) Cadmium-induced functional and ultrastructural alterations in roots of two transgenic cotton cultivars. J Hazard Mat 161:463–473

Daud MK, Ali S, Variath MT, Zhu SJ (2013) Differential physiological, ultramorphological and metabolic responses of cotton cultivars under cadmium stress. Chemosphere 93(10):2593–2602

Drazkiewicz M, Skórzyńska-Polit E, Krupa Z (2004) Cu-induced oxidative stress and antioxidant defence in Arabidopsis thaliana. Biometals 17:379–387

Ducic T, Polle A (2005) Transport and detoxification of manganese and copper in plants. Braz J Plant Physiol 17:103–112

El-Tayeb M, El-Enany A, Ahmed N (2006) Salicylic acid-induced adaptive response to copper stress in sunflower (Helianthus annuus L.). Plant Growth Regul 50:191–199

Habibi G (2012) Exogenous salicylic acid alleviates oxidative damage of barley plants under drought stress. Acta Biol Szeged 56:57–63

He Y, Zhu ZJ (2008) Exogenous salicylic acid alleviates NaCl toxicity and increases antioxidative enzyme activity in Lycopersicon esculentum. Biol Plant 52:792–795

Jiang M, Zhang J (2002) Involvement of plasma-membrane NADPH oxidase in abscisic acid-and water stress-induced antioxidant defense in leaves of maize seedlings. Planta 215:1022–1030

Jie L, Zhiting X (2005) Differences in accumulation and physiological response to copper stress in three populations of Elsholtzia haichowensis. Water Air Soil Pollut 168:5–16

Kamali M, Pour MS, Moud AAM (2012) Copper effects on growth parameters of hollyhock (Althaea rosea L.). J Orna Horti Plants 2:95–101

Küpper H, Küpper F, Spiller M (1996) Environmental relevance of heavy metal-substituted chlorophylls using the example of water plants. J Exp Bot 47:259–266

Liu X, Hua X, Guo J, Qi D, Wang L, Liu Z, Jin Z, Chen S, Liu G (2008) Enhanced tolerance to drought stress in transgenic tobacco plants overexpressing VTE1 for increased tocopherol production from Arabidopsis thaliana. Biotec Lett 30:1275–1280

Maksymiec W (1997) Effect of copper on cellular processes in higher plants. Photosynthetica 34:321–342

Maksymiec W, Wojcik M, Krupa Z (2007) Variation in oxidative stress and photochemical activity in Arabidopsis thaliana leaves subjected to cadmium and excess copper in the presence or absence of jasmonate and ascorbate. Chemosphere 66:421–427

Marschner H, Marschner P (2011) Marschner's mineral nutrition of higher plants, 89. Access Online via Elsevier

Metwally A, Finkemeier I, Georgi M, Dietz KJ (2003) Salicylic acid alleviates the cadmium toxicity in barley seedlings. Plant Physiol 132:272–281

Minnich M, McBride M, Chaney R (1987) Copper activity in soil solution: II. Relation to copper accumulation in young snapbeans. Soil Sci Soc America J 51:573–578

Najeeb U, Jilani G, Ali S, Sarwar M, Xu L, Zhou W (2011) Insights into cadmium induced physiological and ultra-structural disorders in Juncus effusus L. and its remediation through exogenous citric acid. J Hazard Mater 186:565–574

Noctor G, Foyer CH (1998) Ascorbate and glutathione: keeping active oxygen under control. Annu Rev Plant Physiol Plant Mol Biol 49:249–279

Peng HY, X-e Y, Tian SK (2005) Accumulation and ultrastructural distribution of copper in Elsholtzia splendens. J Zhej Univ Sci B 6:311

Popova LP, Maslenkova LT, Yordanova RY, Ivanova AP, Krantev AP, Szalai G, Janda T (2009) Exogenous treatment with salicylic acid attenuates cadmium toxicity in pea seedlings. Plant Physiol Biochem 47:224–231

Radwan DEM (2012) Salicylic acid induced alleviation of oxidative stress caused by clethodim in maize (Zea mays L.) leaves. Pesti Biochem Physiol 102:182–188

Robson A, Reuter D (1981) Diagnosis of copper deficiency and toxicity. In: Copper in soils and plants. Academic, Sydney, p 287–312

Smirnoff N (2000) Ascorbic acid: metabolism and function of a multi-facetted molecule. Curr Opin Plant Biol 3:229–235

Sowell WF, Rouse RD, Wear JI (1957) Copper toxicity of the cotton plant in solution cultures1. Agron J 49:206–207

Tukendorf A, Łyszcz S, Baszyński T (1984) Copper binding proteins in spinach tolerant to excess copper. J Plant Physiol 115:351–360

Velikova V, Yordanov I, Edreva A (2000) Oxidative stress and some antioxidant systems in acid rain-treated bean plants: protective role of exogenous polyamines. Plant Sci 151:59–66

Wang YS, Wang J, Yang ZM, Lu B, Wang QY, Li SQ, Lu YP, Wang SH, Sun X (2004) Salicylic acid modulates aluminum induced oxidative stress in roots of Cassia tora L. Bot Stud 46:819–828

Wehr JB, Menzies NW, Blamey FPC (2004) Inhibition of cell-wall autolysis and pectin degradation by cations. Plant Physiol Biochem 42:485–492

Yang ZM, Wang J, Wang SH, Xu LL (2003) Salicylic acid-induced aluminum tolerance by modulation of citrate efflux from roots of Cassia tora L. Planta 217:168–174

Yruela I (2005) Copper in plants. Braz J Plant Physiol 17:145–146

Zheng Y, Wang L, Dixon M (2004) Response to copper toxicity for three ornamental crops in solution culture. Hort Sci 39:1116–11120

Zhou W, Leul M (1999) Uniconazole-induced tolerance of rape plants to heat stress in relation to changes in hormonal levels, enzyme activities and lipid peroxidation. Plant Growth Regul 27:99–104
Acknowledgments
This work was supported by Jiangsu Collaborative Innovation Center for Modern Crop Production, P.R. China.
Additional information
Lei Mei and M. K. Daud contributed equally to the present work.
Responsible editor: Elena Maestri
About this article
Cite this article
Mei, L., Daud, M.K., Ullah, N. et al. Pretreatment with salicylic acid and ascorbic acid significantly mitigate oxidative stress induced by copper in cotton genotypes. Environ Sci Pollut Res 22, 9922–9931 (2015). https://doi.org/10.1007/s11356-015-4075-9
Received:

Accepted:

Published:

Issue Date:
Keywords
Antioxidative metabolism

Ascorbic acid

Cu detoxification

Growth inhibition

Lipid peroxidation

Salicylic acid

Upland cotton