Levels and distribution of Dechloranes in sediments of Lake Taihu, China
Abstract
The occurrence and spatial distribution of dechloranes including mirex, dechlorane plus (DP), dechlorane (Dec) 602, Dec 603, and Dec 604 in surficial sediments of Lake Taihu were investigated in this study. The concentrations of mirex and DP ranged from below detection limit (BDL) to 1.29 ng g−1 dw and 0.051 to 2.10 ng g−1 dw, respectively. Dec 602, Dec 603, and Dec 604 on the other hand, were BDL in any of the samples. The contamination levels of DP were higher than that of Mirex at 21 of all 22 sampling sites. Levels of mirex and DP in the lake sediments were correlated when an extremely high mirex value was removed. Both mirex and DP levels were correlated with the amount of organic matters in the sediment samples. Spatial distribution of mirex and DP suggested that these two chemicals in the lake had similar input sources except for one site. Comparison to previously reported flame retardants' levels in the sediments shows that DP levels were similar with the levels of tetrabromobisphenol A, hexabromocyclododecane but lower than PBDEs and organophosphates levels in Lake Taihu. The higher levels in the north-east part of Lake Taihu adjacent to two major cities: Wuxi and Suzhou, indicated that city effluent might be a major source for DP contamination in the lake.
Keywords
Mirex 
Dechlorane plus 
Sediment 
Lake Taihu 
Spatial distribution 
Introduction
Mirex, which is also called dechlorane, was used as both pesticide and additive flame retardant (FRs) (Shen et al. 2011). Use of mirex as flame retardant was later substituted by other highly chlorinated compounds with similar properties including Dechlorane 602 (Dec 602), Dechlorane 603 (Dec 603), Dechlorane 604 (Dec 604), and Dechlorane plus (DP). Together, they are called Dechloranes (Shen et al. 2010). Mirex was banned in the USA in the late 1970s. However, China did not ban the production and use of mirex until 2009 (Wang et al. 2010a). DP is used in wire coatings, electrical hard plastic connectors, and furniture. DP is on the US Environmental Protection Agency's High Production Volume (HPV) list (Sverko et al. 2011) and has been most extensively monitored chemical among dechloranes and has been ubiquitously detected in different environmental matrix around the world (Sverko et al. 2011; Xian et al. 2011). Recent reports of the presence of other Dechloranes in humans in Canada (Zhou et al. 2014) and in France (Brasseur et al. 2014) seem to suggest that humans are exposed not only to DP, but also to other less well known Dechloranes like Dec 602 and Dec 603.
Lake Taihu is the third largest freshwater Lake in China, located in the heart of Chinese economic center of Yangtze River Delta. The lake is surrounded by Wuxi in the north, Suzhou in the east. Wuxi and Suzhou are two major Chinese cities with a population of 6.4 and 10.5 million, respectively (http://zh.wikipedia.org/ (Only in Chinese)). The lake connects the regions of Huzhou and Yixing in the south and west, respectively. These regions are largely agriculture areas. Similar to the importance of Great Lakes to North America, Lake Taihu is very important to China. Although its basin covers only 0.4 % of the total country's territory, it contributes about 10 % of the gross domestic product (GDP) and 3 % of the national grain production (Liu et al. 2009). With rapid economic development and population growth, environmental imprints resulted from human activities, including industrial, agricultural, and municipal activities, have great impact on Lake Taihu.
Interests in the influence of flame retardant and the health status of ecosystem of the lake have been increasing in recent years. For example, Qiu et al. (2010) studied polybrominated diphenyl ethers (PBDEs) and several other flame retardants including DP in the atmosphere and water collected from the northern shore of Lake Taihu in 2004–2005. Results of seasonal variations of PBDEs in air and water indicated a possible wastewater discharge of PBDEs into the lake. The same study also found that annual average DP levels in air was low at 3.5 pg m−3. Lake sediments are normally the final pathway of both natural and anthropogenic components produced or derived to the environment. Sediment quality is a good indicator of pollution in water column, where it tends to concentrate hydrophobic organic pollutants. Zhou et al. (2012) have reported the levels of PBDEs in the sediment collected from Meiliang Bay of the Lake Taihu showing a parallel temporal trend of the growth of GDP in Wuxi. Xu et al. (2013) have reported the levels of tetrabromobisphenol A (TBBPA) and hexabromocyclododecane (HBCD) in sediment of Lake Taihu suggesting that the estuary inputs around Taihu Lake were important sources of these compounds. Cao et al. (2012) have monitored the levels of organophosphate flame retardants (OPFRs) in sediments of Lake Taihu implying a potential emission source at Suzhou. In the current study, we further examine the sources of environmental pollutants in Lake Taihu by mapping the levels of mirex and DP in the surficial sediments of the lake.
Materials and methods
Chemicals
Mirex (CAS# 2385-85-5) was purchased from Accustandard Inc. (New Haven, CT). Dec 602 (CAS# 31107-44-5), Dec 603 (CAS# 13560-92-4), and Dec 604 (CAS# 34571-16-9) were purchased from Toronto Research Chemical Inc. (Toronto, ON, Canada). Syn-DP (CAS# 135821-03-3) and anti-DP (CAS# 135821-74-8), as well as 13C12-PCB-208 (CAS# 52663-77-1) and 13C12-PCB-209 (CAS# 2051-24-3) were purchased from Cambridge Isotope Laboratories Inc. (Andover, MA, USA). DP technical product was obtained from Anpon Electrochemical Company, Jiangsu, China. Hexane, dichloromethane, acetone, and isooctane in pesticide grade were purchased from Merck (Darmstadt, Germany), Roe (Newark, USA), Duksan (Seoul, Korea), and Tedia (Fairfield, USA), respectively.
Sampling and sample pretreatment
Samples were collected in September 2012. Locations of the twenty-two sampling sites (TL-1 to TL-22) were shown in Fig. 
1
. Their exact geographic coordinates are listed in Table 
1
. Surficial sediment samples (top 0–10 cm) were obtained using a stainless steel grab sampler and placed in pre-cleaned amber glass bottles. All samples were freeze-dried, ground, sieved through a 60-mesh stainless steel sieve and stored at −20 °C until extraction.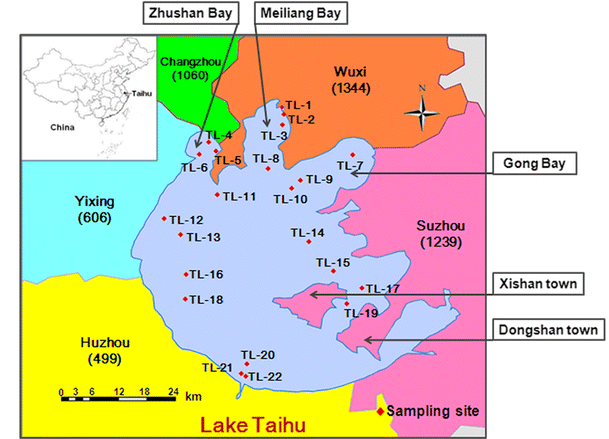 Table 1
Concentrations of mirex and DP in sediments of Lake Taihu (if the concentration of a target compound was below dl, half of the dl value was used in calculating mean value)
Site

Latitude/N

Longitude/E

Concentration (ng g−1 dw)

f syn

f OM (%)

mirex

syn-DP

anti-DP

DP

TL-1

31.5372

120.2201

0.130

0.499

1.60

2.10

0.24

5.1

TL-2

31.5191

120.2132

0.100

0.207

0.706

0.913

0.23

4.1

TL-3

31.4968

120.2101

0.037

0.192

0.497

0.690

0.28

4.6

TL-4

31.4601

120.0549

0.037

0.157

0.460

0.617

0.25

6.4

TL-5

31.4409

120.0706

0.124

0.142

0.379

0.521

0.27

5.8

TL-6

31.4345

120.0352

0.030

0.083

0.209

0.292

0.28

4.4

TL-7

31.4330

120.3580

0.080

0.327

0.938

1.26

0.26

4.3

TL-8

31.4040

120.1801

<0.015*

0.102

0.320

0.422

0.24

4.0

TL-9

31.3789

120.2479

<0.015

0.085

0.265

0.350

0.24

2.9

TL-10

31.3621

120.2297

0.016

0.091

0.288

0.379

0.24

3.4

TL-11

31.3486

120.0732

0.027

0.217

0.959

1.18

0.18

3.7

TL-12

31.2979

119.9613

0.020

0.093

0.270

0.363

0.26

3.6

TL-13

31.2636

119.9960

<0.015

0.190

0.300

0.490

0.39

3.4

TL-14

31.2490

120.2657

0.037

0.112

0.404

0.516

0.22

3.8

TL-15

31.1864

120.3176

0.044

0.047

0.155

0.202

0.23

4.0

TL-16

31.1793

120.0076

<0.015

0.073

0.246

0.319

0.23

3.3

TL-17

31.1504

120.3774

<0.015

0.052

0.210

0.262

0.20

4.3

TL-18

31.1270

120.0058

0.021

0.062

0.163

0.225

0.28

3.2

TL-19

31.1172

120.3457

1.29

0.015

0.049

0.064

0.23

3.6

TL-20

30.9894

120.1354

0.024

0.119

0.378

0.497

0.24

4.0

TL-21

30.9688

120.1236

0.030

0.061

0.162

0.224

0.27

3.4

TL-22

30.9630

120.1330

<0.015

0.014

0.036

0.051

0.28

2.2

Range

 
 

<0.015–1.29

0.014–0.499

0.036–1.60

0.051–2.10

0.18–0.39

2.2–6.4

Mean

 
 

0.095

0.134

0.409

0.543

0.25

4.0
All samples were prepared according to a previously reported method with some modifications (Jia et al. 2011). Briefly, 10 g of sample were Soxhlet-extracted for 24 h with 150 mL of hexane/acetone mixture (1:1, v/v) after being spiked with a recovery standard (13C12-PCB-209). The extract was rotary-evaporated to about 40 mL, placed in a separation funnel, and then washed with 2–3 mL of 98 % H2SO4 to remove fat. Then the extract was rotary-evaporated to 2 mL and eluted through a column with 50 mL of hexane/dichloromethane mixture (1:1, v/v). The column had been packed with 3 g of anhydrous sodium sulfate (baked at 350 °C for 3 h before use) on the top and 10 g of silica gel (activated at 135 °C for 16 h before use) on the bottom. The eluent was concentrated to 2 mL by a rotary evaporator and further reduced to less than 500 μL under a gentle steam of N2, then solvent-exchanged to isooctane. After addition of internal standard (13C12-PCB-208), the final volume was adjusted to 500 μL prior to GC-MS analysis.
Analytical procedure
Extracts were analyzed by Trace Ultra gas chromatograph equipped with a Trace DSQ II quadrupole mass spectrometer detector (Thermo Scientific, USA) and a DB-5 MS capillary column (30 m × 0.25 mm × 0.25 μm, J&K Scientific, USA). The initial GC oven temperature was set at 90 °C for 0.5 min, ramped at 25 °C min−1 to 240 °C, at 2 °C min−1 to 260 °C, then at 20 °C min−1 to 280 °C and held at this final temperature for 20 min. One microliter sample was injected into GC/MS with splitless injection mode. The MS was operated in negative ion chemical ionization (NCI) mode using methane as reagent gas and signal recording was in selected ion monitoring (SIM) mode. The injector, ion source, and transfer line temperatures were set at 260, 200, and 280 °C, respectively. Helium gas was used as the carrier and the flow rate was constant at 1 mL min−1. The following ions were selected for each analyte with the first ion being used for quantification: m/z 401.7/403.7/436.7 for mirex, 340.8/611.6/615.6 for Dec 602, 635.6/637.6/639.6 for Dec 603, 81/79/541.6 for Dec 604, 653.5/651.5/655.5 for syn-DP and anti-DP, 441.7/473.7/475.7 for 13C12-PCB-208, 509.7/475.7/511.7 for 13C12-PCB-209.
Quality assurance/quality control
Detection of a peak was confirmed if it met the following three criteria: 1) the GC retention times of samples matched those of the standard substances within ±0.1 min; 2) signal-to-noise ratio was greater than 3:1; and 3) ion ratios in the sample were within 15 % of the standards. Pre-extracted soil was used as lab procedural blanks. Among target analytes, only low levels of DP were detected in procedural blanks. However, the highest DP level in procedural blanks was eight times lower than the minimum DP levels found in sediment samples. Blank correction, therefore, was not performed. Recoveries of target chemicals spiked to the pre-extracted soil samples (n = 3) were 73 ± 11 % for mirex, 85 ± 4 % for Dec 602, 90 ± 6 % for Dec 603, 103 ± 6 % for Dec 604, 91 ± 8 % for syn-DP and 84 ± 4 % for anti-DP. The recoveries of 13C12-PCB-209 in all samples were 109 ± 9 %. Reported sample concentrations were not recovery-corrected. The detection limit (DL) was 15 pg g−1 dw for mirex, 20 pg g−1 dw for Dec 602, 25 pg g−1 dw for Dec 603, 15 pg g−1 dw for Dec 604, 1.75 pg g−1 dw for syn-DP, and 1.5 pg g−1 dw for anti-DP. If the concentration of a target compound was below DL, half of the DL value was used in data analysis.
Organic matter fraction (f OM) in sediment
Ten grams of each sediment sample was used for f OM determination. Samples were oven-dried at 105 °C for 8 h to a constant weight (m1). Then, the samples were baked at 550 °C for 6 h to a constant weight (m2). The f OM was calculated as the difference between m1 and m2 divided by m1 times 100 %.
Statistical analysis
If the concentration of a target compound was below DL, half of the DL value was used in data analysis by SPSS 16.0 software. Pearson Product Moment Correlation test was used to investigate possible correlation between mirex and DP as well as f OM.
Conclusions
In this study, we have focused on investigation of two chlorinated chemicals mirex and DP in the surficial sediments of Lake Taihu to illustrate the impact of human activities on pollutions in Lake Taihu. To our knowledge, this is the first study to map the concentrations of mirex and DP in the sediments of this important lake. The concentrations of mirex and DP in the north to east were higher than that in the south to west. The content and composition of sediment organic matter significantly influenced the distribution of mirex and DP in the sediments. The spatial distribution of mirex and DP in the lake sediment suggested their similar sources of city effluence. Agricultural runoff for high mirex level in southeast of the lake was also evident. Although the levels of two compounds found in Lake Taihu were relatively low compared to other aquatic environment in China and around the world, DP continues to be used and will continue to enter into the lake, more attention to the levels of DP in this region should be paid in the future.
Notes
Acknowledgments
This study was supported financially by Public Welfare Project of Environmental Protection (201209016) and Major Science and Technology Program for Water Pollution Control and Treatment (2013ZX07101014-06).
Copyright information
© Springer-Verlag Berlin Heidelberg 2014