Abstract
Non-point source (NPS) pollution from agricultural drainage has aroused widespread concerns throughout the world due to its contribution to eutrophication of water bodies. To remove nitrogen (N) and phosphorus (P) from agricultural drainage in situ, a Paddy Eco-ditch and Wetland System (PEDWS) was designed and built based on the characteristics of the irrigated rice district. A 2-year (2012–2013) field experiment was conducted to evaluate the performance of this system in Gaoyou Irrigation District in Eastern China. The results showed that the reduction in water input in paddy field of the PEDWS enabled the maintenance of high rice yield; it significantly increased irrigation water productivity (WPI), gross water productivity (WPG), and evapotranspiration water productivity (WPET) by 109.2, 67.1, and 17.6 %, respectively. The PEDWS dramatically decreased N and P losses from paddy field. Compared with conventional irrigation and drainage system (CIDS), the amount of drainage water from PEDWS was significantly reduced by 56.2 %, the total nitrogen (TN) concentration in drainage was reduced by 42.6 %, and thus the TN and total phosphorus (TP) losses were reduced by 87.8 and 70.4 %. PEDWS is technologically feasible and applicable to treat nutrient losses from paddy fields in situ and can be used in similar areas.
Access options
Buy single article
Instant access to the full article PDF.
US$ 39.95
Tax calculation will be finalised during checkout.
Subscribe to journal
Immediate online access to all issues from 2019. Subscription will auto renew annually.
US$ 79
Tax calculation will be finalised during checkout.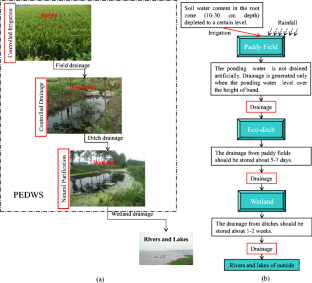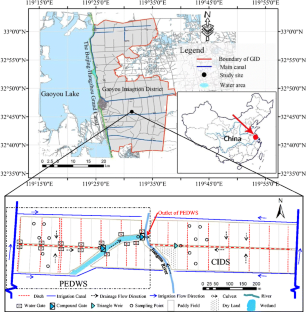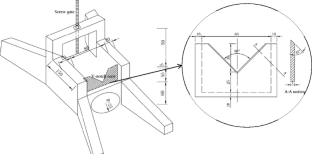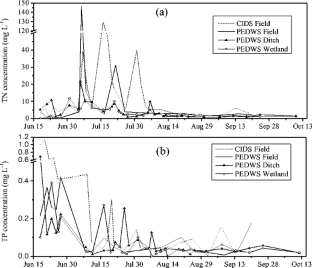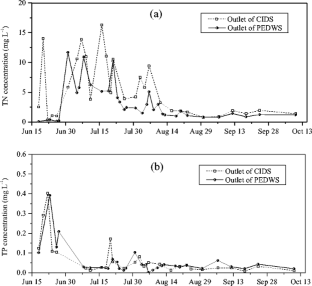 References
Abe K, Komada M, Ookuma A (2008) Efficiency of removal of nitrogen, phosphorus, and zinc from domestic wastewater by a constructed wetland system in rural areas: a case study. Water Sci Technol 58(12):2427–2433

Allen RG, Pereira LS, Raes D, Smith M (1998) Crop evapotranspiration-guidelines for computing crop water requirement-FAO Irrigation and drainage paper 56. FAO: Rome

Allred BJ, Brown LC, Fausey NR, Cooper RL, Clevenger WB, Prill GL, La Barge GA, Thornton C, Riethman DT, Chester PW, Czartoski BJ (2003) Water table management to enhance crop yields in a wetland reservoir sub-irrigation system. Appl Eng Agric 19(4):407–421

Ayars JE, Christen EW, Hornbuckle JW (2006) Controlled drainage for improved water management in arid regions irrigated agriculture. Agric Water Manag 86(1–2):128–139

Baker BJABJ, Luckeydoo LM, Fausey NR, Clevenger WB, Brown LC, Hansher SE (2004) Ohio Wetland Reservoir Subirrigation System (WRSIS). In Drainage VIII: proceedings of the Eighth International Drainage Symposium, Sacramento, California.

Belder P, Bouman BAM, Cabangon R, Lu GA, Quilang EJP, Li YH, Spiertz JHJ, Tuong TP (2004) Effect of water-saving irrigation on rice yield and water use in typical lowland conditions in Asia. Agric Water Manag 65(3):193–210

Cho JY, Han KW, Choi JK, Kim YJ, Yoon KS (2002) N and P losses from a paddy field plot in central Korea. Soil Sci Plant Nutr 48(3):301–306

Cho JY, Son JG, Choi JK, Song CH, Chung BY (2007) Surface and subsurface losses of N and P from salt-affected rice paddy fields of Saemangeum reclaimed land in South Korea. Paddy Water Environ 6(2):211–219

Choi JD, Park WJ, Park KW, Lim KJ (2012) Feasibility of SRI methods for reduction of irrigation and NPS pollution in Korea. Paddy Water Environ 11(1–4):241–248

Díaz FJ, O'Geen AT, Dahlgren RA (2012) Agricultural pollutant removal by constructed wetlands: implications for water management and design. Agric Water Manag 104:171–183

Dong B, Mao Z, Brown LC, Chen XH, Peng LY, Wang JZ (2009) Irrigation ponds: possibility and potentials for the treatment of drainage water from paddy fields in Zhanghe Irrigation System. Sci China Ser E Technol Sci 52:3320–3327

Dunne EJ, Culleton N, O'Donovan G, Harrington R, Olsen AE (2005) An integrated constructed wetland to treat contaminants and nutrients from dairy farmyard dirty water. Ecol Eng 24(3):219–232

EPA (2000) Constructed wetlands treatment of municipal wastewaters.http://www.epa.gov/nrmrl/pubs/625r99010 /625r99010.pdf. Accessed September 2014.

Feng YW, Yoshimaga I, Shiratani E, Hitomi T, Hasebe H (2004) Characteristic and behavior of nutrients in a paddy field area equipped with a recycling irrigation system. Agric Water Manag 68(1):47–60

Gao XJ, Hu XF, Wang SP, He BG, Xu SY (2002) Nitrogen losses from flooded rice field. Pedosphere 12(2):151–156

Gao HZ, Peng SZ, Mao Z, Wei Z, Zhang ZL, Zhang J (2009) N and P losses in surface drainage from paddy field under different irrigation and drainage modes. Water Saving Irrig 9:1–3 (In Chinese with English abstract)

Guo L, Ma KM (2011) Seasonal dynamics of nitrogen and phosphorus in water and sediment of a multi-level ditch system in Sanjiang Plain, Northeast China. Chin Geogr Sci 21(4):437–445

Herzon I, Helenius J (2008) Agricultural drainage ditches, their biological importance and functioning. Biol Conserv 141:1171–1183

Hitomi T, Iwamoto Y, Miura A, Hamada K, Shiratani E (2010) Water-saving irrigation of paddy field to reduce nutrient runoff. J Environ Sci 22(6):885–891

Jang TI, Kim HK, Seong CH, Lee EJ, Park SW (2012) Assessing nutrient losses of reclaimed wastewater irrigation in paddy fields for sustainable agriculture. Agric Water Manag 104:235–243

Jia Z, ASCE RO, Evans M, Smith JT (2006) Effect of controlled drainage and vegetative buffers on drainage water quality from wastewater irrigated fields. J Irrig Drain Eng 132(2):159–170

Jin Q, Shao XH, Tan JY, Xu Z (2012) Economic analysis of the wetland reservoir subirrigation system in southern China. Procedia Environ Sci 12:206–211

Kim JS, Oh SY, Oh KY (2006) Nutrient runoff from a Korean rice paddy watershed during multiple storm events in the growing season. J Hydrol 327(1–2):128–139

Kröger R, Cooper CM, Moore MT (2008) A preliminary study of an alternative controlled drainage strategy in surface drainage ditches: low-grade weirs. Agric Water Manag 95(6):678–684

Kröger R, Moore MT, Farris JL, Gopalan M (2011) Evidence for the use of low-grade weirs in drainage ditches to improve nutrient reductions from agriculture. Water Air Soil Pollut 221(1–4):223–234

Li QH, Hu YW, Sun J, Li HE (2010) Loss characteristics of agricultural non-point source pollutants under controlled drainage. Trans Chin Soc Agric Eng 26(14):182–187 (In Chinese with English abstract)

Liang XQ, Chen YX, Li H, Tian GM, Zhan ZJ, Ni WZ, He MM (2007) Nitrogen interception in floodwater of rice field in Taihu region of China. J Environ Sci 19:1474–1481

Liang XQ, Chen YX, Nie ZY, Ye YS, Liu J, Tian GM, Wang GH, Tuong TP (2013) Mitigation of nutrient losses via surface runoff from rice cropping systems with alternate wetting and drying irrigation and site-specific nutrient management practices. Environ Sci Pollut Res 20(10):6980–6991

Liu F, Xiao RL, Wang Y, Li Y, Zhang SL, Luo Q, Wu JS (2013) Effect of novel constructed drainage ditch on the phosphorus sorption capacity of ditch soils in an agricultural headwater catchment in subtropical central China. Ecol Eng 58:69–76

Luo W, Jia Z, Fang S, Liu J, Wang L, Tian S, Zhang Y (2008) Outflow reduction and salt and nitrogen dynamics at controlled drainage in the YinNan Irrigation District, China. Agric Water Manag 95(7):809–816

Mao Z, Dong B, Pereira LS (2004) Assessment and water saving issues for Ningxia paddies, upper Yellow River Basin. Paddy Water Environ 2(2):99–110

Mao Z, Dong B, Li XJ, Wang JZ, Zheng CJ (2009) Introduction, adaptation and application of wetland-reservoir-subirrigation -system in rice-based irrigation systems of South China. China Rural Water and Hydropower 11:1007–2284 (In Chinese with English abstract)

MEPC (2002) Standard methods for water and wastewater monitoring and analysis. China Environmental Science Press: Beijing. (In Chinese)

Mitsch WJ, Zhang L, Anderson CJ, Altor AE, Hernández ME (2005) Creating riverine wetlands: ecological succession, nutrient retention, and pulsing effects. Ecol Eng 25(5):510–527

NBSC (2013) China Statistical Yearbook. China statistics Press: Beijing, China. (In Chinese)

Nguyen L, Sukias J (2002) Phosphorus fractions and retention in drainage ditch sediments receiving surface runoff and subsurface drainage from agricultural catchments in the North Island, New Zealand. Agric Ecosyst Environ 92(1):49–69

Pan L, Mao Z, Dong B, Zhang XH (2011) Experimental analysis of N and P removal effect of constructed wetlands at paddy field. Eng J of Wuhan University 44(5):586–589 (In Chinese with English abstract)

Peng SZ, Suo LS (2004) Water requirement model for crop under the condition of water-saving irrigation. J Hydraul Eng 1:17–21, In Chinese with English abstract

Peng SZ, Li SS, Xu GL, Wu ZJ (1994) New water consumption pattern of rice under water-saving irrigation. Irrig Drain Syst 8:97–108

Peng SZ, Yang SH, Xu JZ, Gao HZ (2011) Field experiments on greenhouse gas emissions and nitrogen and phosphorus losses from rice paddy with efficient irrigation and drainage management. Sci China Technol Sci 54(6):1581–1587

Peng SZ, Luo YF, Xu JZ, Khan S, Jiao XY, Wang WG (2012) Integrated irrigation and drainage practices to enhance water productivity and reduce pollution in a rice production system. Irrig Drain 61(3):285–293

Shan ZY, Dong B, Li XJ, Wang XG, Fang RJ, Wei XH (2008) Preliminary study on the new way for non-point source pollution abatement in rice-based irrigation district. China Rural Water and Hydropower 3:62–65 (In Chinese with English abstract)

Skagge RW, Youssef MA, Gilliam JW, Evans RO (2010) Effect of controlled drainage on water and nitrogen balances in drained lands. Trans ASABE 53(6):1843–1850

Sun NN, Dong B (2011) Water quality purifying effect in paddy field irrigation area. J Irrig Drain 30(6):1–5 (In Chinese with English abstract)

Sun HJ, Zhang HL, Yu ZM, Wu JS, Jiang PK, Yuan XY, Shi WM (2013) Combination system of full-scale constructed wetlands and wetland paddy fields to remove nitrogen and phosphorus from rural unregulated non-point sources. Environ Geochemistry Health 35(6):801–809

Tang WZ, Zhang WQ, Zhao Y, Wang YY, Shan BQ (2013) Nitrogen removal from polluted river water in a novel ditch–wetland–pond system. Ecol Eng 60:135–139

Tanner CC, Nguyen ML, Sukias JPS (2005) Nutrient removal by a constructed wetland treating subsurface drainage from grazed dairy pasture. Agric Ecosyst Environ 105(1–2):145–162

The World Bank (2005) Shaping the future of water for agriculture: a sourcebook for investment in agricultural water management. The International Bank for Reconstruction and Development/ The World Bank: Washington, DC, pp 334

Verhoeven JTA, Artheimer B, Yin CQ, Hefting MM (2006) Regional and global concerns over wetlands and water quality. Trends Ecol Evol 21(2):96–103

Vymazal J (2007) Removal of nutrients in various types of constructed wetlands. Sci Total Environ 380(1–3):48–65

Wen T, Shao XH, Li YY, Xu Z, Jiang PF, Qiu Y, Wang JL (2012) Characteristics of dynamic change of nitrogen in surface water and underground drainage water in paddy fields in WRSIS. Water Res Protect 28:33–37 (In Chinese with English abstract)

Wesström I, Messing I (2007) Effects of controlled drainage on N and P losses and N dynamics in a loamy sand with spring crops. Agric Water Manag 87(3):229–240

Wesström I, Messing I, Linnér H, Lindström J (2001) Controlled drainage-effects on drain outflow and water quality. Agric Water Manag 47(2):85–100

Xia J, Zhang YY, Zhan CS, Ye AZ (2011) Water quality management in China: the case of the Huai River Basin, Int J Water Resour Dev 27(1):167–180

Xu JZ, Peng SZ, Yang SH, Wang WG (2012) Ammonia volatilization losses from a rice paddy with different irrigation and nitrogen managements. Agric Water Manag 104(12):184–192

Yan H, Shan GM (2012) Preliminary study on pollution treatment of drainage water in paddy field—a discussion on the introduced and refined WRSIS. Journal of Changchun University 3:698–700 (In Chinese with English abstract)

Yang SH, Peng SZ, Xu JZ, Hou HJ, Gao XL (2013) Nitrogen loss from paddy field with different water and nitrogen managements in Taihu Lake Region of China. Commun Soil Sci Plant Anal 44(16):2393–2407

Yoon KS, Cho JY, Choi JK, Son JG (2006) Water management and N, P losses from paddy fields in Southern Korea. J Am Water Resour Assoc 42(5):1205–1216

Yoshinaga I, Miura A, Hitomi T, Hamada K, Shiratani E (2007) Runoff nitrogen from a large sized paddy field during a crop period. Agric Water Manag 87(2):217–222

Zhang MK, He ZL, Calvert DV, Stoffella PJ (2004) Spatial and temporal variations of water quality in drainage ditches within vegetable farms and citrus groves. Agric Water Manag 65(1):39–57

Zhang ZY, Kong LL, Zhu L, Mwiya RM (2013) Effect of drainage ditch layout on nitrogen loss by runoff from an agricultural watershed. Pedosphere 23(2):256–264

Zhou ZQ, Wang F (2005) Causes for water pollution in Huai river basin and prevention measures. China Water Res 22:23–25 (In Chinese with English abstract)
Acknowledgments
This work is supported by the National Natural Science Foundation of China (NSFC 51179049 and 51179048), the Ministry of Science and Technology of China under the National Scientific and Technological Support Project (2011BAD25B07, 2012BAD08B04), and the Advanced Science and Technology Innovation Team in Colleges and Universities in Jiangsu Province. The authors are very grateful to the anonymous reviewers for their comments and remarks, which have resulted in significant improvements to this manuscript.
Additional information
Responsible editor: Philippe Garrigues
About this article
Cite this article
Xiong, Y., Peng, S., Luo, Y. et al. A paddy eco-ditch and wetland system to reduce non-point source pollution from rice-based production system while maintaining water use efficiency. Environ Sci Pollut Res 22, 4406–4417 (2015). https://doi.org/10.1007/s11356-014-3697-7
Received:

Accepted:

Published:

Issue Date:
Keywords
Paddy field

Drainage

Non-point source pollution

Controlled drainage

Wetland

Nitrogen

Phosphorus