Abstract
A feasible and rapid analysis for the simultaneous determination of sulfonamides (SAs), tetracyclines (TCs), fluoroquinolones (FQs), macrolides (MACs) and nitrofurans (NFs) in livestock manure and soils was established by solid-phase extraction (SPE)-ultra-performance liquid chromatography (UPLC)-tandem mass spectrometry (MS/MS). A total of 32 manure and 17 amended soil samples from the Liaoning and Tianjin areas in Northern China were collected for analysis. The largest detected frequencies and concentrations in manure samples were those of TCs (3326.6 ± 12,302.6 μg/kg), followed by FQs (411.3 ± 1453.4 μg/kg), SAs (170.6 ± 1060.2 μg/kg), NFs (85.1 ± 158.1 μg/kg), and MACs (1.4 ± 4.8 μg/kg). In general, veterinary antibiotics (VAs) were detected with higher concentrations in swine and chicken manure than in cattle manure, reflecting the heavy usage of VAs in swine and chicken husbandry in the studied area. Furthermore, higher residues of antibiotics were found in piglet and fattening swine manure than in sow manure. In addition, TCs were the most frequently (100 %) detected antibiotics in amended soil with higher concentrations (up to 10,967.1 μg/kg) than any other VAs. The attenuation of SAs was more obvious than TCs in amended soil after fertilization, which can most likely be attributed to the stronger sorption of TCs than SAs to soil organic matter through cation exchange. This study illustrated the prevalence of TCs detected in both animal manure and fertilized agricultural soils in Northern China, which may increase the risk to human health through the food chain. Thus, TCs should be given more attention in the management of veterinary usage in livestock husbandry.
This is a preview of subscription content,
to check access.
Access this article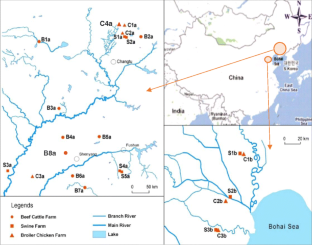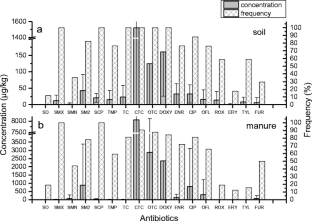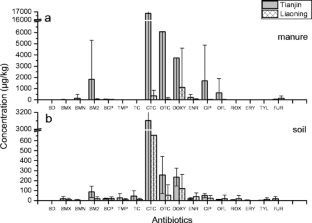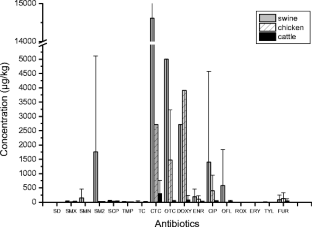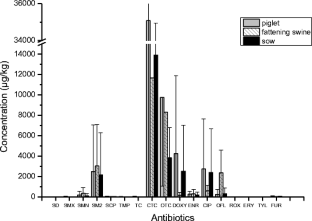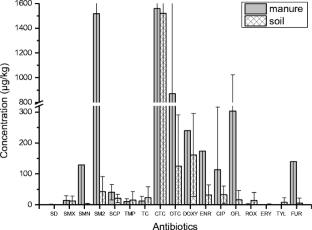 Similar content being viewed by others
References
Awad YM, Kim SC, EI-Azeem SAMA, Kim KH, Kim KR, Kim KJ, Jeon C, Lee SS, Ok YS (2014) Veterinary antibiotics contamination in water, sediment, and soil near a swine manure composting facility. Environ Earth Sci 71:1433–1440

Ben WW, Qiang ZM, Adams C, Zhang HQ, Chen LP (2008) Simultaneous determination of sulfonamides, tetracyclines and tiamulin in swine wastewater by solid-phase extraction and liquid chromatography-mass spectrometry. J Chromatogr A 1202:173–180

Blackwell PA, Kay P, Ashauer R, Boxall ABA (2009) Effects of agricultural conditions on the leaching behaviour of veterinary antibiotics in soils. Chemosphere 75:13–19

Boxall ABA, Johnson P, Smith EJ, Sinclair CJ, Stutt E, Levy LS (2006) Uptake of veterinary medicines from soils into plants. J Agric Food Chem 54:2288–2297

Christian T, Schneider RJ, Färber HA, Skutlarek D, Meyer MT, Goldbach HE (2003) Determination of antibiotic residues in manure, soil, and surface waters. Acta Hydrochim Hydrobiol 31:36–44

Díaz-Cruz MS, Alda MJL, BarcelÓ D (2003) Environmental behavior and analysis of veterinary and human drugs in soils, sediments and sludge. TrAC, Trends Anal Chem 22:340–351

Figueroa RA, Leonard A, Mackay AA (2004) Modeling tetracycline antibiotic sorption to clays. Environ Sci Technol 38:476–483

Hamscher G, Sczesny S, Hoper H, Nau H (2002) Determination of persistent tetracycline residues in soil fertilized with liquid manure by high-performance liquid chromatography with electrospray ionization tandem mass spectrometry. Anal Chem 74:1509–1518

Hamscher G, Pawelzick HT, Hoper H, Nau H (2005) Different behaviour of tetracyclines and sulfonamides in sandy soils after repeated fertilisation with liquid manure. Environ Toxicol Chem 24:861–868

Hirsch R, Ternes T, Haberer K, Kratz KL (1999) Occurrence of antibiotics in the aquatic environment. Sci Total Environ 225:109–118

Hu XG, Zhou QX, Luo Y (2010) Occurrence and source analysis of typical veterinary antibiotics in manure, soil, vegetables and groundwater from organic vegetable bases, northern China. Environ Pollut 158:2992–2998

Huang X, Liu CX, Li K, Liu F, Liao D, Liu L, Zhu GF, Liao J (2013) Occurrence and distribution of veterinary antibiotics and tetracycline resistance genes in farmland soils around swine feedlots in Fujian Province, China. Environ Sci Pollut Res 20:9066–9074

Ingerslev F, Halling-Soerensen B (2000) Biodegradability properties of sulfonamides in activated sludge. Environ Toxicol Chem 19:2467–2473

Karcı A, Balcıoğlu IA (2009) Investigation of the tetracycline, sulfonamide, and fluoroquinolone antimicrobial compounds in animal manure and agricultural soils in Turkey. Sci Total Environ 407:4652–4664

Kemper N (2008) Veterinary antibiotics in the aquatic and terrestrial environment. Ecol Indic 8:1–13

Kummerer K (2009) Antibiotics in the aquatic environment—a review—part I. Chemosphere 75:417–434

Liguoro MD, Cibin V, Capolongo F, Halling-Sørensen B, Montesissa C (2003) Use of oxytetracycline and tylosin in intensive calf farming: evaluation of transfer to manure and soil. Chemosphere 52:203–212

Luo Y, Mao DQ, Rysz M, Zhou QX, Zhang HJ, Xu L, Alvarez PJJ (2010) Trends in antibiotic resistance genes occurrence in the Haihe River, China. Environ Sci Technol 44:7220–7225

Luo Y, Xu L, Rysz M, Wang YQ, Zhang H, Alvarez PJJ (2011) Occurrence and transport of tetracycline, sulfonamide, quinolone, and macrolide antibiotics in the Haihe River Basin, China. Environ Sci Technol 45:1827–1833

Martínez-Carballo E, Gonzalez-Barreiro C, Scharf S, Gans O (2007) Environmental monitoring study of selected veterinary antibiotics in animal manure and soils in Austria. Environ Pollut 148:570–579

Matuszewski BK, Constanzer ML, Chavez-Eng CM (2003) Strategies for the Assessment of matrix effect in quantitative bioanalytical methods based on HPLC-MS/MS. Anal Chem 75:3019–3030

Muckter H (2008) Drug residues in drinking water. Naunyn Schmiedebergs Arch Pharmacol 377:93–93

Pan X, Qiang ZM, Ben WW, Chen MX (2011) Residual veterinary antibiotics in swine manure from concentrated animal feeding operations in Shandong Province, China. Chemosphere 84:695–700

Picó Y, Andreu V (2007) Fluoroquinolones in soil-risks and challenges. Anal Bioanal Chem 387:1287–1299

Rabølle M, Spliid NH (2000) Sorption and mobility of metronidazole, olaquindox, oxytetracycline and tylosin in soil. Chemosphere 40:715–722

Sacher F, Gabriel S, Metzinger M, Wenz M (2003) Pharmaceuticals in ground and surface waters. Chimia 57:29–31

Sarmah AK, Meyer MT, Boxall ABA (2006) A global perspective on the use, sales, exposure pathways, occurrence, fate and effects of veterinary antibiotics (VAs) in the environment. Chemosphere 65:725–759

Sassmann S, Lee LS (2005) Sorption of three tetracyclines by several soils: assessing the role of pH and cation exchange. Environ Sci Technol 39:7452–7459

Thiele-Bruhn S (2003) Pharmaceutical antibiotics compounds in soils—a review. J Plant Nutr Soil Sci 166:145–167

Tolls J (2001) Sorption of veterinary pharmaceuticals in soils: a review. Environ Sci Technol 5:3397–3406

Yan S, Zhou QX, Gao J (2012) Methodology for derivation of water quality criteria for protecting aquatic environment and future development. Crit Rev Environ Sci Technol 42(23):2471–2503

Zhao L, Dong YH, Wang H (2010) Residues of veterinary antibiotics in manures from feedlot livestock in eight provinces of China. Sci Total Environ 408:1069–1075

Zhou QX, Wang ME, Liang JD (2008) Ecological detoxification of methamidophos by earthworms in phaeozem co-contaminated with acetochlor and copper. Appl Soil Ecol 40(1):138–145
Acknowledgments
This study was financially supported by National Nature Science Foundation of China (21037002, 31270542), environmental protection projects of the state (201309031), and Program for New Century Excellent Talents by the Ministry of Education (NCET-11-0254). Special thanks to Dr. Su Chen for providing some of the manure and soil samples.
Additional information
Responsible editor: Philippe Garrigues
Jie Hou and Weining Wan contributed equally to this work.
Electronic supplementary material
Below is the link to the electronic supplementary material.
About this article
Cite this article
Hou, J., Wan, W., Mao, D. et al. Occurrence and distribution of sulfonamides, tetracyclines, quinolones, macrolides, and nitrofurans in livestock manure and amended soils of Northern China. Environ Sci Pollut Res 22, 4545–4554 (2015). https://doi.org/10.1007/s11356-014-3632-y
Received:

Accepted:

Published:

Issue Date:

DOI: https://doi.org/10.1007/s11356-014-3632-y
Keywords