Abstract
Atmospheric aerosols play a major role in the global climate change. A better physical characterization of the chemical composition of atmospheric aerosols, especially in remote atmosphere, is an important step to reduce the current uncertainty in their effect on the radiative forcing of the climate. In the present work, surface aerosols have been studied over the Southern Ocean and over Bharati, Indian Research Station at Larsemann Hills at the Antarctic coast during the summer season of 2009–2010. Aerosol samples were collected using optical particle counter (OPC) and high-volume air sampler. PM10 and PM2.5 aerosol samples were analyzed for various water-soluble and acid-soluble ionic constituents. The Hysplit model was used to compute the history of the air masses for their possible origin. Supplementary measurements of meteorological parameters were also used. The average mass concentration for PM10 over the Southern Ocean was found to be 13.4 μg m3. Over coastal Antarctica, the mass of PM10 was 5.13 μg m−3, whereas that of PM2.5 was 4.3 μg m−3. Contribution of marine components, i.e., Na, Cl and Mg was dominant over the Southern Ocean (79 %) than over the coastal Antarctica where they were dominant in coarse mode (67 %) than in fine mode (53 %) aerosols. The NH4/nss-SO4 ratio of 1.12 in PM2.5 indicates that the NH4 and SO4 ions were in the form of NH4HSO4. Computation of enrichment factors indicate that elements of anthropogenic origin, e.g., Zn, Cu, Pb, etc., were highly enriched with respect to crustal composition.
Access options
Buy single article
Instant access to the full article PDF.
US$ 39.95
Tax calculation will be finalised during checkout.
Subscribe to journal
Immediate online access to all issues from 2019. Subscription will auto renew annually.
US$ 79
Tax calculation will be finalised during checkout.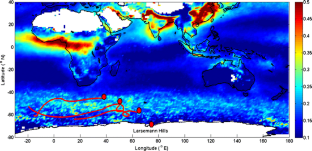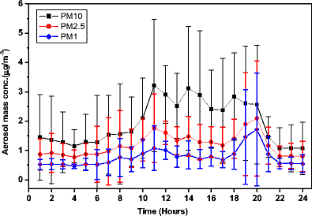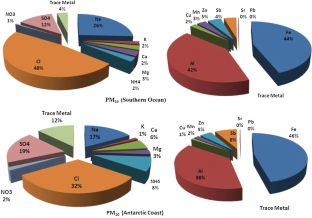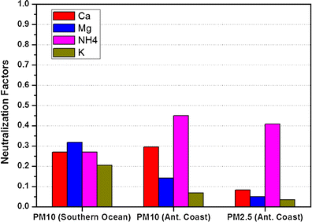 References
Adams PJ, Seinfeld JH, Koch DM (1999) Global concentrations of tropospheric sulphate, nitrate and ammonium in a general circulation model. J Geophys Res 104:13791–13823

Andres RJ, Kasgnosc AD (1998) A time-averaged inventory of sub-aerial volcanic sulfur emissions. J Geophys Res 103(D19):25251–25262

Asmi E, Frey A, Virkkula A, Ehn M, Manninen HE, Timonen H, Tolonen-Kivimaki O, Aurela M, Hillamo R, Kulmala M (2010) Hygroscopicity and chemical composition of Antarctic sub-micrometre aerosol particles and observations of new particle formation. Atmos Chem Phys 10:4253–4271

Bao H, Campbell DA, Bockheim JG, Thiemens MH (2000) Origins of sulphate in Antarctic dry-valley soils as deduced from anomalous 17O compositions. Nature 407:499–502. doi:10.1038/35035054

Bargagli R, Agnorelli C, Borghini F, Monaci F (2005) Enhanced deposition and bioaccumulation of mercury in Antarctic terrestrial ecosystems facing a coastal polynya. Environ Sci Technol 39:8150–8155

Bellouin N, Boucher O, Haywood J, Reddy MS (2005) Global estimate of aerosol direct radiative forcing from satellite measurements. Nature 438:138–1140

Blanchard DC, Woodcock AH (1957) Bubble formation and modification in the sea and its meteorological significance. Tellus 9:145–158

Blanchard DC, Woodcock AH (1980) The production, concentration, and vertical distribution of the sea salt aerosol. Ann N Y Acad Sci 338:330–347

Boulon J, Sellegria K, Hervoa M, Lajb P (2011) Observations of nucleation of new particles in a volcanic plume. Proc Natl Acad Sci U S A 108:12223–12226. doi:10.1073/pnas.1104923108

Budhavant KB, Rao PSP, Safai PD (2014) Chemical composition of snow-water and scavenging ratios over costal Antarctica. DOI:. doi:10.4209/aaqr.2013.03.0104

Chow JC, Watson JC (1998) Guidelines on speciated particulate monitoring. USEPA, Office of Air Quality Planning and Standards, Research Triangle Park

Correia A, Artaxo P, Maenhaut W (1998) Monitoring of atmospheric aerosol particles on the Antarctic Peninsula. Ann Glaciol 27:560–564

Draxler RR, Rolph GD (2013) HYSPLIT (HYbrid Single-Particle Lagrangian Integrated Trajectory) Model access via NOAA ARL READY Website (http://www.arl.noaa.gov/HYSPLIT.php). NOAA Air Resources Laboratory, College Park, MD

Ervens B, Turpin BJ, Weber RJ (2011) Secondary organic aerosol formation in cloud droplets and aqueous particles (aqSOA): a review of laboratory, field and model studies. Atmos Chem Phys 11:11069–11102

Goldberg ED, Brecker WS, Gross MG, Turekian KK (1971) Marine chemistry in radioactivity in the marine environment. National Academy of Sciences, Washington, 137

Gras JL (1993) Condensation nucleus size distribution at Mawson, Antarctica: micro- physics and chemistry. Atmos Environ 27:1417–1425

Hara K, Osada K, Nishita-Hara C, Yamanouchi T (2011) Seasonal variations and vertical features of aerosol particles in the Antarctic troposphere. Atmos Chem Phys Discuss 11:7555–75911

Iizuka Y, Uemura R, Motoyama H et al (2012) Sulphate-climate coupling over the past 300,000 years in inland Antarctica. Nature 490:81–84. doi:10.1038/nature11359

Injuk J, Van Grieken R (1994) Atmospheric concentration and deposition of heavy metals over the North Sea: a literature review. J Atmos Chem 20:179–212

Jin W (2001) Production functions of film drops by bursting bubbles. J Phys Oceanogr 31:3249–3257

Jones AE, Wolff EW, Salmon RA et al (2008) Chemistry of the Antarctic boundary layer and the interface with snow: an overview of the CHABLIS campaign. Atmos Chem Phys 8:3789–3803

Jourdain B, Legrand M (2002) Year-round records of bulk and size-segregated aerosol composition and HCl and HNO3 levels in the Dumont d'Urville (coastal Antarctica) atmosphere: implications for sea-salt aerosol fractionation in the winter and summer. J Geophys Res 107(D 22):4645. doi:10.1029/2002JD002471

Kamra AK, Siingh D, Pant V (2009) Scavenging of atmospheric ions and aerosols by drifting snow in Antarctica. Atmos Res 91:215–218

Keene WC, Sander R, Pszenny AAP, Vogt R, Crutzen PJ, Alloway JN (1998) Aerosol pH in the marine boundary layer: a review and model evaluation. J Aerosol Sci 29:339–356

Kerminen VM, Teinila K, Hillamo R (2000) Chemistry of sea-salt particles in the summer Antarctic atmosphere. Atmos Environ 34:2817–2825

Koponen IK, Virkkula A, Hillamo R, Kerminen VM, Kulmala M (2003) Number size distributions and concentrations of the continental summer aerosols in Queen Maud Land, Antarctica. J Geophys Res 108(D18):4587. doi:10.1029/2003JD003614

Kyro EM, Kerminen VM, Virkkula A, Dal Maso AM, Parshintsev J, Ruız-Jimenez J, Forsstrom L, Manninen HE, Riekkola ML, Heinonen P, Kulmala M (2013) Antarctic new particle formation from continental biogenic precursors. Atmos Chem Phys 13:3527–3546. doi:10.5194/acp-13-3527-2013

Leifer I, de Leeuw G, Cohen LH (2000) Secondary bubble production from breaking waves: the bubble burst mechanism. Geophys Res lett 27(24):4077–4080

Li-Jones X, Prospero JM (1998) Variations in the size distribution of non-sea-salt sulfate aerosol in the marine boundary layer at Barbados: impact of African dust. J Geophys Res 103(DD13):16073–16084

Martensson EM, Nilsson ED, de Leeuw G, Cohen LH, Hansson HC (2003) Laboratory simulations and parameterization of the primary marine aerosol production. J Geophys Res 108:4297

Mazzera DM, Lowenthal DH, Chow JC, Watson JG (2001) Sources of PM10 and sulfate aerosol at McMurdo Station Antarctica. Chemosphere 45:347–356

McInnes LM, Covert DS, Quinn PK, Germani M (1994) Measurement of chloride depletion and sulfur enrichment in individual sea-salt particles collected from remote marine boundary layer. J Geophys Res 99(D4):8257–8268

Minikin A, Legrand M, Hall J, Wagenbach D, Kleefeld C, Wolff EW, Pasteur EC, Ducroz F (1998) Sulfur-containing species (sulfate and methane sulfonate) in coastal Antarctic aerosol and precipitation. J Geophys Res 103:10975–10990

Murphy DM, Thomson DS (1997) Chemical composition of single aerosol particles at Idaho Hill: negative ion measurements. J Geophys Res 102:6353–6368

Myhre G, Myhre CEL, Samset BH, Storelvmo T (2013) Aerosols and their relation to global climate and climate sensitivity. Nat Educ Knowl 4(5):7

Niemi JV, Tervahattu H, Virkkula A, Hillamo R, Teinila K et al (2005) Continental impact on marine boundary layer coarse particles over the Atlantic Ocean between Europe and Antarctica. Atmos Res 75:301–321

O'Dowd CD, Lowe JA, Smith MH, Davison B, Hewitt N et al (1997) Biogenic sulphur emissions and infrared non-sea-salt sulphate condensation nuclei in and around Antarctica. J Geophys Res 102:12839–12854

Osada K, Hara K, Wada M, Yamanouchi T, Matsunaga K (2006) Vertical distribution of atmospheric aerosol particles over Syowa Station, East Antarctica: airborne observations from spring to summer in 2004. Polar Meteorol Glaciol 20:16–27

Owens NJP, Galloway JN, Duce RA (1992) Episodic atmospheric nitrogen deposition to oligotrophic oceans. Nature 315:397–399

Pfaffhuber KA, Berg T, Hirdman D, Stohl A (2012) Atmospheric mercury observations from Antarctica: seasonal variation and source and sink region calculations. Atmos Chem Phys 12:3241–3251

Priddle J (ed) (2002) Regionally based assessment of persistent toxic substances—Antarctica regional report. United Nations Environmental Programme – Chemicals, Geneva, p 76

Putaud JP et al (2010) A European aerosol phenomenology-3: physical and chemical characteristics of particulate matter from 60 rural, urban, and kerbside sites across Europe. Atmos Environ 44:1308–1320

Rankin AM, Wolff EW (2002) Aerosol profiling using a tethered balloon in Coastal Antarctica. J Atmos Ocean Technol 19:1978–1985

Rosenfeld D, Sherwood S, Wood R, Donner L (2014) Climate effects of aerosol-cloud interactions. Science 343:379–380. doi:10.1126/science.1247490

Safai PD (1990) A study of the air pollutants in the environment of the Nilgiri Biosphere Reserve, South India. Ph. D. thesis, University of Pune, Pune

Safai PD, Budhavant KB, Rao PSP, Ali K, Sinha A (2010) Source characterization for aerosol constituents and changing roles of calcium and ammonium aerosols in the neutralization of aerosol acidity at a semi-urban site in SW India. Atmos Res 98:78–88

Samson JA, Barnard SC, Obremski JS, Riley DC, Black JJ, Hogan AW (1990) On the systematic variation in surface aerosol concentration at the South Pole. Atmos Res 25:385–396

Stohl A (1998) Computation, accuracy and applications of trajectories—a review and bibliography. Atmos Environ 32:947–966

Stohl A, Sodemann H (2010) Characteristics of atmospheric transport into the Antarctic troposphere. J Geophys Res 112:D02305. doi:10.1029/2009JD012536

Teinila K, Kerminen VM, Hillamo R (2000) A study of size-segregated aerosol chemistry in the Antarctic atmosphere. J Geophys Res 105D:3893–3904

Turner J, Pendlebury S (2004) The international Antarctic weather forecasting handbook. British Antarctic Survey, Cambridge, p 663

Virkkula A, Teinila K, Hillamo R et al (2006) Chemical composition of boundary layer aerosol over the Atlantic Ocean and at an Antarctic site. Atmos Chem Phys 6:3407–3421

Vogt R, Crutzen PJ, Sander RA (1996) Mechanism for halogen release from sea salt aerosol in remote marine boundary layer. Nature 383:327–329

Wagenbach D, Ducroz F, Mulvaney R et al (1998) Sea-salt aerosol in coastal Antarctic regions. J Geophys Res 103(D9):10961–10974

Warburton JA, Molenar JV, Owens MS, Anderson A (1980) Heavy metal enrichment in Antarctic precipitation and near surface snow. Pure Appl Geophys 118:1130–1144

Weatherburn MW (1967) Phenol-hypochlorite reaction for determination of ammonia. Anal Chem 39:971–974

Wedepohl KH (1995) The composition of the continental crust. Geochimica et Cosmochimica Acta 59:1217–1239. doi:10.1016/0016-7037(95)00038-2

Weller R, Woltjen J, Piel C, Resenberg R, Wagenbach D, Konig-Langlo G, Kriews M (2008) Seasonal variability of crustal and marine trace elements in the aerosol at Neumayer station, Antarctica. Tellus 60B:742–752. doi:10.1111/j.1600-0889.2008.00372.x

Winchester JW, Lu W, Ren L, Wang M, Maenhau W (1981) Fine and coarse aerosol composition from a rural area in Northern China. Atmos Environ 15:933–937

Wolff E, Legrand MR, Wagenbach D (1998) Costal Antarctic aerosol and snowfall chemistry. J Geophys Res 103:10927–10934

Wu YS, Fang GC, Lee WJ, Lee JF, Chang CC, Lee CZ (2007) A review of atmospheric fine particulate matter and its associated trace metal pollutants in Asian countries during the period 1995–2005. J Hazard Mater 143:511–515
Acknowledgments
The authors are grateful to the Director, IITM, Pune, India, for the support and encouragement given to undertake this work. Thanks are also due to the National Centre for Antarctic and Ocean Research (NCAOR) and Ministry of Earth Sciences (MoES) for the financial support towards participation in the 29th Indian Antarctic Expedition.
Additional information
Responsible editor: Gerhard Lammel
About this article
Cite this article
Budhavant, K., Safai, P.D. & Rao, P.S.P. Sources and elemental composition of summer aerosols in the Larsemann Hills (Antarctica). Environ Sci Pollut Res 22, 2041–2050 (2015). https://doi.org/10.1007/s11356-014-3452-0
Received:

Accepted:

Published:

Issue Date:
Keywords
Antarctic aerosols

PM10 and PM2.5

Chemical composition

Long-range transport

Non-sea-salt sulfate