Abstract
The spatial separation of the Qinling Mountains from the western mountains has caused morphological and genetic distinctions of giant pandas. Could this separation also cause the pandas' behavior change? In this research, we focused on the pandas' movement pattern and selected two wild panda groups in Foping and Wolong Nature Reserves (NR) to represent the populations in the Qinling and Qionglai Mountains, respectively. We hypothesized that the Qinling pandas have developed a different seasonal movement pattern compared with the pandas in the western mountains. We analyzed the radio tracking data from two NRs by using GIS. Our results showed the following significant differences: (1) The Foping pandas live most of the year in the low elevation areas and move higher during June and remain through August while the Wolong pandas live most of the year in the high elevation areas and move lower in April and stay through June; (2) Comparing their low and high elevational areas shows the distinct spatial patterns between reserves, forming two obviously separated clusters in Foping but a single-compact cluster in Wolong; (3) Foping pandas move an average of 425 m ± 147 s.d. daily, while Wolong pandas move an average of 550 m ± 343 s.d. daily; and (4) Three habitat factors (i.e., terrain, temperature, and bamboo nutrient) were taken as the driving forces and analyzed, and they showed a strong support explanation to these different movement behaviors of pandas in two NRs. Our findings have important implications for management, for instance, it needs to be careful considering the behavior difference of the pandas when reintroducing them to the wild.
Access options
Buy single article
Instant access to the full article PDF.
USD 39.95
Price excludes VAT (USA)
Tax calculation will be finalised during checkout.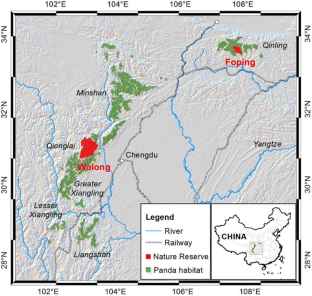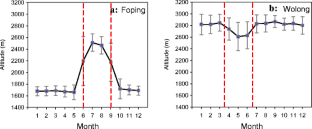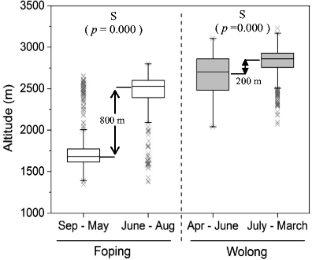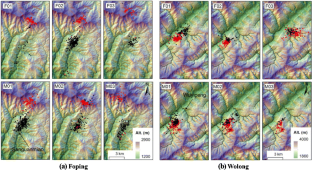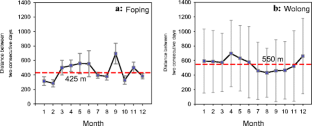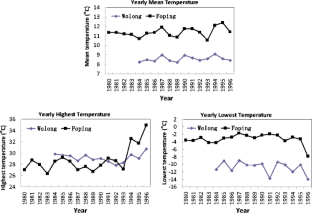 References
China Daily (2006) Scientists question discovery of 'New Subspecies'. China Daily, April 5, 2006

CVCC (China Vegetation Compiling Committee) (1980) China vegetation. Science Press, Beijing, China (in Chinese)

Garrott RA, White GC, Bartmann RM, Carpenter LH, Alldredge AW (1987) Movements of female mule deer in northwest Colorado. J Wildl Manag 51:634–643

He X (2009) Study on regeneration and effect of Bashania fargesic after strip thinning (MSc thesis). Tsinghua University, Beijing (in Chinese)

Hu J (1990) The biological studies of the giant panda. Pages 24–29 in Hu J, Wei F, Yuan C, Wu Y (editors) Research and progress in biology of the giant panda. Sichuan Publishing House of Science and Technology, Chengdu, China. (in Chinese)

Jin CZ, Ciochon RL, Dong W, Hunt RM, Liu JY, Jaeger M, Zhu QZ (2007) The first skull of the earliest giant panda. PNAS 104:10932–10937

Kuchling GA, Rhodin GJ, Ibarrondo BR, Trainor CR (2007) A new subspecies of the snakeneck turtle Chelodina mccordi from Timor-Leste (East Timor) (Testudines: Chelidae). Chelonian Conserv Biol 6:213–222

Li Z, Liu S, Chen J (1983) Characteristics of geologic and geomorphologic background in Wolong region. In: Sun H (ed) Reports of Hen-duan-shan Mountain investigation and Tibet Plateau research (I). Yunnan Public Press, Kunming, China, pp 124–131 (in Chinese)

Liu B (2008) Research on the staple food bamboos and their characteristics for Qinling giant pandas (MSc thesis). Northwest A & F University, Xi An, China (in Chinese)

Liu X (1997) Analysis of factors influencing the giant panda's distribution using GIS in Wolong, China (MSc thesis). ITC, Enschede, the Netherlands

Liu X (2001) Mapping and modeling the habitat of giant pandas in Foping Nature Reserve, China. ISBN 90-5808-496-5. Febodruk BV, Enschede, The Netherlands

Liu X, Bronsveld MC, Toxopeus AG, Kreijns MS (1997) GIS application in research of wildlife habitat change − a case study of the giant panda in Wolong Nature Reserve. J Chin Geogr 7:51–60

Liu X, Bronsveld MC, Toxipius AG, Kreijns MS, Zhang H, Tan Y, Tang C, Yang J, Liu M (1998) Application of digital terrain model (DTM) in the habitat research of endangered animal species. Prog Geogr 17:50–58 (in Chinese)

Liu X, Skidmore AK, Wang T, Yong Y, Prins HHT (2002) Giant panda movement pattern in Foping Nature Reserve, China. J Wildl Manag 66:1179–1188

Liu X, Toxopeus AG, Skidmore AK, Shao X, Dang G, Wang T, Prins HHT (2005) Giant panda habitat selection in Foping Nature Reserve, China. J Wildl Manag 69:1623–1632

Liu X, Wang T, Wang P, Yang J (2008) Application research of radio-tracking data on giant panda movements in Wolong Nature Reserve, China. Acta Theriologica Sinica 28:180–186 (in Chinese)

Lü Z, Johnson WE, Menotti-Raymond M, Yuhki N, Martenson JS, Mainka S, Huang S, Zhang Z, Li G, Pan W, Mao X, O'Brien SJ (2001) Patterns of genetic diversity in remaining giant panda populations. Conserv Biol 15:1596–1607

Nams VO (2006) Locate III user's guide. Pacer computer software, Tatamagouche, Nova Scotia, Canada

Ouyang Z, Yang Z, Tan Y, Zhang H (1995) Application of geographical information system in the study and management in Wolong biosphere reserve. China Man and Biosphere Annually 47–55

Pan W, Gao Z, Lü Z (1988) Natural refuge of the giant panda in Qinling. Beijing University Press, Beijing, China (in Chinese)

Pan W, Lü Z, Mang G (1989) The seasonal movement behavior of the giant panda in Qinling [abstract]. Abstracts of the Annual Conference of the Zoological Society of China 50:474–475. (In Chinese)

Pan W, Lü Z, Zhu X, Wang D, Wang H, Long Y, Fu D, Zhou X (2001) Chance for continuous survival. Peking University Press, Beijing, China (in Chinese)

Qin Z, Taylor AH, Cai X (1993) Dynamic succession of bamboo and forest in Wolong giant pandas' ecological environment. China Forestry Press, Beijing, China (in Chinese)

Reid DG, Hu J, Dong S, Wang W, Huang Y (1989) Giant panda behaviour and carrying capacity following a bamboo die-off. Biol Conserv 49:85–104

Ren Y, Wang M, Yue M, Li Z (1998) Plants of giant panda's habitat of Qinling Mountains. Shaanxi Sciences and Technology Press, Xian, China (in Chinese)

Schaller GB, Hu J, Pan W, Zhu J (1985) The giant panda of Wolong. University of Chicago Press, Chicago, IL

SFA (Chinese State Forestry Administration) (2006) The Third National Survey Report on giant panda in China. Science Press, Beijing, China (in Chinese)

Smadja C, Ganem G (2002) Subspecies recognition in the house mouse: a study of two populations from the border of a hybrid zone. Behav Ecol 13:312–320

Smadja C, Ganem G (2008) Divergence of odorant signals within and between the two European subspecies of the house mouse. Behav Ecol 19:223–230

Thompson DB (1990) Different spatial scales of adaptation in the climbing behavior of Peromyscus maniculatus: Geographic variation, natural selection, and gene flow. Evolution 44:952–965

Thouless CR (1995) Long distance movements of elephants in northern Kenya. Afr J Ecol 33:321–334

Tian X (1989) Bamboo species in giant panda distribution area in Qinling Mountains. Shananxi For SciTechnol 3:72–75 (in Chinese)

Tian X (1990) Studies on food base of giant panda in Qinling Mountains. Acta Theriologica Sinica 10:88–96 (in Chinese)

Wan Q, Fang S, Wu H, Fujihara T (2003) Genetic differentiation and subspecies development of the giant panda as revealed by DNA fingerprinting. Electroporesis 24:1353–1359

Wan Q, Wu H, Fang S (2005) A new subspecies of giant panda (Ailuropoda melanoleuca) from Shaanxi, China. J Mammal 86:397–402

Wang T (2006) Research on giant panda seasonal movement behave and habitat selection in Wolong Nature Reserve (BSc thesis). Tsinghua University, Beijing, China (in Chinese)

Wang Y, Dong W, Kouba A, Liu X (2012) An analysis of nutrient components of Bashania fargesii leaves and shoots: a staple food bamboo for giant pandas. For Sci Exploring 26:47–50 (in Chinese)

Wei F, Zhou C, Hu J, Yang G, Wang W (1996) Giant panda's selection for bamboo resources in Mabian Dafengding Reserve. Acta Theriologica Sinica 16:171–175 (in Chinese)

White GC, Garrott RA (1990) Analysis of wildlife radio-tracking data. Academic Press, Inc., San Diego, CA

Wilson JR, Nebel S, Minton CDT (2007) Seasonal movement ecology and morphometrics of two Bar-tailed Godwit populations in Australia. Emu 107:262–274

WNR, SNC (Wolong Nature Reserve and Sichuan Normal College) (1992) The animal and plant resources and protection of Wolong Nature Reserve. Sichuan Publishing House of Science & Technology, Chengdu, China (in Chinese)

Yong Y, Wang K, Wang T (1994) Movement habits of the giant pandas in Foping. Acta Theriologica Sinica 14:9–14 (in Chinese)

Zhang W (1983) The forest soils of Wolong Natural Reserve and its vertical zonalties distribution. Sci Silvae Sin 19:254–268 (in Chinese)

Zhang Z, Sheppard JK, Swaisgood RR, Wang G, Nie Y, Wei W, Zhao N, Wei F (2014) Ecological scale and seasonal heterogeneity in the spatial behaviors of giant pandas. Integr Zool 9:46–60

Zhao S, Zheng P, Dong S, Zhan X, Wu Q, Guo X, Hu Y, He W, Zhang S, Fan W, Zhu L, Li D, Zhang X, Chen Q, Zhang H, Zhang Z, Jin X, Zhang J, Yang H, Wang J, Wang J, Wei F (2013) Whole-genome sequencing of giant pandas provides insights into demographic history and local adaptation. Nat Genet 45:67–71

Zhou S, Huang J, Zhang H, Yang J, Tan Y, Wei R (1999) The ecological features of Ailuropoda melanoleuca's habitat in the Wolong Nature Reserve and their mutual relation between Ailuropoda melanoleuca and its ecological features. Sichuan For Explor Des 1:16–23 (in Chinese)

Zhu L, Zhang S, Gu X, Wei F (2011) Significant genetic boundaries and spatial dynamics of giant pandas occupying fragmented habitat across southwest China. Mol Ecol 20:1122–1132
Acknowledgments
We thank all the people who contributed in any way to make these valuable datasets available for further scientific researches but thanks especially to the Foping and Wolong Nature Reserves. This work was partially supported by the National Natural Science Foundation of China (NSFC) project (41271194) and the SFA-CWCA's International Cooperation Project for Giant Panda Conservation (No. WH0633). Thanks should also be given to Dr Pieter S. A. Beck (The Woods Hole Research Center, Falmouth MA02540, USA) for creating Fig. 6.
Additional information
Responsible editor: Philippe Garrigues
About this article
Cite this article
Liu, X., Wang, T., Wang, T. et al. How do two giant panda populations adapt to their habitats in the Qinling and Qionglai Mountains, China. Environ Sci Pollut Res 22, 1175–1185 (2015). https://doi.org/10.1007/s11356-014-3412-8
Received:

Accepted:

Published:

Issue Date:

DOI: https://doi.org/10.1007/s11356-014-3412-8
Keywords
Driving forces

Foping Nature Reserve

Giant panda

Movement behavior

Wolong Nature Reserve