Abstract
Brominated flame retardants (BFRs, including polybrominated diphenyl ethers (PBDEs) and tetrabromobisphenol-A (TBBPA)) and metals (Cu, Zn, Pb, Cd, Ni, Hg and As) in sediments, soils and herb plants from unregulated e-waste disposal sites were examined. The metal concentrations, ∑PBDE and TBBPA concentrations in all samples from the examined e-waste dismantling sites were relatively high in comparison with those of rural and urban areas around the world. The PBDE and TBBPA levels in soils significantly decreased with increasing distance from the e-waste dismantling sites, indicating that PBDEs and TBBPA had similar transport potential from the e-waste dismantling process as a point source to the surrounding region. BDE-209 and TBBPA predominated in all samples, which is consistent with the evidence that the deca-BDE and TBBPA commercial mixtures were extensively used in electronic products. Metals, PBDEs and TBBPA displayed significant positive correlations with TOC, whereas the correlations with pH were insignificant, indicating that TOC was a major factor governing the spatial distribution, transportation and fate in sediments and soils. A significant relationship between log-transformed metals and BFR concentrations indicated common pollution sources. Moreover, cluster analysis and principal component analysis further confirmed that the metals and BFRs had a common source, and penta- and deca-BDE commercial products may be two sources of PBDEs in this region.
This is a preview of subscription content, log in to check access.
Access options
Buy single article
Instant access to the full article PDF.
US$ 39.95
Price includes VAT for USA
Subscribe to journal
Immediate online access to all issues from 2019. Subscription will auto renew annually.
US$ 99
This is the net price. Taxes to be calculated in checkout.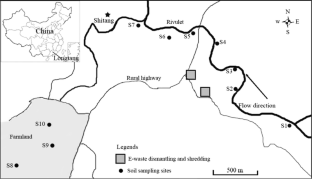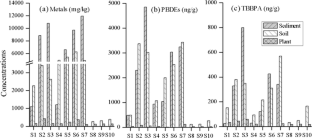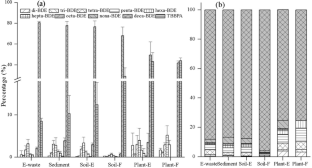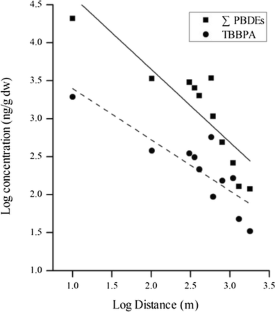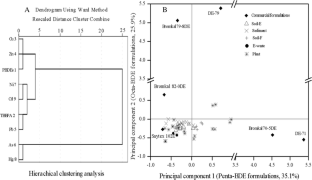 References
Bayen S (2012) Occurrence, bioavailability and toxic effects of trace metals and organic contaminants in mangrove ecosystems: a review. Environ Int 48:84–101

Bi X, Feng X, Yang Y, Li X, Shin GP, Li F, Qiu G, Li G, Liu T, Fu Z (2009) Allocation and source attribution of lead and cadmium in maize (Zea mays L.) impacted by smelting emissions. Environ Pollut 157(3):834–839

Birnbaum LS, Staskal DF (2004) Brominated flame retardants: cause for concern? Environ Health Perspect 112(1):9

Bradl HB (2004) Adsorption of heavy metal ions on soils and soils constituents. J Colloid Interface Sci 277(1):1–18

Chen L, Yu C, Shen C, Zhang C, Liu L, Shen K, Tang X, Chen Y (2010) Study on adverse impact of e-waste disassembly on surface sediment in East China by chemical analysis and bioassays. J Soils Sediments 10(3):359–367

Chen SJ, Feng AH, He MJ, Chen MY, Luo XJ, Mai BX (2013) Current levels and composition profiles of PBDEs and alternative flame retardants in surface sediments from the Pearl River Delta, southern China: comparison with historical data. Sci Total Environ 444:205–211

CNEMC (1990) The background values of chinese soils. China National Environmental Monitoring Centre. Environmental Science Press of China, Beijing, p 501

De Wit CA, Alaee M, Muir DC (2006) Levels and trends of brominated flame retardants in the Arctic. Chemosphere 64(2):209–233

Equeenuddin SM, Tripathy S, Sahoo P, Panigrahi M (2013) Metal behavior in sediment associated with acid mine drainage stream: role of pH. J Geochem Explor 124:230–237

Fu J, Zhou Q, Liu J, Liu W, Wang T, Zhang Q, Jiang G (2008) High levels of heavy metals in rice (Oryza sativa L.) from a typical E-waste recycling area in southeast China and its potential risk to human health. Chemosphere 71(7):1269–1275

Fujimori T, Takigami H (2014) Pollution distribution of heavy metals in surface soil at an informal electronic-waste recycling site. Environ Geochem Health 36(1):159–168

Gao S, Hong J, Yu Z, Wang J, Yang G, Sheng G, Fu J (2011) Polybrominated diphenyl ethers in surface soils from e-waste recycling areas and industrial areas in South China: concentration levels, congener profile, and inventory. Environ Toxicol Chem 30(12):2688–2696

Gouin T, Harner T (2003) Modelling the environmental fate of the polybrominated diphenyl ethers. Environ Int 29(6):717–724

Harrad S, Abdallah MA-E, Rose NL, Turner SD, Davidson TA (2010) Current-use brominated flame retardants in water, sediment, and fish from english lakes. Environ Sci Technol 44(13):5318–5318

Hassanin A, Johnston A, Thomas GO, Jones KC (2005) Time trends of atmospheric PBDEs inferred from archived UK herbage. Environ Sci Technol 39(8):2436–2441

He MJ, Luo XJ, Yu LH, Liu J, Zhang XL, Chen SJ, Chen D, Mai BX (2010) Tetrabromobisphenol-A and hexabromocyclododecane in birds from an e-waste region in South China: influence of diet on diastereoisomer-and enantiomer-specific distribution and trophodynamics. Environ Sci Technol 44(15):5748–5754

Klosterhaus SL, Stapleton HM, La Guardia MJ, Greig DJ (2012) Brominated and chlorinated flame retardants in San Francisco Bay sediments and wildlife. Environ Int 47:56–65

Kuramochi H, Kawamoto K, Miyazaki K, Nagahama K, Maeda K, Li XW, Shibata E, Nakamura T, Sakai S (2008) Determination of physicochemical properties of tetrabromobisphenol A. Environ Toxicol Chem 27(12):2413–2418

La Guardia MJ, Hale RC, Harvey E (2006) Detailed polybrominated diphenyl ether (PBDE) congener composition of the widely used penta-, octa-, and deca-PBDE technical flame-retardant mixtures. Environ Sci Technol 40(20):6247–6254

Leung A, Cai ZW, Wong MH (2006) Environmental contamination from electronic waste recycling at Guiyu, southeast China. J Mater Cycles Waste Manag 8(1):21–33

Leung AO, Luksemburg WJ, Wong AS, Wong MH (2007) Spatial distribution of polybrominated diphenyl ethers and polychlorinated dibenzo-p-dioxins and dibenzofurans in soil and combusted residue at Guiyu, an electronic waste recycling site in southeast China. Environ Sci Technol 41(8):2730–2737

Li J, Duan H, Shi P (2011a) Heavy metal contamination of surface soil in electronic waste dismantling area: site investigation and source-apportionment analysis. Waste Manag Res 29(7):727–738

Li H, Bai J, Li Y, Cheng H, Zeng EY, You J (2011b) Short-range transport of contaminants released from e-waste recycling site in South China. J Environ Monit 13(4):836–843

Liu M, Huang B, Bi X, Ren Z, Sheng G, Fu J (2013) Heavy metals and organic compounds contamination in soil from an e-waste region in South China. Environ Sci Process Impacts 15(5):919–929

Luo Y, Luo XJ, Lin Z, Chen SJ, Liu J, Mai BX, Yang ZY (2009) Polybrominated diphenyl ethers in road and farmland soils from an e-waste recycling region in Southern China: concentrations, source profiles, and potential dispersion and deposition. Sci Total Environ 407(3):1105–1113

Luo C, Liu C, Wang Y, Liu X, Li F, Zhang G, Li X (2011) Heavy metal contamination in soils and vegetables near an e-waste processing site, south China. J Hazard Mater 186(1):481–490

Luo Q, Wong MH, Wang Z, Cai Z (2013) Polybrominated diphenyl ethers in combusted residues and soils from an open burning site of electronic wastes. Environ Earth Sci 69(8):2633–2641

Ma J, Addink R, Yun S, Cheng J, Wang W, Kannan K (2009) Polybrominated dibenzo-p-dioxins/dibenzofurans and polybrominated diphenyl ethers in soil, vegetation, workshop-floor dust, and electronic shredder residue from an electronic waste recycling facility and in soils from a chemical industrial complex in eastern China. Environ Sci Technol 43(19):7350–7356

Minh NH, Isobe T, Ueno D, Matsumoto K, Mine M, Kajiwara N, Takahashi S, Tanabe S (2007) Spatial distribution and vertical profile of polybrominated diphenyl ethers and hexabromocyclododecanes in sediment core from Tokyo Bay, Japan. Environ Pollut 148(2):409–417

Morris S, Allchin CR, Zegers BN, Haftka JJH, Boon JP, Belpaire C, Leonards PEG, van Leeuwen SPJ, de Boer J (2004) Distribution and fate of HBCD and TBBPA brominated flame retardants in North Sea estuaries and aquatic food webs. Environ Sci Technol 38(21):5497–5504

Mueller KE, Mueller-Spitz SR, Henry HF, Vonderheide AP, Soman RS, Kinkle BK, Shann JR (2006) Fate of pentabrominated diphenyl ethers in soil: abiotic sorption, plant uptake, and the impact of interspecific plant interactions. Environ Sci Technol 40(21):6662–6667

Ni HG, Zeng H, Tao S, Zeng EY (2010) Environmental and human exposure to persistent halogenated compounds derived from e-waste in China. Environ Toxicol Chem 29(6):1237–1247

Nyholm JR, Lundberg C, Andersson PL (2010) Biodegradation kinetics of selected brominated flame retardants in aerobic and anaerobic soil. Environ Pollut 158(6):2235–2240

Robinson BH (2009) E-waste: an assessment of global production and environmental impacts. Sci Total Environ 408(2):183–191

Sánchez-Brunete C, Miguel E, Tadeo JL (2009) Determination of tetrabromobisphenol-A, tetrachlorobisphenol-A and bisphenol-A in soil by ultrasonic assisted extraction and gas chromatography–mass spectrometry. J Chromatogr A 1216(29):5497–5503

SEPA (1995) Environmental quality standards for soils (GB15618-1995). State Environmental Protection Administration of China, Beijing

Shepherd KD, Walsh MG (2002) Development of reflectance spectral libraries for characterization of soil properties. Soil Sci Soc Am J 66(3):988–998

Sjödin A, Patterson DG Jr, Bergman Å (2003) A review on human exposure to brominated flame retardants-particularly polybrominated diphenyl ethers. Environ Int 29(6):829–839

Tang X, Shen C, Shi D, Cheema SA, Khan MI, Zhang C, Chen Y (2010) Heavy metal and persistent organic compound contamination in soil from Wenling: an emerging e-waste recycling city in Taizhou area, China. J Hazard Mater 173(1):653–660

Tang J, Feng J, Li X, Li G (2014) Levels of flame retardants HBCD, TBBPA and TBC in surface soils from an industrialized region of East China. Environ Sci Process Impacts 16(5):1015–1021

Tittlemier SA, Halldorson T, Stern GA, Tomy GT (2002) Vapor pressures, aqueous solubilities, and Henry's law constants of some brominated flame retardants. Environ Toxicol Chem 21(9):1804–1810

VROM (2001) The new dutch list. Intervention values and target values: soil quality standards. Netherlands Ministry of Housing, Spatial Planning and Environment, Department of Soil Protection, The Hague, Netherlands

Wang J, Lin Z, Lin K, Wang C, Zhang W, Cui C, Lin J, Dong Q, Huang C (2011) Polybrominated diphenyl ethers in water, sediment, soil, and biological samples from different industrial areas in Zhejiang, China. J Hazard Mater 197:211–219

Wang S, Zhang S, Huang H, Niu Z, Han W (2014) Characterization of polybrominated diphenyl ethers (PBDEs) and hydroxylated and methoxylated PBDEs in soils and plants from an e-waste area, China. Environ Pollut 184:405–413

Watanabe I, Sakai S-i (2003) Environmental release and behavior of brominated flame retardants. Environ Int 29(6):665–682

Wong M, Wu S, Deng W, Yu X, Luo Q, Leung A, Wong C, Luksemburg W, Wong A (2007) Export of toxic chemicals—a review of the case of uncontrolled electronic-waste recycling. Environ Pollut 149(2):131–140

Xiao J (2006) A perspective on the development of brominated flame retardants in China

Xie Z, Ebinghaus R, Lohmann R, Heemken O, Caba A, Püttmann W (2007) Trace determination of the flame retardant tetrabromobisphenol A in the atmosphere by gas chromatography–mass spectrometry. Anal Chim Acta 584(2):333–342

Yang S, Wang S, Liu H, Yan Z (2012) Tetrabromobisphenol A: tissue distribution in fish, and seasonal variation in water and sediment of Lake Chaohu, China. Environ Sci Pollut Res 19(9):4090–4096

Yao Z, Li J, Zhao X (2013) Destruction of decabromodiphenyl ether (BDE-209) in a ternary carbonate molten salt reactor. J Environ Manag 127:244–248

Zhang XL, Luo XJ, Chen SJ, Wu JP, Mai BX (2009) Spatial distribution and vertical profile of polybrominated diphenyl ethers, tetrabromobisphenol A, and decabromodiphenylethane in river sediment from an industrialized region of South China. Environ Pollut 157(6):1917–1923

Zhang Q, Ye J, Chen J, Xu H, Wang C, Zhao M (2014) Risk assessment of polychlorinated biphenyls and heavy metals in soils of an abandoned e-waste site in China. Environ Pollut 185:258–265

Zhao YX, Qin XF, Li Y, Liu PY, Tian M, Yan SS, Qin ZF, Xu XB, Yang YJ (2009) Diffusion of polybrominated diphenyl ether (PBDE) from an e-waste recycling area to the surrounding regions in Southeast China. Chemosphere 76(11):1470–1476

Zhou P, Lin K, Zhou X, Zhang W, Huang K, Liu L, Guo J, Xu F (2012) Distribution of polybrominated diphenyl ethers in the surface sediments of the Taihu Lake, China. Chemosphere 88(11):1375–1382

Zhou X, Guo J, Lin K, Huang K, Deng J (2013) Leaching characteristics of heavy metals and brominated flame retardants from waste printed circuit boards. J Hazard Mater 246:96–102

Zhou X, Guo J, Zhang W, Zhou P, Deng J, Lin K (2014) Tetrabromobisphenol A contamination and emission in printed circuit board production and implications for human exposure. J Hazard Mater 273:27–35

Zou MY, Ran Y, Gong J, Mai BX, Zeng EY (2007) Polybrominated diphenyl ethers in watershed soils of the Pearl River Delta, China: occurrence, inventory, and fate. Environ Sci Technol 41(24):8262–8267
Acknowledgments
We thank Christal Oliver for English language editing. This work was financially supported by the National Environmental Protection Public Welfare Science and Technology Research Program of China (No. 201309047)
Additional information
Jinfu Wang and Bishu Pan Taizhou Municipal Center for Diseases Control and Prevention
Responsible editor: Leif Kronberg
Electronic supplementary material
Below is the link to the electronic supplementary material.
About this article
Cite this article
Wang, J., Liu, L., Wang, J. et al. Distribution of metals and brominated flame retardants (BFRs) in sediments, soils and plants from an informal e-waste dismantling site, South China. Environ Sci Pollut Res 22, 1020–1033 (2015). https://doi.org/10.1007/s11356-014-3399-1
Received:

Accepted:

Published:

Issue Date:
Keywords
Metals

Brominated flame retardants

e-Waste

Transport

Soils

Plants