Abstract
The distribution of essential elements Co, Cu, Fe, Mn, Se, and Zn, and nonessential element Cd among cytosolic proteins of different molecular masses in the gills of European chub (Squalius cephalus) sampled in the moderately contaminated Sutla River in September of 2009, was studied after the protein separation by size exclusion high-performance liquid chromatography (SEC-HPLC), and the metal determination in the obtained fractions by high-resolution inductively coupled plasma mass spectrometry (HR ICP-MS). The aims of the study were to characterize the distribution profiles of metals within different protein categories in gills in the conditions of low metal exposure in the river water, and to compare them with the previously published hepatic profiles. The distribution profiles of analyzed metals were mainly characterized with several peaks. However, some observations could be emphasized: both Cu and Cd were eluted near metallothionein elution time; elution time of one of Co peaks could be associated with Co-containing compound cobalamin; increasing cytosolic Fe concentrations resulted in possible Fe binding to storage protein ferritin; both Mn and Zn had poorly resolved peaks covering wide ranges of molecular masses and indicating their binding to various proteins; both Zn and Se increased in protein fractions of molecular masses <5 kDa following their concentration increase in the gill cytosol; expected clear metallothionein peak was not observed for Zn. Comparison of gill profiles with previously published hepatic profiles revealed similar and in case of some elements (e.g., Co, Fe, Mn, and Se) almost identical distributions in both organs regarding elution times. On the contrary, heights of obtained peaks were different, indicating possible metal binding to the same proteins in the gills and liver, but in different proportions. The results obtained in this study can be used as a basis for comparison in monitoring studies, for identification of changes that would occur after exposure of chub to increased metal concentrations.
Access options
Buy single article
Instant access to the full article PDF.
US$ 39.95
Tax calculation will be finalised during checkout.
Subscribe to journal
Immediate online access to all issues from 2019. Subscription will auto renew annually.
US$ 79
Tax calculation will be finalised during checkout.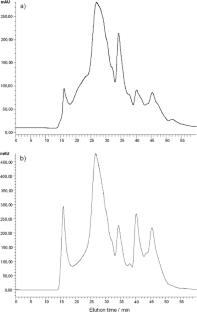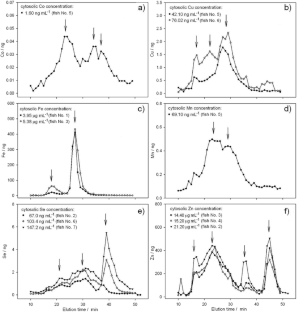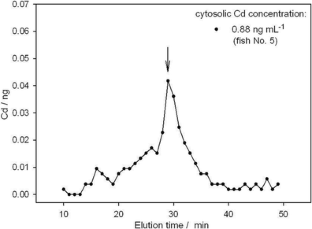 References
Ahmad I, Maria VL, Oliveira M, Serafim A, Bebianno MJ, Pacheco M, Santos MA (2008) DNA damage and lipid peroxidation vs. protection responses in the gill of Dicentrarchus labrax L. from a contaminated coastal lagoon (Ria de Aveiro, Portugal). Sci Total Environ 406:298–307

Boivin S, Aouffen M, Fournier A, Mateescu M (2001) Molecular characterization of human and bovine ceruloplasmin using MALDI-TOF mass spectrometry. Biochem Biophys Res Commun 288:1006–1010

Bonneris E, Giguère A, Perceval O, Buronfosse T, Masson S, Hare L, Campbell PGC (2005) Sub-cellular partitioning of metals (Cd, Cu, Zn) in the gills of a freshwater bivalve, Pyganodon grandis: role of calcium concretions in metal sequestration. Aquat Toxicol 71:319–334

De Boeck G, Grosell M, Wood C (2001) Sensitivity of the spiny dogfish (Squalus acanthias) to waterborne silver exposure. Aquat Toxicol 54:261–275

De Smet G, Vincx M, Vanreusel A, Vanhove S, Vanaverbeke J, Steyaert M (2001) Nematoda (free-living). In: Costello MJ, Emblow CS, White R (eds) European Register of Marine Species. A check-list of the marine species in Europe and a bibliography of guides to their identification. Patrimoines naturels 50:161–174.

Dragun Z, Kapetanović D, Raspor B, Teskeredžić E (2011) Water quality of medium size watercourse under baseflow conditions: the case study of river Sutla in Croatia. Ambio 40:391–407

Dragun Z, Krasnići N, Strižak Ž, Raspor B (2012) Lead concentration increase in the hepatic and gill soluble fractions of European chub (Squalius cephalus)—an indicator of increased Pb exposure from the river water. Environ Sci Pollut Res 19:2088–2095

Dragun Z, Filipović Marijić V, Kapetanović D, Valić D, Vardić Smrzlić I, Krasnići N, Strižak Ž, Kurtović B, Teskeredžić E, Raspor B (2013) Assessment of general condition of fish inhabiting a moderately contaminated aquatic environment. Environ Sci Pollut Res 20:4954–4968

Evans DH (1987) The fish gill: site of action and model for toxic effects of environmental pollutants. Environ Health Perspect 71:47–58

Formigari A, Irato P, Santon A (2007) Zinc, antioxidant systems and metallothionein in metal mediated-apoptosis: biochemical and cytochemical aspects. Comp Biochem Physiol C 146:443–459

Garcia JS, Schmidt de Magalhaes C, Zezzi Arruda MA (2006) Trends in metal-binding and metalloprotein analysis. Talanta 69:1–15

Hauser-Davis RA, Calixto de Campos R, Lourenço Ziolli R (2012) Fish metalloproteins as biomarkers of environmental contamination. In: Whitacre DM (ed) Reviews of environmental contamination and toxicology, vol 218. Springer, New York, pp 101–123

Hille B (1992) Ionic channels of excitable membranes, 2nd edn. Sinauer Associates Inc., Sunderland

Kamaruzzaman BY, Akbar B, Jalal KCA, Shahbudin S (2010) Accumulation of metals in the gills of tilapia fingerlings (Oreochromis niloticus) from in vitro toxicology study. J Fish Aquat Sci 5:503–509

Kirschbaum J (1981) Cyanocobalamin. In: Florey K (ed) Analytical profiles of drug substances, vol 10. Academic, New York, pp 183–288

Klotz L-O, Kröncke K-D, Buchczyk DP, Sies H (2003) Role of copper, zinc, selenium and tellurium in the cellular defense against oxidative and nitrosative stress. J Nutr 133:1448S–1451S

Krasnići N, Dragun Z, Erk M, Raspor B (2013) Distribution of selected essential (Co, Cu, Fe, Mn, Mo, Se, Zn) and nonessential (Cd, Pb) trace elements among protein fractions from hepatic cytosol of European chub (Squalius cephalus L.). Environ Sci Pollut Res 20:2340–2351

Lehtonen KK, Schiedek D (2006) Monitoring biological effects of pollution in the Baltic Sea: neglected—but still wanted? Mar Pollut Bull 53:377–386

Levine SL, Oris JT (1999) CYP1A expression in liver and gill of rainbow trout following waterborne exposure: implications for biomarker determination. Aquat Toxicol 46:279–287

Liu N, Lo LS, Askary SH, Jones L, Kidane TZ, Trang T, Nguyen M, Goforth J, Chu Y-H, Vivas E, Tsai M, Westbrook T, Linder MC (2007) Transcuprein is a macroglobulin regulated by copper and iron availability. J Nutr Biochem 18:597–608

Lowry OH, Rosebrough NJ, Farr AL, Randall RJ (1951) Protein measurement with the Folin phenol reagent. J Biol Chem 193:265–275

Martin-Antonio B, Jimenez-Cantizano RM, Salas-Leiton E, Infante C, Manchado M (2009) Genomic characterization and gene expression analysis of four hepcidin genes in the redbanded seabream (Pagrus auriga). Fish Shellfish Immunol 26:483–491

Outten CE, O'Halloran TV (2001) Femtomolar sensitivity of metalloregulatory proteins controlling zinc homeostasis. Science 292:2488–2492

Park JD, Liu Y, Klaassen CD (2001) Protective effect of metallothionein against the toxicity of cadmium and other metals. Toxicology 163:93–100

Playle RC (1998) Modelling metal interactions at fish gills. Sci Total Environ 219:147–163

Prange A, Schaumlöffel D (2002) Hyphenated techniques for the characterization and quantification of metallothionein isoforms. Anal Bioanal Chem 373:441–453

Richards JG, Playle RC (1998) Cobalt binding to gills of rainbow trout (Oncorhynchus mykiss): an equilibrium model. Comp Biochem Physiol C 119:185–197

Roesijadi G (1992) Metallothioneins in metal regulation and toxicity in aquatic animals. Aquat Toxicol 22:81–114

Sanz-Medel A, Montes-Bayon M, Fernandez Sanchez ML (2003) Trace element speciation by ICP-MS in large biomolecules and its potential for proteomics. Anal Bioanal Chem 377:236–247

Souza IC, Duarte ID, Pimentel NQ, Rocha LD, Morozesk M, Bonomo MM, Azevedo VC, Pereira CDS, Monferrán MV, Milanez CRD, Matsumoto ST, Wunderlin DA, Fernandes MN (2013) Matching metal pollution with bioavailability, bioaccumulation and biomarkers response in fish (Centropomus parallelus) resident in neotropical estuaries. Environ Pollut 180:136–144

Strižak Ž, Ivanković D, Pröfrock D, Helmholz H, Cindrić A-M, Erk M, Prange A (2014) Characterization of the cytosolic distribution of priority pollutant metals and metalloids in the digestive gland cytosol of marine mussels: seasonal and spatial variability. Sci Total Environ 470(471):159–170

Szpunar J, Lobinski R (1999) Species-selective analysis for metal-biomacromolecular complexes using hyphenated techniques. Pure Appl Chem 71:899–918

Tanaka T, Hayashi Y, Ishizawa M (1983) Subcellular distribution and binding of heavy metals in untreated liver of the squid; comparison with data from the livers of cadmium and silver exposed rats. Experientia 39:746–748

Wang J, Dreessen D, Wiederin DR, Houk RS (2001) Measurement of trace elements in proteins extracted from liver by size exclusion chromatography-inductively coupled plasma–mass spectrometry with a magnetic sector mass spectrometer. Anal Biochem 288:89–96

Wolf C, Wenda N, Richter A, Kyriakopoulos A (2007) Alteration of biological samples in speciation analysis of metalloproteins. Anal Bioanal Chem 389:799–810

Yamashita Y, Yamashita M (2010) Identification of a novel selenium-containing compound, selenoneine, as the predominant chemical form of organic selenium in the blood of a bluefin tuna. J Biol Chem 285:18134–18138

Yamashita Y, Yabu T, Touhata K, Yamashita M (2012) Purification and characterization of glutathione peroxidase 1 in the red muscle of Pacific bluefin tuna Thunnus orientalis. Fish Sci 78:407–413
Acknowledgments
The financial support by the Ministry of Science, Education and Sport of the Republic of Croatia (project no. 098-0982934-2721 ) is acknowledged. This study was carried out as a part of the Monitoring of freshwater fishery in 2009—Group D—Fishing area Sava River–Sutla River, funded by the Ministry of Agriculture, Fisheries and Rural Development of the Republic of Croatia. Special thanks are due to Branislav Španović, Dr. Damir Valić, Dr. Damir Kapetanović, Dr. Irena Vardić Smrzlić, Dr. Božidar Kurtović, and Dr. Emin Teskeredžić for collaboration on the common fish sampling; to Željka Strižak, B. Sc. for the assistance in the field work and metal analyses; as well as to Dr. Nevenka Mikac from Laboratory for Inorganic Environmental Geochemistry for the opportunity to use HR ICP-MS .
Additional information
Responsible editor: Stuart Simpson
Electronic supplementary material
Below is the link to the electronic supplementary material.
About this article
Cite this article
Krasnići, N., Dragun, Z., Erk, M. et al. Distribution of Co, Cu, Fe, Mn, Se, Zn, and Cd among cytosolic proteins of different molecular masses in gills of European chub (Squalius cephalus L.). Environ Sci Pollut Res 21, 13512–13521 (2014). https://doi.org/10.1007/s11356-014-3274-0
Received:

Accepted:

Published:

Issue Date:
Keywords
Cytosolic proteins

European chub

Gills

HR ICP-MS

Metals

SEC-HPLC