Abstract
This study focuses on the feasibility of treating aged polycyclic aromatic hydrocarbons (PAHs)-contaminated soils using ethyl lactate (EL)-based Fenton treatment via a combination of parametric and kinetic studies. An optimised operating condition was observed at 66.7 M H2O2 with H2O2/Fe2+ of 40:1 for low soil organic carbon (SOC) content and mildly acidic soil (pH 6.2), and 10:1 for high SOC and very acidic soil (pH 4.4) with no soil pH adjustment. The desorption kinetic was only mildly shifted from single equilibrium to dual equilibrium of the first-order kinetic model upon ageing. Pretreatment with EL f c = 0.60 greatly reduced the mass transfer coefficient especially for the slow desorbed fraction (k slow) of high molecular weight (HMW) PAHs, largely contributed by the concentration gradient created by EL-enhanced solubility. As the major desorption obstacle was almost fully overcome by the pretreatment, the pseudo-first-order kinetic reaction rate constant of PAHs degradation of aged soils was statistically discernible from that of freshly contaminated soils but slightly reduced in high SOC and high acidity soil. Stabilisation of H2O2 by EL addition in combination with reduced Fe2+ catalyst were able to slow the decomposition rate of H2O2 even at higher soil pH.
Access options
Buy single article
Instant access to the full article PDF.
USD 39.95
Price excludes VAT (USA)
Tax calculation will be finalised during checkout.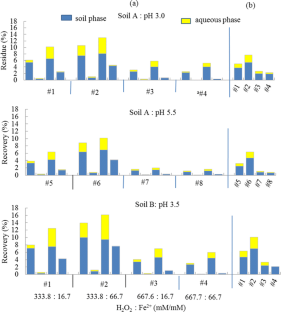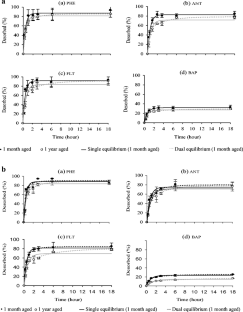 References
Alexander M (1995) How toxic chemicals in soil? Environ Sci Technol 29(11):2713–2717

Bogan BW, Trbovic V (2003) Effect of sequestration on degradability with Fenton's reagent roles of total organic carbon, humin, and soil porosity. J Hazard Mater B100:285–300

Boving TB, Zhang W (2004) Removal of aqueous-phase polynuclear aromatic hydrocarbons using aspen wood fibers. Chemosphere 54:831–839

Brusseau ML, Rao PSC (1989) The influence of sorbate-organic matter interactions nonequilibrium. Chemosphere 18(9–10):1691–1706

Brusseau ML, Wood AL, Rao PSC (1991) Influence of organic cosolvents on the sorption kinetics of hydrophobic organic chemicals. Environ Sci Technol 25:903–910

Carroll KM, Harkness MR, Bracco AA, Balcarcel RR (1994) Application of a permeant/polymer diffusional model to the desorption of polychlorinated biphenyls from Hudson River sediments. Environ Sci Technol 28(2):253–258

Chen W, Kan AT, Tomson MB (2000) Irreversible adsorption of chlorinated benzenes to natural sediments: implications for sediment quality criteria. Environ Sci Technol 34:385–392

Chen W, Kan AT, Newell CJ, Moore E, Tomson MB (2002) More realistic soil cleanup standards with dual-equilibrium desorption. Groundwater 40(2):153–164

Coates JT, Elzerman AW (1986) Desorption kinetics for selected PCB congeners from river sediments. J Contam Hydro 1:191–210

Cornelissen G, Van Noort PCM, Parsons JR, Govers HAJ (1997) Temperature dependence of slow adsorption and desorption kinetics of organic compounds in sediments. Environ Sci Technol 31:454–460

Cornelissen G, Van der Pal M, Van Noort PCM, Govers HAJ (1999) Competitive effects on the slow desorption of organic compounds from sediments. Chemosphere 39(11):1971–1981

Crisafully R, Milhome MAL, Cavalcante RM, Silveira ER, Keukeleire DD, Nascimento RF (2008) Removal of some polycyclic aromatic hydrocarbons from petrochemical wastewater using low-cost adsorbents of natural origin. Biores Technol 99:4515–4519

Davies G, Fataftah A, Cherkasskiy A, Ghabbour EA, Radwan A, Jansen SA, Jolla S, Pacoolla MD, Sein LT, Buermann W, Balasubramanian M, Budnick J, Xing B (1997) Tight metal binding by humic acids and its role in biomineralization. J Chem Soc Dalton Trans 4047

Department of Environmental Protection, State of Connecticut (2008) Environmental Permitting Fact Sheet: General Permit for the Discharge of Groundwater Remediation Wastewater. Bureau of Materials Management and Compliance Assurance Water Permitting & Enforcement Division 860-424-3018

Errett DH, Chin YP, Xu Y, Yan Y (1996) The sorption and desorption kinetics of polycyclic aromatics hydrocarbons in methanol/water mixtures. Hazard Waste Hazard Mater 13(2):177–195

Flotron V, Corine D, Padellec Y, Camel V (2005) Removal of sorbed polycylic aromatic hydrocarbons from soil, sludge and sediment samples using the Fenton's reagent process. Chemosphere 59:1427–1437

Freeman DH, Cheung LS (1981) A gel partition model for organic desorption from a pond sediment. Science 214:790–792

Gan S, Lau EV, Ng HK (2009) Remediation of soils contaminated with polycyclic aromatic hydrocarbons (PAHs). J Hazard Mater 172:532–549

García-Falcón MS, Soto-González B, Simal-Gándara J (2006) Evolution of the concentrations of polycyclic aromatic hydrocarbons in burnt woodland soils. Environ Sci Technol 40(3):759–763

Goi A, Trapido M (2004) Degradation of polycylic aromatic hydrocarbons in soil: the Fenton reagent versus ozonation. Envrion Technol 25(2):155–164

Huang CP, Dong C, Tang Z (1993) Advanced chemical oxidation: its present role and potential future in hazardous waste treatment. Waste Manage 13(5–7): 361–377

Huling SG, Arnold RG, Sierka RA, Miller MR (2001) Influence of peat on Fenton oxidation. Water Res 35(7):1687–1694

Huling SG, Pivertz BE (2006) In-situ Chemical Oxidation. USEPA, Office of Research and Development, National Risk Management Research Laboratory, EPA/600/R-06/072

Johnson MD, Keinath TM II, Weber WJ Jr (2001) A distributed reactivity model for sorption by soils and sediments. 14. Characterization and modeling of phenanthrene desorption rates. Environ Sci Technol 35:1688–1695

Jonsson S, Persson Y, Frankki S, Lundstedt S, Bavel BV, Haglund P, Tysklind M (2006) Comparison of Fenton reagent and Ozone oxidation of polycyclic aromatic hydrocarbon in aged contaminated soils. J Soil Sediments 6:208–214

Jonsson S, Persson Y, Frankki S, Lundstedt S, Bavel BV, Haglund P, Tysklind M (2007) Degradation of polycyclic aromatic hydrocarbon (PAHs) in contaminated soils by Fenton's reagent: a multivariate evaluation of the importance of soil characteristics and PAH properties. J Hazard Mater 149:86–96

Kan AT, Fu G, Hunter MA, Tomson MB (1997) Irreversible adsorption of naphthalene and tetrachlorobiphenyl to Lula and surrogate sediments. Environ Sci Technol 31(8):2176–2185

Kan AT, Fu G, Hunter MA, Chen W, Ward CH, Tomson MB (1998) Irreversible sorption of neutral hydrocarbons to sediments: experimental observations and model predictions. Environ Sci Technol 32:892–902

Kanel SR, Neppolian B, Choi H, Yang JW (2003) Heterogenous catalytic oxidation of phenanthrene by hydrogen peroxide in soil slurry: kinetic, mechanism, and implication. Soil Sediment Cont 12(1):101–117

Kögel-knabner I, Totsche KU, Raber B (2000) Desorption of polycyclic aromatic hydrocarbons from soil in the presence of dissolved organic matter: effect of solution composition and aging. J Environ Qual 29(3):906–916

Langwaldt JH (2005) Stimulated in situ soil treatment: biodegradation coupled to Fenton'sreaction. In: Lens P, Grotenhuis T, Malina G, Tabak H (eds) Soil and sediment remediation: mechanisms. Technologies and applications. IWA Publishing, London, pp 223–247

Larson RA, Weber EJ (1994) Reaction mechanisms in environmental organic chemistry. CRC Press, Boca Raton

Lau EV, Gan S, Ng HK (2012) Extraction of phenanthrene and fluoranthene from contaminated sand using palm kernel and soybean oils. J Environ Manage 107:124–130

Lee BD, Hosomi M (2000) Ethanol washing of PAH-contaminated soil and Fenton oxidation of washing solution. J Water Cycles Waste Manage 2:24–30

Lee LS, Zhai X, Lee J (2006) Lab testing and field implementation of soil flushing. Joint Transportation Research Program, Civil Engineering. Purdue University, West Lafayette, Indiana. pp 1–77. http://docs.lib.purdue.edu/jtrp/254. Accessed 2 Oct 2012

Lindsey M, Tarr MA (2000) Inhibited hydroxyl radical degradation of aromatic hydrocarbons in the presence of dissolved fulvic acid. Water Res 34(8):2385–2389

Luthy RG, Aiken GR, Brusseau SD, Cunningham PM, Gschwend PM, Pignatello JJ, Reinhard M, Traina SJ, Weber WJ, Westall JC (1997) Sequestration of hydrophobic organic contaminants by geosorbents. Environ Sci Technol 31:3341–3347

Martens DA, Frankenberger WT (1995) Enhanced degradation of polyaromatic hydrocarbons in soil treated with an advanced oxidative process-Fenton's reagent. J Soil Cont 4:175–190

Miller CT, Weber WJ Jr (1984) Modeling organic contaminant partitioning in ground-water systems. Ground Water 22(5):584–592

Pignatello JJ (1990) Slowly reversible sorption of aliphatic halocarbons in soils. I. Formation of residual fractions. Environ Toxicol Chem 9:1107–1126

Pignatello JJ, Xing B (1996) Mechanism of slow sorption of organic chemicals to natural particles. Environ Sci Technol 30:1–10

Pontevedra-Pombal X, Rey-Salgueiro L, García-Falcón MS, Elena Martínez-Carballo E, Simal-Gándara J, Martínez-Cortizas A (2012) Pre-industrial accumulation of anthropogenic polycyclic aromatic hydrocarbons found in a blanket bog of the Iberian Peninsula. Environ Res 116:36–43

Pratap K, Lemley AT (1998) Fenton electrochemical treatment of aqueous atrazine and metolachlor. J Agric Food Chem 46(8):3285–3291

Schumb WC, Satterfield CN, Wentworth RL (1955) Hydrogen peroxide. Reinhold Publishing Corp, New York

Sein LT, Varnum JM, Jansen SA (1999) Conformational modeling of a new building block of humicacid: approaches to the lowest energy conformer. Environ Sci Technol 33(4):546–552

Shor LM, Rockne KJ, Taghon GL, Young LY, Kosson DS (2003) Desorption kinetics for field-aged polycyclic aromatic hydrocarbons from sediments. Environ Sci Technol 37:1535–1544

Shorten CV, Elzerman AW, Mills GL (1990) Methods for the determination of PAH desorption kinetics in coal fines and coal contaminated sediments. Chemosphere 20:137–159

Sun HW, Yan QS (2008) Influence of pyrene combination state in soils on its treatment efficiency by Fenton oxidation. J Environ Manage 88:556–563

Tang WZ, Huang CP (1997) Stoichiometry of Fenton's reagent in the oxidation of chlorinated aliphatic pollutants. Environ Technol 18:13–23

Teh CBS (2012) Aggregate stability of tropical soils in relation to their organic matter consitituents and other soil properties. Pertanika J Tropika Agric Sci 35(1):135–148

United States Environmental Protection Agency (US EPA) (2008) Polycyclic aromatic hydrocarbons (PAHs). http://www.epa.gov/osw/hazard/wastemin/priority.htm. Accessed 2 Oct 2012

Valderrama C, Alessandri R, Aunola T, Cortina JL, Gamisans X, Tuhkanen T (2009) Oxidation by Fenton's reagent combined with biological treatment applied to a creosote-contaminated soil. J Hazard Mater 166:594–602

Watts RJ, Teel AL (2005) Chemistry of modified Fenton's reagent catalysed H2O2 propagations–CHP for in situ soil and groundwater remediation. J Environ Eng 131:613–622

Watts RJ, Udell MD, Kong S, Leung SW (1999) Fenton-like soil remediation catalysed by naturally occurring iron minerals. Environ Eng Sci 16:93–103

Yap CL, Gan S, Ng HK (2011) Fenton based remediation of polycyclic aromatic hydrocarbons contaminated Soils. Chemosphere 83:1414–1430

Yap CL, Gan S, Ng HK (2012a) Ethyl lactate-Fenton treatment of soil highly contaminated with polycyclic aromatic hydrocarbons (PAHs). Chem Eng J 200–202:247–256

Yap CL, Gan S, Ng HK (2012b) Evaluation of solubility of polycyclic aromatic hydrocarbons in ethyl lactate/water versus ethanol/water mixtures for contaminated soil remediation applications. J Environ Sci 24(6):1064–1075

Yebra-Pimentel I, Fernández-González R, Martínez Carballo E, Jesús Simal-Gándara J (2012) Searching ingredients polluted by polycyclic aromatic hydrocarbons in feeds due to atmospheric or pyrolytic sources. Food Chem 135:2043–2051
Acknowledgments
This work was supported by the Research Innovation Services of the University of Nottingham, UK under the grant no. NRF4318. The Faculty of Engineering at the University of Nottingham Malaysia Campus is also acknowledged for its support towards this project.
Additional information
Responsible editor: Roland Kallenborn
About this article
Cite this article
Yap, C.L., Gan, S. & Ng, H.K. Feasibility of treating aged polycyclic aromatic hydrocarbons (PAHs)-contaminated soils using ethyl lactate-based Fenton treatment via parametric and kinetic studies. Environ Sci Pollut Res 22, 329–342 (2015). https://doi.org/10.1007/s11356-014-3199-7
Received:

Accepted:

Published:

Issue Date:

DOI: https://doi.org/10.1007/s11356-014-3199-7
Keywords
Ageing

Ethyl lactate

Fenton

Kinetic

Parametric

Polycyclic aromatic hydrocarbons (PAHs)

Soil