Abstract
The increase of anthropogenic activities on coastal areas induces discharges of polycyclic aromatic hydrocarbons (PAHs) in aquatic ecosystem. PAH effects depend not only on their concentration and the way of contamination but also on the different developmental stages of the organism. Zebrafish were exposed to relevant concentration of pyrolytic PAHs from the first meal (i.e., 5-day post fertilization, dpf) to mature adults. Parental effect of this type of exposure was evaluated through the assessment of aerobic metabolic scope, cardiac frequency, and cardiac mRNA expression on larval and/or embryo progeny of contaminated fish. Our results suggest that cardiac frequency increased in larval descendants of fish exposed to the environmental concentration of pyrolytic PAHs (i.e., 5 ng.g−1 of food), while a lack of effect on aerobic metabolism in 5 dpf larvae was highlighted. A surexpression of mRNA related to the cardiac calcium transporting ATPase atp2a2a, a protein essential for contraction, is in accordance with this increasing cardiac frequency. Even if cardiac development genes cmlc1 and tnnt2a were not affected at early life stages tested, complementary work on cardiac structure could be interesting to better understand PAHs action.
Access options
Buy single article
Instant access to the full article PDF.
USD 39.95
Price excludes VAT (USA)
Tax calculation will be finalised during checkout.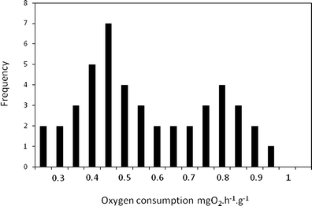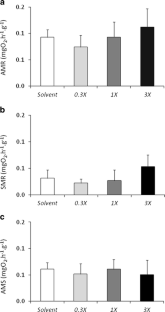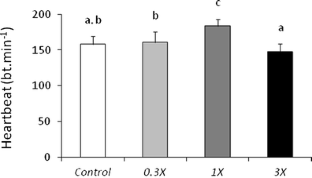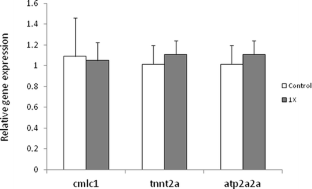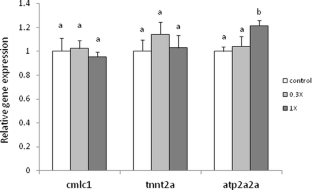 References
Barrionuevo WR, Burggren WW (1999) O2 consumption and heart rate in developing zebrafish (Danio rerio): influence of temperature and ambient O2. Am J Physiol 276:505–513

Barron MG, Podrabsky T, Ogle S, Ricker RW (1999) Are aromatic hydrocarbons the primary determinant of petroleum toxicity to aquatic organisms? Aquat Toxicol 46:253–268

Barton BA (2002) Stress in fishes: a diversity of responses with particular reference to changes in circulating corticosteroids. Integr Comp Biol 42:517–525

Billiard SM, Meyer JN, Wassenberg DM, Hodson PV, Di Giulio RT (2008) Nonadditive effects of PAHs on early vertebrate development: mechanisms and implications for risk assessment. Toxicol Sci 105(1):5–23

Blahova J, Leontovycova D, Kodes V, Svobodova Z (2013) Study of polycyclic aromatic hydrocarbon contamination of major rivers in the Czech Republic using biliary metabolite in Chub, Leuciscus cephalus L. Bull Environ Contam Toxicol 90:521–-524

Budzinski H, Jones I, Bellocq J, Pierard C, Garrigues P (1997) Evaluation of sediment contamination by polycyclic aromatic hydrocarbons in the Gironde estuary. Mar Chem 58:85–97

Burggren WW (2005) Developing animals flout prominent assumptions of ecological physiology. Comp Biochem Physiol A Mol Integr Physiol 141(4):430–439

Cachot J, Geffard O, Augagneur S, Lacroix S, Le Menach K, Peluhet L, Budzinski H (2006) Evidence of genotoxicity related to high PAH content of sediments in the upper part of the Seine estuary (Normandy, France). Aquat Toxicol 79:257–267

Cachot J, Law M, Pottier D, Peluhet L, Norris M, Budzinsk IH, Winn R (2007) Characterization of toxic effects of sediment-associated organic pollutants using the lambda transgenic medaka. Environ Sci Technol 41:7830–7836

Campbell PM, Pottinger TG, Sumpter JP (1992) Stress reduces the quality of gametes produced by rainbow-trout. Biol Reprod 47:1140–1150

Campbell PM, Pottinger TG, Sumpter JR (1994) Preliminary evidence that chronic confinement stress reduces the quality of gametes produced by brown and rainbow trout. Aquac 120:151–169

Cannas M, Atzori F, Rupsard F, Bustamante P, Loizeau V, Lefrançois C (2013) PCB contamination does not alter aerobic metabolism and tolerance to hypoxia of juvenile sole (Solea solea). Aquat Toxicol 127:54–60

Claireaux G, Davoodi F (2010) Effect of exposure to petroleum hydrocarbons upon cardio-respiratory function in the common sole (Solea solea). Aquat Toxicol 98:113–119

Clark TD, Donaldson MR, Pieperhoff S, Drenner SM, Lotto A, Cooke SJ, Hinch SG, Patterson DA, Farrell AP (2012) Physiological benefits of being small in a changing world: responses of coho salmon (Oncorhynchus kisutch) to an acute thermal challenge and a simulated capture event. PLoS ONE 7:e39079

Collier TK, Stein JE, Sanborn HR, Hom T, Myers MS, Varanasi U (1992) Field studies of reproductive success in English sole (Parophrys vetulus): correlations with bioindicators of maternal contaminant exposure. Sci Total Environ 116:169–185

Dabestani R, Ivanov IN (1999) A compilation of physical, spectroscopic and photophysical properties of polycyclic aromatic hydrocarbons. Photochem Photobiol 70:10–34

Dévier MH, Le Du-Lacoste M, Akcha F, Morin B, Peluhet L, Le Menach K, Burgeot T, Budzinski H (2013) Biliary PAHs metabolites, EROD activity and DNA damage in dab (Limanda limanda) from Seine Estuary (France). Environ Sci Pollut Res 20:708–722

Ebert AM, Hume GL, Warren KS, Cook NP, Burns CG, Mohideen MA, Siegal G, Yelon D, Fishman MC, Garrity DM (2005) Calcium extrusion is critical for cardiac morphogenesis and rhythm in embryonic zebrafish hearts. Proc Natl Acad Sci 102(49):17705–17710

Fowler SW, Readman JW, Oregioni B, Villeneuve JP, McKay K (1993) Petroleum hydrocarbons and trace metals in nearshore gulf sediments and biota before and after the 1991 war. AN assessment of temporal and spatial trends. Mar Pollut Bull 27:171–182

Gesto M, Soengas JL, Mıguez JM (2008) Acute and prolonged stress responses of brain monoaminergic activity and plasma cortisol levels in rainbow trout are modified by PAHs (naphthalene, bnaphthoflavone and benzo(a)pyrene) treatment. Aquat Toxicol 86:341–351

Hall AT, Oris JT (1991) Anthracene reduces reproductive potential and is maternally transferred during long-term exposure in fathead minnows. Aquat Toxicol 19:249–264

Hawkins WE, Walker WW, Fournie JW, Manning CS, Krol RM (2003) Use of the Japanese medaka (Oryzias latipes) and guppy (Poecilia reticulata) in carcinogenesis testing under national toxicology program protocols. Toxicol Pathol 31:88–91

Hicken CE, Linbo TL, Baldwin DH, Willis ML, Myers MS, Holland L, Incardona JP (2011) Sub-lethal exposure to crude oil during embryonic development alters cardiac morphology and reduces aerobic capacity in adult fish. Proc Natl Acad Sci U S A 108:7086–7090

Horng C-Y, Lin H-C, Lee W (2010) A reproductive toxicology study of phenanthrene in medaka (Oryzias latipes). Arch Environ Contam Toxicol 58(1):131–139

Hylland K (2006) Polycyclic aromatic hydrocarbon (PAH) ecotoxicology in marine ecosystems. J Toxic Environ Health A 69(1–2):109–123

Incardona JP, Collier TK, Scholz NL (2004) Defects in cardiac function precede morphological abnormalities in fish embryos exposed to polycyclic aromatic hydrocarbons. Toxicol Appl Pharmacol 196:191–205

Incardona JP, Carls MG, Teraoka H, Sloan CA, Collier TK, Scholz NL (2005) Aryl hydrocarbon receptor-independent toxicity of weathered crude oil during fish development. Environ Health Perspect 113:1755–1762

Incardona JP, Linbo TL, Scholz NL (2011) Cardiac toxicity of 5-ring polycyclic aromatic hydrocarbons is differentially dependent on the aryl hydrocarbon receptor 2 isoform during zebrafish development. Toxicol Appl Pharmacol 257:242–249

Jourdan-Pineau H, Dupont-Prinet A, Claireaux G, McKenzie DJ (2010) An investigation of metabolic prioritization in the European Sea Bass, Dicentrarchus labrax. Physiol Biochem Zool 83:68–77

Kim SG, Chung DKP, Suck WJ, Lee JS, Kim SS, Chung MH (2008) Effects of dietary benzo[a]pyrene on growth and hematological parameters in Juvenile rockfish, Sebastes schlegeli (Hilgendorf). Environ Toxicol Chem 81:470–474, Il manque le nom du journal

Latimer JS, Zheng J (2003) The sources, transport, and fate of Fundulus heteroclitus PAHs in the marine environment. In: Douben PET (ed) PAHs: an ecotoxicological perspective. John Wiley & Sons, West Sussex, pp 9–33

Le Du-Lacoste M, Akcha F, Devier MH, Morin B, Burgeot T, Budzinski H (2013) Comparative study of different exposure routes on the biotransformation and genotoxicity of PAHs in the flatfish species, Scophthalmus maximus. Environ Sci Pollut Res 20:690–707

Lefrançois C, Claireaux G (2003) Influence of ambient oxygenation and temperature on metabolic scope and scope for heart rate in the common sole Solea solea. Mar Ecol Prog Ser 259:273–284

Lotufo GR (1998) Bioaccumulation of sediment-associated fluoranthene in benthic copepods: uptake, elimination and biotransformation. Aquat Toxicol 44:1–15

Lucas J, Schouman A, Lyphout L, Cousin X, Lefrancois C (2014) Allometric relationship between body mass and aerobic metabolism in zebrafish Danio rerio. J Fish Biol 84(4):1171–1178

Marentette JR, Tong S, Balshine S (2013) The cortisol stress response in male round goby (Neogobius melanostomus): effects of living in polluted environments? Environ Biol Fish 96:723–733

Mazéas O, Budzinski H (2005) Solid-phase extraction and purification for the quantification of polycyclic aromatic hydrocarbon metabolites in fish bile. Anal Bioanal Chem 6:985–990

McCormick MI (1998) Behaviorally induced maternal stress in a fish influences progeny by a hormonal mechanism. Ecol 79:1873–1883

McCormick MI (1999) Experimental test of the effect of maternal hormones on larval quality of a coral reef fish. Oecologia 118:412–422

McCormick MI (2009) Indirect effects of heterospecific interactions on progeny size through maternal stress. Oikos 118:744–752

McCormick MI, Nechaev IV (2002) Influence of cortisol on developmental rhythms during embryogenesis in a tropical damselfish. J Exp Zool 293:456–466

Meador JP, Sommers FC, Ylitalo GM, Sloan CA (2006) Altered growth and related physiological responses in juvenile Chinook salmon (Oncorhynchus tshawytscha) from dietary exposure to polycyclic aromatic hydrocarbons (PAHs). Can J Fish Aquat Sci 2364–2376

Miller MA (1993) Maternal transfer of organochlorine compounds in salmonines to their eggs. Can J Fish Aquat Sci 50:1405–1413

Monteverdi GH, Giulio RT (2000) Oocytic accumulation and tissue distribution of 2,3,7,8-tetrachlorodibenzo-p-dioxin and benzo[a]pyrene in gravid Fundulus heteroclitus. Environ Toxicol Chem 19:2512–2518

Myers MS, Landah JT, Krahn MM, McCain BB (1991) Related lesions and exposure to relationships between hepatic neoplasms toxic chemicals in marine fish from the U.S. west coast. Environ Health Perspect 90:7–15

Nesan D, Vijayan MM (2012) Embryo exposure to elevated cortisol level leads to cardiac performance dysfunction in zebrafish. Mol Cell Endocrinol 363:85–91

Nye JA, Davis DD, Miller TJ (2007) The effect of maternal exposure to contaminated sediment on the growth and condition of larval Fundulus heteroclitus. Aquat Toxicol 82:242–250

Peake SJ, Farrell AP (2004) Locomotory behavior and post-exercise physiology in relation to swimming speed, gait transition and metabolism in free-swimming smallmouth bass (Micropterus dolomieu). J Exp Biol 207:1563–1575

Saito K, Nakamura N, Ito Y, Hoshijima K, Esaki M, Zhao B, Hirose S (2010) Identification of zebrafish Fxyd11a protein that is highly expressed in ion-transporting epithelium of the gill and skin and its possible role in ion homeostasis. Frontier in Physiology 23(1):129

Schurmann H, Steffensen JF (1997) Effects of temperature, hypoxia and activity on the metabolism of juvenile Atlantic cod. J Fish Biol 50:1166–1180

Seruto C, Sapozhnikova Y, Schlenk D (2005) Evaluation of the relationships between biochemical endpoints of PAH exposure and physiological endpoints of reproduction in male California Halibut (Paralichthys californicus) exposed to sediments from a natural oil seep Cherlynn. Mar Environ Res 60:454–465

Steffensen JF, Bushnell PG, Schurmann H (1994) Oxygen consumption in four species of teleosts from Greenland: no evidence of metabolic cold adaptation. Polar Biol 14(1):49–54

Tang R, Dodd A, Lai D, Mcnabb WC, Love DR (2007) Validation of Zebrafish (Danio rerio) Reference Genes for Quantitative Real-time RT-PCR Normalization. Acta Biochim Biophys Sin 39(5): 384–390

Tintos A, Gesto M, Mıguez JM, Soengas JL (2007) Naphthalene treatment alters liver intermediary metabolism and levels of steroid hormones in plasma of rainbow trout (Oncorhynchus mykiss). Ecotoxicol Environ Saf 66:139–147

Tintos A, Gesto M, Mıguez JM, Soengas JL (2008) b-Naphthoflavone and benzo(a)pyrene treatment affect liver intermediary metabolism and plasma cortisol levels in rainbow trout Oncorhynchus mykiss. Ecotoxicol Environ Saf 69:180–186

Tuvikene A (1995) Responses of fish to polyclic aromatic hydrocarbons. Ann Zool Fenn 32:295–309

Van Der Oost R, Vindimianb E, Van Den Brink PJ, Satumalay K, Heida H, Vermeulend NPE (1997) Biomonitoring aquatic pollution with feral eel (Anguilla anguilla). III. Statistical analyses of relationships between contaminant exposure and biomarkers. Aquat Toxicol 39:45–75

Vicquelin L, Leray-Forget J, Peluhet L, LeMenach K, Deflandre B, Anschutz P, Etcheber H, Morin B, Budzinski H, Cachot J (2011) A new spiked sediment assay using embryos of the Japanese medaka specifically designed for a reliable toxicity assessment of hydrophobic chemicals. Aquat Toxicol 105:235–245

Vignet C, LeMenach K, Mazurais D, Lucas J, Perrichon P, Le Bihanic F, Lyphout L, Frère L, Bégout M-L, Zambonio-Infante J-L, Budzinski H, Cousin X (2014) Chronic exposures to pyrolytic and petrogenic mixtures of PAHs through diet produce physiological disruptions in zebrafish - Part I: Survival and growth. Soumis à Environmental Science and Pollution Research

Von Westernhagen H, Rosenthal H, Dethlefsen V, Ernst W, Harms U, Hansen PD (1981) Bioaacumulating substances and reproductive success in baltic flounder Platichthys flesus. Aquat Toxicol 1:85–99

Wassenberg DM, Di Giulio RT (2004) Synergistic embryotoxicity of polycyclic aromatic hydrocarbon aryl hydrocarbon receptor agonists with cytochrome P4501A inhibitors in Fundulus heteroclitus. Environ Health Perspect 112(17):1658–1664

Wendelaar Bonga SE (1997) The stress response in fish. Physiol Rev 77:591–625
Acknowledgments
We wish to thank Antoine Bonnieux, Didier Leguay, Michel Prineau, and Lucette Joassard for their help during the experiment. All experiments were carried out at Ifremer (Plateforme d'Ecophysiologie des Poissons), La Rochelle station, France. This study was financially supported by the ANR project ConPhyPoP (CES 09_002) and JL received a doctoral grant of the Regional Council of Poitou-Charentes. This study was conducted under the approval of Animal Care Committee of France under the official licence of Marie-Laure Bégout (17–010).
Additional information
Responsible editor: Philippe Garrigues
About this article
Cite this article
Lucas, J., Perrichon, P., Nouhaud, M. et al. Aerobic metabolism and cardiac activity in the descendants of zebrafish exposed to pyrolytic polycyclic aromatic hydrocarbons. Environ Sci Pollut Res 21, 13888–13897 (2014). https://doi.org/10.1007/s11356-014-3116-0
Received:

Accepted:

Published:

Issue Date:

DOI: https://doi.org/10.1007/s11356-014-3116-0
Keywords
Parental transfer

Pyrolytic hydrocarbons

Sub-lethal concentration

Metabolic rate

Heart