Abstract
The natural biodegradation of seven polycyclic aromatic hydrocarbons (PAHs) by native microorganisms was studied in five soils from Normandy (France) from diffusely polluted areas, which can also pose a problem in terms of surfaces and amounts of contaminated soils. Bioavailability tests using cyclodextrin-based extractions were performed. The natural degradation of low molecular weight (LMW) PAHs was not strongly correlated to their bioavailability due to their sorption to geosorbents. Conversely, the very low degradation of high molecular weight (HMW) PAHs was partly correlated to their poor availability, due to their sorption on complexes of organic matter and kaolinites or smectites. A principal component analysis allowed us to distinguish between the respective degradation behaviors of LMW and HMW PAHs. LMW PAHs were degraded in less than 2–3 months and were strongly influenced by the relative percentage of phenanthrene-degrading bacteria over total bacteria in soils. HMW PAHs were not significantly degraded, not only because they were less bioavailable but also because of a lack of degrading microorganisms. Benzo[a]pyrene stood apart since it was partly degraded in acidic soils, probably because of a catabolic cooperation between bacteria and fungi.
Access options
Buy single article
Instant access to the full article PDF.
US$ 39.95
Tax calculation will be finalised during checkout.
Subscribe to journal
Immediate online access to all issues from 2019. Subscription will auto renew annually.
US$ 79
Tax calculation will be finalised during checkout.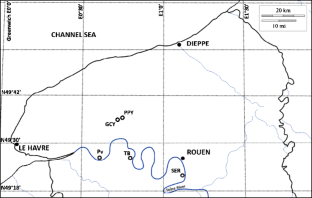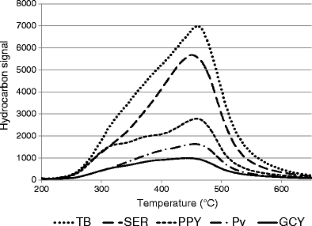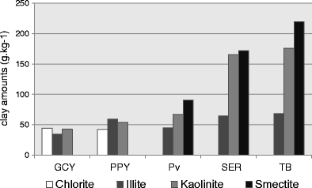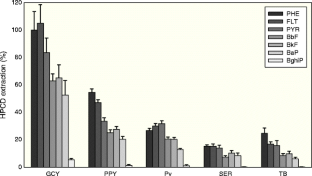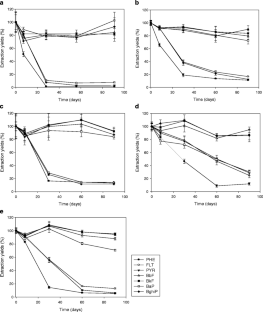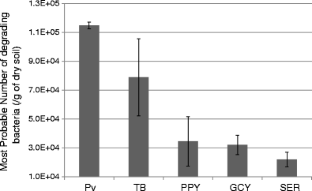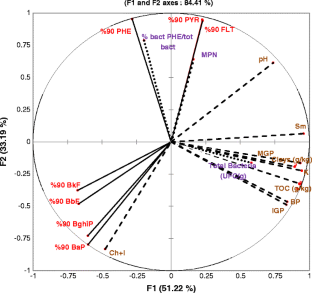 References
Achten C, Cheng S, Straub KL, Hofmann T (2011) The lack of microbial degradation of polycyclic aromatic hydrocarbons from coal-rich soils. Environ Pollut 159:623–629

Bergknut M, Sehlin E, Lundstedt S, Andersson PL, Haglund P, Tysklind M (2007) Comparison of techniques for estimating PAH bioavailability: uptake in Eisenia fetida, passive samplers and leaching using various solvents and additives. Environ Pollut 145:154–160

Berns AE, Philip H, Narres HD, Burauel P, Vereecken H, Tappe W (2008) Effect of gamma-sterilisation and autoclaving on soil organic matter structure as studied by solid state NMR, UV and fluorescence spectroscopy. Eur J Soil Sci 59:540–550

Cajthaml T, Sasek V (2005) Application of supercritical fluid extraction (SFE) to predict bioremediation efficacy of long-term composting of PAH-contaminated soil. Environ Sci Technol 39:8448–8452

Chevron-Cottin N, Merlin G (2007) Study of pyrene biodegradation capacity in two types of solid media. Sci Total Environ 380:116–123

Cornelissen G, Rigterink H, Ferdinandy MMA, van Noort PCM (1998) Rapidly desorbing fractions of PAHs in contaminated sediments as a predictor of the extent of bioremediation. Environ Sci Technol 32:966–970

Cui X, Hunter W, Yang Y, Chen Y, Gan J (2011) Biodegradation of pyrene in sand, silt and clay fractions of sediment. Biodegradation 22:297–307

Cuypers C, Pancras T, Grotenhuis T, Rulkens W (2002) The estimation of PAH bioavailability in contaminated sediments using hydroxypropyl-β-cyclodextrin and Triton X-100 extraction techniques. Chemosphere 46:1235–1245

Fernandez-Luqueno F, Valenzuela-Encinas C, Marsch R, Martinez-Suarez C, Vazquez-Nunez E, Dendooven L (2011) Microbial communities to mitigate contamination of PAHs in soil—possibilities and challenges: a review. Environ Sci Pollut Res 18:12–30

Gan S, Lau E, Ng H (2009) Remediation of soils contaminated with polycyclic aromatic hydrocarbons (PAHs). J Hazard Mater 172:532–549

Gomez-Eyles JL, Collins CD, Hodson ME (2010) Relative proportions of polycyclic aromatic hydrocarbons differ between accumulation bioassays and chemical methods to predict bioavailability. Environ Pollut 158:278–284

Haritash A, Kaushik C (2009) Biodegradation aspects of polycyclic aromatic hydrocarbons (PAHs): a review. J Hazard Mater 169:1–15

Holtzapffel T (1985) Les minéraux argileux: préparation, analyse diffractométrique et détermination. Société Géologique du Nord (Ed), Lille

Huesemann M, Hausmann T, Fortman T (2004) Does bioavailability limit biodegradation? A comparison of hydrocarbon biodegradation and desorption rates in aged soils. Biodegradation 15:261–274

Hundal LS, Thompson ML, Laird DA, Carmo AM (2001) Sorption of phenanthrene by reference smectites. Environ Sci Technol 35:3456–3461

Hurley M, Roscoe ME (1983) Automated statistical analysis of microbial enumeration by dilution series. J Applied Bact 55:159–164

Hwang S, Cutright TJ (2003) Preliminary exploration of the relationships between soil characteristics and PAH desorption and biodegradation. Environ Int 29:887–894

IUSS Working Group WRB (2006) World reference base for soil resources. World Soil Resources Reports, FAO (Ed), Rome

Jennings AA (2012) Worldwide regulatory guidance values for surface soil exposure to carcinogenic or mutagenic polycyclic aromatic hydrocarbons. J Environ Manag 110:82–102

Johnsen AR (2009) Introduction to microplate MPN-enumeration of hydrocarbon degraders. In: Timmis KN (ed) Handbook of hydrocarbon and lipid microbiology, vol 5, Experimental protocols and appendices. Springer, New York, pp 4159–4171

Johnsen AR, Bendixen K, Karlson U (2002a) Detection of microbial growth on polycyclic aromatic hydrocarbons in microtiter plates using the respiration indicator WST-1. Appl Environ Microb 68:2683–2689

Johnsen AR, Winding A, Karlson U, Roslev P (2002b) Linking of microorganisms to phenanthrene metabolism in soil by analysis of 13C-labeled cell lipids. Appl Environ Microb 68:6106–6113

Johnsen AR, Wick LY, Harms H (2005) Principles of microbial PAH-degradation in soil. Environ Pollut 133:71–84

Kästner M, Breuer-Jammali M, Mahro B (1994) Enumeration and characterization of the soil microflora from hydrocarbon-contaminated soil sites able to mineralize polycyclic aromatic hydrocarbons (PAH). Appl Microbiol Biot 41:267–273

Khan M, Cheema S, Shen C, Zhang C, Tang X, Shi J, Chen X, Park J, Chen Y (2012) Assessment of phenanthrene bioavailability in aged and unaged soils by mild extraction. Environ Monit Assess 184:549–559

Liste H-H, Alexander M (2002) Butanol extraction to predict bioavailability of PAHs in soil. Chemosphere 46:1011–1017

Machin-Ramirez C, Morales D, Martinez-Morales F, Okoh A, Trejo-Hernandez M (2012) Benzo[a]pyrene removal by axenic- and co-cultures of some bacterial and fungal strains. Int Biodeter Biodegr 64:538–544

Mechlinska A, Gdaniec-Pietryka M, Wolska L, Namiesnik J (2009) Evolution of models for sorption of PAHs and PCBs on geosorbents. Trends Anal Chem 28:466–482

Oleszczuk P (2009) Application of three methods used for the evaluation of polycyclic aromatic hydrocarbons (PAHs) bioaccessibility for sewage sludge composting. Bioresource Technol 100:413–420

Olivares M, Vallejo A, Irazola M, Murelaga X, Baceta JI, Tarrino A, Etxebarria N (2010) Optimisation of focused ultrasound extraction (FUSE) and microwave-assisted extraction (MAE) of hydrocarbons in geological chert samples. Talanta 83:605–612

Olsen R, Bakken L (1987) Viability of soil bacteria: optimization of plate-counting technique and comparison between total counts and plate counts within different size groups. Microb Ecol 13:59–74

Papadopoulos A, Paton GI, Reid BJ, Semple KT (2007) Prediction of PAH biodegradation in field contaminated soils using a cyclodextrin extraction technique. J Environ Monitor 9:516–522

Pignatello JJ, Xing B (1996) Mechanisms of slow sorption of organic chemicals to natural particles. Environ Sci Technol 30:1–11

Portet-Koltalo F, Ammami MT, Benamar A, Wang H, Le Derf F, Duclairoir-Poc C (2013) Investigation of the release of PAHs from artificially contaminated sediments using cyclolipopeptidic biosurfactants. J Hazard Mater 261:593–601

Ran Y, Sun K, Ma X, Wang G, Grathwohl P, Zeng EY (2007) Effect of condensed organic matter on solvent extraction and aqueous leaching of polycyclic aromatic hydrocarbons in soils and sediments. Environ Pollut 148:529–538

Reichenberg F, Karlson UG, Gustafsson A, Long SM, Pritchard PH, Mayer P (2010) Low accessibility and chemical activity of PAHs restrict bioremediation and risk of exposure in a manufactured gas plant soil. Environ Pollut 158:1214–1220

Reid BJ, Stokes JD, Jones KC, Semple KT (2000) Nonexhaustive Cyclodextrin-based extraction technique for the evaluation of PAH bioavailability. Environ Sci Technol 34:3174–3179

Rhodes AH, McAllister LE, Semple KT (2010) Linking desorption kinetics to phenanthrene biodegradation in soil. Environ Pollut 158:1348–1353

Rousk J, Brookes PC, Baath E (2009) Contrasting soil pH effects on fungal and bacterial growth suggest functional redundancy in carbon mineralization. Appl Environ Microb 75:1589–1596

Sebag D, Disnar JR, Guillet B, Di Giovanni C, Verrecchia EP, Durand A (2006) Monitoring organic matter dynamics in soil profiles by 'Rock-Eval pyrolysis': bulk characterization and quantification of degradation. Eur J Soil Sci 57:344–355

Stern GA, Sanei H, Roach P, Delaronde J, Outridge PM (2009) Historical interrelated variations of mercury and aquatic organic matter in lake sediment cores from a subarctic lake in Yukon, Canada: further evidence toward the algal-mercury scavenging hypothesis. Environ Sci Technol 43:7684–7690

Swindell A, Reid B (2006) Comparison of selected non-exhaustive extraction techniques to assess PAH availability in dissimilar soils. Chemosphere 62:1126–1134

Tao Y, Zhang S, Wang Z, Ke R, Shan X-Q, Christie P (2008) Biomimetic accumulation of PAHs from soils by triolein-embedded cellulose acetate membranes (TECAMs) to estimate their bioavailability. Water Res 42:754–762

Thiele-Bruhn S, Brümmer G (2005) Kinetics of polycyclic aromatic hydrocarbon (PAH) degradation in long-term polluted soils during bioremediation. Plant Soil 275:31–42

Tobiszewski M, Namienik J (2012) PAH diagnostic ratios for the identification of pollution emission sources. Environ Pollut 162:110–119

Van der Heijden SA, Jonker MTO (2009) PAH bioavailability in field sediments: comparing different methods for predicting in situ bioaccumulation. Environ Sci Technol 43:3757–3763

Xia X, Li Y, Zhou Z, Feng C (2010) Bioavailability of adsorbed phenanthrene by black carbon and multi-walled carbon nanotubes to Agrobacterium. Chemosphere 78:1329–1336

Yuan GL, Qin JX, Li J, Lang XX, Wang GH (2014) Persistent organic pollutants in soil near the Changwengluozha glacier of the Central Tibetan Plateau, China: their sorption to clays and implication. Sci Total Environ 472:309–315

Zhang J, Sequaris J-M, Narres H-D, Vereecken H, Klumpp E (2010) Effect of organic carbon and mineral surface on the pyrene sorption and distribution in Yangtze River sediments. Chemosphere 80:1321–1327

Zhu D, Hebert BE, Schlautman MA, Carraway ER, Hur J (2004) Cation-π bonding: a new perspective on the sorption of polycyclic aromatic hydrocarbons to mineral surfaces. J Environ Qual 33:1322–1330
Acknowledgments
The authors thank the "Région Haute Normandie" for financial support through Normandy SCALE research network (RESSOLV program).
Additional information
Responsible editor: Philippe Garrigues
About this article
Cite this article
Crampon, M., Bureau, F., Akpa-Vinceslas, M. et al. Correlations between PAH bioavailability, degrading bacteria, and soil characteristics during PAH biodegradation in five diffusely contaminated dissimilar soils. Environ Sci Pollut Res 21, 8133–8145 (2014). https://doi.org/10.1007/s11356-014-2799-6
Received:

Accepted:

Published:

Issue Date:
Keywords
Polycyclic aromatic hydrocarbons

Contaminated soils

Biodegradation kinetics

Bioavailability

Organic matter

Clays