Abstract
The accumulation of heavy metals in farmland has become an important issue related to food security and environmental risk. The annual inputs of heavy metals (As, Cd, Hg, Pb, Cr, Cu, and Zn) to agricultural soil for a full year in Hainan Island have been studied. Three fluxes through the cultivated horizon were considered: (1) atmospheric depositions, (2) fertilization, and (3) irrigation water. The corresponding samples were collected and analyzed on a large regional scale. The total input fluxes show obvious spatial variability among different regions. The inventory of heavy metal inputs to agricultural land demonstrates that agricultural soil is potentially at risk of heavy metal accumulation from irrigation water. The potential at risk of heavy metal accumulation from atmospheric deposition and fertilizer is relatively low compared to irrigation. The results indicate that Hg is the element of prior concern for agricultural soil, followed by Cd and As, and other heavy metal elements represent little threat to the environment in the study area. This work provides baseline information to develop policies to control and reduce toxic elements accumulated in agricultural soil.
This is a preview of subscription content, log in to check access.
Access options
Buy single article
Instant access to the full article PDF.
US$ 39.95
Tax calculation will be finalised during checkout.
Subscribe to journal
Immediate online access to all issues from 2019. Subscription will auto renew annually.
US$ 99
Tax calculation will be finalised during checkout.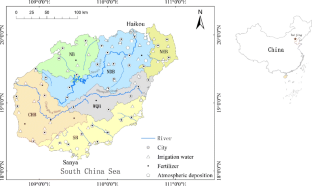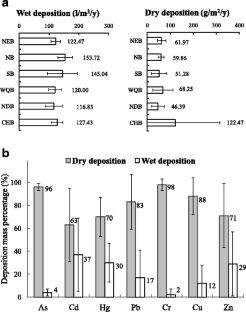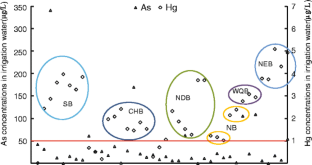 References
Adriano DC (2001) Trace elements in terrestrial environments: biogeochemistry, bioavailability, and risks of metals. Springer, Berlin

Atafar Z, Mesdaghinia A, Nouri J, Homaee M, Yunesian M, Ahmadimoghaddam M, Mahvi A H (2010) Effect of fertilizer application on soil heavy metal concentration. Environ Monit Assess 160(1–4):83–89

Bakircioglu D, Kurtulus Y, Ibar H (2011) Investigation of trace elements in agricultural soils by BCR sequential extraction method and its transfer to wheat plants. Environ Monit Assess 175(1–4):303–314

China Geological Survey (CGS) (2005) Ecological geochemical sample analysis technical requirements (for Trial Implementation)(DD2005-03) (in Chinese)

Connan O, Maro D, Hbert D, Roupsard P, Goujon R, Letellier B, Le Cavelier S (2013) Wet and dry deposition of particles associated metals (Cd, Pb, Zn, Ni, Hg) in a rural wetland site, Marais Vernier, France. Atmos Environ 67:394–403

Dach J, Starmans D (2005) Heavy metals balance in Polish and Dutch agronomy: actual state and previsions for the future. Agr Ecosyst Environ 107(4):309–316

Desaules A (2012) The role of metadata and strategies to detect and control temporal data bias in environmental monitoring of soil contamination. Environ Monit Assess 184(11):7023–7039

Facchinelli A, Sacchi E, Mallen L (2001) Multivariate statistical and GIS-based approach to identify heavy metal sources in soils. Environ Pollut 114(3):313–324

Fang F, Wang H, Lin Y (2011) Spatial distribution, bioavailability, and health risk assessment of soil Hg in Wuhu urban area, China. Environ Monit Assess 179(1–4):255–265

Fernández M D, Cagigal E, Vega M M, Urzelai A, Babín M, Pro J, Tarazona JV (2005) Ecological risk assessment of contaminated soils through direct toxicity assessment. Ecotox Environ Safe 62(2):174–184

Fodor L, Lposi R, Tury R (2009) Heavy metal tolerance and accumulation in field crops. In: Proceedings of the VIII alps-adria scientific workshop, Neum, Bosnia-Herzegovina, 27 April-2 May 2009, vol Suppl. 1. Akadmiai Kiad, 521–524

Fu Y, Chen M, Bi X, He Y, Ren L, Xiang W, Qiao S, Yan S, Li Z, Ma Z (2011) Occurrence of arsenic in brown rice and its relationship to soil properties from Hainan Island, China. Environ Pollut 159(7):1757–1762

Gandois L, Nicolas M, VanderHeijden G, Probst A (2010) The importance of biomass net uptake for a trace metal budget in a forest stand in north-eastern France. Sci Total Environ 408(23):5870–5877

Hou Q, Yang Z, Ji J, Yu T, Chen G, Li J, Xia X, Zhang M, Yuan X (2014) Annual net input fluxes of heavy metals of the agroecosystem in the Yangtze River delta, China. J Geochem Explor 139:68–84

Julich D, Gäth S, Julich S (2012) On the use of different efficiency criteria for the validation of a heavy metal balancing tool. Water Air Soil Poll 223(7):3589–3599

Liu X, Wu J, Xu J (2006) Characterizing the risk assessment of heavy metals and sampling uncertainty analysis in paddy field by geostatistics and GIS. Environ Pollut 141(2):257–264

Luo L, Ma Y, Zhang S, Wei D, Zhu Y G (2009) An inventory of trace element inputs to agricultural soils in China. J Environ Manag 90(8):2524–2530

Ministry of Agriculture of China (MOA) (2005) Standards for irrigation water quality (GB5084-2005). China Standards, Beijing. (in Chinese)

Nicholson F A, Smith S R, Alloway B J, Carlton-Smith C, Chambers B J (2003) An inventory of heavy metals inputs to agricultural soils in England and Wales. Sci Total Environ 311(1–3):205–219

Qishlaqi A, Moore F, Forghani G (2009) Characterization of metal pollution in soils under two landuse patterns in the Angouran region, NW Iran: a study based on multivariate data analysis. J Hazard Mater 172(1):374–384

Rogan N, Serafimovski T, Dolenec M, Tasev G, Dolenec T (2009) Heavy metal contamination of paddy soils and rice (Oryza sativa L.) from Kočani Field (Macedonia). Environ Geochem Hlth 31(4):439–451

Salomons W, Stigliani WM (1995) Biogeodynamics of pollutants in soils and sediments: risk assessment of delayed and non-linear responses. Springer, Berlin

Sheppard S C, Grant C A, Sheppard M I, de Jong R, Long J (2009) Risk indicator for agricultural inputs of trace elements to Canadian soils. J Environ Qual 38(3):919–932

State Environment Protection Agency (SEPA) (2006) Farmland environmental quality evaluation standards for edible agricultural products (HJ332-2006). China Environment, Beijing. (in Chinese)

Williams P N, Lei M, Sun G, Huang Q, Lu Y, Deacon C, Meharg A A, Zhu Y-G (2009) Occurrence and partitioning of cadmium, arsenic and lead in mine impacted paddy rice: Hunan, China. Environ Sci Technol 43(3):637–642

Williams P N, Zhang H, Davison W, Zhao S, Lu Y, Dong F, Zhang L, Pan Q (2012) Evaluation of in situ DGT measurements for predicting the concentration of Cd in chinese field-cultivated rice: impact of soil Cd: Zn ratios. Environ Sci Technol 46(15):8009–8016

Wu C, Zhang L (2010) Heavy metal concentrations and their possible sources in paddy soils of a modern agricultural zone, southeastern China. Environ Earth Sci 60(1):45–56

Xia X, Yang Z, Cui Y, Li Y, Hou Q, Yu T (2013) Soil heavy metal concentrations and their typical input and output fluxes on the southern Song-nen Plain, Heilongjiang Province, China. J Geochem Explor. doi:10.1016/j.gexplo.2013.06.008

Xiao R, Bai J, Gao H, Huang L, Huang C, Liu P (2012) Heavy metals (Cr and Ni) distribution and fractionation in cropland soils from reclaimed tidal wetlands in Pearl River estuary, South China. Procedia Environ Sci 13:1684–1687

Yang Z (2009) Geochemistry survey and evaluation of farmland ecosystem in Hainan Islan. Report, China University of Geosciences, Beijing (in Chinese)

Yang Z, Hou Q, Yu T, Chen J, Xia X, Huang Y, Li K (2008) Eco-geochemical assessment of Agroecosystems: Cd in the Chengdu economical region, Sichuan, China. Earth Sci Front 15(5):23–35. (in Chinese)

Zhao K, Liu X, Xu J, Selim H (2010) Heavy metal contaminations in a soil-rice system: identification of spatial dependence in relation to soil properties of paddy fields. J Hazard Mater 181(1):778–787

Zhou G (2008) Geochemistry survey and study on sources and migratory routes of elements in river system. Report, Institute of Geophysical and Geochemical exploration, Chinese Academy of Geological Sciences, Langfang, (in Chinese)
Acknowledgements
This study was supported by the project of China Geological Survey Study on Evaluation System and Integration of the Eco-geochemical Assessment for the Agricultural Ecosystem of China (No. 1212010511218). Thanks are due to the anonymous reviewers for their critical reviews and constructive comments, which helped us improve significantly our paper. We particularly thank the responsible editor for his careful work.
Additional information
Responsible editor: Zhihong Xu
Electronic supplementary material
Below is the link to the electronic supplementary material.
About this article
Cite this article
Jiang, W., Hou, Q., Yang, Z. et al. Annual input fluxes of heavy metals in agricultural soil of Hainan Island, China. Environ Sci Pollut Res 21, 7876–7885 (2014). https://doi.org/10.1007/s11356-014-2679-0
Received:

Accepted:

Published:

Issue Date:
Keywords
Heavy metal accumulation

Agricultural soil

Input flux

Environmental geochemistry

Hainan Island