Abstract
Concentrations of inorganic tin (Sninorg), tributyltin (TBT) and its degradation products dibutyltin (DBT) and monobutyltin (MBT) were measured in surface sediments and in two cores from the Toulon Bay, hosting the major French military harbour. Anticipating planned dredging, the aim of the present work is to map and evaluate for the first time the recent and historic contamination of these sediments by inorganic and organic Sn species derived from antifouling paints used for various naval domains including military, trade, tourism and leisure. Tin and butyl-Sn concentrations in the bay varied strongly (4 orders of magnitude), depending on the site, showing maximum values near the shipyards. The concentrations of total Sn (1.3–112 μg g−1), TBT (<0.5–2,700 ng g−1), DBT (<0.5–1,800 ng g−1) and MBT (0.5–1,000 ng g−1) generally decreased towards the open sea, i.e. as a function of both distance from the presumed main source and bottom currents. Progressive degradation state of the butyl-Sn species according to the same spatial scheme and the enrichment factors support the scenario of a strongly polluted bay with exportation of polluted sediment to the open Mediterranean. Low degradation and the historical records of butyl-Sn species in two 210Pb-dated sediment cores, representative of the Northern Bay, are consistent with the relatively recent use of TBT by military shipyards and confirm maximum pollution during the 1970s, which will persist in the anoxic sediments for several centuries. The results show that (a) degradation kinetics of butyl-Sn species depend on environmental conditions, (b) the final degradation product SninorgBT is by far the dominant species after 10–12 half-life periods and (c) using recent data to reliably assess former TBT contamination requires the use of a modified butyl-Sn degradation index BDImod. Resuspension of extremely contaminated subsurface sediments by the scheduled dredging will probably result in mobilization of important amounts of butyl-Sn species.
Access options
Buy single article
Instant access to the full article PDF.
US$ 39.95
Tax calculation will be finalised during checkout.
Subscribe to journal
Immediate online access to all issues from 2019. Subscription will auto renew annually.
US$ 79
Tax calculation will be finalised during checkout.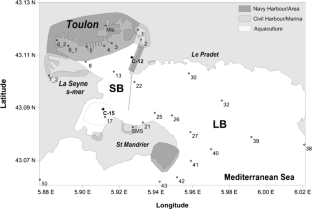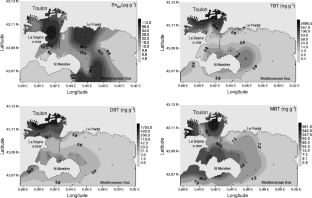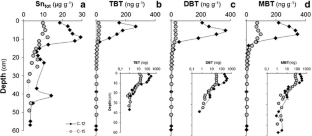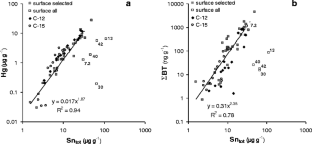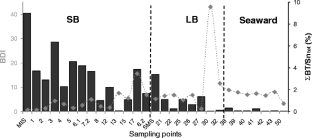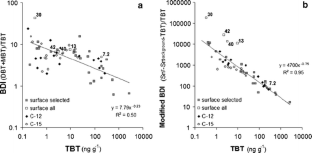 References
Alzieu C (2006) Effect of tributyltin pollution on oyster industry: the Arcachon Bay case. Multiple dimensions of global environment change (edited by The Energy and Resource Institute). (TERI): 444–458

Alzieu C, Thibaud Y, Heral M, Boutier B (1980) Estimation of the dangers caused by the use of antifouling paints in the growing oyster areas. Rev Trav Inst Pêches Marit (0035–2276) (ISTPM) 44(4):305–348 (in French)

Alzieu C, Heral M, Thibaud Y, Dardignac MJ, Feuillet M (1981) Influence of organotin compounds contained in antifouling paints on the calcification of the shell of the oyster Crassostrea gigas. Rev Trav Inst Pêches Marit (0035–2276) (ISTPM) 45(2):101–116

Amouroux D, Tessier E, Donard OFX (2000) Volatilization of organotin compounds from estuarine and coastal environments. Environ Sci Technol 34(6):988–995

Arnal O, Sauzade D, Console JJ, Miralles F, Chavanon F, Ravel C, Emery E, Beliaeff B (2001) Study of microbiological quality of Lazaret Bay (Toulon Bay). Convention n° 00/3210048/YF between SIAT and Ifremer (in French)

Bancon-Montigny C, Lespes G, Potin-Gautier M (2004) Organotin survey in the Adour-Garonne basin. Water Res 38(4):933–946

Blanca AL (2008) Environmental levels, toxicity and human exposure to tributyltin (TBT)-contaminated marine environment. A review. Environ Int 34:292–308

Champ MA (2000) A review of organotin regulatory strategies, pending actions, related costs and benefits. Sci Total Environ 258:21–71

Coynel A, Schäfer J, Blanc G, Bossy C (2007) Scenario of particulate trace metal and metalloid transport during a major flood event inferred from transient geochemical signals. Appl Geochem 22(4):821–836

Cristòfol RM, Gassó S, Vı́lchez D, Pertusa MA, Rodrı́guez-Farré E, Sanfeliu C (2004) Neurotoxic effects of trimethyltin and triethyltin on human fetal neuron and astrocyte cultures: a comparative study with rat neuronal cultures and human cell lines. Toxicol Lett 152:35–46

Cros B (2011) Le patrimoine militaire de la rade de Toulon: histoire, territorialité et gestion patrimoniale. In Situ – Revue des Patrimoines 16:2–21; http://insitu.revues.org/275; DOI : 10.4000/insitu.275

Dı́ez S, Ábalos M, Bayona JM (2002) Organotin contamination in sediments from the western mediterranean enclosures following 10 years of TBT regulation. Wat Res 36(4):905–918

Dowson PH, Bubb JM, Lester JN (1996) Persistence and degradation pathways of tributyltin in freshwater and estuarine sediments. Estuar Coast Shelf Sci 42:551–562

Duffa C, Dufois F, Coudray S (2011) An operational model to simulate post-accidental radionuclide transfers in Toulon marine area: preliminary development. Ocean Dyn 61(11):1811–1821

Elbaz-Poulichet F, Dezileau L, Freydier R, Cossa D, Sabatier P (2011) A 3500-year record of Hg and Pb contamination in a Mediterranean sedimentary archive (The Pierre Blanche Lagoon, France). Environ Sci Technol 45:8642–8647

Garg A, Antón-Martín R, García-Luque E, Riba I, DelValls T (2009) Distribution of butyltins (TBT, DBT, MBT) in sediments of Gulf of Cádiz (Spain) and its bioaccumulation in the clam Ruditapes philippinarum. Ecotoxicology 18:1029–1035

Garg A, Meena RM, Bhosle NB (2010) Distribution of butyltins in waters and sediments of the Mandovi and Zuari estuaries, west coast of India. Environ Monit Assess 165:643–651

Heroult J, Zuliani T, Bueno M, Denaix L, Lespes G (2008) Analytical advances in butyl-, phenyl- and octyltin speciation analysis in soil by GC-PFPD. Talanta 75:486–493

Huet M, Paulet YM (2006) Tributyltin pollution estimated in 2006 with imposex. Final contract university report. IFREMER N° 2006550881451:116 (in French)

JORF (2006) (Official Journal of the French Republic), no 222, 24-09-2006, General Directive for Risk Prevention (DGPR). Ministry of Ecology, Sustainable Development and Energy (in French)

Krachler M, Shotyk W (2004) Natural and anthropogenic enrichments of molybdenum, thorium, and uranium in a complete peat bog profile, Jura Mountains, Switzerland. J Environ Monit 6(5):418–426

Krone CA, Stein JE, Varanasi U (1996) Butyltin contamination of sediments and benthic fish from the East, Gulf and Pacific coasts of the United States. Environ Monit Asses 40(1):75–89

Lanceleur L, Schäfer J, Chiffoleau JF, Blanc G, Auger D, Renault S, Baudrimont M, Audry S (2011) Long-term records of cadmium and silver contamination in sediments and oysters from the Gironde fluvial–estuarine continuum—evidence of changing silver sources. Chemosphere 85(8):1299–1305

Larrose A, Coynel A, Schäfer J, Blanc G, Massé L, Maneux E (2010) Assessing the current state of the Gironde estuary by mapping priority contaminant distribution and risk potential in surface sediment. Appl Geochem 25:1912–1923

Li YH, Schoonmaker JE (2003) Chemical composition and mineralogy of marine sediments. Treatise on Geochemistry, Eds Heinrich DH and Karl KT, Oxford, Pergamon

Maguire RJ, Tkacz RJ (1985) Degradation of the tri-n-butyltin species in water and sediment from Toronto harbour. Food Chem 33:947–953

Marine Strategy Framework Directive 2008/56/EC of the European Parliament and of the Council of 17 June 2008 establishing a framework for community action in the field of marine environmental policy. L 164:19–40

McGee BL, Schlekat CE, Boward DM, Wade TL (1995) Sediment contamination and biological effects in a Chesapeake Bay marina. Ecotoxicology 4(1):39–59

McKenzie HA, Smythe LE (1988) Quantitative trace analysis of biological materials: principles and methods for determination of trace elements and trace amounts of some macro elements. Elsevier, Amsterdam

Monperrus M, Tessier E, Veschambre S, Amouroux D, Donard OFX (2005) Simultaneous speciation of mercury and butyltin compounds in natural waters and snow by propylation and species-specific isotope dilution mass spectrometry analysis. Anal Bioanal Chem 381(4):854–862

Page DS, Ozbal CC, Lanphear ME (1996) Concentration of butyltin species is sediments associated with shipyard activity. Environ Pollut 91(2):237–243

Rodríguez-Castrillón JA, Reyes LH, Marchante-Gayon JM, Moldovan M, Garcia Alonso JI (2008) Internal correction of spectral interferences and mass bias in ICP-MS using isotope pattern deconvolution: application to the determination of selenium in biological samples by isotope dilution analysis. J Anal At Spectrom 23(4):579–582

Syndicat Intercommunal de l'Aire Toulonnaise (2002) Toulon Bay agreement; http://www.toulon.fr/dossier/contrat-de-baie

Sarradin PM, Lapaquellerie Y, Astruc A, Latouche C, Astruc M (1995) Long term behaviour and degradation kinetics of tributyltin in a marina sediment. Sci Total Environ 170:59–70

Schäfer J, Blanc G, Lapaquellerie Y, Maillet N, Maneux E, Etcheber H (2002) Ten-year observation of the Gironde tributary fluvial system: fluxes of suspended matter, particulate organic carbon and cadmium. Mar Chem 79:229–242

Stang PM, Lee RF, Seligman PF (1992) Evidence for rapid, nonbiological degradation of tributyltin compounds in autoclaved and heat-treated fine-grained sediments. Environ Sci Technol 26:1382–1387

Sutherland RA (2000) Bed sediment-associated trace metals in an urban stream, Oahu, Hawaii. Environ Geol 39:611–627

Tessier E, Garnier C, Mullot JU, Lenoble V, Arnaud M, Raynaud M, Mounier S (2011) Study of the spatial and historical distribution of sediment inorganic contamination in the Toulon Bay (France). Mar Pollut Bull 62:2075–2086

Turekian KK, Wedepohl KH (1961) Distribution of the elements in some major units of the earth's crust. Bull Geol Soc Am 72(2):175–192

Ujevic I, Odzak N, Baric A (2000) Trace metal accumulation in different grain size fractions of the sediments from a semi-enclosed bay heavily contaminated by urban and industrial wastewaters. Water Res 34:3055–3061

Viglino L, Pelletier E, St-Louis R (2004) Highly persistent butyltins in northern marine sediments: a long-term threat for the Saguenay Fjord (Canada). Environ Toxicol Chem 23:2673–2681. doi:10.1897/03-674

Wedepohl KH (1995) The composition of the continental crust. Geochim Cosmochim Acta 59:1217–1232

Whalen MM, Loganathan BG, Kannan K (1999) Immunotoxicity of environmentally relevant concentrations of butyltins on human natural killer cells in vitro. Environ Res 81:108–116

Wolnickowski KU, Stephenson MD, Ichikawa G (1987) Tributyltin concentrations and Pacific oyster deformations in Coos Bay, Oregon. Oceans 87(4):1438–1442

Yamada S, Fujii Y, Mikami E, Kawamura N, Hayakama J, Aoki K, Fukaya M, Terao C (1993) Small-scale survey of organotin compounds in household commodities. J AOAC Int 76(2):436–441

Zuliani T, Lespes G, Milacic R, Scancar J (2010) Development of the extraction method for the simultaneous determination of butyl-, phenyl- and octyltin compounds in sewage sludge. Talanta 80(5):1945–1951. doi:10.1016/j.talanta.2009.10.050
Acknowledgments
The authors thank the French Navy for logistical support (access to restricted areas, vessel, scuba divers) and D. François, G. Tua, G. Durrieu and B. Oursel for their participation in sampling campaigns and sample preparation. This collaborative work within the CARTOCHIM project has been performed by a multi-agency consortium (IFREMER, IRSN, University laboratories PROTEE and UMR EPOC), financially supported by the "Region PACA", "Toulon-Provence-Méditerranée" and the "Agence de l'Eau Rhône-Méditerranée et Corse" and is a contribution to MerMex-WP3-C3A and the international IMBER projects.
Additional information
Responsible editor: Céline Guéguen
Electronic supplementary material
Below is the link to the electronic supplementary material.
Vertical distribution of Al-normalized Sn and butyl-Sn concentrations in the cores C-12 and C-15. (DOCX 25 kb)
Spatial distribution of Sntot Enrichment Factors (EF) in Toulon Bay surface sediment. (DOCX 147 kb)
Vertical distribution of (A) BDI and (B) BDImod in the cores C-12 and C-15. (DOCX 47 kb)
About this article
Cite this article
Pougnet, F., Schäfer, J., Dutruch, L. et al. Sources and historical record of tin and butyl-tin species in a Mediterranean bay (Toulon Bay, France). Environ Sci Pollut Res 21, 6640–6651 (2014). https://doi.org/10.1007/s11356-014-2576-6
Received:

Accepted:

Published:

Issue Date:
Keywords
Tin

TBT

Butyl-Sn

Isotope dilution

Sediment core

Contamination

Toulon Bay