Abstract
This study aims to determine the source apportionment of surfactants in marine aerosols at two selected stations along the Malacca Straits. The aerosol samples were collected using a high volume sampler equipped with an impactor to separate coarse- and fine-mode aerosols. The concentrations of surfactants, as methylene blue active substance and disulphine blue active substance, were analysed using colorimetric method. Ion chromatography was employed to determine the ionic compositions. Principal component analysis combined with multiple linear regression was used to identify and quantify the sources of atmospheric surfactants. The results showed that the surfactants in tropical coastal environments are actively generated from natural and anthropogenic origins. Sea spray (generated from sea-surface microlayers) was found to be a major contributor to surfactants in both aerosol sizes. Meanwhile, the anthropogenic sources (motor vehicles/biomass burning) were predominant contributors to atmospheric surfactants in fine-mode aerosols.
Access options
Buy single article
Instant access to the full article PDF.
USD 39.95
Price includes VAT (USA)
Tax calculation will be finalised during checkout.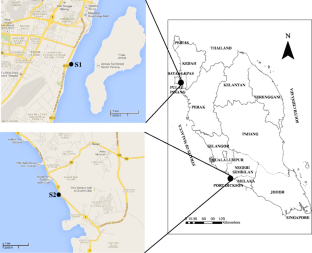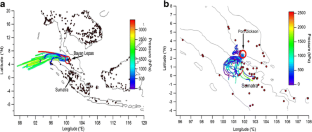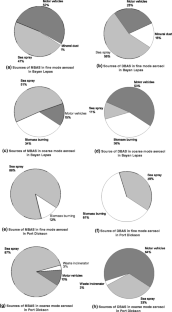 References
Abdul-Wahab SA, Bakheit CS, Al-Alawi SM (2005) Principal component and multiple regression analysis in modelling of ground-level ozone and factors affecting its concentrations. Environ Model Softw 20:1263–1271

Albrecht BA (1989) Aerosols, cloud microphysics, and fractional cloudiness. Science 245:1227–1230

Aller JY, Kuznetsova MR, Jahns CJ, Kemp PF (2005) The sea surface microlayer as a source of viral and bacteria enrichment in marine aerosols. J Aerosol Sci 36:801–812

Aydin-Onen S, Kocak F, Kucuksezgin F (2012) Evaluation of spatial and temporal variations of inorganic nutrient species in the eastern Aegean Sea waters. Mar Pollut Bull 64:2849–2856

Becagli S, Ghedini C, Peeters S, Rottiers A, Traversi R, Udisti R, Chiari M, Jalba A, Despiau S, Dayan U, Temara A (2011) MBAS (methylene blue active substances) and LAS (linear alkylbenzene sulphonates) in Mediterranean coastal aerosols: sources and transport processes. Atmos Environ 45:6788–6801

Bingöl D, Ay Ü, Karayünlü Bozbaş S, Uzgören N (2013) Chemometric evaluation of the heavy metals distribution in waters from the Dilovası region in Kocaeli, Turkey. Mar Pollut Bull 68:134–139

Blanchard DC (1964) Sea-to-air transport of surface active material. Science 146:396–397

Blanchard DC (1975) Bubbles scavenging and the water to air transfer of organic material in the sea. Adv Chem Ser 145:360–387

Blanchard DC, Woodcock AH (1957) Bubble formation and modification in the sea and its meteorological significance. Tellus 9:145–158

Calvo AI, Alves C, Castro A, Pont V, Vicente AM, Fraile R (2013) Research on aerosol sources and chemical composition: past, current and emerging issues. Atmos Res 120–121:1–28

Cheng ZL, Lam KS, Chan LY, Wang T, Cheng KK (2000) Chemical characteristics of aerosols at coastal station in Hong Kong. I. Seasonal variation of major ions, halogens and mineral dusts between 1995 and 1996. Atmos Environ 34:2771–2783

Chow JC, Watson JG, Edgerton SA, Vega E (2002) Chemical composition of PM2.5 and PM10 in Mexico City during winter. Sci Total Environ 287:177–201

Cincinelli A, Stortini AM, Perugini M, Checchini L, Lepri L (2001) Organic pollutants in sea-surface microlayer and aerosol in the coastal environment of Leghorn—(Tyrrhenian Sea). Mar Chem 76:77–98

Cirelli AF, Ojeda C, Castro MJL, Salgot M (2008) Surfactant in sludge-amended agricultural soils: a review. Environ Chem Lett 6:135–148

Cserháti T, Forgács E, Oros G (2002) Biological activity and environmental impact of anionic surfactants. Environ Int 28:337–348

Cunliffe M, Engel A, Frka S, Gašparović B, Guitart C, Murrell JC, Salter M, Stolle C, Upstill-Goddard R, Wurl O (2013) Sea surface microlayers: a unified physicochemical and biological perspective of the air–ocean interface. Prog Oceanogr 109:104–116

Cusack M, Peréz N, Pey J, Alastuey A, Querol X (2013) Source apportionment of fine PM and sub-micron particle number concentrations at a regional background site in the western Mediterranian: 2.5 year study. Atmos Chem Phys 13:5173–5187

De Leeuw G (1999) Sea spray aerosol production from waves breaking in the surf zone. J Aerosol Sci 30:63–64

Despiau S, Cougnenc S, Resch F (1996) Concentrations and size distributions of aerosol particles in coastal zone. J Aerosol Sci 27:403–415

Dominick D, Juahir H, Latif MT, Zain SM, Aris AZ (2012) Spatial assessment of air quality patterns in Malaysia using multivariate analysis. Atmos Environ 60:172–181

Facchini MC, Fuzzi S, Zappoli S, Andracchio A, Gelencsér A, Kiss G, Krivácsy Z, Mészáros E, Hansson H-C, Alsberg T, Zebühr Y (1999) Partitioning of the organic aerosol component between fog droplets and interstitial air. J Geophys Res D 104:26821–26832

Finlayson-Pitts BJ, Pitts JN Jr (2000) Chemistry of the upper and lower atmosphere: theory, experiments, and applications. Wiley, New York

Frka S, Dautovic J, Kozarac Z, Cosovic B, Hoffer A (2012) Surface-active substance in atmospheric aerosol: an electrochemical approach. Tellus B: Chem Phys Meteorol. doi:10.3402/tellusb.v64i0.18490

Gašparović B, Ćosović B (2003) Surface-active properties of organic matter in the North Adriatic Sea. Estuar Coast Shelf Sci 58:555–566

Gašparović B, Plavšić M, Ćosović B, Saliot A (2007) Organic matter characterization in the sea surface microlayers in the surbartic Norwegian Fjords region. Mar Chem 105:1–14

Guidi L, Lorenzini L, Soldatini GF (1988) Phytotoxicity of sea-water aerosols on the forest plants with the special reference to the role of surfactants. Environ Exp Bot 28:85–94

Harvey GW (1996) Microlayer collection form the sea surface: a new method and initial results. Limnol Oceanogr 11:608–613

Hogarh JN, Seike N, Kobara Y, Habib A, Nam J-J, Lee J-S, Li Q, Liu X, Li J, Zhang G, Masunaga S (2012) Passive air monitoring of PCBs and PCNs across East Asia: a comprehensive congener evaluation for source characterization. Chemosphere 86:718–726

Kang J, Cho BC, Lee C-B (2010) Atmospheric transport of water-soluble ions (NO3 −, NH4 + and NSS-SO4 2−) to the southern East Sea (Sea of Japan). Sci Total Environ 408:2369–2377

Karnae S, John K (2011) Source apportionment of fine particulate matter measured in an industrialized coastal urban area of South Texas. Atmos Environ 45:3769–3776

Khan MF, Hirano K, Masunaga S (2010a) Quantifying the sources of hazardous elements of suspended particulate matter aerosol collected in Yokohama, Japan. Atmos Environ 44:2646–2657

Khan MF, Shirasuna Y, Hirano K, Masunaga S (2010b) Characterization of PM2.5, PM2.5–10 and PM10 in ambient air, Yokohama, Japan. Atmos Res 96:159–172

Kim E, Hopke PK (2008) Source characterization of ambient fine particles at multiples sites in the Seattle area. Atmos Environ 42:6047–6056

Kuzu SL, Saral A, Demir S, Summak G, Demir G (2013) A detailed investigation of ambient aerosol composition and size distribution in an urban atmosphere. Environ Sci Pollut Res Int 20:2556–2568

Latif MT, Brimblecombe P (2004) Surfactants in atmospheric aerosol. Environ Sci Technol 38:6501–6505

Latif MT, Brimblecombe P, Ramli NA, Sentian J, Sukhapan J, Sulaiman N (2005) Surfactants in South East Asian aerosols. Environ Chem 2:198–204

Latif MT, Anuwar NY, Srithawirat T, Razak IS, Ramli NA (2011) Composition of levoglucosan and surfactants in atmospheric aerosols from biomass burning. Aerosol Air Qual Res 2011:837–845

Latif MT, Wanfi L, Hanif N, Roslan R, Ali M, Mushrifah I (2012) Composition and distribution of surfactants around Lake Chini, Malaysia. Environ Monit Assess 184:1325–1334

Lin P, Huang X-F, He L-Y, Zhen Yu J (2010) Abundance and size distribution of HULIS in ambient aerosols at a rural site in South China. J Aerosol Sci 41:74–87

Liu CW, Lin KH, Kuo YM (2003) Application of factor analysis in the assesment of ground water quality in Blackforest disease area in Taiwan. Sci Total Environ 313:77–89

Marcomini A, Pojana G, Giacometti A, Oppo C (2001) Aerosolization of an anionic surfactant (LAS) and dissolved organic carbon (DOC) under laboratory conditions. Chemosphere 44:257–262

Masiol M, Squizatto S, Ceccato D, Rampazzo G, Pavoni B (2012) A chemomatric approach to determine local and regional sources of PM10 and its geochemical composition in a coastal area. Atmos Environ 54:127–133

Mcmurdo CJ, Ellis DA, Webster E, Butler J, Christensen RD, Reid LK (2008) Aerosol enrichment of the surfactant PFO and mediation of the water–air transport of gaseous PFOA. Environ Sci Technol 42:3969–3974

Moreno T, Karanasiou A, Amato F, Lucarelli F, Nava S, Calzolai G, Chiari M, Coz E, Artíñano B, Lumbreras J, Borge R, Boldo E, Linares C, Alastuey A, Querol X, Gibbons W (2013) Daily and hourly sourcing of metallic and mineral dust in urban air contaminated by traffic and coal-burning emissions. Atmos Environ 68:33–44

Murphy DM, Anderson JL, Qulnn PK, Mclnns LM, Brechtel FJ, Kreidenwels SM, Middlebrook AM, Posfai M, Thomson DS, Buseck PR (1998) Influence of sea-salt on aerosol radiative properties in the Southern Ocean boundary layer. Nature 392:62–65

O'dowd CD, Hoffmann T (2005) Coastal new particles formation: a review of the current state-of-art. Environ Chem 2:245–255

O'dowd CD, Facchini MC, Cavalli F, Ceburnis D, Mircea M, Decesari S, Fuzzi S, Young JY, Putaud JP (2004) Biogenically driven organic contribution to marine aerosol. Nature 431:676–680

Oppo C, Bellandi S, Degli IN, Stortini AM, Loglio G, Schiavuta E, Cini R (1999) Surfactant components of marine organic matter as agents for biogeochemical fractionation and pollutant transport via marine aerosols. Mar Chem 63:235–253

Paur HR, Cassee FR, Teeguarden J, Fissan H, Diabate S (2011) In-vitro cell exposure studies for the assessment of nanoparticle toxocity in the lung—a dialog between aerosol science and biology. J Aerosol Sci 42:668–692

Pöschl U (2005) Atmospheric aerosols: composition, transformation, climate and health effects. Angew Chem Int Ed 44:7520–7540

Roslan RN, Hanif NM, Othman MR, Azmi WNFW, Yan XX, Ali M, CaR M, Latif MT (2010) Surfactants in the sea-surface microlayer and their contribution to atmospheric aerosols around coastal areas of the Malaysian peninsula. Mar Pollut Bull 60:1584–1590

Roth B, Okada K (1998) On the modification of sea-salt particles in the coastal atmosphere. Atmos Environ 32:1555–1569

Ryu SY, Kwon BG, Kim YJ, Kim HH, Chun KJ (2007) Characteristics of biomass burning aerosol and its impact on regional air quality in the summer of 2003 at Gwangju, Korea. Atmos Res 84:362–373

Scott MJ, Jones MN (2000) The biodegradation of surfactants in the environment. Biochim Biophys Acta 1508:235–251

Shulman ML, Jacobson MC, Carlson RJ, Synovec RE, Young TE (1996) Dissolution behavior and surface tension effects of organic compounds in nucleating cloud droplets. Geophys Res Lett 23:277–280

Song J, He L, Peng PA, Zhao J, Ma S (2012) Chemical and isotopic composition of humic-like substances (HULIS) in ambient aerosols in Guangzhou, South China. Aerosol Sci Technol 46:533–546

Sukhapan J, Brimblecombe P (2002) Ionic surface active compounds in atmospheric aerosols. Sci World J 2:1138–1146

Thurston GD, Spengler JD (1985) A quantitative assessment of source contributions to inhalable particulate matter pollutant in Metropolitan Boston. Atmos Environ 19:9–25

Toledo V, Almeida Júnior P, Quiterio S, Arbilla G, Moreira A, Escaleira V, Moreira J (2008) Evaluation of levels, sources and distribution of toxic elements in PM10 in a suburban industrial region, Rio de Janeiro, Brazil. Environ Monit Assess 139:49–59

Tsitouridou R, Voutsa D, Kouimtzis T (2003) Ionic composition of PM10 in the area of Thessaloniki, Greece. Chemosphere 52:883–891

Udisti R, Dayan U, Becagli S, Busetto M, Frosini D, Legrand M, Lucarelli F, Preunkert S, Severi M, Traversi R, Vitale V (2012) Sea spray aerosol in central Antarctica. Present atmospheric behavior and implications for paleoclimatic reconstructions. Atmos Environ 52:109–120

Ul-Saufie AZ, Yahaya AS, Ramli NA, Rosaida N, Hamid HA (2013) Future daily PM10 concentrations prediction by combining regression models and feedforward backpropagation models with principal component analysis (PCA). Atmos Environ. doi:10.1016/j.atmosenv.2013.05.07

Vojvodic V, Ćosović B (1996) Fractionation of surface active substances on the XAD-8 resin; Adriatic Sea samples and phytoplankton culture media. Mar Chem 54:119–133

Wahid NBA, Latif MT, Suratman S (2013) Composition and source apportionment of surfactants in atmospheric aerosols of urban and semi-urban areas in Malaysia. Chemosphere 91:1508–1516

Wang H, Shooter D (2001) Water soluble ions of atmospheric aerosols in three New Zealand cities: seasonal changes and sources. Atmos Environ 35:6031–6040

Wu C-F, Larson TV, Wu S-Y, Williamson J, Westberg HH, Liu L-JS (2007) Source apportionment of PM2.5 and selected hazardous air pollutants in Seattle. Sci Total Environ 386:42–52

Wurl O, Miller L, Röttgers R, Vagle S (2009) The distribution and fate of surface-active substances in the sea-surface microlayer and water column. Mar Chem 115:1–9

Wurl O, Wurl E, Miller L, Johnson K, Vagla S (2011) Formation and global distribution of sea-surface microlayer. Biogeosciences 8:121–135

Ying GG (2006) Fate, behavior and effects of surfactants and their degradation products in the environment. Environ Int 32:417–431

Zaghden H, Kallel M, Elleuch B, Oudot J, Saliot A (2007) Source and distribution of aliphatic and polycyclic aromatic hydrocarbons in sediments of Sfax, Tunisia, Mediterranean Sea. Mar Chem 105:70–89
Acknowledgement
This study was funded by the Ministry of Science, Technology and Innovation of Malaysia (MOSTI) research grant, E-Science Fund 04-01-02-SF0752. We would like to thank Mrs. Caroline Brimblecombe, Ms. K Alexander and Ms. Fatimah Ahamad for proof reading this manuscript.
Additional information
Responsible editor: Constantini Samara
About this article
Cite this article
Mustaffa, N.I.H., Latif, M.T., Ali, M.M. et al. Source apportionment of surfactants in marine aerosols at different locations along the Malacca Straits. Environ Sci Pollut Res 21, 6590–6602 (2014). https://doi.org/10.1007/s11356-014-2562-z
Received:

Accepted:

Published:

Issue Date:
Keywords
Surfactants

Source apportionment

Marine aerosol

Sea-surface microlayer