Abstract
Soil is a complex natural resource that is considered non-renewable in policy frameworks, and it plays a key role in maintaining a variety of ecosystem services (ES) and life-sustaining material cycles within the Earth's Critical Zone (CZ). However, currently, the ability of soil to deliver these services is being drastically reduced in many locations, and global loss of soil ecosystem services is estimated to increase each year as a result of many different threats, such as erosion and soil carbon loss. The European Union Thematic Strategy for Soil Protection alerts policy makers of the need to protect soil and proposes measures to mitigate soil degradation. In this context, the European Commission-funded research project on Soil Transformations in European Catchments (SoilTrEC) aims to quantify the processes that deliver soil ecosystem services in the Earth's Critical Zone and to quantify the impacts of environmental change on key soil functions. This is achieved by integrating the research results into decision-support tools and applying methods of economic valuation to soil ecosystem services. In this paper, we provide an overview of the SoilTrEC project, its organization, partnerships and implementation.
Access options
Buy single article
Instant access to the full article PDF.
USD 39.95
Price excludes VAT (USA)
Tax calculation will be finalised during checkout.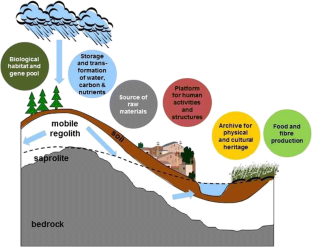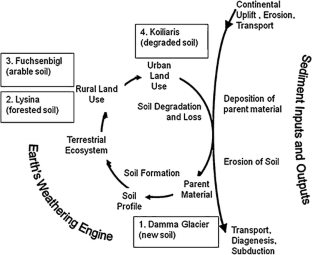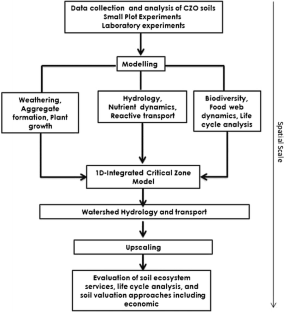 References
Banwart S (2011) Save our soils. Nature 474:151–152

Banwart S, Bernasconi S, Bloem J, Blum W, Brandao M, Brantley S, Chabaux F, Duffy C, Krám P, Lair G, Lundin L, Nikolaidis N, Novák M, Panagos P, Ragnarsdottir KV, Reynolds B, Rousseva S, de Ruiter P, van Gaans P, van Riemsdijk W, White T, Zhang B (2011) Soil processes and functions in critical zone observatories: hypotheses and experimental design. Vadose Zone J 10:974–987

Banwart SA, Menon M, Bernasconi S, Bloem J, Blum W, de Souza DM, Chabaux F, Davidsdottir B, Duffy C, Lair GJ, Kram P, Lamacova A, Lundin L, Nikolaidis N, Novak M, Panagos P, Ragnarsdottir KV, Reynolds B, Robinson D, Rousseva S, de Ruiter P, van Gaans P, Weng L, White T, Zhang B (2012) Soil processes and functions across an international network of Critical Zone Observatories: introduction to experimental methods and initial results. Compt Rendus Geosci 344:758–772

Bernasconi SM, Bauder A, Bourdon B, Brunner I, Bunemann E, Christl I, Derungs N, Edwards P, Farinotti D, Frey B, Frossard E, Furrer F, Gierga M, Goransson H, Guelland K, Hagedorn F, Hajdas I, Hindshaw RS, Ivy-Ochs S, Jansa J, Jonas T, Kiczka M, Kretzschmar R, Lemarchand E, Luster J, Magnusson J, Mitchell EAD, Olde Venterink H, Plotze M, Reynolds BC, Smittenberg RH, Stahli M, Tamburini F, Tipper ET, Wacker L, Welc M, Wiederhold JG, Zeyer J, Zimmermann S, Zumsteg A (2011) Chemical and biological gradients along the Damma Glacier soil chronosequence (Switzerland). Vadose Zone J 10:867–883

COM 231 (2006) European Commission. http://ec.europa.eu/environment/soil/three_en.htm. Accessed 15 July 2013

International Innovation (2011). The state of our soils. http: www.researchmedia.eu. Accessed 21 July 2013

Kram P, Hruska J, Shanley JB (2012) Streamwater chemistry in three contrasting monolithologic Czech catchments. Appl Geochem 27:1854–1863

Lair GJ, Zehetner F, Hrachowitz M, Franz N, Maringer F-J, Gerzabek MH (2009) Dating of soil layers in a young floodplain using iron oxide crystallinity. Quart Geochronol 4:260–266

Moraetis D, Efstathiou D, Stamati F, Tzoraki O, Nikolaidis NP, Schnoor JL, Vozinakis K (2010) High frequency monitoring for the identification of hydrological and biochemical processes in a Mediterranean river basin. J Hydrol 389:127–136

National Research Council (2001) Basic research opportunities in the earth sciences. Natl. Acad. Press, Washington, DC.

Panagos P, van Liedekerke M, Yigini Y, Montanarella L (2013). Contaminated sites in Europe: review of the current situation based on data collected through a European network. J Environ Public Health in press

Robinson DA, Hockley N, Dominati E, Lebron I, Scow KM, Reynolds B, Emmett BA, Keith AM, de Jonge LW, Schjønning P, Moldrup P, Jones SB, Tuller M (2011) Natural capital, ecosystem services and soil change: why soil science must embrace an ecosystems approach. Vadose Zone J 11(1)

Robinson DA, Hockley N, Cooper D, Emmett BA, Keith AM, Lebron I, Reynolds B, Tye AM, Watts CW, Whalley WR, Black HIJ, Warren GP, Robinson JS (2012) Review: natural capital and ecosystem services, developing an appropriate soils framework as a basis for valuation. Soil Biol Biochem 57:1023–1033
Acknowledgements
This work is supported by the European Commission 7th Framework Programme as a Large Integrating Project (SoilTrEC, www.soiltrec.eu, Grant Agreement No. 244118).
Additional information
Responsible editor: Philippe Garrigues
About this article
Cite this article
Menon, M., Rousseva, S., Nikolaidis, N.P. et al. SoilTrEC: a global initiative on critical zone research and integration. Environ Sci Pollut Res 21, 3191–3195 (2014). https://doi.org/10.1007/s11356-013-2346-x
Received:

Accepted:

Published:

Issue Date:

DOI: https://doi.org/10.1007/s11356-013-2346-x
Keywords
Critical Zone

Ecosystem services

Soil processes

Integrated modelling

Thematic strategy