Abstract
East Lake resides in the urban area of Wuhan City and is the largest urban lake in China. The concentrations of 16 organochlorine pesticides (OCPs) were analyzed in 108 surface water samples collected from the East Lake. The total concentrations of OCPs ranged from not detected to 120 ng L−1 with predominance of δ-HCH, heptachlor, and α-HCH. The mean values of HCHs and DDTs were 7.40 and 5.70 ng L−1, respectively, accounting for 40 and 31 % of the total OCPs. For the five lakelets in East Lake, Houhu Lake exhibited the highest concentrations of HCHs, DDTs, and total OCPs, which has been used actively for fisheries and surrounded by suburban rural areas and farmlands. Historical lindane or technical HCH input was probably the source of HCH, while technical DDTs might be the source of DDT in the East Lake. The ratio between heptachlor and its metabolic products indicated recent input of heptachlor. Although the combining ecological risks for all aquatic species in the East Lake calculated by species sensitivity distribution reached approximately 10−5, the OCPs in the East Lake had slight effects on aquatic organisms. The carcinogenic risks and non-carcinogenic hazard indices of DDTs and HCHs indicated that water in the East Lake was not suitable as water sources for human. However, the results indicated the water quality was safe for people to swim in the urban lake.
Access options
Buy single article
Instant access to the full article PDF.
US$ 39.95
Tax calculation will be finalised during checkout.
Subscribe to journal
Immediate online access to all issues from 2019. Subscription will auto renew annually.
US$ 79
Tax calculation will be finalised during checkout.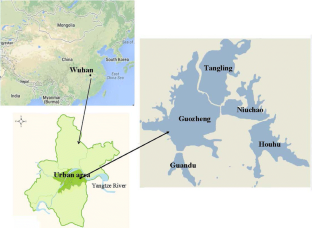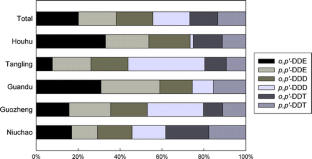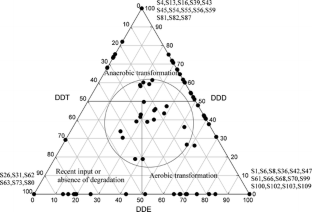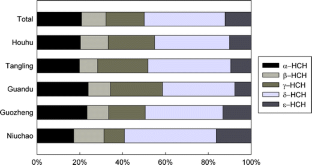 References
CSIRO (Australia's Commonwealth Scientific and Industrial Research Organisation) (2008) A flexible approach to species protection

Dai G, Liu X, Liang G, Han X, Shi L, Cheng D et al (2011) Distribution of organochlorine pesticides (OCPs) and poly chlorinated biphenyls (PCBs) in surface water and sediments from Baiyangdian Lake in North China. J Environ Sci 23:1640–1649

Dickhut RM, Deshpande AD, Cincinelli A, Cochran MA, Corsolini S, Brill RW et al (2009) Atlantic bluefin tuna (Thunnus thynnus) population dynamics delineated by organochlorine tracers. Environ Sci Technol 43:8522–8527

Eqani S-M-A-S, Malik R, Mohammad A (2011) The level and distribution of selected organochlorine pesticides in sediments from River Chenab, Pakistan. Environ Geochem Health 33:33–47

Eqani S, Malik RN, Katsoyiannis A, Zhang G, Chakraborty P, Mohammad A et al (2012) Distribution and risk assessment of organochlorine contaminants in surface water from River Chenab, Pakistan. J Environ Monit 14:1645–1654

Erkmen B, Yerli SV, Erk'akan F, Kolankaya D (2013) Persistent organochlorine pesticide residues in water and sediment samples from Lake Manyas, Turkey. J Environ Biol 34:171–176

Guo G, Wu F, He H, Zhang R, Li H (2012) Ecological risk assessment of organochlorine pesticides in surface waters of Lake Taihu, China. Hum Ecol Risk Assess 19:840–856

He W, Qin N, He Q-S, Wang Y, Kong X-Z, Xu F-L (2012) Characterization, ecological and health risks of DDTs and HCHs in water from a large shallow Chinese lake. Ecol Inform 12:77–84

Hitch R, Day H (1992) Unusual persistence of DDT in some Western USA soils. Bull Environ Contam Toxicol 48:259–264

Iwata H, Tanabe S, Ueda K, Tatsukawa R (1995) Persistent organochlorine residues in air, water, sediments, and soils from the Lake Baikal Region, Russia. Environ Sci Technol 29:792–801

Li H-P, Li G-C, Jen J-F (2003) Determination of organochlorine pesticides in water using microwave assisted headspace solid-phase microextraction and gas chromatography. J Chromatogr A 1012:129–137

Liu J, Raven PH (2010) China's environmental challenges and implications for the world. Crit Rev Environ Sci Technol 40:823–851

Liu WX, He W, Qin N, Kong XZ, He QS, Ouyang HL et al (2012) Residues, distributions, sources, and ecological risks of OCPs in the water from Lake Chaohu, China. Sci World J. doi:10.1100/2012/897697, 897697

Lu M, Zeng DC, Liao Y, Tong B (2012) Distribution and characterization of organochlorine pesticides and polycyclic aromatic hydrocarbons in surface sediment from Poyang Lake, China. Sci Total Environ 433:491–497

Malik R, Rauf S, Mohammad A, Eqani S-A-M-A, Ahad K (2011) Organochlorine residual concentrations in cattle egret from the Punjab Province, Pakistan. Environ Monit Assess 173:325–341

Muir D, Sverko E (2006) Analytical methods for PCBs and organochlorine pesticides in environmental monitoring and surveillance: a critical appraisal. Anal Bioanal Chem 386:769–789

Na T, Fang Z, Zhanqi G, Ming Z, Cheng S (2006) The status of pesticide residues in the drinking water sources in Meiliangwan Bay, Taihu Lake of China. Environ Monit Assess 123:351–370

Qiu X, Zhu T, Yao B, Hu J, Hu S (2005) Contribution of dicofol to the current DDT pollution in China. Environ Sci Technol 39:4385–4390

Qu J, Fan M (2010) The current state of water quality and technology development for water pollution control in China. Crit Rev Environ Sci Technol 40:519–560

Sun YZ, Wang XT, Li XH, Xu XB (2005) Distribution of persistent organochlorine pesticides in tissue/organ of silver carp (Hypophthalmichthys molitrix) from Guanting Reservoir, China. J Environ Sci (China) 17:722–726

Tang ZW, Yang ZF, Shen ZY, Niu JF, Cai YP (2008) Residues of organochlorine pesticides in water and suspended particulate matter from the Yangtze River catchment of Wuhan, China. Environ Monit Assess 137:427–439

Traas TP, Meent Dvd, Posthuma L, Hamers T, Kater BJ, Zwart Dd, et al. (2002) The potentially affected fraction as a measure of ecological risk. In: Posthuma L, Traas TP, Suter GW (eds) Species sensitivity distributions in ecotoxicology. Lewis, Boca Raton, pp. 315–343

Turgut C (2003) The contamination with organochlorine pesticides and heavy metals in surface water in Küçük Menderes River in Turkey, 2000–2002. Environ Int 29:29–32

United States Environment Protection Agency (USEPA) (1989) Risk assessment guidance for Superfund, volume 1, Human health evaluation manual, part A. EPA/540/1-89/ 002. Office of Emergency and Remedial Response, Washington, D.C. (http://www.epa.gov/oswer/riskassessment/ragsa/index.htm)

United States Environment Protection Agency (USEPA) (2010) Integrated risk information system (IRIS) (http://www.epa.gov/ncea/iris/index.html)

Vagi MC, Petsas AS, Kostopoulou MN, Karamanoli MK, Lekkas TD (2007) Determination of organochlorine pesticides in marine sediments samples using ultrasonic solvent extraction followed by GC/ECD. Desalination 210:146–156

Wang G-L, Ma L-M, Sun J-H, Zhang G (2010) Occurrence and distribution of organochlorine pesticides (DDT and HCH) in sediments from the middle and lower reaches of the Yellow River, China. Environ Monit Assess 168:511–521

Wang J, Guo L, Li J, Zhang G, Lee CS, Li X et al (2007) Passive air sampling of DDT, chlordane and HCB in the Pearl River Delta, South China: implications to regional sources. J Environ Monit 9:582–588

Wang J, Caccamise SAL, Wu L, Woodward LA, Li QX (2011) Spatial distribution of organochlorine contaminants in soil, sediment, and fish in Bikini and Enewetak Atolls of the Marshall Islands, Pacific Ocean. Chemosphere 84:1002–1008

Wang Y, He W, Qin N, He QS, Kong XZ, Tao S et al (2013a) Distributions, sources, and ecological risks of DDT-related contaminants in water, suspended particulate matter, and sediments from Haihe Plain, Northern China. Environ Monit Assess 185:1777–1790

Wang Y, Wu W-J, He W, Qin N, He Q-S, Xu F-L (2013b) Residues and ecological risks of organochlorine pesticides in Lake Small Baiyangdian, North China. Environ Monit Assess 185:917–929

Weber J, Halsall CJ, Muir D, Teixeira C, Small J, Solomon K et al (2010) Endosulfan, a global pesticide: a review of its fate in the environment and occurrence in the Arctic. Sci Total Environ 408:2966–2984

WHO (1979) DDT and its derivatives. World Health Organization, New York

Willett KL, Ulrich EM, Hites RA (1998) Differential toxicity and environmental fates of hexachlorocyclohexane isomers. Environ Sci Technol 32:2197–2207

Yuan L, Qi S, Wu X, Wu C, Xing X, Gong X (2013) Spatial and temporal variations of organochlorine pesticides (OCPs) in water and sediments from Honghu Lake, China. J Geochem Explor 132:181–187

Zhang Q, Zhang HX (2001) Five current important water issues for sustainable development in China. Water Int 26:231–238
Additional information
Responsible editor: Leif Kronberg
About this article
Cite this article
Yang, Y., Yun, X., Liu, M. et al. Concentrations, distributions, sources, and risk assessment of organochlorine pesticides in surface water of the East Lake, China. Environ Sci Pollut Res 21, 3041–3050 (2014). https://doi.org/10.1007/s11356-013-2269-6
Received:

Accepted:

Published:

Issue Date:
Keywords
Organochlorine pesticides

Species sensitivity distribution

DDT

HCHs

Risk assessment

Aquatic pollution