Abstract
The present work investigated the levels of total volatile organic compounds (TVOC) and benzene, toluene, ethylbenzene, m/p-xylene, and o-xylene (BTEX) in different microenvironments in the library of Jawaharlal Nehru University in summer and winter during 2011–2012. Carcinogenic and non-carcinogenic health risks due to organic compounds were also evaluated using US Environmental Protection Agency (USEPA) conventional approaches. Real-time monitoring was done for TVOC using a data-logging photo-ionization detector. For BTEX measurements, the National Institute for Occupational Safety and Health (NIOSH) standard method which consists of active sampling of air through activated charcoal, followed by analysis with gas chromatography, was performed. Simultaneously, outdoor measurements for TVOC and BTEX were carried out. Indoor concentrations of TVOC and BTEX (except benzene) were higher as compared to the outdoor for both seasons. Toluene and m/p-xylene were the most abundant organic contaminant observed in this study. Indoor to outdoor (I/O) ratios of BTEX compounds were generally greater than unity and ranged from 0.2 to 8.7 and 0.2 to 4.3 in winter and summer, respectively. Statistical analysis and I/O ratios showed that the dominant pollution sources mainly came from indoors. The observed mean concentrations of TVOC lie within the second group of the Molhave criteria of indoor air quality, indicating a multifactorial exposure range. The estimated lifetime cancer risk (LCR) due to benzene in this study exceeded the value of 1 × 10−6 recommended by USEPA, and the hazard quotient (HQ) of non-cancer risk came under an acceptable range.
Access options
Buy single article
Instant access to the full article PDF.
US$ 39.95
Tax calculation will be finalised during checkout.
Subscribe to journal
Immediate online access to all issues from 2019. Subscription will auto renew annually.
US$ 79
Tax calculation will be finalised during checkout.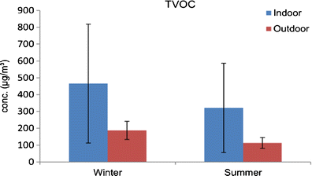 References
Andersson K, Bakke JV, Bjorseth O, Bornehag CG, Clausen G, Hongslo JK, Kjellman M, Kjergaard S, Levy F, Molhave L, Skerfving S, Sundell J (1997) TVOC and health in non-industrial indoor environments. Indoor Air 7:78–91

Bae H, Yang W, Chung M (2004) Indoor and outdoor concentrations of RSP, NO2 and selected volatile organic compounds at 32 shoe stalls located near busy roadways in Seoul, Korea. Sci Total Environ 323:99–105

Bruno P, Caselli M, de Gennaro G, Iacobellis S, Tutino M (2008) Monitoring of volatile organic compounds in non-residential indoor environments. Indoor Air 18:250–256

Chan W, Lee S, Chen Y, Mak B, Wong K, Chan C (2009) Indoor air quality in new hotels' guest rooms of the major world factory region. Int J Hosp Manag 28:26–32

Chang E-E, Wei-chi W, Li-xuan Z, Hung-lung C (2010) Health risk assessment of exposure to selected volatile organic compounds emitted from an integrated iron and steel plant. Inhal Toxicol 22:117–125

de Blas M, Navazo M, Alonso L, Durana N, Gomez MC, Iza J (2012) Simultaneous indoor and outdoor on-line hourly monitoring of atmospheric volatile organic compounds in an urban building. The role of inside and outside sources. Sci Total Environ 426:327–335

Edwards RD, Jurvelin J, Saarela K, Jantunen M (2001) VOC concentrations measured in personal samples and residential indoor, outdoor and workplace microenvironments. Atmos Environ 35:4531–4543

Environmental Protection Department, HKSAR (2003) Guideline notes for the management of indoor air quality in offices and public places (updated). Indoor Air Quality Management Group, Hong Kong Special Administrative Region Government, Hong Kong

Esplugues A, Ballester F, Estarlich M, Llop S, Fuentes-Leonart V, Mantilla E, Iñiguez C (2010) Indoor and outdoor air concentrations of BTEX and determinants in a cohort of one-year old children in Valencia, Spain. Sci Total Environ 409:63–69

Fantuzzi G, Aggazzotti G, Righi E, Cavazzuti L, Predieri G, Franceschelli A (1996) Indoor air quality in the university libraries of Modena (Italy). Sci Total Environ 193:49–56

Fenech A, Strlič M, KraljCigić I, Levart A, Gibson LT, De Bruin G, Ntanos K (2010) Volatile aldehydes in libraries and archives. Atmos Environ 44:2067–2073

Gallego E, Roca FX, Guardino X, Rosell MG (2008) Indoor and outdoor BTX levels in Barcelona City metropolitan area and Catalan rural areas. J Environ Sci 20:1063–1069

Geiss O, Giannopoulos G, Tirendi S, Barrero-Moreno J, Larsen BR, Kotzias D (2011) The AIRMEX study—VOC measurements in public buildings and schools/kindergartens in eleven European cities: statistical analysis of the data. Atmos Environ 45:3676–3684

Godwin C, Batterman S (2007) Indoor air quality in Michigan schools. Indoor Air 17:109–121

Hoque RR, Khillare PS, Agarwal T, Shridhar V, Balachandran S (2008) Spatial and temporal variation of BTEX in the urban atmosphere of Delhi, India. Sci Total Environ 392(1):30–40

Hori H, Ishimatsu S, Fueta Y, Ishidao T (2012) Evaluation of a real-time method for monitoring volatile organic compounds in indoor air in a Japanese university. Environ Health Prev Med. doi:10.1007/s12199-012-0319-1

Lee CM, Kim YS, Nagajyoti PC, Park W, Kim KY (2011) Pattern classification of volatile organic compounds in various indoor environments. Water Air Soil Pollut 215:329–338

Lerner JE, Sanchez EY, Sambeth JE, Porta AA (2012) Characterization and health risk assessment of VOCs in occupational environments in Buenos Aires, Argentina. Atmos Environ 55:440–447

Liu Q, Liu Y, Zhang M (2013) Personal exposure and source characteristics of carbonyl compounds and BTEXs within homes in Beijing, China. Build Environ 61:210–216

Lü H, Cai Q, Wen S, Chi Y, Guo S, Sheng G, Fu J, Katsoyiannis A (2010) Carbonyl compounds and BTEX in the special rooms of hospital in Guangzhou, China. J Hazard Mater 178:673–679

Matsumoto K, Matsumoto K, Mizuno R, Igawa M (2010) Volatile organic compounds in ambient aerosols. Atmos Res 97:124–128

McCarthy MC, O'Brien TE, Charrier JG, Hafner HR (2009) Characterization of the chronic risk and hazard of hazardous air pollutants in the United States using ambient monitoring data. Environ Health Perspect 117:790–796

Missia D, Demetriou E, Michael N, Tolis EI, Bartzis JG (2010) Indoor exposure from building materials: a field study. Atmos Environ 44:4388–4395

Molhave L, Clausen G, Berglund B, Ceaurriz JDE, Kettrup A, Lindvall T (1997) Total volatile organic compounds (TVOC) in indoor air quality investigations. Indoor Air 7:225–240

Ohura T, Amagai T, Shen X, Li S, Zhang P, Zhu L (2009) Comparative study on indoor air quality in Japan and China: characteristics of residential indoor and outdoor VOCs. Atmos Environ 43:6352–6359

Okada Y, Nakagoshi A, Tsurukawa M, Matsumura C, Eiho J, Nakano T (2012) Environmental risk assessment and concentration trend of atmospheric volatile organic compounds in Hyogo Prefecture, Japan. Environ Sci Pollut Res 19:201–213

Ongwandee M, Moonrinta R, Panyametheekul S, Tangbanluekal C, Morrison G (2011) Investigation of volatile organic compounds in office buildings in Bangkok, Thailand: concentrations, sources, and occupant symptoms. Build Environ 46:1512–1522

Peng CY, Hsiao SL, Lan CH, Huang YL (2012) Application of passive sampling on assessment of concentration distribution and health risk of volatile organic compounds at a high-tech science park. EnvIRON Monit Assess 185:181–196

Ramírez N, Cuadras A, Rovira E, Borrull F, Marcé RM (2012) Chronic risk assessment of exposure to volatile organic compounds in the atmosphere near the largest Mediterranean industrial site. Environ Int 39:200–209

Righi E, Aggazzotti G, Fantuzzi G, Ciccarese V, Predieri G (2002) Air quality and well-being perception in subjects attending university libraries in Modena (Italy). Sci Total Environ 286:41–50

Rumchev K, Spickett J, Bulsara M, Phillips M, Stick S (2004) Association of domestic exposure to volatile organic compounds with asthma in young children. Thorax 59:746–751

Saarela K, Tirkkonen T, Laine-Ylijoki J, Jurvelin J, Nieuwenhuijsen M, Jantunen M (2003) Exposure of population and microenvironmental distributions of volatile organic compound concentrations in the EXPOLIS study. Atmos Environ 37:5563–5575

Sarigiannis DA, Karakitsios SP, Gotti A, Liakos IL, Katsoyiannis A (2011) Exposure to major volatile organic compounds and carbonyls in European indoor environments and associated health risk. Environ Int 37:743–765

Sarkar C, Kumar V, Sinha V (2013) Massive emissions of carcinogenic benzenoids from paddy residue burning in North India. Curr Sci 104:1703–1709

Sarkhosh M, Mahvi AH, Zare MR, Fakhri Y, Shamsolahi HR (2012) Indoor contaminants from hardcopy devices: characteristics of VOCs in photocopy centers. Atmos Environ 63:307–312

Schlink U, Rehwagen M, Damm M, Richter M, Borte M, Herbarth O (2004) Seasonal cycle of indoor-VOCs: comparison of apartments and cities. Atmos Environ 38:1181–1190

Sexton K, Linder SH, Marko D, Bethel H, Lupo PJ (2007) Comparative assessment of air pollution-related health risks in Houston. Environ Health Perspect 115:1388–1393

Sofuoglu SC, Aslan G, Inal F, Sofuoglu A (2010) An assessment of indoor air concentrations and health risks of volatile organic compounds in three primary schools. Int J Hyg Environ Health 214:36–46

Som D, Dutta C, Mukherjee AK, Sen S (2008) Source apportionment of VOCs at the petrol pumps in Kolkata, India; exposure of workers and assessment of associated health risk. Transp Environ 13:524–530

Son B, Breysse P, Yang W (2003) Volatile organic compounds concentrations in residential indoor and outdoor and its personal exposure in Korea. Environ Int 29:79–85

Srivastava A, Sengupta B, Dutta SA (2005) Source apportionment of ambient VOCs in Delhi City. Sci Total Environ 343(1–3):207–220

Stranger M, Potgieter-vermaak SS, Grieken RV (2007) Comparative overview of indoor air quality in Antwerp, Belgium. Environ Int 33:789–797

Takeuchi F, Ozaki M (2009) Evaluation of VOC emissions from electrical components. Fujitsu Sci Tech J 45:115–122

Tang J, Chan C, Wang X, Chan L, Sheng G, Fu J (2005) Volatile organic compounds in a multi-storey shopping mall in guangzhou, South China. Atmos Environ 39:7374–7383

USEPA (1997) Air risk assessment work plan. Air and Radiation Division, Tristate, EPA, Washington, 1997

USEPA (1998) Integrated Risk Information System (IRIS). Available at: www.epa.gov. US Environmental Protection Agency, Washington, DC, 1998

Ward TJ, Underberg H, Jones D, Hamilton RF, Adams E (2009) Indoor/ambient residential air toxics results in rural western Montana. Environ Monit Assess 153:119–126

Watson JG, Chow JC, Fujita EM (2001) Review of volatile organic compound source apportionment by chemical mass balance. Atmos Environ 35:1567–1584

Zhang Y, Mu Y, Liu J, Mellouki A (2012) Levels, sources and health risks of carbonyls and BTEX in the ambient air of Beijing, China. J Environ Sci 24:124–130
Acknowledgments
The study is supported by a research grant (Junior Research Fellowship) from the Council for Scientific and Industrial Research (CSIR), New Delhi and the Department of Science and Technology (DST), New Delhi. The authors wish to acknowledge Dr. Manorama Tripathy, Deputy Librarian of Central Library, JNU, New Delhi for her help during the sampling campaign.
Additional information
Responsible editor: Gerhard Lammel
About this article
Cite this article
Kumar, A., Singh, B.P., Punia, M. et al. Assessment of indoor air concentrations of VOCs and their associated health risks in the library of Jawaharlal Nehru University, New Delhi. Environ Sci Pollut Res 21, 2240–2248 (2014). https://doi.org/10.1007/s11356-013-2150-7
Received:

Accepted:

Published:

Issue Date:
Keywords
TVOC

BTEX

Library

Indoor–outdoor ratio

Hazard quotient