Abstract
Plants in the water level fluctuation zone of the Three Gorges Reservoir Region disappeared due to winter-flooding and prolonged inundation. Revegetation (plantation and natural recovery) have been promoted to restore and protect the riparian ecosystem in recent years. Revegetation may affect soil qualities and have broad important implications both for ecological services and soil recovery. In this study, we investigated soil properties including soil pH values, bulk density, soil organic matter (SOM), soil nutrients and heavy metals, soil microbial community structure, microbial biomass, and soil quality index under plantation and natural recovery in the Three Gorges Reservoir Region. Most soil properties showed significant temporal and spatial variations in both the plantation and natural recovery areas. Higher contents of SOM and NO3-N were found in plantation area, while higher contents of soil pH values, bulk density, and total potassium were observed in the natural recovery area. However, there were no significant differences in plant richness and diversity and soil microbial community structure between the two restoration approaches. A soil quality index derived from SOM, bulk density, Zn, Cd, and Hg indicated that natural recovery areas with larger herbaceous coverage had more effective capacity for soil restoration.
Access options
Buy single article
Instant access to the full article PDF.
USD 39.95
Price excludes VAT (USA)
Tax calculation will be finalised during checkout.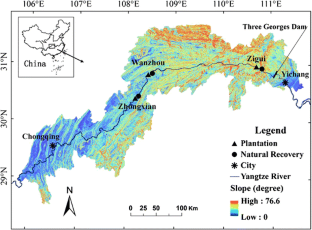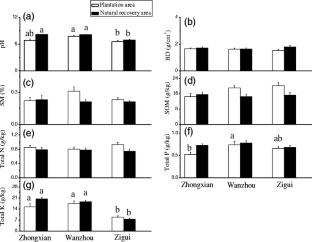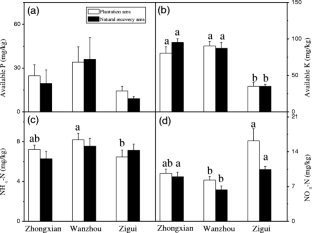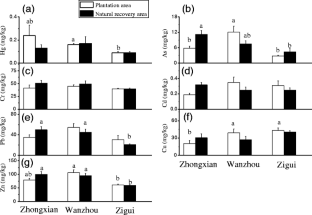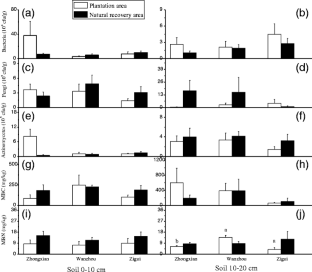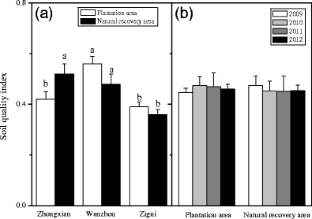 References
Alatalo RV (1981) Problems in the measurement of evenness in ecology. Oikos 37:199–204

Albaladejo J, Martinez-Mena M, Castillo V (1994) Changes in soil physical properties induced by soil degradation. Transaction of the 15th World Congress of Soil Science Mexico, Vol. 2b. ISSS, Acapulco, pp 250–252

Andrews SS, Karlen DL, Mitchell JP (2002) A comparison of soil quality indexing methods for vegetable systems in Northern California. Agric Ecosyst Environ 90:25–45

Ashton MS, Gunatilleke CVS, Singhakumara BMP, Gunatilleke IAUN (2001) Restoration pathways for rain forest in southwest Sri Lanka: a review of concepts and models. Forest Ecol Manage 154:409–430

Baldwin DS, Mitchell AM (2000) The effects of drying and re-flooding on the sediment and soil nutrient dynamics of lowland river-floodplain systems: a synthesis. Regul Rivers Res Manag 16:457–467

Bastida F, Moreno JL, Hernandez T, Garcia C (2006) Microbiological degradation index of soils in a semiarid climate. Soil Biol Biochem 38:3463–3473

Brady NC, Weil RR (2008) The nature and properties of soils, 14th edn. Pearson, Columbus

Braun-Blanquet J (1932) Plant sociology. The study of plant communities. McGraw-Hill, New York

Brookes PC, Landman A, Pruden G, Jenkinson DS (1985) Chloroform fumigation and release of soil N: a rapid direct extraction method to measure microbial biomass N in soil. Soil Biol Biochem 17:837–842

Caravaca F, Figueroa D, Barea JM, Azcón-Aguilar C, Palenzuela J, Roldán A (2003) The role of relict vegetation in maintaining physical, chemical, and biological properties in an abandoned Stipa-grass agroecosystem. Arid Land Res Manag 17:103–111

Chazdon RL (2008) Beyond deforestation: restoring forests and ecosystem services on degraded lands. Science 320:1458–1460

Condron LM, Newman RH (1998) Chemical nature of soil organic matter under grassland and forest. Eur J Soil Sci 49:597–604

Czerepko J (2004) Development of vegetation in managed Scots pine (Pinus sylvestris L.) stands in an oak-lime-hornbeam forest habitat. Forest Ecol Manage 202:119–130

Demoling LA, Baath E (2008) Use of pollution induced community tolerance of the bacterial community to detect phenol toxicity in soil. Environ Toxicol Chem 27:334–340

Florgard C (2004) Remaining original natural vegetation in towns and cities. Urban For Urban Green 3:1–2

Forshay KJ, Stanley EH (2005) Rapid nitrate loss and denitrification in a temperate river floodplain. Biogeochemistry 75:43–64

Garcia C, Roldan A, Hernandez T (2005) Ability of different plant species to promote microbiological processes in semiarid soil. Geoderma 124:193–202

Hinojosa MB, Carreira JA, García-Ruíz R, Dick RP (2004) Soil moisture pre-treatment effects on enzyme activities as indicators of heavy metal-contaminated and reclaimed soils. Soil Biol Biochem 36:1559–1568

Hoffmann CC, Berg P, Dahl M, Larsen SE, Andersen HE, Andersen B (2006) Groundwater flow and transport of nutrients through a riparian meadow-Field data and modelling. J Hydrol 331:315–335

Jiao JY, Tzanopoulos J, Xofis P, Bai WJ, Ma XH, Mitchley J (2007) Can the study of natural vegetation succession assist in the control of soil erosion on abandoned croplands on the Loess Plateau, China? Restor Ecol 15:391–399

Jones PD, Edwards SL, Demarais S, Ezell AW (2009) Vegetation community responses to different establishment regimes in loblolly pine (Pinus taeda) plantations in southern MS, USA. For Ecol Manag 257:553–560

Lamb D, Erskine PD, Parrotta JA (2005) Restoration of degraded tropical forest landscapes. Science 310:1628–1632

Langer ER, Steward GA, Kimberley MO (2008) Vegetation structure, composition and effect of pine plantation harvesting on riparian buffers in New Zealand. For Ecol Manag 256:949–957

Lebuhn M, Heilmann B, Hartmann A (1994) Effects of drying/re-wetting stress on microbial auxin production and L-tryptophan catabolism in soils. Biol Fertil Soils 18:302–310

Lu ZJ, Li LF, Jiang MX, Huang HD, Bao DC (2010) Can the soil seed bank contribute to revegetation of the drawdown zone in the Three Gorges Reservoir Region? Plant Ecol 209:153–165

Marzaioli R, D'Ascoli R, De Pascale RA, Rutigliano FA (2010) Soil quality in a Mediterranean area of Southern Italy as related to different land use types. Appl Soil Ecol 44:205–212

Masto RE, Chhonkar PK, Singh D, Patra AK (2008) Alternative soil quality indices for evaluating the effect of intensive cropping, fertilization and manuring for 31 years in the semi-arid soils of India. Environ Monit Assess 136:419–435

Patrick R (1949) A proposed biological measure of stream conditions based on a survey of Conestoga Basin, Lancaster County, Pennsylvania. Proc Acad Nat Sci Phila 101:277–341

Pielou EC (1966) The measure of diversity in different types of biological collections. J Theor Biol 13:131–144

Powlson DS, Brookes PC, Christensen BT (1987) Measurement of soil microbial biomass provides an early indication of changes in total soil organic matter due to straw incorporation. Soil Biol Biochem 19:159–164

Renella G, Mench M, Landi L, Nannipieri P (2005) Microbial activity and hydrolase synthesis in long-term Cd-contaminated soils. Soil Biol Biochem 37:133–139

Rutigliano FA, Ascoli RD, Virzo De Santo A (2004) Soil microbial metabolism and nutrient status in a Mediterranean area as affected by plant cover. Soil Biol Biochem 36:1719–1729

Schramm HL Jr, Cox MS, Tietjen TE, Ezell AW (2009) Nutrient dynamics in the lower Mississippi River floodplain: comparing present and historic hydrologic conditions. Wetlands 29:476–487

Shannon CE, Weaver W (1949) The mathematical theory of communication. University of Illinois Press, Urbana, 117 p

Simpson EH (1949) Measurement of diversity. Nature 163: 688

Sinha S, Masto RE, Ram LC, Selvi VA, Srivastava NK, Tripathi RC, George J (2009) Rhizosphere soil microbial index of tree species in a coal mining ecosystem. Soil Biol Biochem 41:1824–1832

State Environmental Protection Administration of China (SEPA) (1995) Environmental quality standard for soils (GB15618-1995). China Environmental Science Press, Beijing (in Chinese)

State Environmental Protection Administration of China (SEPA) (2009) Ecological and environmental monitoring communique on the Three Gorges Project. China Environmental Science Press, Beijing (in Chinese)

Van der Meijden R (2005) Heukels' Flora van Nederland, 23rd edn. Wolters Noordhoff, Groningen

Vance ED, Brookes PC, Jenkinson D (1987) An extraction method for measuring microbial biomass carbon. Soil Biol Biochem 19:703–707

Wang XR, Cheng RM, Xiao WF, Guo QS, Feng XH (2010) Soil nutrient characteristics in juvenile water level fluctuating zone of Three Gorges Reservoir. Chin J Ecol 29:281–289 (in Chinese)

Wei XR, Shao MA, Fu XL, Horton R, Li Y, Zhang XC (2009) Distribution of soil organic C, N and P in three adjacent land use patterns in the northern Loess Plateau, China. Biogeochemistry 96:149–162

Wu J, Joergensen RG, Pommerening B, Chaussod R, Brookes PC (1990) Measurement of soil microbial biomass C by fumigation-extraction—an automated procedure. Soil Biol Biochem 22:1167–1169

Yang K, Zhu JJ, Zhang M, Yan QL, Sun OJ (2010) Soil microbial biomass carbon and nitrogen in forest ecosystems of Northeast China: a comparison between natural secondary forest and larch plantation. J Plant Ecol 3:175–182

Ye C, Li SY, Zhang YR, Zhang QF (2011) Assessing soil heavy metal pollution in the water-level-fluctuation zone of the Three Gorges Reservoir, China. J Hazard Mater 191:366–372

Ye C, Cheng X, Zhang Y, Wang Z, Zhang Q (2012) Soil nitrogen dynamics following short-term revegetation in the water level fluctuation zone of the Three Gorges Reservoir, China. Ecol Eng 38:37–44

Ye C, Zhang K, Deng Q, Zhang Q (2013a) Plant communities in relation to flooding and soil characteristics in the water level fluctuation zone of the Three Gorges Reservoir, China. Environ Sci Pollut R 20:1794–1802

Ye C, Li S, Zhang Y, Tong X, Zhang Q (2013b) Assessing heavy metal pollution in the water level fluctuation zone of China's Three Gorges Reservoir using geochemical and soil microbial approaches. Environ Monit Assess 185:231–240

Zeng DH, Hu YL, Chang SX, Fan ZP (2009) Land cover change effects on soil chemical and biological properties after planting Mongolian pine (Pinus sylvestris var. mongolica) in sandy lands in Keerqin, northeastern China. Plant Soil 317:121–133

Zhan YH, Wang LA, Jiao YJ (2006) Adsorption and release of nitrogen of soils in Three Gorges Reservoir. Journal of Chongqing University (Nature Science Edition) 29:10-13 (in Chinese)

Zhang JY, Wang DY, Shi XH (2004) Change of soil character after flooding in drawdown area of Three Gorges Reservoir. J Soil Water Conserv 18:120–123 (in Chinese)

Zhang WG, Feng H, Chang JN, Qu JG, Xie HX, Yu LZ (2009) Heavy metal contamination in surface sediments of Yangtze River intertidal zone: an assessment from different indexes. Environ Pollut 157:1533–1543

Zhang K, Dang H, Tan S, Wang Z, Zhang Q (2010) Vegetation community and soil characteristics of abandoned agricultural land and pine plantation in the Qinling Mountains, China. For Ecol Manag 259:2036–2047

Zhang C, Liu GB, Xue S, Song ZL (2011a) Rhizosphere soil microbial activity under different vegetation types on the Loess Plateau, China. Geoderma 161:115–125

Zhang C, Xue S, Liu GB, Song ZL (2011b) A comparison of soil qualities of different revegetation types in the Loess Plateau, China. Plant Soil 347:163–178

Zhao CM, Chen WL, Huang HD, Tian ZQ, Chen Y, Xie ZQ (2007) Spatial pattern of plant species diversity in the inundation and resettlement region of the Three Gorges Reservoir. Biodivers Sci 15:510–522

Zhong ZC, Qi DH (2008) The illustrated species catalog and biodiversity in the hydro-fluctuation belt of Three Gorges Reservoir. Southwest China Normal University Press, Chongqing
Acknowledgments
This research is supported by the National Natural Science Foundation of China (31130010), Q-CAS Biotechnology Fund of the Chinese Academy of Sciences (GJHZ1243), and the Executive Office of the State Council Three Gorges Construction Committee (SX2010-014). We would like to thank Jing Wang, Jiaquan Zhang, Fei Li, and Chuan Wu for their assistance during fieldwork, and Pingcai Yan for the assistance on the laboratory analyses. We also would like to thank Professor Jiquan Chen (The University of Toledo) for editing the manuscript.
Additional information
Responsible editor: Philippe Garrigues
About this article
Cite this article
Ye, C., Cheng, X. & Zhang, Q. Recovery approach affects soil quality in the water level fluctuation zone of the Three Gorges Reservoir, China: implications for revegetation. Environ Sci Pollut Res 21, 2018–2031 (2014). https://doi.org/10.1007/s11356-013-2128-5
Received:

Accepted:

Published:

Issue Date:

DOI: https://doi.org/10.1007/s11356-013-2128-5
Keywords
Revegetation

Soil quality

Microbial properties

Water level fluctuation zone