Abstract
Apple snail Pomacea canaliculata has been reported to accumulate polybrominated diphenyl ethers (PBDEs) and was recently proposed as PBDE bioindicator. This work investigates the ability of P. canaliculata to accumulate BDE-209 by dietary exposure under controlled experimental conditions. A 30-day long enrichment feeding assay was carried out using 30 adult apple snails, placed in individual aquaria. Food was enriched at three BDE-209 concentrations (400, 4,700, and 8,300 μg g−1 lipid weight). Correlation between BDE-209 values in food and snail tissue were estimated according to Stockholm Convention suggested criteria for chemicals with KOW >5. All animals survived with no evident physical alterations, and all of them accumulated BDE-209. BDE-209 levels in tissue samples increased exponentially with the exposure concentration. The bioaccumulation factor vs. food concentration plot showed a peculiar pattern, in which at intermediate concentrations the snails accumulated less BDE-209 than expected. Our results suggest that P. canaliculata would present a detoxification mechanism for BDE-209 different from the most commonly reported metabolic pathways.
Access options
Buy single article
Instant access to the full article PDF.
USD 39.95
Price excludes VAT (USA)
Tax calculation will be finalised during checkout.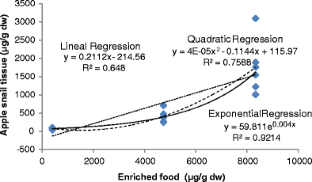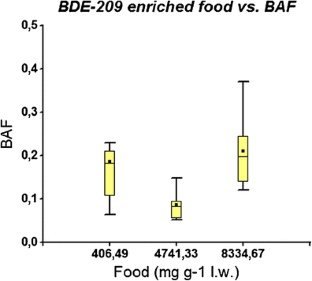 References
Arnot JA, Gobas FAPC (2006) A review of bioconcentration factor (BCF) and bioaccumulation factor (BAF) assessments for organic chemicals in aquatic organisms. Environ Rev 14:257–297

Estebenet A, Martín P (2002) Pomacea canaliculata (Gastropoda: Ampullariidae): life-history traits and their plasticity. Biocell 26:83–89

Fu J, Wang Y, Zhang A, Zhang Q, Zhao Z, Wang T, Jiang G (2011) Spatial distribution of polychlorinated biphenyls (PCBs) and polybrominated biphenyl ethers (PBDEs) in an e-waste dismantling region in southeast China: use of apple snail (Ampullariidae) as a bioindicator. Chemosphere 82:648–655

Giraud-Billoud M (2010) El aparato copulatorio de Pomacea canaliculata (Caenogastropoda, Ampullariidae): estructura, coaptación con la hembra durante la cópula y el efecto de xenobióticos

Harmon SM (2009) Effects of pollution on freshwater organisms. Water Environ Res 81:2030–2069

Liu H, Zhou Q, Wang Y, Zhang Q, Cai Z, Jiang G (2008) E-waste recycling induced polybrominated diphenyl ethers, polychlorinated biphenyls, polychlorinated dibenzo- p -dioxins and dibenzo-furans pollution in the ambient environment. Environ Int 34:67–72

Liu J, He Y-J, Tan J-C, Xu C-X, Zhong L, Wang Z-G, Liao Q-G (2012) Characteristics of Pomacea canaliculata reproduction under natural conditions. Chin J Appl Ecol 23:559–565

Lowe S, Browne M, Boudjelas S, De Poorter M (2000) 100 of the World's Worst Invasive Alien Species. A selection from the Global Invasive Species Database. The Invasive Species Specialist Group (ISSG) a specialist group of the Species Survival Commission (SSC) of the World Conservation Union (IUCN), Auckland, New Zealand, 12 pp

Piyatiratitivorakul P, Ruangareerat S, Vajarasathira B (2006) Comparative toxicity of heavy metal compounds to the juvenile golden apple snail, Pomacea sp. Fresenius Environ Bull 15:379–384

Province SS (2006) Accumulation and distribution of heavy metals in water, sediment, Pomacea canaliculata and some fish species in the Philok canal system. Master of Science Thesis, MAHIDOL UNIVERSITY

Roosens L, Dirtu AC, Goemans G, Belpaire C, Gheorghe A, Neels H, Blust R, Covaci A (2008) Brominated flame retardants and polychlorinated biphenyls in fish from the river Scheldt, Belgium. Environ Int 34:976–983

She YZ, Wu JP, Zhang Y, Peng Y, Mo L, Luo XJ, Mai BX (2013) Bioaccumulation of polybrominated diphenyl ethers and several alternative halogenated flame retardants in a small herbivorous food chain. Environ Pollut 174:164–170

Takeda N (2000) Development of a penis from the vestigial penis in the female apple snail, Pomacea canaliculata. Biol Bull 199:316–320

Van den Steen E, Covaci A, Jaspers VLB, Dauwe T, Voorspoels S, Eens M, Pinxten R (2007) Accumulation, tissue-specific distribution and debromination of decabromodiphenyl ether (BDE 209) in European starlings (Sturnus vulgaris). Environ Pollut 148:648–653

Vega IA, Arribére MA, Almonacid AV, Ribeiro Guevara S, Castro-Vazquez A (2012) Apple snails and their endosymbionts bioconcentrate heavy metals and uranium from contaminated drinking water. Environ Sci Pollut Res 1–10

Wang Z, Ma X, Lin Z, Na G, Yao Z (2009) Congener specific distributions of polybrominated diphenyl ethers (PBDEs) in sediment and mussel (Mytilus edulis) of the Bo Sea, China. Chemosphere 74:896–901

Wang J, Lin Z, Lin K, Wang C, Zhang W, Cui C, Lin J, Dong Q, Huang C (2011) Polybrominated diphenyl ethers in water, sediment, soil, and biological samples from different industrial areas in Zhejiang, China. J Hazard Mater 197:211–219
Acknowledgments
This research was supported by Consejo Nacional de Investigaciones Científicas y Técnicas (CONICET), Agencia Nacional de Promoción Científica y Tecnológica–Fondo para la Investigación Científica y Tecnológica (ANPCyT-FONCyT), and Secretaría de Ciencia Técnica y Postgrado de la Universidad Nacional de Cuyo (SECTyP-UNCuyo). We would like to thank to the Laboratorio de Investigaciones y Servicios Ambientales Mendoza (LISAMEN) for technical assistance and Dr. Alfredo Castro Vazquez for providing the snails. JCA and NBL acknowledge the provision of Erasmus Mundus scholarship for their visit to Toxicological center at University of Antwerp, Belgium. AC acknowledges the Flanders Foundation for Scientific Funds (FWO) and the University of Antwerp for financial support.
Additional information
Responsible editor: Philippe Garrigues
About this article
Cite this article
Koch, E., Altamirano, J.C., Covaci, A. et al. Should apple snail Pomacea canaliculata (Caenogastropoda, Ampullariidae) be used as bioindicator for BDE-209?. Environ Sci Pollut Res 21, 761–765 (2014). https://doi.org/10.1007/s11356-013-2109-8
Received:

Accepted:

Published:

Issue Date:

DOI: https://doi.org/10.1007/s11356-013-2109-8
Keywords