Abstract
This study investigated the photocatalytic degradation of acetaminophen (ACT) in synthetic titanium dioxide (TiO2) solution under a visible light (λ >440 nm). The TiO2 photocatalyst used in this study was synthesized via sol–gel method and doped with potassium aluminum sulfate (KAl(SO4)2) and sodium aluminate (NaAlO2). The influence of some parameters on the degradation of acetaminophen was examined, such as initial pH, photocatalyst dosage, and initial ACT concentration. The optimal operational conditions were also determined. Results showed that synthetic TiO2 catalysts presented mainly as anatase phase and no rutile phase was observed. The results of photocatalytic degradation showed that LED alone degraded negligible amount of ACT but with the presence of TiO2/KAl(SO4)2, 95 % removal of 0.10-mM acetaminophen in 540-min irradiation time was achieved. The synthetic TiO2/KAl(SO4)2 presented better photocatalytic degradation of acetaminophen than commercially available Degussa P-25. The weak crystallinity of synthesized TiO2/NaAlO2 photocatalyst showed low photocatalytic degradation than TiO2/KAl(SO4)2. The optimal operational conditions were obtained in pH 6.9 with a dose of 1.0 g/L TiO2/KAl(SO4)2 at 30 °C. Kinetic study illustrated that photocatalytic degradation of acetaminophen fits well in the pseudo-first order model. Competitive reactions from intermediates affected the degradation rate of ACT, and were more obvious as the initial ACT concentration increased.
Access options
Buy single article
Instant access to the full article PDF.
USD 39.95
Price excludes VAT (USA)
Tax calculation will be finalised during checkout.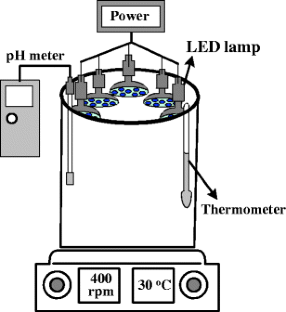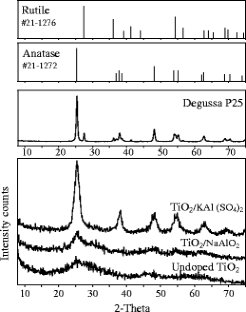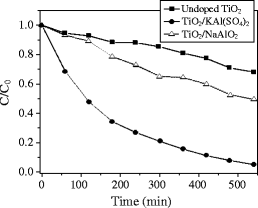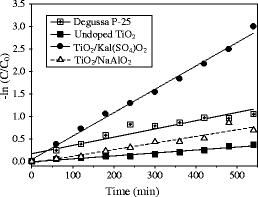 References
Anpo M, Takeuchi M (2003) The design and development of highly reactive titanium oxide photocatalysts operating under visible light irradiation. J Catal 216:505–516

Brillas E, Sires I, Arias C, Cabot PL, Centellas F, Rodriguez RM, Garrido JA (2005) Mineralization of paracetamol in aqueous medium by anodic oxidation with a boron-doped diamond electrode. Chemosphere 58:399–406

Cheng X, Yu X, Xing Z (2012) Characterization and mechanism analysis of Mo-N-Co-doped TiO2 nano-photocatalyst and its enhanced visible activity. J Colloid Interface Sci 372:1–5

Chu W, Choy WK, So TY (2006) The effect of solution pH and peroxide in the TiO2-induced photocatalysis of chlorinated aniline. J Hazard Mater 141:86–91

de Luna MD, Veciana ML, Su CC, Lu MC (2012) Acetaminophen degradation by electro-Fenton and photoelectron-Fenton using a double cathode electrochemical cell. J Hazard Mater 217–218:200–2007

de Luna MD, Briones RM, Su CC, Lu MC (2013) Kinetics of acetaminophen degradation by Fenton oxidation in a fluidized-bed reactor. Chemosphere 90:1444–1448

Devi LG, Murthy BN (2008) Characterization of Mo doped TiO2 and its enhanced photocatalytic activity under visible light. Catal Lett 125:320–330

Ellis JB (2006) Pharmaceutical and personal care products (PPCPs) in urban receiving waters. Environ Pollut 144:184–189

Fujishima A, Rao TN, Tryk DA (2000) Titanium dioxide photocatalysis. J Photochem Photobiol C Photochem Rev 1:1–21

Hussain ST, Mazhar M, Siddiqa A, Javid H, Siddiq M (2012) Cu-S coped TiO2 nanophotocatalyst for the degradeation of environmental and industrial pollutants. Open Catal J 5:21–30

Kim TW, Lee MJ, Shim WG, Lee JW, Kim TY, Lee DH, Moon H (2008) Adsorption and photocatalytic decomposition of organic molecules on carbon-coated TiO2. J Mater Sci 43:6486–6494

Klosek S, Raftery D (2001) Visible light driven V-doped TiO2 photocatalyst and its photooxidation of ethanol. J Phys Chem B 105:2815–2819

Li X, Xiong R, Wei G (2008) S-N Co-doped TiO2 photocatalysts with visible light activity prepared by sol–gel method. Catal Lett 125:104–109

Li H, Yin S, Wang Y, Sato T (2013) Efficient persistent photocatalytic decomposition of nitrogen monoxide over a fluorescence-assisted CaAl2O4:(Eu, Nd)/(Ta, N)-codoped TiO2/Fe2O3. Appl Catal B Environ 132–133:487–492

Lin YT, Weng CH, Lin YH, Shiesh CC, Chen FY (2013a) Effect of C content and calcination temperature on the photocatalytic activity of C-doped TiO2 catalyst. Sep Purif Technol 116:114–123

Lin YT, Weng CH, Hsu HJ, Lin YH, Shiesh CC (2013b) The synergistic effect of nitrogen dopant and calcination temperature on the visible-light-induced photoactivity of N-doped TiO2. Int J Photoenergy 2013:1–13

Lishman L, Smyth SA, Sarafin K, Kleywegt S, Toito J, Peart T, Lee B, Servos M, Beland M, Seto P (2006) Occurrence and reductions of pharmaceuticals and personal care products and estrogens by municipal wastewater treatment plants in Ontario, Canada. Sci Total Environ 367:544–558

Liu H, Dong X, Li G, Su X, Zhu Z (2013) Synthesis of C, Ag co-modified TiO2 photocatalyst and its application in waste water purifyication. Appl Surf Sci 271:276–283

Mozia S, Morawski AW, Toyoda M, Tsumura T (2009) Effect of process parameters on photodegradation of Acid Yellow 36 in photocatalysis-membrane distillation system. Chem Eng J 150:152–159

Niu M, Cheng D, Cao D (2013) Enhanced photoelectronchemical performance of anatase TiO2 by metal-assisted S-O coupling for water splitting. Int J Hydrog Energy 38:1251–1257

Ohtani B (2010) Photocatalysis A to Z - what we know and what we do not know in a scientific sense. J Photochem Photobiol C Photochem Rev 11:157–178

Putta T, Lu MC, Anotai J (2011) Photocatalytic activety of tungsten-doped TiO2 with hydrothermal treatment under blue light irradiation. J Environ Manage 92:2272–2276

Radjenović J, Sirtori C, Petrović M, Barceló D, Malato S (2009) Solar photocatalytic degradation of persistent pharmaceuticals at pilot-scale: kinetics and characterization of major intermediate products. Appl Catal B Environ 89:255–264

Sasikala R, Shirole AR, Sudarsan V, Jagannath SC, Naik R, Rao R, Bharadwaj SR (2010) Enhanced photocatalytic activity of indium and nitrogen co-doped TiO2-Pd nanocomposites for hydrogen generation. Appl Catal A Gen 377:47–54

Shon HK, Cho DL, Na SH, Kim JB, Park HJ, Kim JH (2009) Development of a novel method to prepare Fe- and Al-doped TiO2 form wastewater. J Ind Eng Chem 15:476–482

Tolosa NC, Lu MC, Mendoza HD, Rollon AP (2011a) The effect of the composition of tri-elemental doping (K, Al, S) on the photocatalytic performance of synthesized TiO2 nanoparticles in oxidizing 2-chlorophenol over visible light illumination. Appl Cataly A Gen 401:233–238

Tolosa NC, Lu MC, Mendoza HD, Rollon AP (2011b) Factors affecting the photocatalytic oxidation of 2,4-dichlorophenol using modified titanium dioxide TiO2/KAl(SO4)2 catalyst under visible light. Sustain Environ Res 21:381–387

Tzikalos N, Belessi V, Dimitra L (2013) Photocatalytic degradation of Reactive Red 195 using anatase/brookite TiO2 mesoporous nanoparticles: Optimization using response surface methodology (RSM) and kinetics studies. Environ Sci Pollut Res 20:2305–2320

Vega AA, Keshmiri M, Mohseni M (2011) Composite template-free TiO2 photocatalyst: synthesis, characteristics and photocatalytic activity. Appl Catal B Environ 104:127–135

Xiong P, Hu J (2012) Degradation of acetaminophen by UVA/LED/TiO2 process. Sep Purif Technol 91:89–95

Yang L, Yu LE, Ray MB (2008) Degradation of paracetamol in aqueous solutions by TiO2 photocatalysis. Water Res 42:3480–3488

Yates JT Jr (2009) Photochemistry on TiO2: mechanisms behind surface chemistry. Surf Sci 603:1605–1612

Yu JC, Yu J, Ho W, Jiang Z, Zhang L (2002) Effects of F-doping on the photocatalytic activity and microstructures of nanocrystalline TiO2 powders. Chem Mater 14:3808–3816

Zhang X, Wu F, Wu XW, Chen P, Deng N (2008) Photodegradation of acetaminophen in TiO2 suspended solution. J Hazard Mater 157:300–307

Zhao W, Ma WH, Chen CC, Zhao JC, Shuai ZG (2004) Efficient degradation of toxic organic pollutants with Ni2O3/TiO2-xBx under visible irradiation. J Am Chem Soc 126:4782–4783

Zhou M, Yu J, Liu S, Zhai P, Huang B (2009) Spray-hydrolytic synthesis of highly photoactive mesoporous anatase nanospheres for the photocatalytic degradation of toluene in air. Appl Catal B Environ 89:160–166
Acknowledgments
The authors would like to thank the National Science Council of Taiwan, for financially supporting this research under Contract No. NSC 101-2923-E-041-001-MY2.
Additional information
Responsible editor: Philippe Garrigues
About this article
Cite this article
Dalida, M.L.P., Amer, K.M.S., Su, CC. et al. Photocatalytic degradation of acetaminophen in modified TiO2 under visible irradiation. Environ Sci Pollut Res 21, 1208–1216 (2014). https://doi.org/10.1007/s11356-013-2003-4
Received:

Accepted:

Published:

Issue Date:

DOI: https://doi.org/10.1007/s11356-013-2003-4
Keywords