Abstract
Six antibiotics, tetracyclines (TCs), and quinolones (QNs) in farmland soils from four coastal cities in Fujian Province of China were investigated. Oxytetracycline was most frequently detected, followed by enrofloxacin, ciprofloxacin, chlorotetracycline, ofloxacin, and tetracycline, with maximum concentrations of 613.2, 637.3, 237.3, 2668.9, 205.7, and 189.8 μg kg−1, respectively. Samples from Putian City contained the highest maximum concentration of ∑TCs (3,064.2 μg kg−1), whereas those from Fuzhou City contained the highest maximum concentration of ∑QNs (897.8 μg kg−1). It is noteworthy that the ∑TCs and ∑QNs in 46.4 and 28.6 % of samples exceeded the ecotoxic effect trigger value (100 μg kg−1), respectively. The concentrations of these antibiotics and five tetracycline resistance genes in four soil plots at depth profiles were quantified thereafter. In most cases, both antibiotics and resistance genes decreased with the increase of depth. Some antibiotics can be detected at a depth of 60–80 cm where the abundance of tetO, tetM, and tetX reached up to 107 copies g−1. Additionally, the sum of all tet genes (normalized to 16S rRNA genes) correlated with ∑TCs significantly (r = 0.676). Our results suggest that resistance determinants can migrate to deeper soil layers and would probably contaminate groundwater by vertical transport.
Access options
Buy single article
Instant access to the full article PDF.
USD 39.95
Price excludes VAT (USA)
Tax calculation will be finalised during checkout.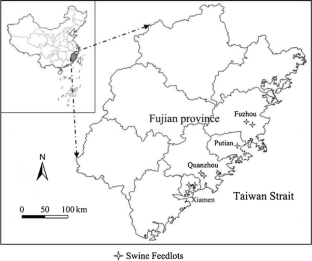 References
Aminov RI, Garrigues-Jeanjean N, Mackie RI (2001) Molecular ecology of tetracycline resistance: development and validation of primers for detection of tetracycline resistance genes encoding ribosomal protection proteins. Appl Environ Microbiol 67(1):22–32

Aust MO, Godlinski F, Travis GR, Hao X, McAllister TA, Leinweber P, Thiele-Bruhn S (2008) Distribution of sulfamethazine, chlortetracycline and tylosin in manure and soil of Canadian feedlots after subtherapeutic use in cattle. Environ Pollut 156(3):1243–1251

Barkovskii AL, Bridges C (2012) Persistence and profiles of tetracycline resistance genes in swine farms and impact of operational practices on their occurrence in farms' vicinities. Water Air Soil Pollut 223(1):49–62

Barkovskii AL, Manoylov KM, Bridges C (2012) Positive and negative selection towards tetracycline resistance genes in manure treatment lagoons. J Appl Microbiol 112(5):907–919

Ben W, Qiang Z, Adams C, Zhang H, Chen L (2008) Simultaneous determination of sulfonamides, tetracyclines and tiamulin in swine wastewater by solid-phase extraction and liquid chromatography–mass spectrometry. J Chromatogr A 1202(2):173–180

Campagnolo ER, Johnson KR, Karpati A, Rubin CS, Kolpin DW, Meyer MT, Esteban JE, Currier RW, Smith K, Thu KM, McGeehin M (2002) Antimicrobial residues in animal waste and water resources proximal to large-scale swine and poultry feeding operations. Sci Total Environ 299(1–3):89–95

Chee-Sanford JC, Mackie RI, Koike S, Krapac IG, Lin YF, Yannarell AC, Maxwell S, Aminov RI (2009) Fate and transport of antibiotic residues and antibiotic resistance genes following land application of manure waste. J Environ Qual 38(3):1086–1108

Chen J, Michel FC Jr, Sreevatsan S, Morrison M, Yu Z (2010) Occurrence and persistence of erythromycin resistance genes (erm) and tetracycline resistance genes (tet) in waste treatment systems on swine farms. Microb Ecol 60(3):479–486

Diehl DL, LaPara TM (2010) Effect of temperature on the fate of genes encoding tetracycline resistance and the integrase of glass 1 integrons within anaerobic and aerobic digesters treating municipal wastewater solids. Environ Sci Technol 44(23):9128–9133

Gatica J, Cytryn E (2013) Impact of treated wastewater irrigation on antibiotic resistance in the soil microbiome. Environ Sci Pollut Res Int. doi:10.1007/s11356-013-1505-4

Ghosh S, Ramsden SJ, LaPara TM (2009) The role of anaerobic digestion in controlling the release of tetracycline resistance genes and class 1 integrons from municipal wastewater treatment plants. Appl Microbiol Biotechnol 84(4):791–796

Hamscher G, Pawelzick HT, Hoper H, Nau H (2005) Different behavior of tetracyclines and sulfonamides in sandy soils after repeated fertilization with liquid manure. Environ Toxicol Chem 24(4):861–868

He JZ, Shen JP, Zhang LM, Zhu YG, Zheng YM, Xu MG, Di HJ (2007) Quantitative analyses of the abundance and composition of ammonia-oxidizing bacteria and ammonia-oxidizing archaea of a Chinese upland red soil under long-term fertilization practices. Environ Microbiol 9(9):2364–2374

Hu X, Zhou Q, Luo Y (2010) Occurrence and source analysis of typical veterinary antibiotics in manure, soil, vegetables and groundwater from organic vegetable bases, northern China. Environ Pollut 158(9):2992–2998

Ji XL, Shen QH, Liu F, Ma J, Xu G, Wang YL, Wu MH (2012) Antibiotic resistance gene abundances associated with antibiotics and heavy metals in animal manures and agricultural soils adjacent to feedlots in Shanghai; China. J Hazard Mater 235:178–185

Karci A, Balcioglu IA (2009) Investigation of the tetracycline, sulfonamide, and fluoroquinolone antimicrobial compounds in animal manure and agricultural soils in Turkey. Sci Total Environ 407(16):4652–4664

Koike S, Krapac IG, Oliver HD, Yannarell AC, Chee-Sanford JC, Aminov RI, Mackie RI (2007) Monitoring and source tracking of tetracycline resistance genes in lagoons and groundwater adjacent to swine production facilities over a 3-year period. Appl Environ Microbiol 73(15):4813–4823

Li YW, Wu XL, Mo CH, Tai YP, Huang XP, Xiang L (2011) Investigation of sulfonamide, tetracycline, and quinolone antibiotics in vegetable farmland soil in the Pearl River Delta area, southern China. J Agric Food Chem 59(13):7268–7276

Luo Y, Mao D, Rysz M, Zhou Q, Zhang H, Xu L, Alvarez PJJ (2010) Trends in antibiotic resistance genes occurrence in the Haihe River, China. Environ Sci Technol 44(19):7220–7225

Mackie RI, Koike S, Krapac I, Chee-Sanford J, Maxwell S, Aminov RI (2006) Tetracycline residues and tetracycline resistance genes in groundwater impacted by swine production facilities. Anim Biotechnol 17(2):157–176

McKinney CW, Loftin KA, Meyer MT, Davis JG, Pruden A (2010) tet and sul antibiotic resistance genes in livestock lagoons of various operation type, configuration, and antibiotic occurrence. Environ Sci Technol 44(16):6102–6109

Ng LK, Martin I, Alfa M, Mulvey M (2001) Multiplex PCR for the detection of tetracycline resistant genes. Mol Cell Probes 15(4):209–215

Peak N, Knapp CW, Yang RK, Hanfelt MM, Smith MS, Aga DS, Graham DW (2007) Abundance of six tetracycline resistance genes in wastewater lagoons at cattle feedlots with different antibiotic use strategies. Environ Microbiol 9(1):143–151

Pei R, Kim SC, Carlson KH, Pruden A (2006) Effect of river landscape on the sediment concentrations of antibiotics and corresponding antibiotic resistance genes (ARG). Water Res 40(12):2427–2435

Pruden A, Pei RT, Storteboom H, Carlson KH (2006) Antibiotic resistance genes as emerging contaminants: studies in northern Colorado. Environ Sci Technol 40(23):7445–7450

Qiao M, Chen W, Su J, Zhang B, Zhang C (2012) Fate of tetracyclines in swine manure of three selected swine farms in China. J Environ Sci-China 06:1047–1052

Schmitt H, Stoob K, Hamscher G, Smit E, Seinen W (2006) Tetracyclines and tetracycline resistance in agricultural soils: microcosm and field studies. Microb Ecol 51(3):267–276

Shi Y, Gao L, Li W, Liu J, Cai Y (2012) Investigation of fluoroquinolones, sulfonamides and macrolides in long-term wastewater irrigation soil in Tianjin, China. Bull Environ Contam Toxicol 89(4):857–861

Smith MS, Yang RK, Knapp CW, Niu YF, Peak N, Hanfelt MM, Galland JC, Graham DW (2004) Quantification of tetracycline resistance genes in feedlot lagoons by real-time PCR. Appl Environ Microbiol 70(12):7372–7377

Thiele-Bruhn S (2003) Pharmaceutical antibiotic compounds in soils—a review. J Plant Nutr Soil Sci 166(2):145–167

Wei R, Ge F, Huang S, Chen M, Wang R (2011) Occurrence of veterinary antibiotics in animal wastewater and surface water around farms in Jiangsu Province, China. Chemosphere 82(10):1408–1414

Wu L, Pan X, Chen L, Huang Y, Teng Y, Luo Y, Christie P (2013) Occurrence and distribution of heavy metals and tetracyclines in agricultural soils after typical land use change in east China. Environ Sci Pollut Res Int. doi:10.1007/s11356-013-1532-1

Wu N, Qiao M, Zhang B, Cheng WD, Zhu YG (2010) Abundance and diversity of tetracycline resistance genes in soils adjacent to representative swine feedlots in China. Environ Sci Technol 44(18):6933–6939

Yin C, Luo Y, Teng Y, Zhang H, Chen Y, Zhao Y (2012) Pollution characteristics and accumulation of antibiotics in typical protected vegetable soils. Environ Sci 33(8):2810–2816 (In Chinese)

Yu ZT, Michel FC, Hansen G, Wittum T, Morrison M (2005) Development and application of real-time PCR assays for quantification of genes encoding tetracycline resistance. Appl Environ Microbiol 71(11):6926–6933

Zhang D, Lin L, Luo Z, Yan C, Zhang X (2011) Occurrence of selected antibiotics in Jiulongjiang River in various seasons, South China. J Environ Monit 13(7):1953–1960

Zhang X, Zhang D, Zhang H, Luo Z, Yan C (2012) Occurrence, distribution, and seasonal variation of estrogenic compounds and antibiotic residues in Jiulongjiang River, South China. Environ Sci Pollut Res Int 19(5):1392–1404

Zhu YG, Johnson TA, Su JQ, Qiao M, Guo GX, Stedtfeld RD, Hashsham SA, Tiedje JM (2013) Diverse and abundant antibiotic resistance genes in Chinese swine farms. Proc Nat Acad Sci USA 110(9):3435–3440
Acknowledgments
This study was financially supported by the national Natural Science Foundation of China (31100371 and 51278480), the Natural Science foundation of Fujian province of China (2011J05103, 2010J05037, and 2012J01241), the Natural Science foundation and Science and Technology Program of Zhejiang province of China (LY12C01006 and 2011C37054), the SRF for ROCS from SEM, and the special fund of State Key Joint Laboratory of Environment Simulation and Pollution Control (12K06ESPCT). We thank Mr. Lifeng Lin for his help in measuring antibiotics.
Additional information
Responsible editor: Leif Kronberg
Electronic supplementary material
Below is the link to the electronic supplementary material.
About this article
Cite this article
Huang, X., Liu, C., Li, K. et al. Occurrence and distribution of veterinary antibiotics and tetracycline resistance genes in farmland soils around swine feedlots in Fujian Province, China. Environ Sci Pollut Res 20, 9066–9074 (2013). https://doi.org/10.1007/s11356-013-1905-5
Received:

Accepted:

Published:

Issue Date:

DOI: https://doi.org/10.1007/s11356-013-1905-5
Keywords