Access options
Buy single article
Instant access to the full article PDF.
US$ 39.95
Tax calculation will be finalised during checkout.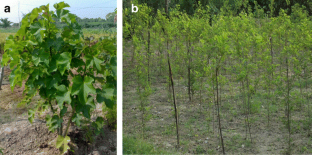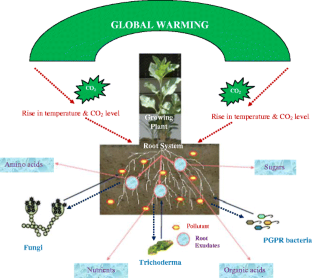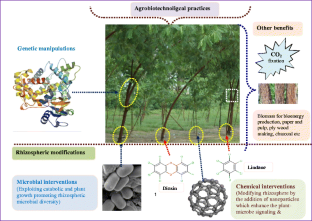 References
Abhilash PC, Jamil S, Singh N (2009) Transgenic plants for enhanced biodegradation and phytoremediation of organic xenobiotics. Biotechnol Adv 27:474–88

Abhilash PC, Dubey RK, Tripathi V, Srivastava P, Verma JP, Singh HB (2013) Adaptive soil management. Curr Sci 104:2–3

Abhilash PC, Singh B, Srivastava P, Schaeffer A, Singh N (2013b) Remediation of lindane by Jatropha curcas L: utilization of multipurpose species for rhizoremediation. Biomass Bioenergy 51:189–193

Abhilash PC, Yunus M (2011) Can we use biomass produced from phytoremediation? Biomass Bioenergy 35:1371–1372

Abhilash PC, Srivastava P, Jamil S, Singh N (2011) Revisited Jatropha curcas L. as an oil plant of multiple benefits: critical research needs and prospects for the future. Environ Sci Pollut Res 18:127–131

Abhilash PC, Singh N (2010a) Effect of growing Sesamum indicum L. on enhanced dissipation of lindane (1,2,3,4,5,6-hexachlorocyclohexane) from soil. Int J Phytoremediation 12:1–14

Abhilash PC, Singh N (2010b) Withania somnifera Dunal-mediated dissipation of lindane from simulated soils: implications for phytoremediation of contaminated soils. J Soils Sediments 10:272–282

Abhilash PC, Singh N (2009) Seasonal variation of HCH isomers in open soil and plant rhizospheric soil system of a contaminated environment. Environ Sci Pollut Res 16:727–740

Aliyeva G, Halsall C, Alasgarova K, Avazova M (2013) The legacy of persistent organic pollutants in Azerbaijan: an assessment of past use and current contamination. Environ Sci Pollut Res. doi:10.1007/s11356-012-1076-9

Badri DV, Weir TL, van der Lelie D, Vivanco JM (2009) Rhizosphere chemical dialogues: plant–microbial interactions. Curr Opin Biotechnol 20:642–650

Baker B, Zambryski P, Staskawicz B, Dinesh-Kumar SP (1997) Signalling in plant–microbe interactions. Science 276:726–733

Banwart S (2011) Save our soils. Nature 474:151–152

Bhuiyan MAH, Parvez L, Islam MA, Dampare SB, Suzuki S (2010) Heavy metal pollution of coal mine-affected agricultural soils in the northern part of Bangladesh. J Hazard Mater 173:384–392

Chaudhry Q, Blom-Zandstra M, Gupta S, Joner EJ (2005) Utilizing the synergy between plants and rhizosphere microorganisms to enhance breakdown of organic pollutants in the environment. Environ Sci Pollut Res 12:34–48

Coates JD, Bruce RA, Haddock JD (1998) Microbial chlorite dismutation stimulates rapid polycyclic aromatic hydrocarbon oxidation in anoxic sediments. Nature 396:730–730

Couto MNPFS, Basto MCP, Teresa SDM, Vasconcelos MTSD (2012) Suitability of Scirpus maritimus for petroleum hydrocarbons remediation in a refinery environment. Environ Sci Pollut Res 19:86–95

Crowley DE, Kraemer SM (2007) Function of siderophores in the plant rhizosphere. In: Pinton R et al (eds) The rhizosphere biochemistry and organic substances at the soil–plant interface. CRC, Boca Raton, pp 73–109

Dennis PG, Miller AJ, Hirsch PR (2010) Are root exudates more important than other source of rhizodeposits in structuring rhizosphere bacterial communities? FEMS Microbiol Ecol 72:313–327

Domínguez-Cortinas G, Díaz-Barriga F, Martínez-Salinas RI (2013) Exposure to chemical mixtures in Mexican children: high-risk scenarios. Environ Sci Pollut Res. doi:10.1007/s11356-012-0933-x

Ficko SA, Rutter A, Zeeb BA (2011) Effect of pumpkin root exudates on ex situ polychlorinated biphenyl (PCB) phytoextraction by pumpkin and weed species. Environ Sci Pollut Res 18:1536–1543

Fisk AT, de Wit CA, Wayland M, Kuzyk ZZ, Burgess N, Letcher R, Braune B, Norstrom R, Blum SP, Sandau C, Lie E, Larsen HJS, Skaare JS, Muir DCG (2005) An assessment of the toxicological significance of anthropogenic contaminants in Canadian arctic wildlife. Sci Total Environ 351–352:57–93

Godfray HCJ (2010) Food security: the challenge of feeding 9 billion people. Science 327:812–818

Götz R, Sokollek V, Weber R (2013) The dioxin/POPs legacy of pesticide production in Hamburg: part 2—waste deposits and remediation of Georgswerder landfill. Environ Sci Pollut Res. doi:10.1007/s11356-012-0986-x

Helgason LB, Barrett R, Lie E, Polder A, Skaare JU, Gabrielsen GW (2008) Levels and temporal trends (1983–2003) of persistent organic pollutants (POPs) and mercury (Hg) in seabird eggs from Northern Norway. Environ Pollut 155:190–198

Hodson ME (2010) The need for sustainable soil remediation. Elements 6:363–368

Jamil S, Abhilash PC, Singh N, Sharma PN (2009) Jatropha curcas: a potential crop for phytoremediation of coal fly ash. J Hazard Mater 172:269–275

Juwarkar AA, Jambhulkar HP (2008) Phytoremediation of coal mine spoil dump through integrated biotechnological approach. Bioresour Technol 99:4732–4741

Juwarkar AA, Yadav SK, Thawale PR, Kumar P, Singh SK, Chakrabarti T (2009) Developmental strategies for sustainable ecosystem on mine spoil dumps: a case of study. Environ Monit Assess 157:471–481

Konuspayeva G, Faye B, Pauw ED, Focant J-F (2011) Levels and trends of PCDD/Fs and PCBs in camel milk (Camelus bactrianus and Camelus dromedarius) from Kazakhstan. Chemosphere 85:351–360

Kuzyakov Y, Hill PW, Jones DL (2007) Root exudates components change litter decomposition in a simulated rhizosphere depending on temperature. Plant Soil 290:293–305

Lamon L, Valle MD, Critto A, Marcomini A (2009) Introducing an integrated climate change perspective in POPs modelling and regulation. Environ Pollut 157:1971–80

Leat EHK, Bourgeon S, Borgå K, Strøm H, Hanssen SA, Gabrielsen GW, Petersen A, Olafsdottir K, Magnusdottir E, Fisk AT, Ellis S, Bustnes JO, Furness RW (2011) Effects of environmental exposure and diet on levels of persistent organic pollutants (POPs) in eggs of a top predator in the North Atlantic in 1980 and 2008. Environ Pollut 159:1222–1228

Letcher RJ, Bustnes JO, Dietz R, Jenssen BM, Jørgensen EH, Sonne C, Verreault J, Vijayan MM, Gabrielsen GW (2010) Exposure and effects assessment of persistent organohalogen contaminants in arctic wildlife and fish. Sci Total Environ 408:2995–3043

Liua TT, McConkey BG, Ma ZY, Liu ZG (2011) Strengths, weakness, opportunities and threats analysis of bioenergy production on marginal land. Energy Procedia 5:2378–2386

Lugato E, Berti A (2008) Potential carbon sequestration in a cultivated soil under different climate change scenarios: a modeling approach for evaluating promising management practices in north-east Italy. Agric Ecosyst Environ 128:97–103

Mackova M, Prouzova P, Stursa P, Ryslava E, Uhlik O, Beranova K, Rezek J, Kurzawova V, Demnerova K, Macek T (2009) Phyto/rhizoremediation studies using long-term PCB-contaminated soil. Environ Sci Pollut Res 16:817–829

Markmann K, Parniske M (2009) Evolution root endosymbiosis with bacteria: how novel are nodules? Trends Plant Sci 14:77–86

Meire RO, Targino AC, Torres JPM (2013) Bulk atmospheric deposition of persistent toxic substances (PTS) along environmental gradients in Brazil. Environ Sci Pollut Res. doi:10.1007/s11356-012-1072-0

Miguel AS, Schröder P, Harpaintner R, Gaude T (2013) Response of phase II detoxification enzymes in Phragmites australis plants exposed to organochlorines. Environ Sci Pollut Res. doi:10.1007/s11356-012-1301-6

Miraglia M, Marvin HJ, Kleter GA, Battilani P, Brera C, Coni E (2009) Climate change and food safety: an emerging issue with special focus on Europe. Food Chem Toxicol 47:1009–21

Nurzhanova A, Kalugin S, Zhambakin K (2013) Obsolete pesticides and application of colonizing plant species for remediation of contaminated soil in Kazakhstan. Environ Sci Pollut Res. doi:10.1007/s11356-012-1111-x

Oliaei F, Kriens D, Weber R (2013) PFOS and PFC releases and associated pollution from a PFC production plant in Minnesota (USA). Environ Sci Pollut Res. doi:10.1007/s11356-012-1275-4

Perugini M, Nuñez EGH, Baldi L, Esposito M, Serpe FP, Amorena M (2012) Predicting dioxin-like PCBs soil contamination levels using milk of grazing animal as indicator. Chemosphere 89:964–969

Plieningera T, Gaertnerc M (2011) Harnessing degraded lands for biodiversity conservation. J Nat Conserv 19:18–23

Pulford ID, Watson C (2003) Phytoremediation of heavy metal-contaminated land by trees—a review. Environ Int 29:529–540

Riva C, Binelli A, Rusconi F, Colombo G, Pedriali A, Zippel R, Provini A (2011) A proteomic study using zebra mussels (D. polymorpha) exposed to benzo(α)pyrene: the role of gender and exposure concentrations. Aquat Toxicol 104:14–22

Seneviratne SI, Corti T, Davin EL, Hirschi M, Jaeger EB, Lehner I, Orlowsky B (2010) Investigating soil moisture–climate interactions in a changing climate: a review. Earth Sci Rev 91:125–6

Sun M, Luo Y, Teng Y, Jia Z (2013) Remediation of polycyclic aromatic hydrocarbon and metal-contaminated soil by successive methyl-β-cyclodextrin-enhanced soil washing–microbial augmentation: a laboratory evaluation. Environ Sci Pollut Res. doi:10.1007/s11356-012-1064-0

Takeda N, Takaoka M (2013) An assessment of dioxin contamination from the intermittent operation of a municipal waste incinerator in Japan and associated remediation. Environ Sci Pollut Res. doi:10.1007/s11356-012-1412-0

Tandy S, Healey JR, Nason MA, Williamson JC, Jones DL (2009) Remediation of metal polluted mine soil with compost: co-composting versus incorporation. Environ Pollut 157:690–697

Tanimoto E (2005) Regulation of root growth by plant hormones—roles for auxin and gibberellins. Crit Rev Plant Sci 24:249–265

Tato L, Tremolada P, Ballabio C, Guazzoni N, Parolini M, Caccianiga M, Binelli A (2011) Seasonal and spatial variability of polychlorinated biphenyls (PCBs) in vegetation and cow milk from a high altitude pasture in the Italian Alps. Environ Pollut 159:2656–2664

Torres JPM, Fróes-Asmus CIR, Weber R, Vijgen J (2013a) HCH contamination from former pesticide production in Brazil—a challenge for the Stockholm Convention implementation. Environ Sci Pollut Res. doi:10.1007/s11356-012-1089-4

Torres JPM, Leite C, Krauss T, Weber R (2013b) Landfill mining from a deposit of the chlorine/organochlorine industry as source of dioxin contamination of animal feed and assessment of the responsible processes. Environ Sci Pollut Res. doi:10.1007/s11356-012-1073-z

UNEP/AMAP (2011) Climate change and POPs: predicting the impacts. Report of the UNEP/AMAP Expert Grou, Secretariat of the Stockholm Convention, Geneva, pp. 62

Vangronsveld J, Herzig R, Weyens N, Boulet J, Adriaensen K, Ruttens A, Thewys T, Vassilev A, Meers E, Nehnevajova E, van der Lelie D, Mench M (2009) Phytoremediation of contaminated soils and groundwater: lessons from the field. Environ Sci Pollut Res 16:765–794

Verma SC, Ladha JK, Tripathi AK (2001) Evaluation of plant growth promotion and colonization ability of endophytic diazotrophs from deep water rice. J Biotechnol 91:127–141

Vijgen J, Aliyeva G, Weber R (2013) The Forum of the International HCH and Pesticides Association—a platform for international cooperation. Environ Sci Pollut Res. doi:10.1007/s11356-012-1170-z

Vijgen J, Abhilash PC, Li YF, Lal R, Forter M, Torres J, Singh N, Yunus M, Tian C, Schäffer A, Weber R (2011) HCH isomers as new Stockholm Convention POPs—are we on the way to manage lindane (γ-HCH), and waste HCH isomer (α- and β-HCH) pollution around the world? Environ Sci Pollut Res 8:152–62

Walker TS, Bais HP, Grotewold E, Vivanco JM (2003) Root exudation and rhizosphere biology. Plant Physiol 132:44–51

Wamelink GWW, Wieggers HJJ, Reinds GJ, Kros J, Mol-Dijkstra JP, van Oijen M, de Vries W (2009) Modeling impacts of changes in carbon dioxide concentration, climate and nitrogen deposition on carbon sequestration by European forests and forest soils. Forest Ecol Manag 258:1794–1805

Watharkar AD, Khandare RV, Kamble AA, Mulla AY, Govindwar SP, Jadhav JP (2013) Phytoremediation potential of Petunia grandiflora Juss an ornamental plant to degrade a disperse, disulfonated triphenylmethane textile dye brilliant blue G. Environ Sci Pollut Res 20:939–949

Weber R, Aliyeva G, Vijgen J (2013) The need for an integrated approach to the global challenge of POPs management. Environ Sci Pollut Res. doi:10.1007/s11356-012-1247-8

Weber R, Varbelow HG (2013) Dioxin/POPs legacy of pesticide production in Hamburg: part 1—securing of the production area. Environ Sci Pollut Res. doi:10.1007/s11356-012-1011-0

Weber R, Watson A (2011) Assessment of the PCDD/PCDF fingerprint of the dioxin food scandal from bio-diesel in Germany and possible PCDD/F sources. Organohalogen Compd 73:400–403

Weyens N, van der Lelie D, Taghavi S (2009) Exploiting plant–microbe partnerships to improve biomass production and remediation. Trends Biotechnol 27:591–598

Wu MH, Tang L, Xu G, Ma J, Liu N (2013) Polybrominated diphenyl ethers in surface sediments from principal watersheds of Shanghai, China: levels, distribution, influencing factors, and risk assessment. Environ Sci Pollut Res. doi:10.1007/s11356-012-1163-y

Xu FL, Kong XZ, He W, Qin N (2013) Distributions, sources, and ecological risks of hexachlorocyclohexanes in the sediments from Haihe Plain, Northern China. Environ Sci Pollut Res. doi:10.1007/s11356-012-1226

Yateem A (2013) Rhizoremediation of oil-contaminated sites: a perspective on the Gulf War environmental catastrophe on the State of Kuwait. Environ Sci Pollut Res 20:100–107

Younas A, Hilber I, Rehman S, Khwaja M, Thomas D, Former B (2013) DDT factory in Pakistan revisited for remediation: severe DDT concentrations in soils and plants from within the area. Environ Sci Pollut Res. doi:10.1007/s11356-012-1317-y
Acknowledgments
Financial support from Science Engineering Research Board, Govt. of India (No.SR/FT/LS-111/2011), and University Grants Commission (No.F. 41-1110/2012 (SR)) is gratefully acknowledged. Thanks are also due to Prof. A.S. Raghubanshi, Director, Institute of Environment & Sustainable Development, Banaras Hindu University for institutional support and encouragements and Prof. Philippe Garrigues Institut des Sciences Moléculaires, Université Bordeaux 1, France and one anonymous reviewer for their critical comments.
Additional information
Responsible editor: Philippe Garrigues
About this article
Cite this article
Abhilash, P.C., Dubey, R.K., Tripathi, V. et al. Remediation and management of POPs-contaminated soils in a warming climate: challenges and perspectives. Environ Sci Pollut Res 20, 5879–5885 (2013). https://doi.org/10.1007/s11356-013-1808-5
Received:

Accepted:

Published:

Issue Date:
Keywords
Microbial Biomass

Phytoremediation

POPs

Jatropha

Stockholm Convention